Sorry, not too many pictures in this blog as the system is still not working well. But they do their best over there in the USA where the server is,  to clean all unnecessary  stuff.
When I put my laptop off , today [Saturday} because of heavy thunderstorms, I do not know if I can get in to it again. Very frustrating. It worked though!!!!
PRIEVIDZA; 12 out of 14 day's!!! And… Sebastian with over 10.000 points!!!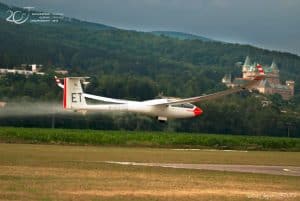 Day 11 on July 17; TASK 10.
Standard class; 395 km….103 km./h. was the best speed and it was flown by our Russian mate, who flies comps already for a long long time; Dmitriy Timoshenko. He "took with him " Anton Minskiy who got 996 points.
The first 5 gliders are all DISCUS 2A.
22 From 26 Finished.
Robert Schroeder is still leading in this class before 3 Czech pilots ;Pavel, Tomas and Miloslav. Points between 7.421 and 7.630, so a lot is still possible. GOOD!!!
club class; 349 km...Those UK pilots are doing SO well.Tom and G. are upfront in the overall scores but still have the "gut's" to fly their way.  Young Tom is already 1 overall for most of the time.3 Pilots over 100 km./h. as also Ferenc Tamas did so as number 3.
Uwe, as number 13, lost  122 points, but still is runner up overall though G is closer now ;84 points.
26 From 31 finished. Some had to hurry for the evening party.
15 m class; 399 km...Enough competition is this class as well. It's not over yet…though ???
A French day as Louis Bouderlique and Max Seiss won the day with 1000 and 993 days.All pilots finished. Sebastian Bauder was 4th, Sebastian Kawa 5th. Louis passed in the overall scores Freddie Hein with ONE point.
The day was closed with the INTERNATIONAL EVENING.
As shared by Per Carlin from Sweden.
Day 12 on July 18; TASK 11.
Turned out to be a very tricky day!!!
"The weather is trying hard to trick us. Some pilots are waiting in the air, some has landed and giving it another shot! Other than that we have 5 outlandings (4 from club class, 1 from 15-meter class)."
Standard class;3 hour AAT…Lucas Deloble from France just turned 26 and is flying pretty well. So is Benjamin Neglais on this difficult day they were 8 and 9. Compliments to the winner of the day; Filip Bojanowski from Denmark. WELL DESERVED 1000 points.
Huge differences in start times ,between 12.31 and 15.20 by Howard Jones from the UK who was 5th for the day.
Czech pilots Miloslav and Pavel did well as  as number 2 and 3 and with the result from today Pavel leads this class and Robert dropped to 2; only 45 points difference.
club class;3 hour AAT.…Already at 3.25 Uwe was back starting at 12 , and he flew in 3 hour and 8 minutes 289 km. In the end he was 6th. But there are always better ones; Tom started 6 minutes later and flew 357 km. in time 3.49. French "ace" Adrien won the day 269 km. in his St Cirrus in time 2.59 is excellent!!!
Only 23 pilots finished.
15 m. class; 3 hour AAT…Jan Omsels and Sebastian started together at 14.45 and Jan won the day in his Ventus 3T with 379 km. in time 3.03. Sebastian in his Diana 2 was runner up with 374 km. in time 3.02.
I keep an eye on what happens all day so I was a tad disappointed to see Radek out after 43 km.
BUT,…as I found out later, more pilots made a restart and had flown back , so did Radek. He started as the very last pilot at 15.22, but he had better conditions and flew till 18.26 a nice distance of 379 km. Good on him. With that he was 3d for the day!!
A very interesting "wrap up " from this day by G from the UK .
G; "Turned out to be an interesting day…AAT set for all classes in really unhelpful showery weather. Let's just roll the dice then…
It started to rain just upwind of the site before the club class start line was open, leading to changes to drop zones for the standards and 15m due to rain in the Prievidza area – and some interesting decisions for all classes.
Clubs decided to go deep into the first sector – with the rain cutting off the next leg behind them. But after some sharp tactical thinking by Tom they got back onto the pace with an unusual decision to go well over the minimum task time. For a couple of pilots, the very high risk decision to land and re-start after the rain paid off, but Tom and G still strengthened their overall positions.
The Standards had to land in the rain, re-launched and flew the task late – with reasonable results despite the desperate weather. Again, an unconventional decision but they were forced into it.
Tim in the 15's rolled the dice in the hope that the first sector would be wiped out longer than it actually was. A calculated sporting risk that unfortunately did not quite pay off.
But the message for today was – no land outs."
Day 13 on July 19; TASK 12. One but last day!
They started with an inconvenience ;"We apologize for the inconvenience, but water pipe got broken in the camp and no toilets are working, please use the restrooms in the restaurant, upstairs above the restaurant plus from the side of the office. We are sorry for the issue but we are working on it."
No worries!!
Standard class ;3 hour AAT… It looks like flying together really HELPS. Today the Czech pilots Miloslav and Pavel started and finished together for 1000 points and after 12 tasks they are 1 and 3 at this EGC. Robert was 3d and stayed on spot 2 as 3d meant 999 points.
The French pilots did better and better and Benjamin and Lucas were 4th and 5th on this last day. So to see they had a very relaxed team. Overall they were 7 and 10.
Club class; 3 hour AAT.… UK-day in this class as Tom and G won together , yes also starting and finishing together , the first and runner up spot. Great job!!Flying just over 350 km. which was at least 25 km more than the rest. G moved from 3 to 2 overall. French pilot Adrien Henry had 2 good last day's being a daily 1 and 3 and climbing overall from 11 to 8 and to 7.
German pilot Uwe who has been a lot of day's runner up in the overall scores had a less good last day and moved to 3. With a rather early start he was 19th.
Here is G again, as I feel with his story's as pilot that we get the best inside-look on this day.
"Another interesting day.
The weatherman was clearly a little pessimistic about the arrival of storms into the north of our area in the early afternoon and more weather from the west in the late afternoon – he clearly disagreed with the task setting crew. So we watched the sky – and sure enough it was very moist and unstable.
So with a near identical three hour AAT in all the classes – what time to start? The weather window should have been 1400 – 1700 given the forecast, but we had severe doubts about it all.
Timing was crucial, with the speeds in club, standard and fifteens turning out at 114, 121 and 129kph respectively for the pilots that arranged to be in the right place at the right time. Early starts were not a good idea, but woe betide the pilot leaving it a bit late.
Because the tasks were almost identical the cubbies could follow the standards and so on (thanks for Paul, Howard and Tim for the help at various points). Most of us were home before the rain arrived at Prievidza.
BBQ time."
15 m. class; 3 hour AAT....starting together and finishing together, where did I see this before?? Also Lucasz and Sebastian from Poland did so and won the day. " Together we are strong".I really felt for Radek the last 2 days. Today he was only 19th loosing 600 points and "falling out of the top 3". But no worries one more day to go.
Also in this class great daily  results by the French as Max and Louis were 5th and 6th.
Day 14 on July 20; TASK 13!!!!LAST DAY !!! What will it bring?????
Launches were postponed a few times. Another tricky day and the  hope for a good window!!! Always "scary " on a last day. Early in the day the showers showed up already over the Nitra area.
Standard class;2 hour AAT…Start-line opened at 13.02…As said the French team became better and better during the days. On the last day Benjamin and Lucas won the day with a speed of 121 km./h over 249/247 km. They started at 14.07. Nothing changed in the top as Robert and the Czech mates "did their job well too ". 3 LS 8 gliders in the top 3 overall.
French team in great spirit with Benjamin as winner and Lucas as runner up for the day .
Pôle France Planeur
Club class ;2 hour AAT...12.37 start line opening…Lithuanian pilot Darius Liaugaudas was the best on the last day, with a late start at 14.15. When I looked in the evening at the prize giving, he got his daily prize in his wheel chair. Others starting at that time did n't finish or were late. 213 Km in time 2.02 gave him 625 points. Uwe was runner up . G and Tom were 16th and 17th ,  but did not loose too many points. About 125 and they had enough advantage.
15 m. class ;2 hour AAT...13.22 opened start line….Max and Louis  won the day with 259 km. in time 2.04 but not enough points could be gathered to get higher than the the overall spot they had already. Sebastian and Jan flew consistent and finished on 3 and 4.
A tweet on the last day :"It's the last day and we have all pilots happily at home, besides 7 outlandings. The closing ceremony is going to be at 8:30 pm. But we have goulash and beer ready for you already!"
So here are the EUROPEAN CHAMPIONS in each class;
Mind you Sebastian is the only one who gathered in 13 day's more than 10.000 points
Standard class;
1. Pavel Louzecky from Czech Rep. in LS 8; 9.992 points.
2. Robert Schroeder from Germany in LS 8 NEO ;9.937 p.
3. Miloslav Cink from Czech Rep. in LS 8 b ;9.849 p.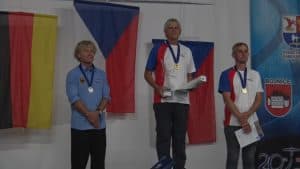 And finally thanks to the Czech mates I found a picture from Pavel ,Robert and Miloslav as well.
As shared by Czech Republic Gliding Team via Zbyněk Smetana, airZone.TV

Club class;
1. Tom Arscott from the UK in LS 7; 9.907 points.
2. G. Dale from the UK in ASW 24; 9.619 p.
3. Uwe Wahlig from Germany in LS 3; 9.563 p.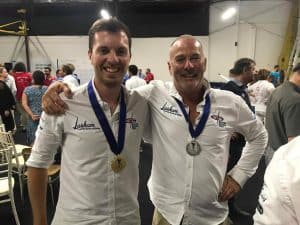 The UK-boy's.
British Gliding Team
15 M. class; 
1. Sebastian Kawa from Poland in Diana 2; 10.390 points!!!!!!!!!!
2. Max Seis from France in JS 3 ;9.976 p.
3. Jan Omsels from Germany in Ventus 3T; 9.863 p.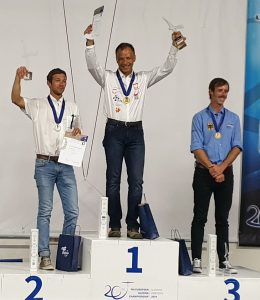 CONGRATULATIONS TO ALL !!!!
After 13 day's the TEAM CUP was won by Germany with 895.63 points.
Runners up; Czech Rep with 890 points.
3d; France with 877 points.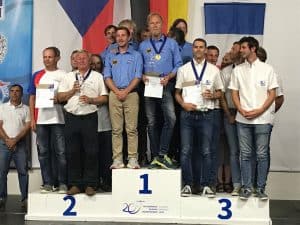 Nice EGC to follow from home. Was a bit disappointed to see no Dutch and only 1 Belgian pilot. We have such good ones.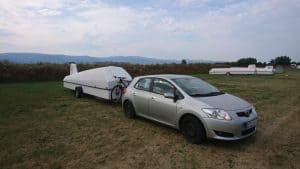 And then,…it's all over again . Driving home to Sweden.
Picture shared by Per Carlin.
—————————————
The UK NATIONALS for 20 m and 18 m.
13 July 2019 – 21 July 2019
On Wednesday the 17th the weather deteriorated a bit and only 1 class flew that day; 18 m.
A short 2.30  AAT  . 20 M. had a 2 hour AAT but that was scrubbed.
Only ONE day out of 5 for pilots in this class till now.
18 m; 2.30 AAT… TASK 5;
22 from 35 finished so a tough day. Pete Harvey won. I know him only as open class pilot, but know he moved to 18 m. a while ago. He is doing in this class good as well with 248 km in time 2.43.
Kim Tipple also more an open class pilot in the past was runner up.
July 18 task 5 in 18m. and task 2 in 20 m.
18m.; 335 km.….Ian MacArthur in his JS 1 was the best with a speed of 85 km./h. 13 Pilots had between 900 and 1000 points and then…only outlandings. So 23 out and also "good ones". As Pete Harvey after 312 km.
20 m. ;313 km... only 4 from 17 finished.The ARCUS T from Davis Briggs was the best with 68 km./h AND for 1000 points.That helps!!!He moved from 13 to 3 overall!!!
July 19 no flying. No action on soaringspot on Saturday either.
But on Sunday tasks were set,…changed….. flown…… but not really.
One pilot from 18 m. tried reached 117 km. from the 186 set km. and that was that. You can't say they did not try.
Invalid day.
In 20 m. there were a few points to be given;Task was 179 km. and Rodney Witter in the ARCUS M came close; 173 km .. Only 4 flew over 100 km.
Not a valid day.
So not much more to say as the final scores for 18 m. after 5 day's out of 9 .
1. Andy Davis in JS 1c with 3.192 points.
2. Kim Tipple in ASG 29E with 3.160
3. Derren Francis in Ventus with 3.136 points
And 20 m; after 3 out of 9 day's.
1. Matthew Cook in Duo Discus XLT with 1.896 points.
2.Ian Cook in ARCUS M with 1.710 p.
3. David Briggs in ARCUS T with 1.628 p.
—————————————-
STENDAL.
German Nationals for 20 m and open class and International STENDAL GLIDE 2019.
Finally a good day and flown by most.
Wednesday July 17;
20 m; 372 km...Task 4  TEAM Markus Geisen/Michael Pfennig  won again in the ARCUS M. They lead the 20 m. class with only 2 day's to go.
Open; 427 km... Task 5 …EB 29 's again, same pilots in it and as the best… Michael .Speed 139.73 km./ h. Felipe had an invisible- to- see -139.72 km./h
Amazing!!They have exactly the same total points at this stage; Both 3344. I guess they have a lot of fun together, though maybe they have no time they are SO fast!!
18 m; 315 km. ..Task 4...AND… Dutch success as Hadriaan and Sikko flew 128 km.h for 779 and 778 points. Boerje was 3d and is doing well leading in the overall scores .
Thursday July 18 one but last day and,…they fly!!!AND,…good tasks. With weather like this everybody quickly forgets the rain. Today was a day of flying around BERLIN.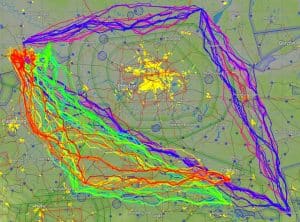 20 m; 473 km…task 5…12 x an ARCUS either M or T in the top 12. Not bad. Best speed 123.95 km./h.Winner for the day Martin Theisinger and Uli and Chrissie were runner up with Markus /Michael as 5th. In between Italian pair Stefano and Kathrin with 976 points.
open; 605 km….task 6...2 EB 29 winners with equal points but not the expected Michael and Felipe this time Uwe Foester and Horst Singer; 999 points for a speed of 135.47/41. They started and finished together.  But…only one point less for Felipe with 135.31 and then there is of course Michael with the same speed , as usual they flew together too. And for that reason still the same overall points ; now 4342.
18 m.; 494 km.…Task 5...Boerje, Hadriaan and Laurens [Goudriaan],…. the 3 toppers from the day with speeds of 130 and 123 km./h.
That Ventus 3T combination with Boerje is very fast!!!& km./h faster than the runners up!!!!
Friday July 19 VERY LAST DAY!!!!
AND they had tasks on the last day,AGAIN, so they finish with 6/7 day's out of 12. Not TOO bad.
20 m. Task 6…..277 km. A change in the daily top as not the Arcus types were the best but 2 x an ASG 32 MI…AND a Duo Discus.
In the end the new 20 m. champions in this class were after 6 day's ; Marcus Geisen/Michael Pfennig in ARCUS M with 4521 points
open class;Task 7….304 km.The speed was 130 km./h and Felipe and Michael managed together the same points [732] AGAIN.
SO they win together!!!! hope they have 2 gold medals. In the future organizers should take care of that.
5.074 points after 8 days. 2 Toppers in their EB 29 R…… Jim was 3d.[4.866 p.]
18 m. class;Task 6 …..254 km. Jeancarlo Grinza, from Italy won the last day in his Ventus 3F. But another Ventus 3T won the STENDAL GLIDE 2019.
In it Boerje Eriksson; 3.476 points. More than 100 points ahead of Italian pilot Alberto Pozzi [3.356] and Hadriaan van Nes [3322] from Holland.
Stendal will be ready for the WGC,  now the weather….
———————————————
OSTROW GLIDE 2019.
12 July 2019 – 21 July 2019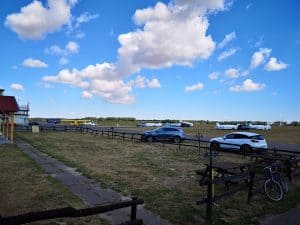 As shared by Aeroklub Ostrowski
club class;
Task 5...On Wednesday a short AAT from 1.45 . All pilots needed more time ;over 2 hours, one even over 3 hours. Distances around 200 km.
Task 6; Thursday was better as 500 km. was on the menu. AND… flown by 10 out of 13. Daily winner Przemysław Bartczak just ahead of Stan.
The next [Fri] day was set , 149 km. but cancelled.
Task 8 ;455 km... yes another 10 flew the task. Good on them.
Final overall scores at this stage from the winner and runner up;
1.  Przemysław Bartczak in SZD 55 ;5.198 points.
2. Stanislaw Wujczak in St Jantar 3 ;4.465 p.
18 m.;
Task 5… Janusz Centka won the 2 hour AAT ; 258 km. in time 2.23.
Task 6; The next day was also in this class another story; 703 km!!!! Busy day for the 11 pilots!!!
ALL 11 PILOTS FLEW THE TASK…. CHAPEAU!!!
Janusz [ ASG 29 E] was the best with 130 km./h He still flies as sharp as 30 years ago!!!
Task 8; another 702 km.!!!1400 km. in 2 day's in a row, not bad during a competition. Only one pilot out the rest DID IT!!! 2 Pilots even got 1000 points flying over such a huge distance!!!
7 Out of 9 days with some real strong last day's. They will be tired or full of adrenaline.
Overall scores at this stage;
1. Janusz Centka in ASG 29 E ;5.513 points.
2. Andrzej Śmielkiewicz in ASG 29 E;5.331 p.
When they still fly tomorrow, I come back on it. No more flying found.
———————————————-
JS 3 news ;
Finally it's there. I guess a few pilots will be relieved.
"An excited Uys Jonker (CEO Jonker Sailplanes) and Keno Markwald (COO M&D Flugzeugbau GmbH) having fun with the JS3 TYPE CERTIFICATE in hand."
EASA awards the JS3 certification.
After 2 years of intense certification work by the JS / MD engineering team all the check boxes where ticked and EASA signed the EASA TYPE CERTIFICATE early this morning.
Uys Jonker, talking on behalf of the JS / MD engineering team says it was no easy task: "Designing a sailplane with the ultimate performance requires you to touch various edges of the certification envelope. Showing compliance when designing on the edge always takes longer as test data must sometimes be verified with the additional observe tests. Finally our patient customers can expect to have their JS3s ready with a full CofA (Certificate of Airworthiness)."
Ready to be picked up by the new owners at M+D Flugzeugbau..
As shared by Jonker Sailplanes 
The repairmen should have time to get my blog in perfect condition again. So I will slow down a bit.
It's scary to write and not to know if it can be published. "All work done for nothing", is SO frustrating!!!
Lot's of pictures is good but if I can not save them it's a problem.
So stand by. See if I can be back soon. I 'll give you notice in time.
Sorry.
Cheers Ritz