ALPHEN AAN DEN RIJN   WEDNESDAY FEBRUARY 27 2013
ritzdeluy@hotmail.com     www.soaringcafe.com       www.glidinginternational.com
We had snow again in the weekend." Poor delegates " from warm countries , who will arrive here this week. They have to adjust to Dutch weather, as it remains like this till next weekend. No snow, I hope, but still only around 5 dgr. C,  plus…. that is, but 8 plus would be the normal average!That will only happen next week!!!!
Everybody is looking forward to flying, but no hope yet.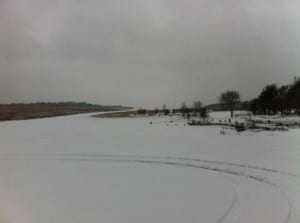 The winning airfield in the "OLC stats"  last year from the Gelderse.
Terlet last sunday in the snow!
As seen on FB.
 On the OLC news, I noticed that they are going to start an OLC GLIDER RACE, for standard class gliders. Flown from the famous Wasserkuppe, this RACE will add new elan to this class and to soaring in general. It will be flown between July 27 and August 3 and on the OLC you can see how to contact them .
Only 20 pilots allowed so better be quick when you want to be part of this historic first race. Of course you need sufficient experience . Price will be friendly under 200 E.  and camping and tows will be sponsored by the friends of Wasserkuppe. What a fantastic idea!
Wasserkuppe also has a very nice and interesting museum with over 30 vintage gliders.
All the news on www.onlinecontest.org
It's in German but you can use the language button on top, to go to English.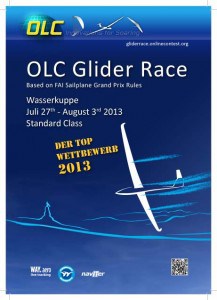 Flyer as shared on the OLC site and with permission.
The Lake Keepit Regatta started on Sunday with 35 participants and a 2 hour AAT.
—"Lake Keepit Soaring Club's annual Regatta is a fun, friendly and informal cross country event to introduce pilots to cross country competition.
The  idea is that the regatta is a mentoring event where pilot pairs are scored together around an AAT task. So we match up early cross country pilots with a seasoned pro, and they compete together as a team, either in two gliders or in a twin.
Only the slowest time of the pair is scored, so it is in the interest of the more experienced pilot to coach and assist right throughout the flight. –" as is written on their site.
So  very experienced pilot Paul Mander won day 1 , a 2 hour AAT in the ASH 25 with 220 km in 2 hours and 3 minutes .David Mc Manus got 1000 points as well .
Indeed lot's on two-seaters/teams as 2 x ARCUS , several duo discus', twin astirs , NIMBUS 3DM, but also Libelle, LS 6 JS1 etc.You can see the list on www.soaringspot.com
Day 2 and 3 had AAT's as well, on day 2 only one finisher, Nick Singer in the JS 1 [625 p.] and  day 3 was a 1000 points day again for the JS 1 from Dave Shorter this time.Nick got 970.90 points as runner up.
BUT,…as said it is not about the points , but about the fun and the learning-curve.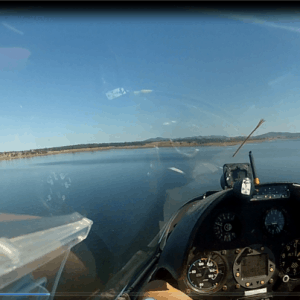 A finish over the LAKE by one of the NZ juniors during their comps "JOEYGLIDE" in 2012.
Talking about support to young pilots here is another example from the SRGC from Tocumwal;
The Junior Aviators Day on March 23, with a DVD introduction to gliding from John Roake and one of the speakers , about the "history of gliding" is Ingo Renner. Other experienced pilots will share their thoughts with the young ones.
After morning tea they visit the gliders in the hangar for ID and to identify the control surfaces. After the BBQ lunch it is flying!!!!In the end they all get a Certificate of Participation.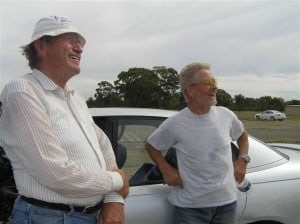 Ingo and Dundee.
Looking at the Pribina Cup which will be flown between March 30 and April 6, I noticed 45 pilots at this stage for club class. The UK arrives with 7 pilots amongst them G Dale, Tim Milner ,[our former tuggie in Tocumwal] and 3 ladies; Claudia, Ayala and Elisabeth.
In the two-seater class 13 [ so 26 pilots including the co's] amongst them 4 teams from Finland.
In open class 30 participants amongst them 4 from Poland and 4 from Hungary and 9 from Austria with toppers as Wolfgang , but also Sebastian, Josef, Sven , Ludwig and Friedel. STRONG TEAM!!!
In 15 m. 20 , with for me well known pilots as Heimo and Reinhard both from Austria.
Registration closes at February 28!!!! You can enter online!  http://www.pribinacup.sk/2013/
Fatraglide is a bit later between May 4 and 12 and they have already 30 participants,  so place for 3o more, as they have a max of 60.
www.fatraglide.sk
Before going to fly for a week from Mount Beauty with Jörgen and Roger, Birgitte flew with Jörgen in Bruces ARCUS 535 km [500 FAI] from Tocumwal.
The last flight from this season in the LS 6 at Tocumwal from Finnish friend Kari ,was a nice nearly 500 km. flight up N.E. , passing Leeton. The day before he was "beaten " for the topspot on  the OLC ,by 2 pilots flying in wave from Mid Atlantic Soaring;Brian in a PIK 20 b with distance 775 km and height 3432 MSL but only in the beginning. Baudouin Litt from Belgium, but living already for a long time in the USA , flew 731 km. and added in his comment that it was not everywhere good;
"Should not have gone on the ridges to the north. I got stuck in snow showers, low ceilings and complete OVC. Made many unsuccesful attempts to connect back. Apart from that, nice wave day, but could have been 900K."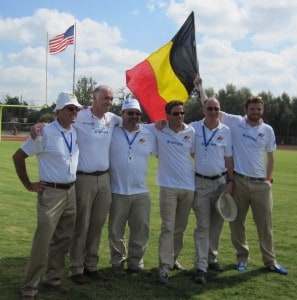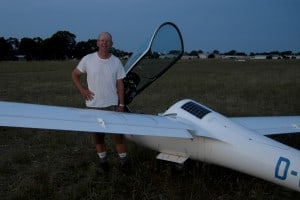 Baude 3d from l. with the Belgium team in Uvalde last year. And Jörgen who flew this year in Stonefield , Tocumwal and Mount Beauty. Now practising in Roger's ARCUS but next season flying their own.
On soaringcafe I published a blog in co-operation with Mike Anastasiou about flying in wave in Greece. In a comment somebody asked for a video and  Mike has a  video from this flight, but it is un-edited for the moment. At the same location they did some flying in December 2012.
Here is the link to the video on youtube from 2012.
http://www.youtube.com/watch?v=FYc0BWrb-Qc&list=UUgAAf_4tA3Xi9P2xuflELAw&index=1
With Bitterwasser closed now,  I have copied and pasted their impressive results from a thank you note written by Dieter Schwenk, and…….you can book already for the next season; available gliders are on their site www.bitterwasser.com  !
And not the least gliders as there are Ventusses, Arcusses  , Antares and DG 800,  as well as  Nimbus 3 and 4 DM .
You can contact them at cfi@bitterwasser.com
—"To all our guests who spent their well-deserved holiday with us in Bitterwasser, all pilots who flew Bitterwasser with very good flights again to No. 1 in the OLC.
New record – 194 flights over 1,000 kilometers, 548,320 total kilometers, 4 new palm trees and some new records and all pilots who came to Bitterwasser just for fun.
A great atmosphere and a lot of positive feedback about the organization and the visitors to our website, since December over 20,000!—"
Good on them!!!!!
This upcoming weekend on March 2 and/or 3 the airfield of Keiheuvel in Belgium invites pilots to see who makes the best goal-landing at the field.20E. for a start.
Go to http://www.aeroclub-keiheuvel.be/ when you are interested and live close by, for online registration.
But,..when looking at the webcam the field was yesterday still WHITE.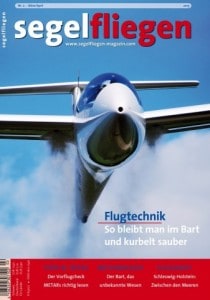 picture as shared by FB.
Segelfliegen Magazine edition 2 2013 is out
with Flugtechnik: So bleibt man im Bart, /so you stay in a thermal
Meteorologie: Der Bart, das unbekannte Wesen,/ thermals unknown terrain
Fluggebiet: Schleswig-Holstein/ as flying area
Sicherheit: Pech gehabt (Teil 2)/ Safety; Being unlucky part 2
Wettbewerb: WM-Nachbericht/competiton ; about the WGC
And after writing so much about the Club class Nationals from Taupo here is a nice link to 89 pictures for when you are interested;
Off to Papendal tomorrow. A great sportcentrum for the Dutch topsporters on the border of the beautiful Veluwe, with fantastic nature. A place for congresses , events and training facilities.
A place to WELCOME THE TOP OF THE IGC.
Will keep you informed!
Cheers Ritz