OPEN CLASS NATIONALS in POLAND.
Leszno Strzyzewi, Poland
15 August 2019 – 25 August 2019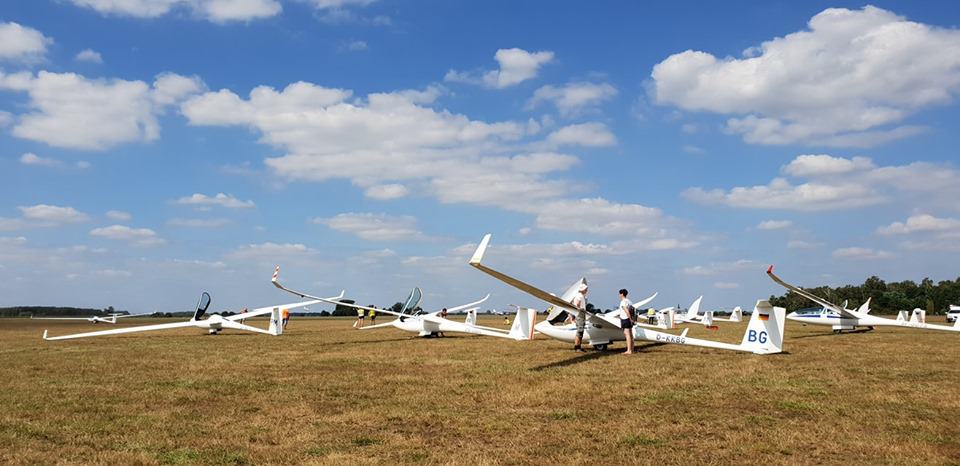 When I left you last Wednesday , no task was set, but there was one later and the OPEN class had to fly 296 km. on day 7 with task 5!
Later changed in 206 km. And,…The ASG 32MI flown by an Aussie/finish combination combined well,as they were the daily best ;nice speed as well…135 km./h.
UK pilot Rory was runner up with 132.49 km./h .
Karol Staryszak was the 3d for the day and for a chance the first Polish pilot;132.42 km./h.
All pilots finished and all flew over 100 km./h.
Thursday August 22…day 8 …task 6;
A 3 hour AAT was set, so the pilots could make their own choices within "borders". Nearly 400 km. was flown in time 3.13, so a nice speed of 124.24 km./h by Jakub Barszcz . Łukasz Wójcik was tiny little bit behind; 124.00. They started and finished more or less together.
3 were out.
Friday August 23..day 9…task 7;
411 km.…was set and the slowest speed was 111 km./h. The best speed 137 km./h!! Flown by Łukasz Wójcik in his JS 3. The ASG 32[132 km./h] was runner up with Karol as number 3.[134 km./h.
Saturday August 24 and last day 10 …task 8!!!
375 km. was set!!!so a nice day of flying , but not for all as Rory and Adam belonged to the out-landers on the last day. Team Adam dropped for 4 to spot 16. A good day again for the leaders overall Lucasz and Jakub winning the day with respectively 1000, 998 points. 94 km./h was the best speed for the 2 mates flying this competition together in different gliders, a great team performance. Surely they know now which one is the best under whatever circumstance.
Final results in open class and National Champion;
1. Łukasz Wójcik in JS 3 with 5.342 points.
2. Jakub Barszcz in ASG 29 with 5.201 p.
3. Karol Staryszak in ASG 29 E with 4.914 p. He lost on the last day nearly 200 points.
Paweł Wojciechowski won the standard class in St Jantar 2, during the Leszno Cup 2019 and
Maciej Adamski the 15m/18m. class in LAK 19T/18 m.

Adam was not too sad but he mentioned :"my third poor result of the EU Summer . I am going back to Australia happy, I know with what I've seen, what I've dealt with (regarding not my own gear & the usual challenges we face by being away from home), I feel that I'm flying at a high standard & at this comp, at the top 5 standard. "
Not to sad either because he was honored with the Kronfeld Cup.
"It's with great pleasure & also with respect, that I receive the Kronfeld Cup off Zdzislaw Bednarczuk – who was originally awarded this trophy at the Hosin WGC. The trophy is for the fastest speed over the longest task, hence the handover. So thank you for your understanding Zdzislaw!
Zdzislaw flew a magnificent flight of 522km at 136kph, myself 541km at 141kph in the Ventus 3 😍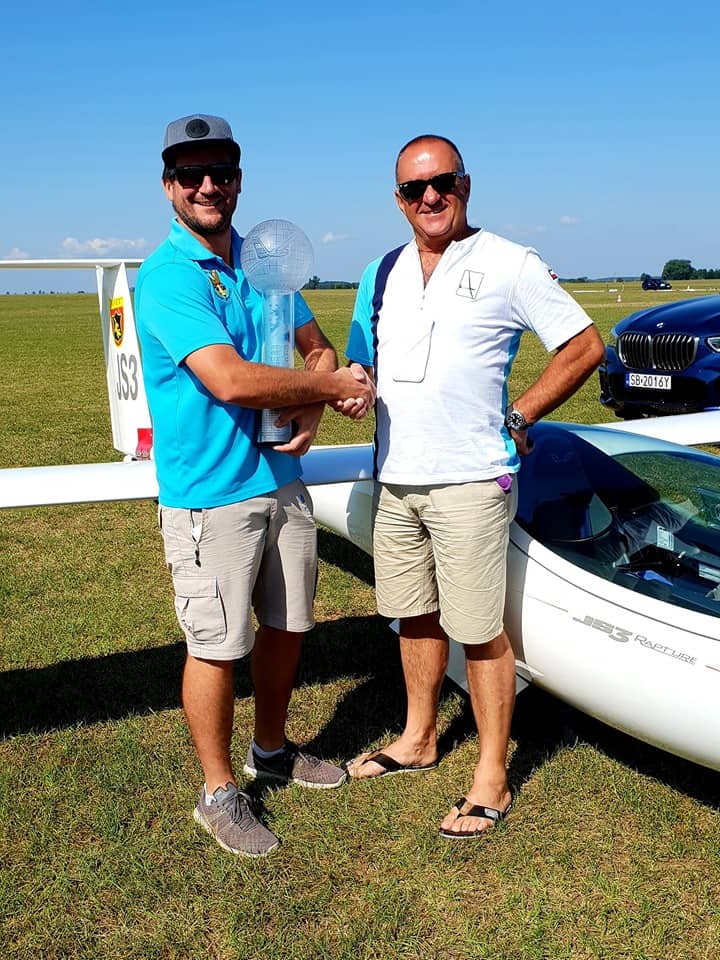 ————————————————————————
UK JUNIOR NATIONALS.
Bristol and Gloucestershire, United Kingdom
17 August 2019 – 25 August 2019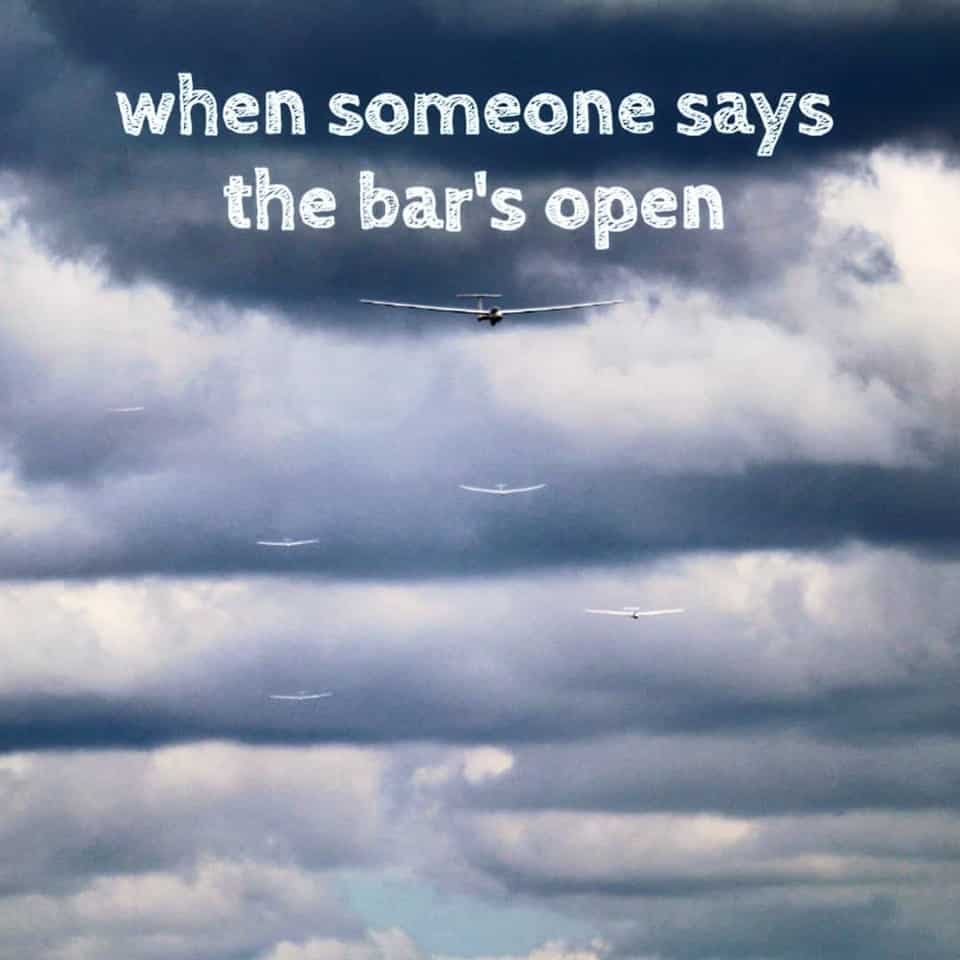 They continued from the airport of Nympsfield with
day 5, task 3 and 170 km. to fly.
Former junior and JWGC participant, Mat Davis, yes son from Andy, won HC the day, but Finn was in the right groove again and won the comps-day; 88 km./h. Jake was 3d
Day 6,task 4 and 85 km.to fly. BUT,…day was scrubbed.
Day 7 task 4 ;210 km…later changed in 174 and that still was TOO much for many of the youngsters as only 3 from 35 finished.
Good day for Finn who started at the same time as HC pilot Mat, but they did not finish together. Mat was back 17 minutes earlier.Jake was out but not too bad; 4th for the day.
Day 8 task 5; 2 hour AAT in the blue ….with 184 km. Jake won the day before 4 HC pilots who help/coach and lead and follow. 9 Finishers and Finn was one of them having an off-day and nearly lost 400 points , so not really consistent flying by him.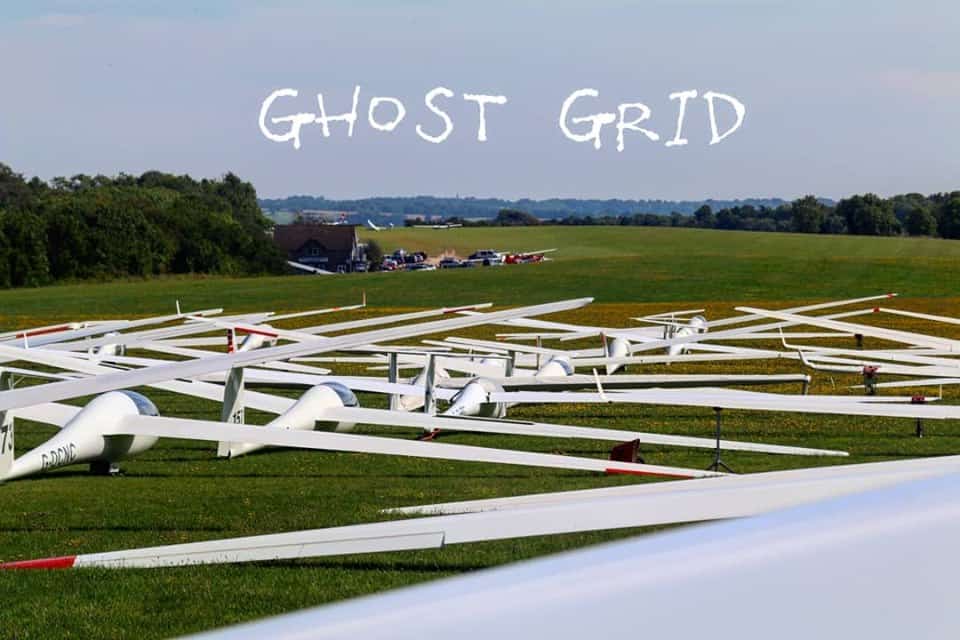 Day 9 task 6; 132 km. on the very last day!!! BUT,…the day was scrubbed, so the overall winners from day 8 are the WINNERS and CHAMPION Jake was a REAL champion. AND,…for the 3d time so we are going to hear more from him in the future. Look at the difference in points.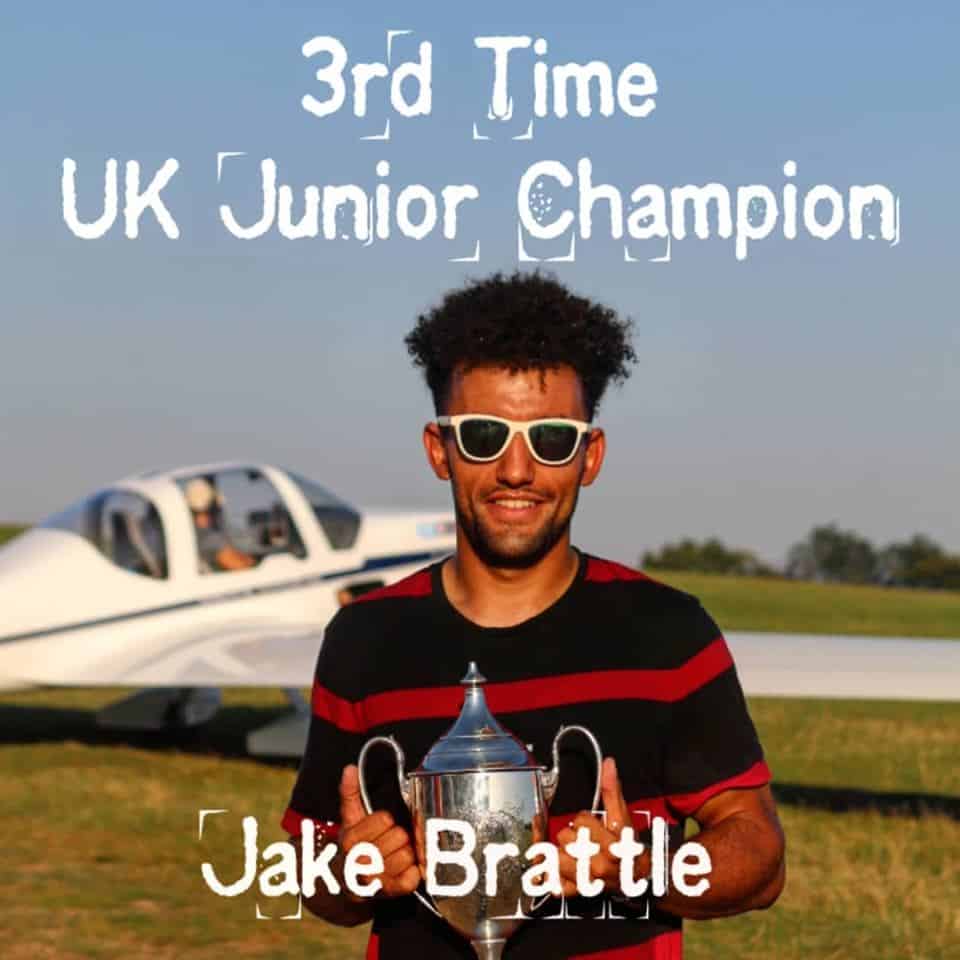 1. Jake with 3.870.
2. Tom Pavis in LS 6 WL with 3.652 p.
3. Peter Carter in Mini Nimbus with 3.635 p.
13 from 36 had over 3000 points. Some good juniors there in the UK and under supervision of CD Andy Davis a lot of toppers helped the young ones out in the air, during the flights.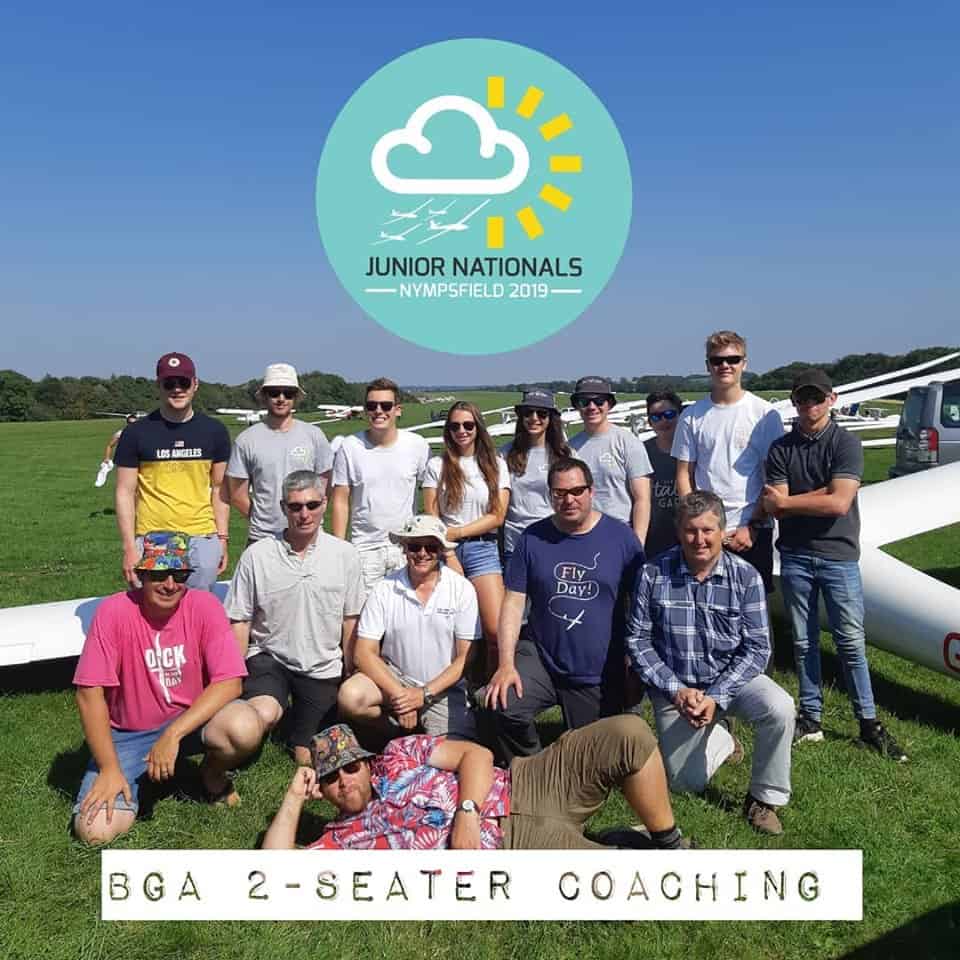 ——————————————————-
FRENCH JUNIOR NATIONALS.
Romorantin Pruniers, France
17 August 2019 – 24 August 2019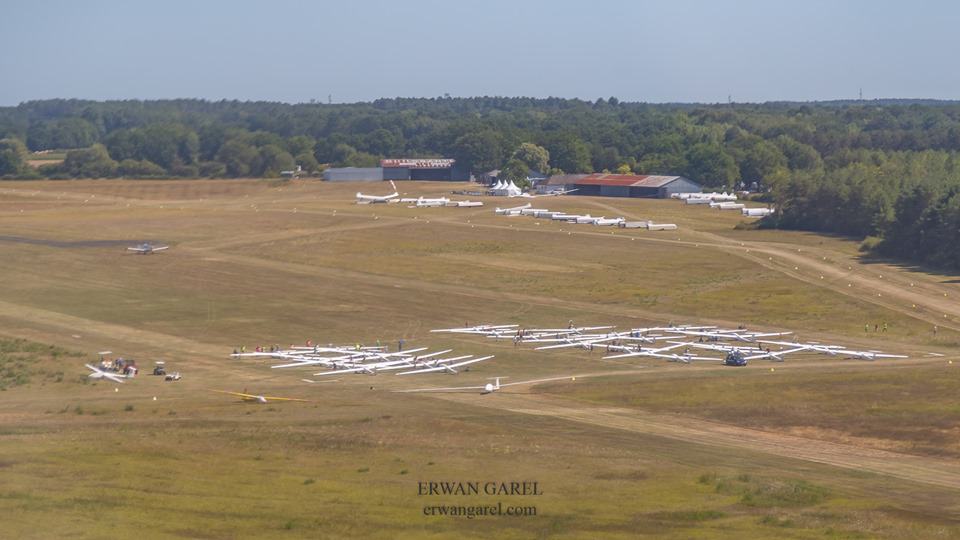 Club class;
August 21..day 5…task 3; 271 km….ALL 19 pilots flew the task.Best speed 90 km./h. All scores still very close so it remains exciting for the "young ones".
August 22..day 6..task 4; 212 km….18 started and finished and the best speed was 81 km./h. First 12 gliders today all Pegases.
August 23..day 7….task 5; 2 hour AAT. 7 Pilots flew just under 200 km. and only 2 from 19 were out. The current top 3 was in the top 6.
August 24..day 8…task 6; 167 km.…very last day!! With 1 day to go Aurélien Doriat was in the lead with less than 50 points on Edgar Lagorio, who was 6 points ahead of Timoté Gard.
What would the last day bring?? Timote was the fastest with 93 km. /h., [496 p] Edgar was runner up [468 p] and Aurelien was 4th.397 p.]So after 6 flying days, the new FRENCH JUNIOR CHAMPION in this class is;
1. Timote Gard with 4.061 points.
2. Edgar Lagorio with 4.039 p.
3. Aurelien Doariat with 4.013 p.
SO CLOSE!!!!!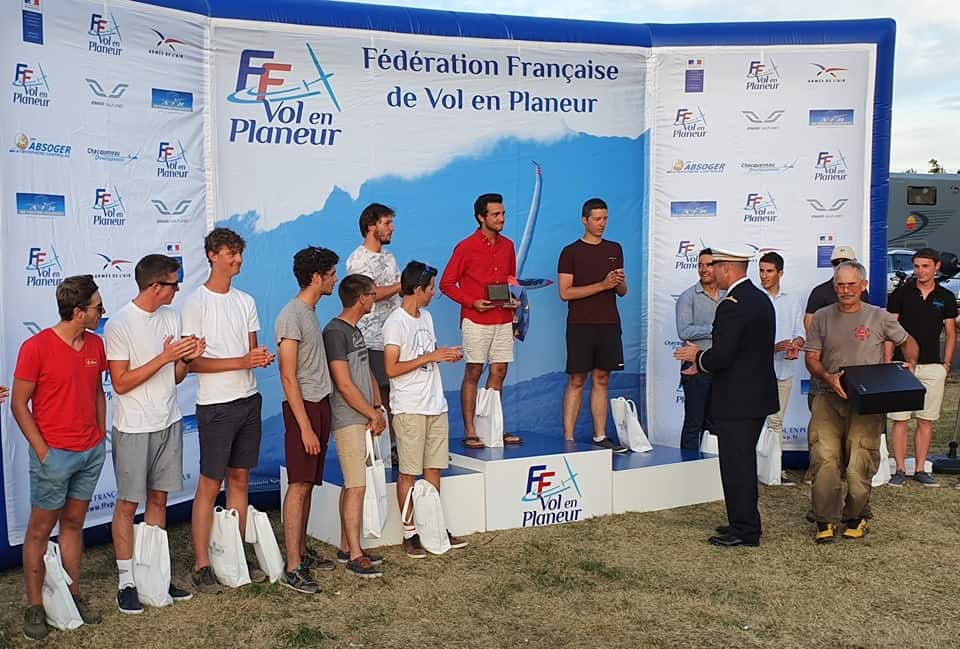 Mixed class;
August 21..day 5..task 3; 307 km. The local Duo Discus flew HC but was the best for the day. The only one just over 100 km./h. Some finished a bit low and got penalty points.
August 22..day 6..task 5; 260 km…All 11, who started 9, finished.Best speed 89 km./h by Celestin in Pegase.
August 23..day 7..task 5; 229 km….2 Local Duo Discus pilots flying HC were the best with 87 km./h.
August 24..day 8..task 6; 2 hour AAT and again Paul and Patrick Blanc won the day.
No secret they won the comps but HC [4.638 p.]does n't count for the title so
1. Florian Labatut in ASW 27 with 4.552 points and JUNIOR CHAMPION.
2. Hugo Roche in LS 4 WL with 4.437 p.
3. Kevin Faur in Discus 2B with 4.401 p.
CONGRATULATIONS TO ALL.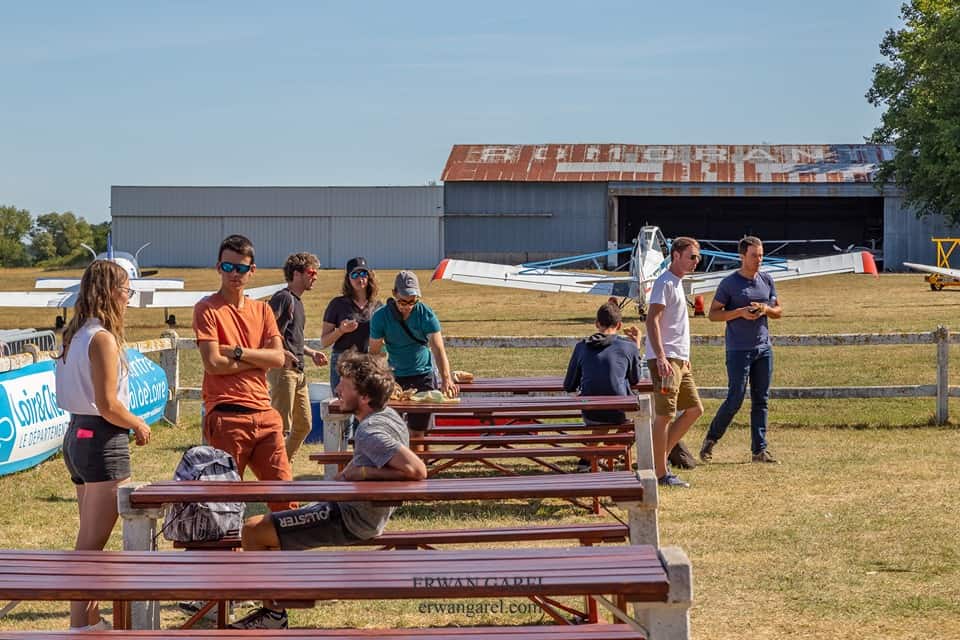 —————————————————-
CCR 2019 in Rieti.
Rieti, Italy
17 August 2019 – 24 August 2019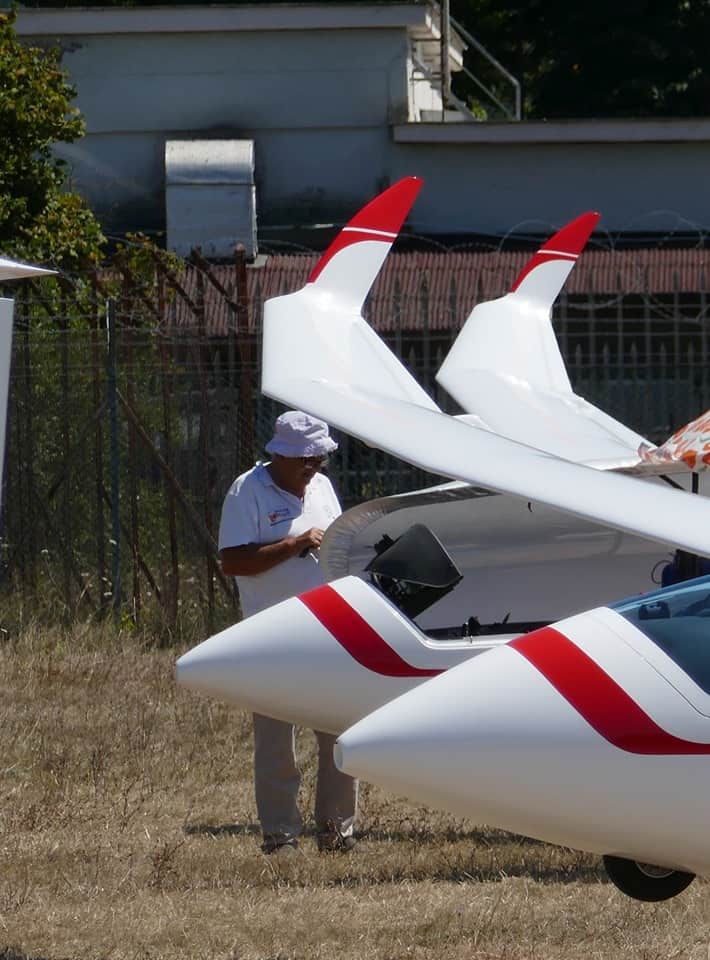 The Coppa Citta di Rieti was in the past, in my eyes, less important than the CIM, nowadays it seems the other way around.
Several top pilots fly in 2 classes ; one class , group 1, with handicap under 116.5 the other above.
Then there is some kind of class for rookie/future competition pilots; promozione.
They, there in Italy, had the good weather and flew every day except for 1.
Group 1 ;
Started with 16 pilots and one name was mostly above on the daily list. Martin Pirker from Austria in a Ventus CM /17.5 m.. They had 381 as set task and several smaller and bigger AAT's.
Stefano Ghiorzo and Alberto Sironi flew in this class in VersVS 350kg and LAK 19/18m and Vittorio Pinni in a GP 14 SE VELO 350kg .
Best speed was on a 3 hour AAT when Mattia Costa [Discus 2A] flew 434 km. with a speed of 143 km./h.
On Thursday evening there were only 12 gliders left.
On Friday they did not fly …weather relating and on Saturday it looked "marginal". But a 2 hour AAT was squeezed out and only 2 pilots finished!!! One of them Martin. So he added a few more points to his overall total.
Alberto [7th] was "less far " than Mattia, [4th] so he lost a spot.
Final scores in group 1;
1. Martin Pirker from Austria with 5.847 points.
2. Stefano Ghiorzo from Italy with 5.528 p.
3. Mattia Costa from Italy with 5.174 p. That was just 11 points more than Alberto.[5.163 p]
Group 2;
Started with 29 pilots, among them, Peter Hartmann and Werner Aman from Austria, Giorgio, Alvaro and from the UK father and son Gatfield and Peter Wells.
task 1, a 3.15 hour AAT, straight away showed speed; 132 km./h by Peter H. in the Antares 23 T.
Task 2,..The next day Werner [ASG 29] flew around with 145 km./h over a set task from 395 km.
Task 3 was for Peter and Werner, 417 km. with 152 km./h by Peter and 142 km./h by Werner.
Task 4 with 420 was for for the same 2 Austrian pilots who frequently fly in Rieti; Peter Hartmann flew around with 165 km./h over 420 km!!!!
That was furiously- fast!!! The runner up, Werner in his ASG 29 flew the distance with 156 km./h .The 2 slowest in their class from 29 pilots , flew with 117 and 131 km./h. Great day!!!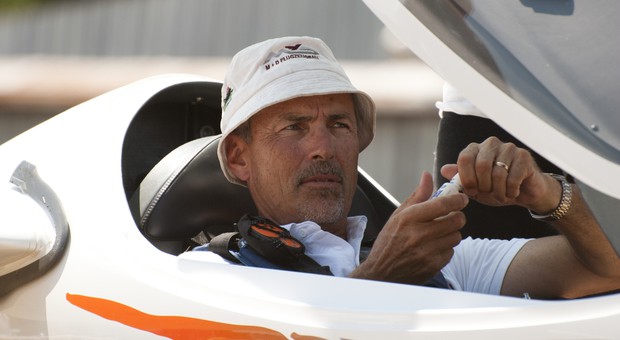 Task 5 showed a 2.15 AAT and this time the ARCUS M won on handicap. Only 20 from 29 finished. Several violated the Perugia CTR and out landed were they entered.
Task 6 with a 2 hour AAT and best used by Werner who flew 307 km. in time 2.04 so great speed of 148 km./h.
Task 7…no task.. no flying as the weather "resigned". IF they fly on the last day, Saturday was not sure either . And with 2 pilots on spot 2 , Werner and Roberto, flying would be good to see who would be on the 2d highest spot. AND YES ..also here they squeezed a day out.
Task 7….1.30 AAT. 10 flew the task and Peter won again. And with a nice speed of 138 km./h over 225 km. Werner was 6th and Roberto 9th so it was clear Werner was runner up and Roberto 3d.
Total scores;
1. Peter Hartmann from Austria with 5.362 points.
2. Werner Amann from Austria with 5.247 p.
3. Roberto Istel from Italy with 5.195 p.
The promozione was won by Pietro Silveri [ASH 26E] with 3.379 points.

————————————————————
Interesting news!
From Belgium;
Hasselt, not too far from the Keiheuvel, this time the place to be for the club the Kiewit, now even Royal and the oldest airfield in Belgium as I heard, had an open day last Saturday to introduce their new 50.000 E winch. Less towing-by-tug, so less noise for the neighbors and more environmental friendly.
From Holland;
This year we remember 75 years of FREEDOM. A spectacular show from vintage planes even , and this for the first time, with German planes. Arjan Vrieze was there to make , as always, great pictures.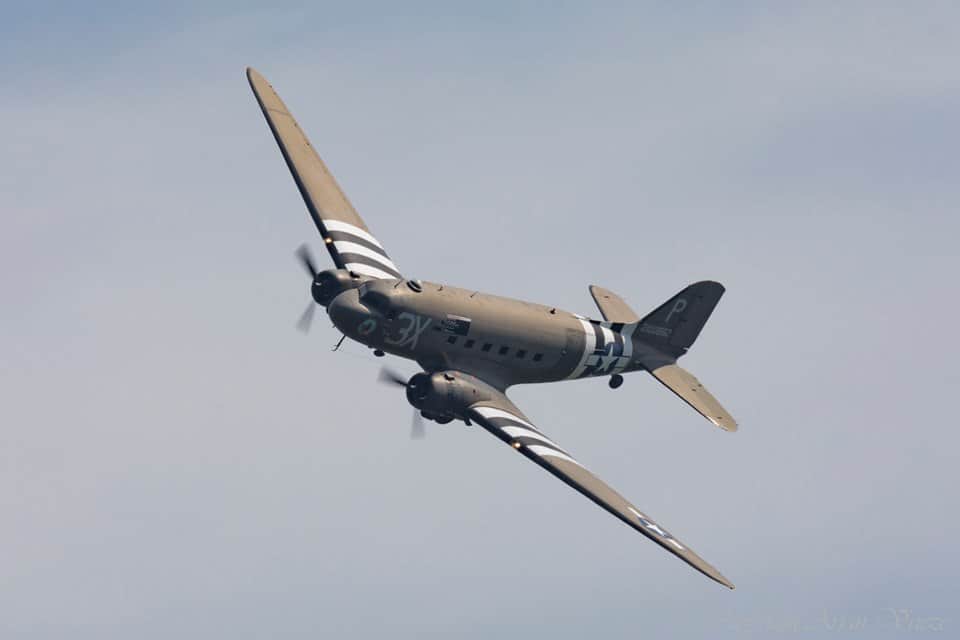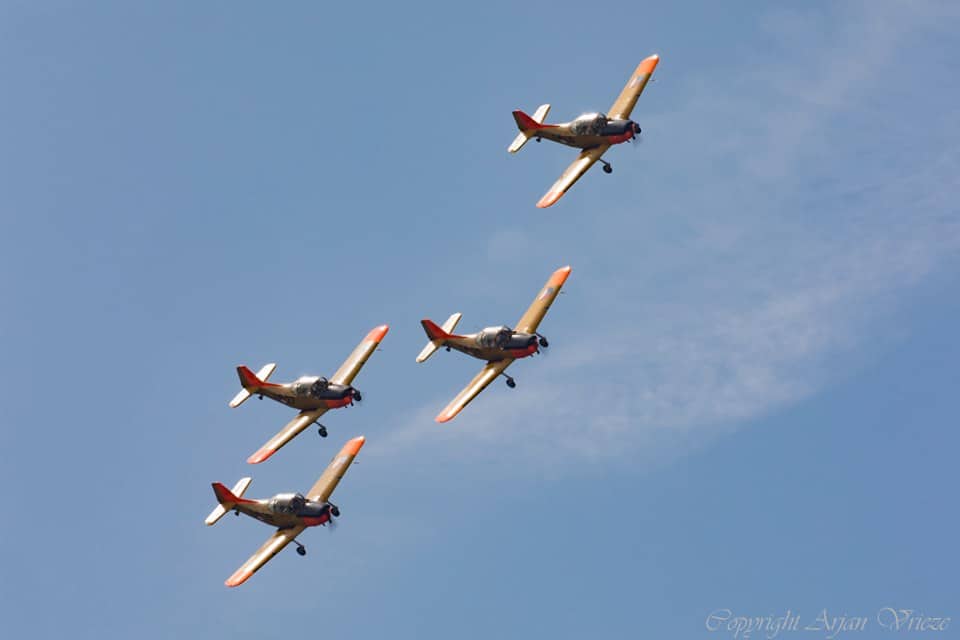 We also remember the war close by, at our cemetery for British soldiers and 2 pilots .This grave I visited already as a 12 year old girl. We more or less adopted this young man.

FROM JAPAN;
Takeshi shared some pictures from an open day with military planes and equipment but also gliding was a topic;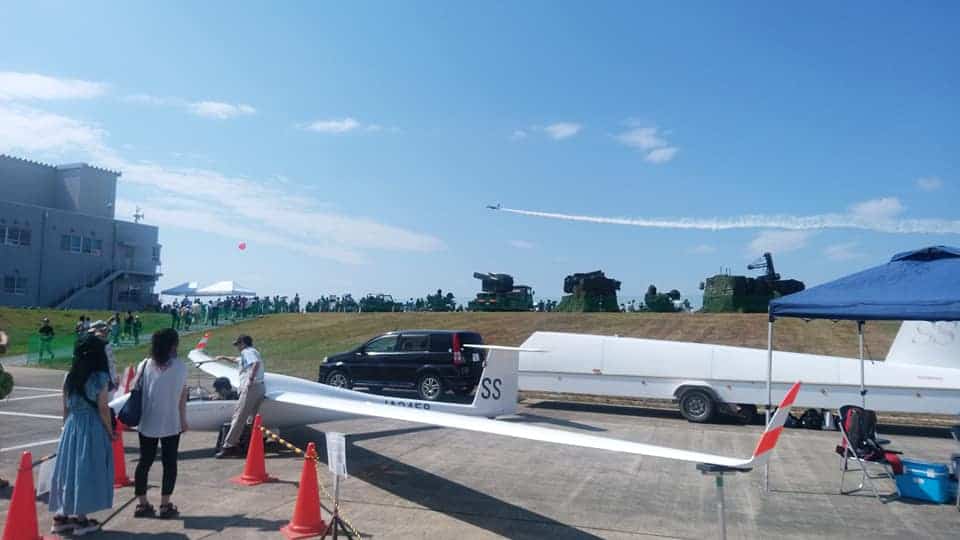 From the OLC:
Still some 1000 km. flights , to be honest in "fancy" gliders . It's rather late in the season , which was a pretty GOOD one.
Michael Sommer flew one from Puimoisson in the EB29R, Timo Nurminen in ASG 32 and Alvaro Jimenez Aguayo in ASH 31/21m. from Fuente .

That's it for now.
Cu next Wednesday
AND, I published a more private KEIHEUVEL diary last Sunday……. just to let you know when you missed it.
AND,..not everybody straight away seems to be able to read the blog, so most comps are over and blogs will be shorter,…maybe that helps.
Our 2d official heatwave in Holland is a fact…never happened so late in the season.The 3d one here in the South.
Cheers Ritz