R.I.P Goeran…another legend gone…..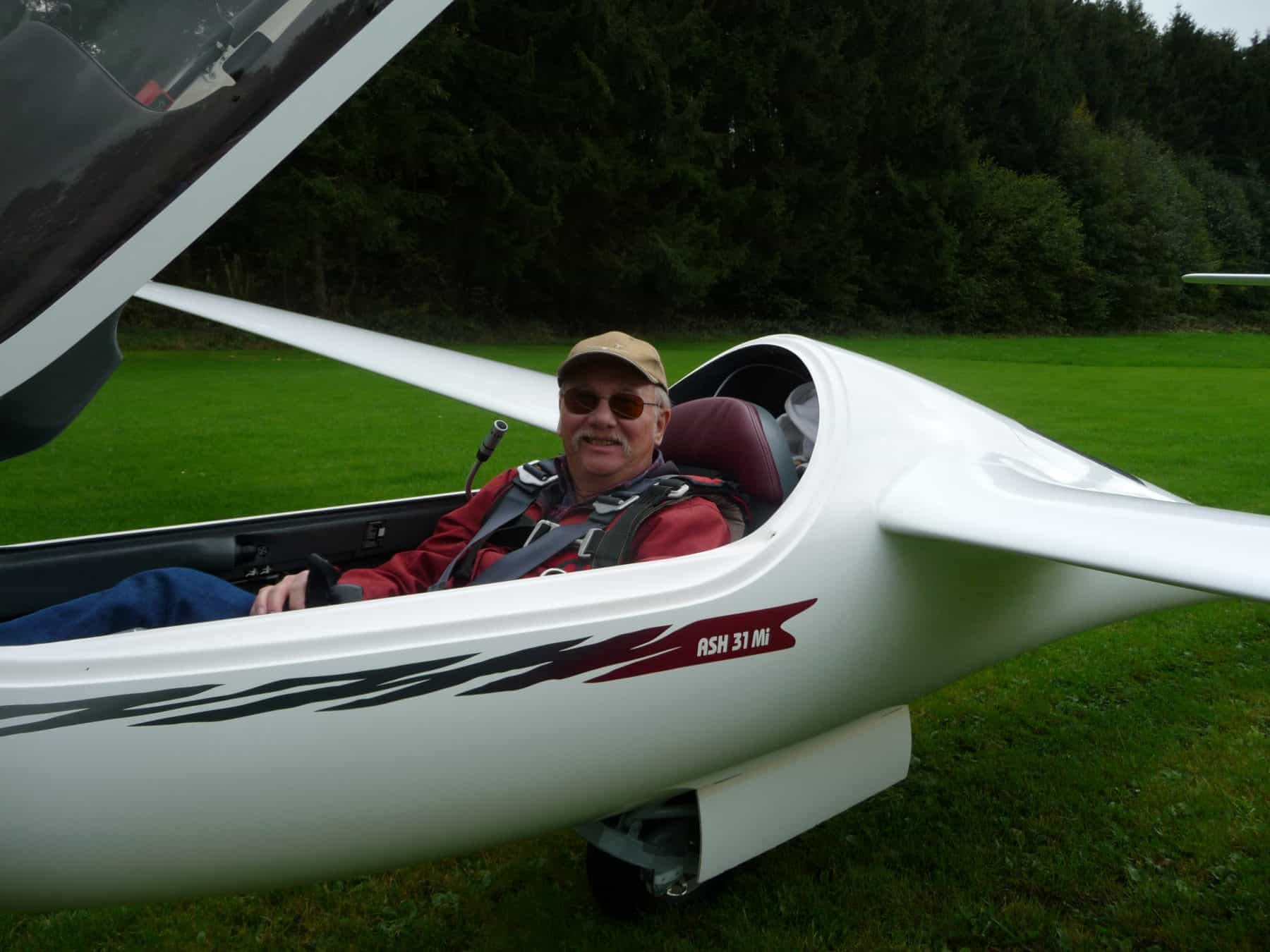 A recent picture from Goeran in the ASH 31 Mi.
Courtesy Robert Danewid.
—-I start this blog with sad news ,very sad news.No details yet , but a car accident has cost the life of our mate Goeran Ax.
Who does not know Goeran?? Twice World champion, friend, IGC member for Sweden and passionate glider pilot and competition pilot. I am sad , very sad!!!
Goeran [1943] started his career flying Saab J 29 and 35 in the Swedish Airforce . Then he flew years for SAS as airline pilot. I got to know him at several comps and WGC's, my first acquaintance in 1981 in Paderborn where he won in 15 m. class in an ASW 20. Ake was runner up then and "our" Daan Pare 3d.
Already in 1972 he was world champion in open class in a Nimbus 2 in Vrsac .
2 Pictures from the past;
Paderborn in 1981 with Goeran again on the TOP SPOT !!!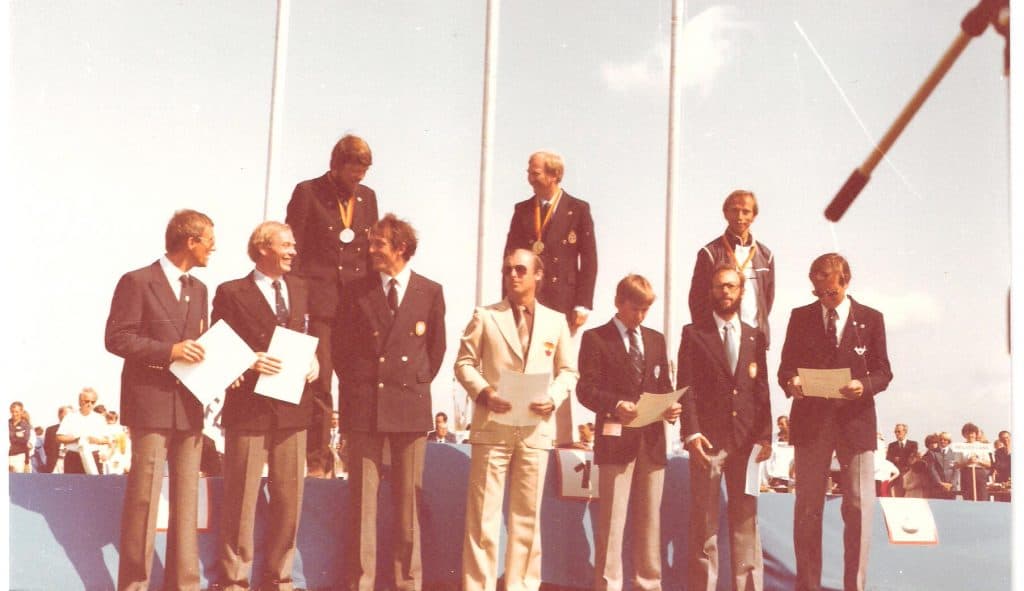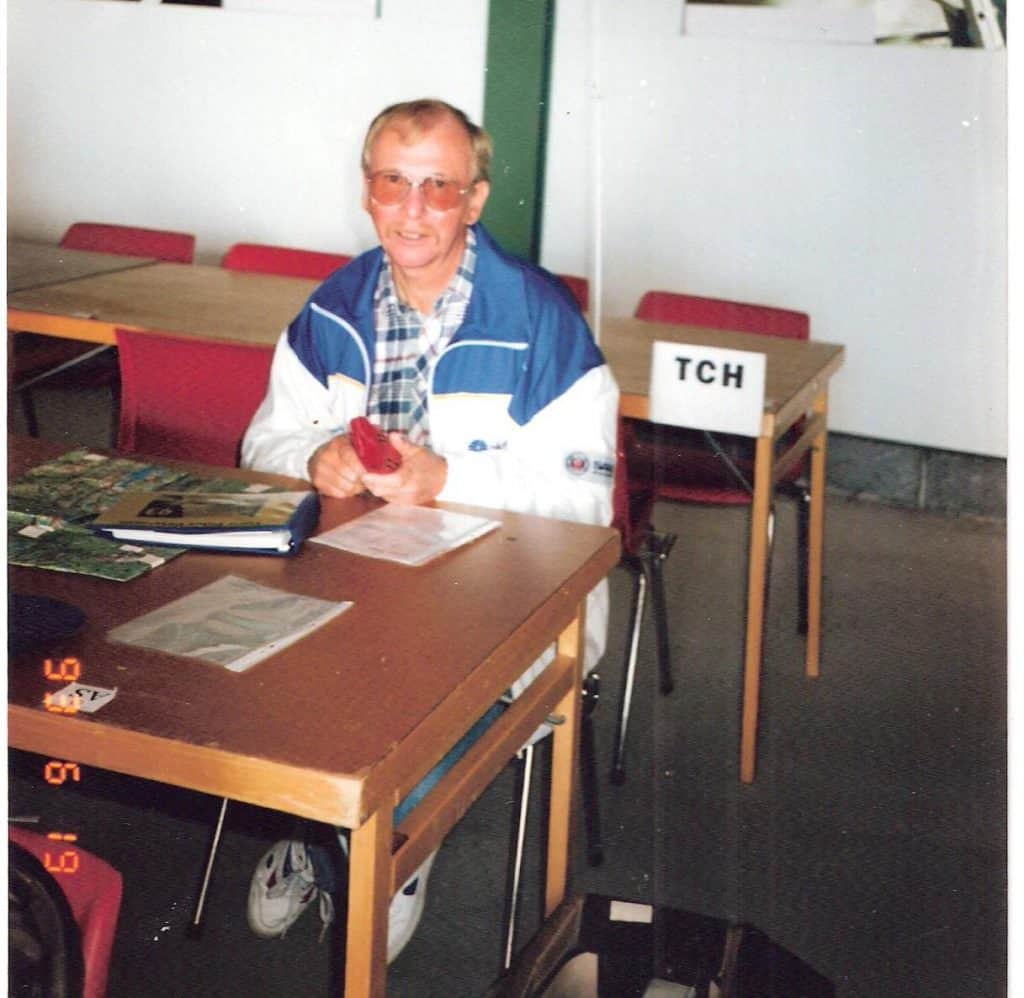 Goeran in 1993 in the briefing room during the Borlange WGC. He was runner up behind Janusz Centka.
R.I.P. Goeran ,you will be missed by many not only in Sweden but far beyond.
——-The last comps for this season down under are in Stonefield in the West . A GRAND PRIX WEEKEND on February 24 and 25 ,with 8 participants in one class.
Cathy [Conway] had an interesting and enthusiastic opinion about  day 1 of 2 from this GP -weekend, which was cancelled in the air;
"Best no-contest day ever! Convergence over the airfield. 3 1/2 hours. 500km without a thermalling turn. SeeYou reported L/D of 495 for the flight 1% circling. Ridge in the sky. We wouldn't have done the task though."
Day 2 had a 221 km. set task won by Heath L'Estrange in the St Cirrus ;5 points. Cathy had 1 point.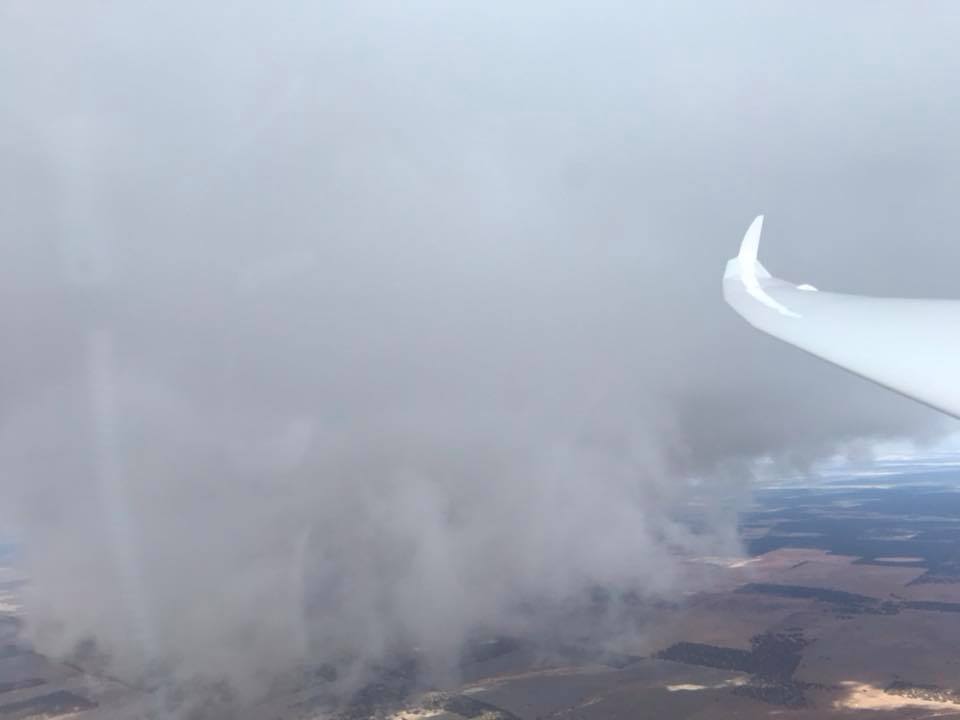 As shared by Catherine who flew 289 km. along the convergence line in the Ventus 2CT/18m..
And,…in the East,  the Lake Keepit Regatta [February 24 -March 3] with 28 pilots, also in one class with handicaps. This 2018 Regatta is a fun and informal competition to learn more and test your existing skills.
So coaching, team flying ,mentoring it's all available.
Lake Keepit is the venue for the next WWGC ,so Aussie female pilot's ,Jenny and Kerry are there to practice.
AND,……Keepit had, as often, very nice weather. Last Sunday they flew over 300 km. in an LS 6.
Monday was cancelled.
2 more days with today a 3 hour AAT won by local pilot Justin Smith in a Discus 2.
After 3 flown day's out of 4 he is on spot 3 with 17 points less than Jason Kath [Speed Astir…2678 points] who is runner up and Dave Shorter in the JS 1 leads the pact with 2.789 points.
A pity there are only 2 "girls" practicing in this event.
Talking about this WWGC , Marina vice president of the IGC , just shared this picture and message this week.
Lake Keepit, Cumulus Skies, Orange Sunsets, Boundless Wildlife, Great People, Starry Nights and Gliding!
as shared by the 10th WWGC.
And don't forget the great lake, you mostly have to pass , sometimes low, on final.
——-Very carefully the first over 200 km. thermal-flights have been flown in Germany. GOOD!! This week however it seems,  new cold-records will be broken with the fresh, NNEasterly bringing clear Siberian air to Europe. Quite a phenomena this late in the winter season.
YES,…tomorrow the meteorological Spring starts here in Europe.
"the Beast from the East takes aim sweeping across large parts of Europe!"
With the windchill factor it is easy about minus 20.
With some wave , German pilots could fly already over 700 km. from Offenburg Baden [ Württemberg] in an 18 m. ASG 29.
Also some  Belgium pilots flew yesterday and it was so cold that the tube of the camel-bag full of water was frozen!!!
Here is the OLC comment from Niel Deijgers [St. Libelle…364 km.]  who started with his mates Bert Van Eyken [Ventus CT /17.6 m…..464 km. ] and Daan Spruyt [ASW 27….393 km.] for flights up to nearly and over 400 km. in thermals and freezing cold conditions!!!
" Nice way to start gliding season 2018! 
Very cold underneath the cloudstreets but it felt so nice to be in the air again!
Temperature in the cockpit dropped to -15ºC, the tube of my camelbag froze so I was happy I had an extra bottle with me.
Good airmass but with 35-40 kp/h of wind with an empty Libelle it was really the limit…
Excellent forecast by SkySight."
They started at Brasschaat not too far from the Belgium border where I live all the way to East of Terlet in the middle of Holland.
Flying between shiny ice-crystals is for sure special in Holland and Belgium. Heroes!!!!Respect.
——-"So the Adventure Trip HELLI LASH CHALANGE has startet with all the world champions. So after I bursted Uys Jonkers tire of the trailer and after we all got stuck in the sand with cars and trailers Laurens Goudriaan has done a wonderful job pulling us all out again with his 4 wheel drive. now al the gliders are rigged ready to go."
This was the FB message from Katrin Senne, German's female TOP PILOT. She shared some pictures as well.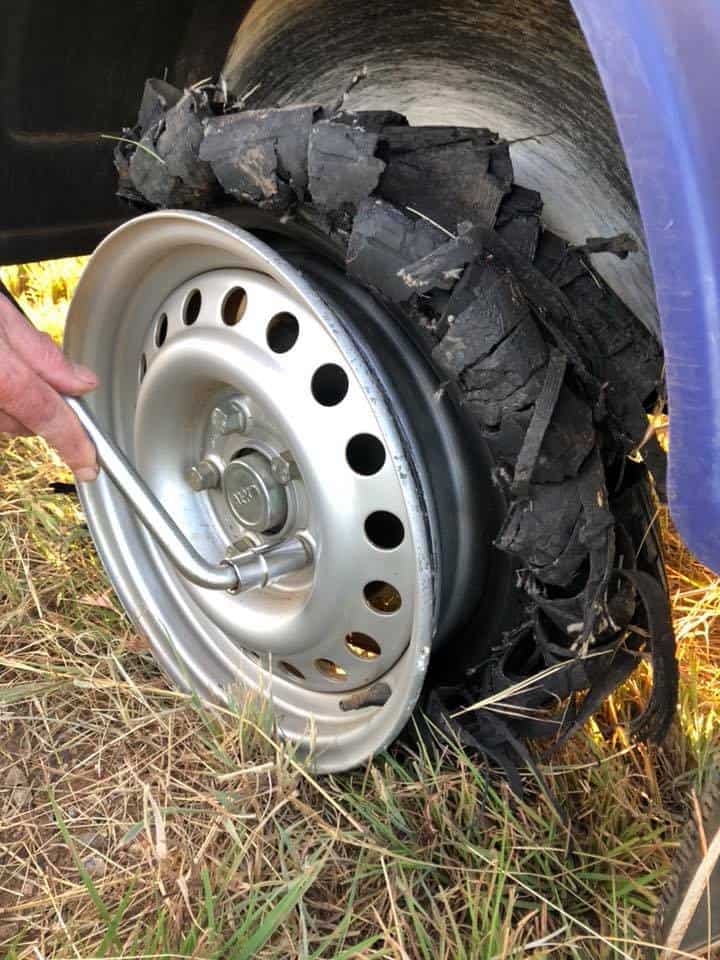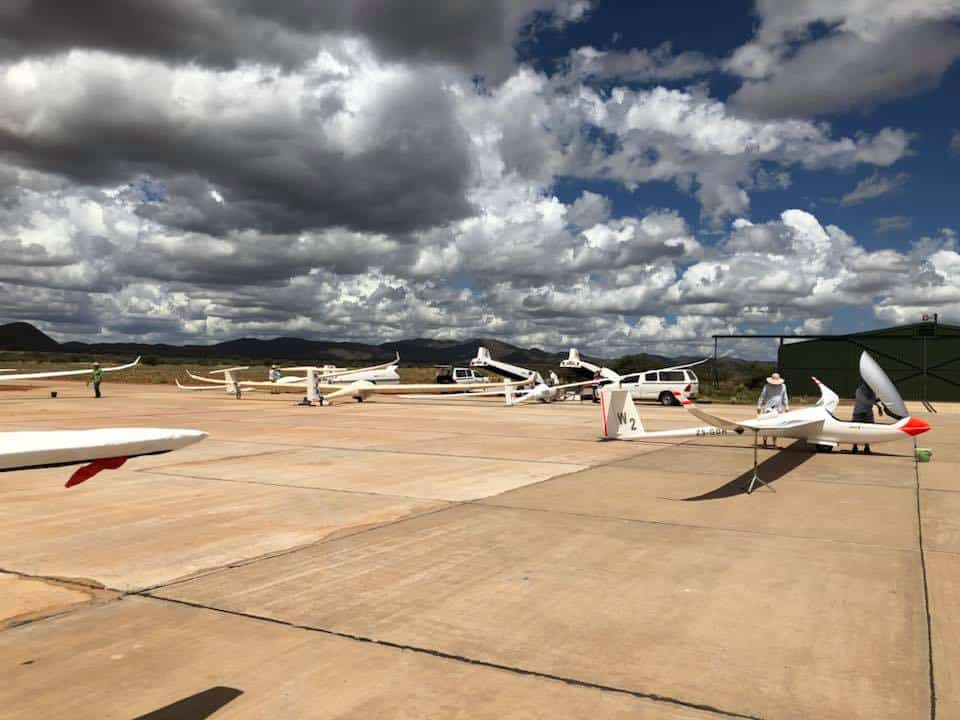 After some "minor"  problems the real fun can start. Mac is there as well and promised to update me.
——-Ballooning; Don't know a lot about it , but got this message so we can see how good Germany is in this sport.
Title: 10th FAI World Hot Air Airship Championship
Type : World
Date: 15.02 – 22.02.2018
Location: Tegernsee (Germany)
Final Results :
Overall
1st : Andreas Merk GER
2nd : Ralph Kremer GER
3rd : Juergen Huetten GER
The full results can be found at the following address:
http://www.world-championship.org FAI congratulates the Winners and thanks the Organizers of the Championship.
—–Schemmp-Hirth news
 "Schempp-Hirth CEO Tilo Holighaus used the great (but cold) weather conditions for a longer longer flight over the winterly Swabian Alb with the new Ventus-3M, and he was excited. For a (German) report, please check https://www.onlinecontest.org/olc-…/gliding/flightinfo.html….
Such a new glider doesn't stay undetected for long, however – Lars Reinhold from aerokurier spotted him soon and shot some great photos that we are glad he shared with us. Thank you!
here are a few.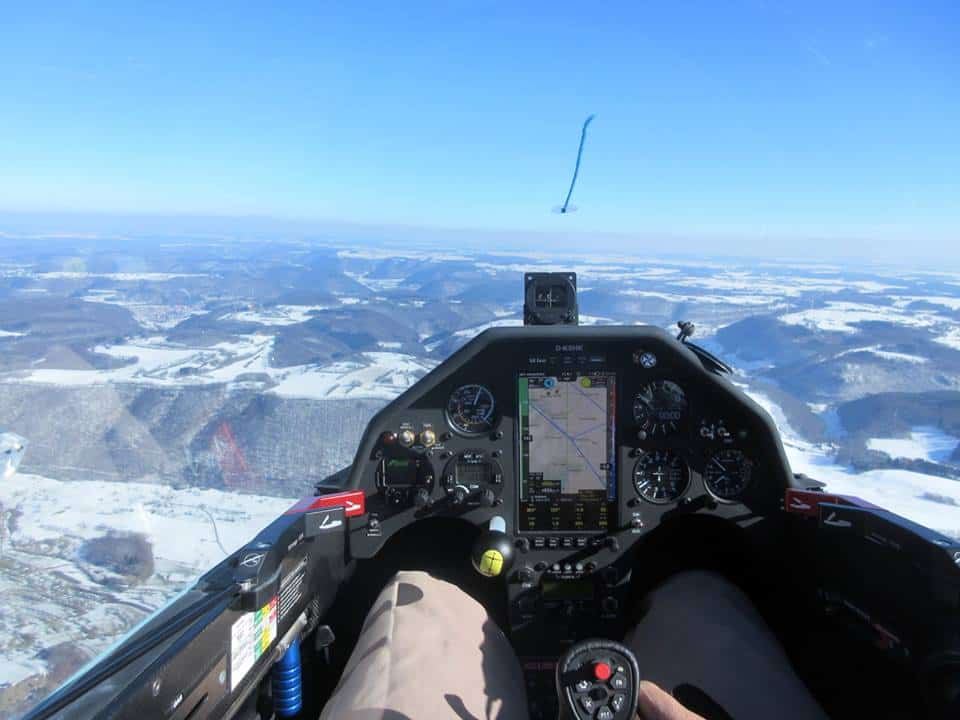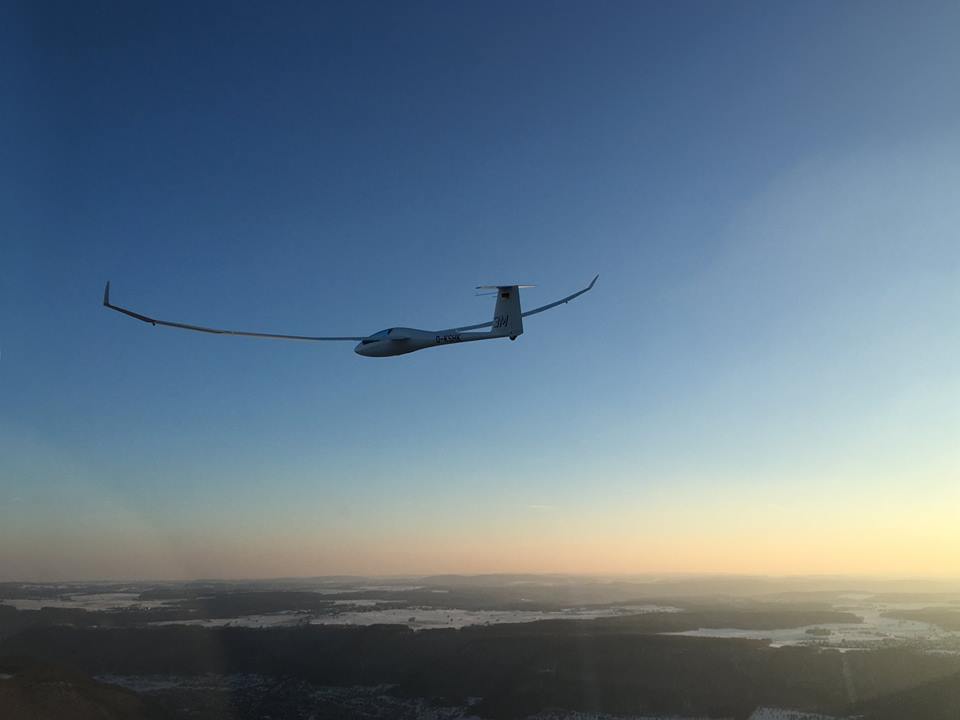 Picture1 1; Inside the cockpit of Ventus-3M
picture 2; Finding Lars Reinhold in the blue sky with Ventus-3M
Picture 3; Ventus-3M showing the Hahnweide airfield with its left wingtip
Picture 4;Time to land with Ventus-3M
——Olympic's are over ! Another 4 year waiting now ,before China shows what they have done to entertain the world's best winter sporters and all of us. With 20 medals [4 less than 4 years ago] the Dutch team [33 performers]  was very happy; 8 gold, 6 silver and bronze, for a no-winter-sport- country, a very good result.
Some of the Dutch speed skating trainers moved away and got gold for Korea, Japan and Canada. They are heroes there now.
The only thing "we" can do is  skating both on short track and long track and it seems we are still good in it, though the concurrence opened their eyes and come closer.
Looking at the medals the best country is Norway , then Germany and Canada and The USA and on 5 our totally NOT winter-sport country Holland.
Though,…it's so cold that tonight the first marathon will be skated on natural ice!!!
——Last but not least. After TOO many years the Sportavia area looks good again. A big clean up shows that all dead trees and all rubbish is gone. Look also at the tie-down area, no grass to be seen anymore, excellent. They started that already when I was there.
Now some [big]  repairs to the hangar and all is in good order again.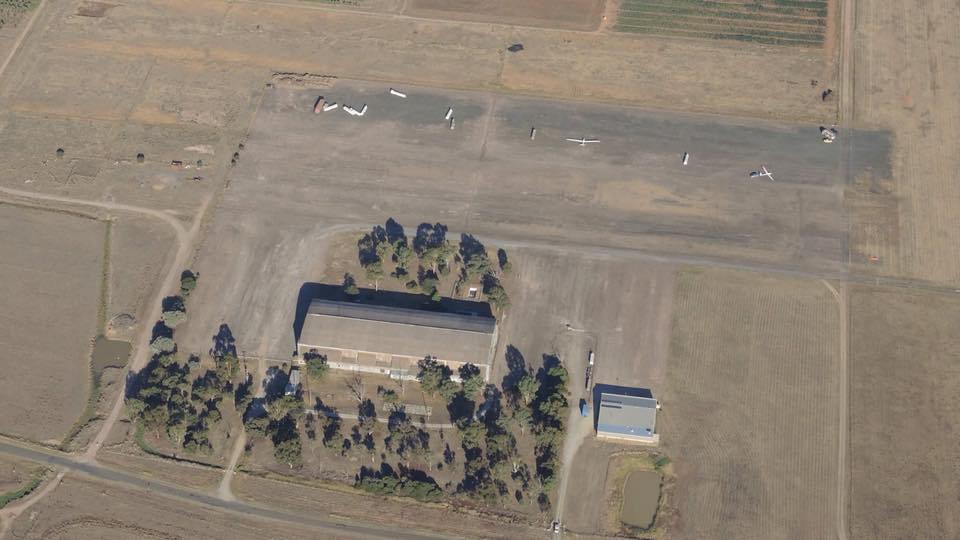 We've had a very big clean up around the old hangar lately…… must say it's looking awesome…. big thanks to Peter Wright and Jorgen Thomsen…..
Picture courtesy Joergen Thomsen.
Cheers Ritz