Another not too long blog as the arm and finger are still not well.
Grand Prix in Germany.
The Qualifying Grand Prix in Musbach in Germany between August 6 and 13 [ in 18 m.] was an event visited by several top pilots. Let me call them by name, what about the German pilots Matthias Sturm, Holger Karow and  Mario Kiessling all WGC participants and or champions.
From South Africa Laurens Goudriaan,….. no introduction necessary. From the Czech Rep.,  young and "a bit older" Petr Svoboda and  Roman Mracek. From France Phillipe de Pechy and Freddy Barthelemy and from Holland Willem Dortu and a few other pilots a total of 19.
A short review.
They practiced on the 6th with a 288 km. task and a regatta start at 2.32 PM. and,…as always it's better , when you get them, to have your penalties on such a day to avoid them during the races. 13 Pilots started and 11 got penalty seconds,mainly for a too low finish or a too high start altitude. Not all pilots started on this practice day  and from the starters,  1 nearly finished [after 279 km] and 2 missed out on just over 100 km.
2 x a  JS 1 on top with Laurens and Holger
RACE 1; 334.62 km. so a good long race and an early start for all at 1.20 PM. Matthias in his ASG 29 was the fastest 115.3 km./h.; 10 points for him.
RACE 2; 255 .2 km and a start at 1.05 PM. and with a speed of 122 km./h Matthias was the fastest again,so 20 points in 2 days for him. 17 Pilots finished.
RACE 3; 144 km. and a start at 4 PM. Different circumstances so slower times. 107 km./h was the best by Holger in his JS 1. Matthias was runner up and 15 finished.
RACE 4; 275.13 km. and an early start at 1.05 PM.and again Holger as first and Matthias as runner up, but both with 116 km./h.
10 Pilots over 100 km. /h. and 18 pilots finished , one got a disqualification for the day ; reason…… crossing start line in opposite direction within 2 minutes after opening of the line.
RACE 5; 281.71 km. and " today we will do the "Tour de Stuttgart", a flight around the TMA Stuttgart, to show the pilots another scenery, they have not seen so far."  Holger is in the mood and won the day again, much faster than the rest ; 121 km./h. This time Mario  in the brand new VENTUS 3, was runner up with 113.7 km./h and Matthias was 4th.
The next day was cancelled.
RACE 6 ; 271.74 km. and an early start again on the last day at 1.02 PM .It was pretty clear that Matthias with 42 points or Holger with 44 points would be the winner if everything on the last day would go according to expectation for them. In the end not so much for Holger who won as only pilot 3 days, but now he was 5th for the day[ 5 points] . Matthias was runner up [8 points ] and the 11 -last-day-points were for Mario, so a real German "affair" with a difference of ONE point between the 2 best pilots of this race.
GERMAN QUALIFYING GRAND PRIX winners;
1. Matthias Sturm             50 points
2. Holger Karow                49 points
3. Mario Kiessling             39 points
 Mario and Matthias will be competing together in Benalla in Australia in the 18 m. class at the next  WGC.
All the qualifying races are over now and  the next race,  the SGP WORLD FINAL , will be in Potchefstroom. It will be flown between November 5 and 12.
Already approved entrees at this early stage; Sebastian Kawa from Poland, 3 German pilots Robert Schroeder, Holger Karow and Matthias Sturm, Mike Young from the UK and from France Freddy Barthelemy.
On the 7th FAI SGP final reserve list I read the next news:
"This year, the pilot reserve list is sure to be a determining factor on who will get to participate in the 7th FAI SGP World Final at Potchefstroom.
With the Chile SGP producing only one qualified pilot, the highest-ranked pilot on the list is effectively guaranteed a place. Should there be any pilot among the already-qualified who is unable to attend, this will open up even more places for participants in the national SGPs who have placed third."
You can see this list on http://www.sgp.aero/finals2016/news_add_here/sgp-news/7th-sgp-final-pilot-reserve-list.aspx
" Welcome to another exciting Sailplane Grand Prix event. Potchefstroom Gliding Club is looking forward to be the hosts to competitors and spectators for this wonderful event."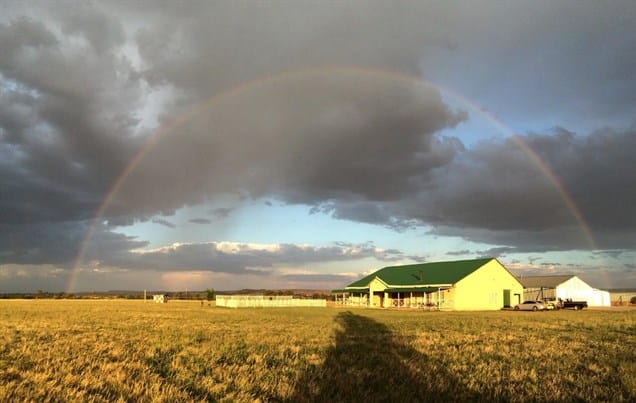 POTCH.
As shared on the SGP site.
———
Tibenham, United Kingdom.
Norfolk Gliding Club is proud to be hosting the 18m National Championship in 2016 and the 2016 Junior Championships.
The 18 m. Nationals in the UK , parallel with the Junior Nationals were held in Tibenham between August 20 and 28 and specially the many juniors, with there " less performing "  gliders,  had to deal with miserable hot weather and for that reason cancelled days. A real pity as 42 pilots ,or teams[ flying a 2 seater as Duo Discus,  Arcus M or Grob Twin 3] , were on the participants list and in the end had ONE valid day.
On one day they got a 261 km. task ,so there was HOPE, but the day for them had to be scrubbed.
The weather was either " low cloud followed by fog followed by rain", or " racing tasks in the blue. Today is almost the same as yesterday with a strong low inversion and high temperatures forecast. The big question is whether the temperature will get high enough." It did not, the trigger temperature was not reached! The juniors flew and tried hard but best result was 43 km. from the set 83 km.
The 18 m. had more luck with their better gliders. The 26 pilots had their first task on the 2d flying-day; 183.80 km. and the total of 554 points were for  Frank Davies in the ASG 29E . He won the day ahead of Andy [Davis] in the JS 1EVO and Pete [Harvey[ in the JS 1C.
Task 2 with 191 km. was scrubbed but on Tuesday they could fly again.
Task 3,….A pretty marginal day but 4 pilots could finish, another 14 flew between 100 and 143 km. from the set 152 km.
Task 4,…with 214 km. just did not have the correct soaring weather, too hot and too strong low inversion. They flew but only 96 km. for the best daily pilot Pete, so not a valid day.
NO task on Thursday.
Task 5 was set with 366 km. and also the juniors got a task they went for 207 km.
So officially;" Racing Tasks for both classes, early morning cumulus over the airfield forecast to blue out through the day, 207 for the juniors and 366 for the 18Ms."
That sounds good!!!
AND,…it was good a 1000 points-day for both classes. Finally points for the juniors and St Cirrus pilot Daniel Smallbone was the best and got them.
Different  faces in 18 m. with Rory Ellis as winner and Tim Jenkison as runner up. The more familiar faces as from Russell Cheetham, Andy Davis  and Pete Harvey we could find on spot 3 ,4 and 6.
With 2 days to go the total score is VERY interesting;1000 points for junior Daniel as they only could fly one day till now and 990 for Tom Arscott [ St Cirrus] and 940 for Jake Brattle.[DG 100]
In 18 m. it was very close after 3 valid days;
Brian Birlison with 1918 points
Andy Davis with 1916 points and  Russell Cheetham  with 1822.
Stephen Ell with 1812 and Gary Stingmore with 1806. All close together.
Unfortunately NO task last Saturday. I could see on the meteo- map severe thunderstorms passing over the middle of the UK. We had them here in Holland later as well.
Last day on Sunday August 28! But,…..NO TASK !!!!
So the winners were as above.
18 m; Brian, Andy and Russell.
Juniors; Daniel,Tom and Jake.
———
The Perlan Project.
Got their latest- news- blog with all what has happened since September 23 2015.
The carbon-fibre glider, built with a pressurized cabin, is , as we know, about to make history ; Goal 27.000 m. height-flight , which would be a world record but due to all  scientific instruments for climate, aerospace and stratospheric research on board , it is also a boost for the climate research to get to know more about climate changes.
This month they start with a series of flight to about 17.000/18.000 m.in Argentina using mountain waves. Big sponsor is AIRBUS.
If you want to read the full blog you can go to
http://www.perlanproject.org/  You can sign up there for the mailing list .
Interesting blogs. Have a look.
——–
Containers for Australia.
Both couples are from Holland, both very much interested in soaring and both living nowadays in Australia.One couple in Corowa, for already 10 years,  the other one pretty recently in Narromine. Both are hardworking couples and lovely people.
That Australian Soaring Center Corowa ;[ Grietje and Francesco] brings gliders in containers to Melbourne  already for a long time and we  know , they are doing a great job.
Their schedule for 3 containers, red white and blue,  is ready and was shared on FB; perfect as all the rest they do;
www.australian-soaring-corowa.com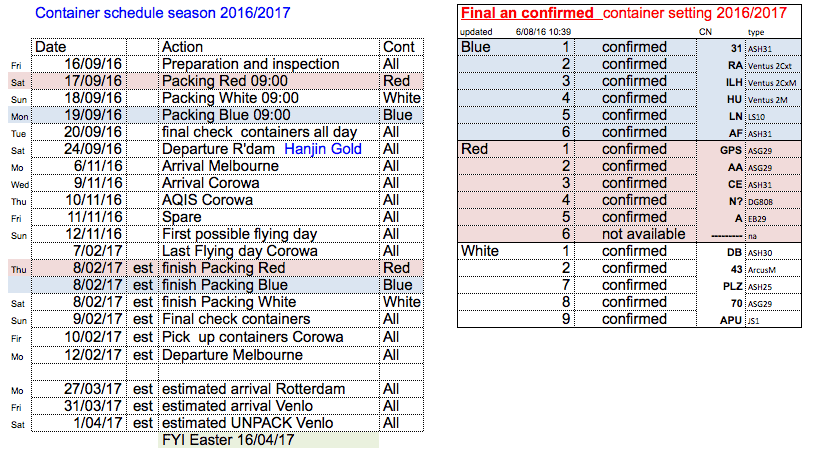 From Hilversum to Narromine and back, there is a possibility now too. Evelien and William Stalenburg living in Narromine AT the airport and owners of the big new spiffy looking hangar there , do have some spots available for the upcoming season. They have a special sea container with adjustments for the gliders. You can look at  www.outbackgliding.com or ask what ever you need to know on info@outbackgliding.com
——–
We had for our feeling the lousiest summer ever, rain, rain, rain  but,…surprise surprise, the over- 30 -dgr. -C -days last week, got us back in the top 10 of the hottest summers ever.Spot 9!!! With only 22 nice-weather-days instead of the normal average of 32,  it shows that the feeling… lousy… is in place.We had severe rain, severe hail and cool temperatures but also a short heatwave with up to 35 dgr. C.According to those who know about it; the warmer climate depends not only on the global warm effect but also on the strong El Nino from this year.
So with the meteorological autumn starting here tomorrow and spring for my Aussie mates, a new cycle starts again with for us winter on the horizon and for my mates down under summer, with , a for glider pilots,  hopefully exciting and good WGC in Benalla.
Talking about the WGC in Benalla , there is a possibility to practice in Tocumwal. About 70 km. more to the North , so closer to the hot weather.
OUTBACK SOARING at the Tocumwal Aerodrome has a tow plane ,a Bellanca Scout ready for you,  a tie down area for your glider and water points to fill them. WIFI available as well.
Gate 5  …..info@outbacksoaring.com.au 
———
The in 2008 built hangar for the WGC in Rieti was the gathering place for all families who  lost their loved ones in the earthquakes. From there they could take the bodies home for private funerals. SO SAD!!!!!!!
There was a joint decision of the Aero Club and Central Aero Club Rieti to " suspend all activities related to flight, putting the two club facilities available to operators and family who came to retrieve the bodies."
R.I.P.
 CU next week.