HAPPY and HEALTHY EASTER !!!
ALPHEN AAN DEN RIJN    SUNDAY MARCH 31 2013
ritzdeluy@hotmail.com     www.soaringcafe.com     www.glidinginternational.com
We moved in time ONE hour ahead this weekend ;
SUMMERTIME,
BUT summer is still far away.
The 50thiest lustrum of the ZES , last Wednesday was one big feast of recognation. One thing was evident; we surely got older!!!!!! But "happy " older and some wrinkles show the identity of the 50 years of good and bad days! All of them from the year 1967, had those nice "46 year old wrinkles"  to show they were still there and HAD LIVED and ….are still alive,  as I knew some had died as Kees Musters and Hans Jonkers, both very charismatic icons from the ZES, but I heard even more  are not amongst us anymore as Rudy van Brienen and Martin Panis!!!!
Some however were older than 80,…. some in their 90thies !!!!!! And you would not believe that!!!!!!
Paul van Geuns is in his early 80thies [l.] and left one day later for Vinon "glider on tow" , here with Wim Korenromp, both in the board in the 5 first years. Prof. and Mrs. Schlösser are in their 90thies! Prof. Schlösser was the ENGINE behind the ZES , "organising" gliders with help from DAF and PHILIPS  and building with the section electro- technik from the Technical University in Eindhoven , the ZES-winch. He is busy with a book now about the history of soaring and when there is more news you will hear it.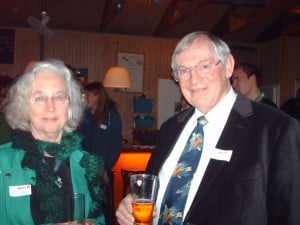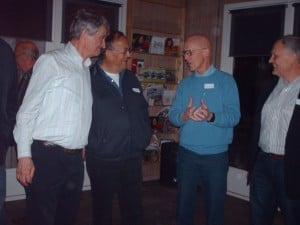 Wim Korenromp here with Angela, was from before my time and Peter, Dick and Boudewijn were from "my" year.
Peter Cornelisse was in the board in my time and is STILL an instructor for the ZES now!!! He defenitely is one of the longtime members.
AND,..the future, the president at this time!
What I always remember first from Easter is something from the past; that it was the final busy part of our business SPORTAVIA, in Tocumwal for the season. We started already early in November with WINGS night and the OUTBACK race and had guests till early or mid April depending on when Easter had the long weekend, for the last x-country flights for overseas guests and or regulars from Melbourne.
The horse races were in the same weekend  at the Toc race court and not always [because it was too busy ],but sometimes,  I could escape for a few hours to sip champagne with friends, betting on horses and just sitting on a blanket, enjoying the company of friends who came along or from town .
Great memories! But we were more or less worn out as well after so many intensive months.
Easter is the start as well for the NITRA competition; The Pribina Cup. I am afraid they will be cold as we all are over Easter here. But no worries with the right [thermo]-clothes you do NOT feel the cold, you only need soaring-weather! Let's see what the week will bring.
Last Wednesday there was still snow at the field, but,…the sun was shining as well, so the snow melted quickly. On Thursday about 20 pilots could check their glider and their instruments.
No flying today and yesterday! But ,..there is hope!
More news and pictures also on www.soaringcafe.com
Till now the first weekend in March had  349 entrees on the OLC. The next weekend 429, the weekend from week 11 counted 476 flights and last weekend with the cold freezing wind in parts of Europe , "only" 264. This Easter weekend hopefully will be busy with good x-country soaring world wide.
The weather here is still about 6 dgr. TOO low than the average temperature but someway or another BETTER soaring must be possible soon. Good to see at least different squads are practising in the mountains at several places.
By the way it looks like our strawberry and asparagus harvest will be small due to the bad frost, so expensive vegies and fruit this summer !
The VINTAGE REGATTA is on in Australia  flown from Warkworth. Nice to see names on the OLC as, the Maupin Woodstock 11.9, not long ago back on the old nest in Tocumwal , where I met Peter again, KA 6 E, LS 3 , Jantar 2 B and Mosquito.
And,…The EASTER comps are in progress in Goondiwindi.
Several AUSSIE- top- pilots are flying here as Bruce Taylor, Alan Barnes, the Claffey's, Shinzo, Michael Codling and more.
For results see www.soaringspot.com
Nice to see one of our season-instructors from the past in Goondiwindie as well; Alain Potier, flying as PZL Krosno Puchatek a Polish glider.
This competition is on till April 6 and "provides an opportunity for pilots of all experience levels to compete in a friendly and social setting.  Our aim is to run a competition that is fun, safe and friendly and we  will try to provide challenging competition to everyone from the novice  to the experienced. To this end, assigned area tasks will be the norm in three classes – Sports, Club and Two Seaters class."
Nice flight by the way in New Zealand, where Max Stevens flew in the Discus a nice long [715 km] and high – nearly 400 m. AGL] flight from Omarama.
Enjoy your Easter weekend!
cheers Ritz and to finish some more pictures from the ZES party.
Boudewijn, my instructor Dick and Ans. Paul, Peter, Theo and Dick.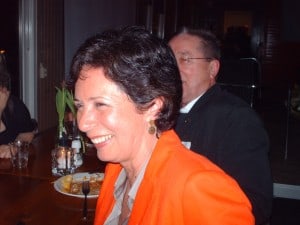 AND…Evelyn Schlösser, yes daughter from and ……sister from Karin, who I met in Uvalde with husband Heinz and daughter Hannah. Did see both girls not for at least 30 years. Evelyn is a very well known balloonist.