Hope your Christmas days were as good and wonderful as mine!
On several sites I noticed happy overseas pilots, on well set tables full of good food.
AND,…some good flights!
Christmas day still had 48 flights worldwide!
Best was the one from Jim Payne from Nahuel Nuapi where he and a mate flew 1.550 km. They waited a few days for a new " wave"  of wave and they were rewarded with a Christmas-special in the DG 1001 M.
Their day started blue, then;  " the middle legs were a lot of fun as we had some very well marked wave. The lift was not strong and the sink was not bad."
Also a lower cloud base as expected was part of this flight. Their full story can be read on the OLC site on December 25, as a comment on their flight. Quite interesting!
Same day, other airfield, this time Douglas Backhouse in South Africa and more fun as 2 Czech pilots got their Christmas present in the " form"  of a FIRST 1000 km. [ 988 FAI] in the Duo Discus. Congratulations to Petr and Ivan.
After 3 days of heavy rain in soaring mecca Bitterwasser, some pilots still managed to fly 904 in the EB 28 over nearly green fields! Glad to see Bert de Wijs back in a glider after a nasty fall from the stairs last year!
Also former CD from the WGC in Bayreuth Walter Eisele enjoyed a 900 km. flight from Bitterwasser in the Ventus 2CM.
A bit later also Michael [Sommer] and Roland [Wurbs] both flying with us in the past  enjoy Namibian soaring, they fly from Pokweni; 1.170 km.
BOXINGDAY showed over 90 flights and again it was a South American country, Chile, from Chile Chico,  topping the OLC list . Another good flight from Jean Marc Perrin in the 15 m. DG 808, this time his 4th over 1000 km.; 1.383 km.
From Tocumwal, Terry Ryan flew over 3 days, 3 over 700 km flights [826k, 891k and 747 k]  in his ASH 26E, being the best pilot on OLC in Australia on those days.Anton from Austria flew in the LS 4 till now 11 times, with 2 flights OVER 700 km. Indeed in an LS 4!
From Lake Keepit a nice flight from Jenny [Ganderton] in the Mosquito; 724 km.[703 FAI.. trying a set 750, but strong wind and last light forced her to change and fly home]
From Benalla a good flight by Graham [Garlick] in the ASW 20; 744 k., nearly an out and return up North past Temora. And a 750[650 FAI]  in a 17 m. Kestrel from Benalla , by Charles Day is worthwhile mentioning as well.
Talking about good flights in " basic" gliders I have to mention the nearly 1000 km flight from Adam Woolley and Dutters in a dry cirrus and Libelle again, both starting and finishing together and in between they " did" everything together as well, flying wing-to-wing for more then 9 hours. A pity it did not work out well as the day finished just a bit too early and days flying a 1000 in a dry cirrus and Libelle are not that often available.
Adam added : " was a one day in 5 yrs sort of weather for the cirrus/open libelle to do that sort of flight. Light winds, high bases, only 8 kts around too. Just a fast, consistent day. James & I naturally were able to speed up by flying in a team sense, just wish he could be my team mate in FIN next year! We're best mates, work well together, & our different styles compliment each other. Two more climbs, we would've completed the triangle – soo much fun! We'll try again next year after the pre-JWGC."
Adam shared some pictures a couple of day' s ago, from this "day in heaven" on December 18 from Narromine and after that he traveled for 1850 km. to Waikirie to fly the Nationals there.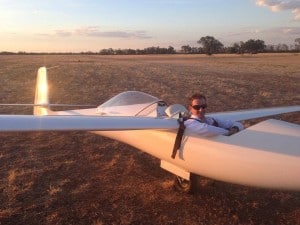 The skies on the 18th and " Dutters"  in his Libelle.
Courtesy Adam Woolley.
The South Australian State Comps have started last Friday at Gawler with 14 competitors in 2 classes and the first day was a difficult one, but all was good practice for the Nationals in Waikirie in January.
50 % From the participants in each of the classes made it home on day 1.
Matthew [Scutter] had a less good day with an outlanding but better now then during the Nationals and good old Terry Cubley won in open class.
In club class Claire, Matthew's sister finished after 235.7 km. as number 3!
Day 2 was cancelled.
Today they flew in both classes a 3 hour AAT, but all scores are not yet in.
The KIWI Multi class Nationals have started in Matamata and will continue into next year;January 9 in 2014.
15 m. Class counts 22 participants and 8 in 18 m. class and you can see all the scores on    www.soaringspot.com
There will be good coverage by Mike Strathern on facebook as well.
Some other information at
http://msc.gliding.co.nz/2013-national-gliding-championships/
No scores till now!
A SUPERFAST flight on Friday the 27th by Sven Olivier from Worcester in South Africa.
NO TURNING on a pre-frontal day !!!
So 172 km./h.over 784 km.
That's being on the right time on the right spot!
And the flight from Jonathan Cross in the ASW 20 from 800 km. that same day is not bad either!
And yesterday it was Argentina again topping the OLC list, with a great wave- flight this time by Jean Marie Clement and Pierre Alain Desmeules in the NIMBUS 4 DM; 1.549,50.It's a different way of soaring; waiting, sometimes days/weeks, till the wave is there and then,…go,go,go!
Looking so in the end of the year at the "best"  OLC pilot , it's between Jim Payne flying the Andes in Argentina in the DG 1001M  and Reinhard Schramme flying from Namibia/Bitterwasser,  as runner up in the ARCUS.
The speed OLC shows at this stage Reinhard Schramme on top and Bostjan Pristavec on a good 2d place. Great to see Mac [Ichikawa, soon back in Australia to fly] ] on a 4th place.
I know that those pilots have time and money to spend their overseas soaring on the best places in the world and I realize that not everybody is so lucky, but it still  remains great to follow them.
Wishing you ALL a lovely time during the last days of 2013 and with you I hope for a happy, healthy and safe 2014.
Will be back on Wednesday January 1 2014 with a few more words. Till then.
Cheers Ritz
On Sunday December 29 2013.
The year 2013 is nearly over. Here some sunset's as seen by friends.
Sunset in Africa as seen by Bart and sunset in Australia as seen by Tammy.