Still sand and smoke in parts of Australia.
BUT,…I decided after I got the "thumps up" from the neurologist and cardiologist, that I will travel down- under, to be able to catch up with all my friends and to write AT the spot for one more time, about the Tocumwal Nationals, as this is the spot ..where home was for over 10 years!!!
My daughter found me a real good deal last Monday evening…we booked….a ticket and a visa,…BUT,….there was one "problem" ….. I had to leave on December 2 …so upcoming Monday and leaving Australia on January 21…so after 7 weeks.
No worries for me, after more than 30 times up and down to Oz , I know what to take with me.
So the next news on Wednesday might already be from Tocumwal, when I am fit enough after 30 hours of travelling
So as usual I will do the Australian Diary, which also includes writing from the field when the Australian Nationals are in progress.
Still have to ask permission from Lumpy to hang around at his premises, but he is a nice guy ..I do not expect any problems there.
Looking so much forward to see all my friends in Tocumwal and at the Tocumwal Airport. Certainly after the last 5 months!!!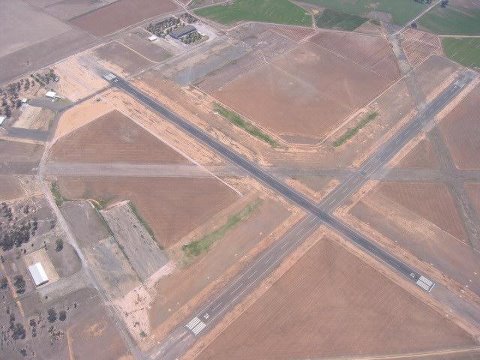 The weather is already good for flying in good old Tocumwal . Chris [Davison] and Lumpy[Paterson ] flew both 750 k . triangles in JS 1 /21 m. and JS 3 /18 m. from Toc. 2 day's ago.
From Benalla our former long time guest Richard Kalin flew a very nice 655 km out and return, all the way past Leeton, so NE. And that on a very blue day as he mentioned;" A superb blue thermal day. "
The Corowa containers were this year a bit unlucky and have not yet arrived. Last obstacle is customs and quarantine in the harbor.
In between Robin is "working" hard in Omarama and flew in the Discus his 2d 1000 km. On request of his Dutch mates, NOT only in nice wave but also following a convergence -line. He has for sure the time of his life there.
My Finish mates Antti and Juha are flying from Kiripotib and have some great flights in the ARCUS M under their belt during their first week; shortest 731 km, longest 1.039.83.
Finally again a REAL good day in Namibia yesterday, with 10 over 1000 km. flights and lot's of other good and long flights.
Antti and Juha flew their 2d one.
One over 1000 km flight from Zapala Neuquen in Argentina as well; in wave by Juan Pablo Verdura in Ventus 2CM/18 m.
Worcester's MAGIC is working and Markus flew another 1000 and according to him this was a memorable flight. Looking at the track he is totally right.
Here is his comment so you can see it for your self:
" This was an incredible flight across the Atlantic Ocean at "false Bay" and then to the north up to Claver.
Please see the video at TopMeteo:
https://blog.topmeteo.eu/wpstream/incredible-film-footage-of-soaring-across-the-atlantic/
St. Gaudens and Omarama were on the highest spots last Friday on the OLC with superb flights.
St. Gaudens had a wave-flight in an ARCUS by Robert Pratt from 1.307 km. with a nice speed of 162 km./h!!!
" SW Waves very wet conditions west Pyrénées , excellent to Mediterranean side ".
Omarama had also ,of course , a wave flight from over 1.300 km…. 1.308, 6 to be precise..with enormous speed…209 km./h!!!!
In an ASG 29 by Keith Essex, who was a bit laconic about it in his comment :
" Back and forth in the wave, blah, blah, blah. Had a plan for a triangle. Was waiting on the weather to improve and ATC to give clearance but neither happened. Southern portion was meandering and tricky but fun. It was so turbulent on decent that my sustainer got thrown half way up and didn't notice until I was on the ground ."
I can imagine when you are somewhere for a longer time, the "back and forth" might be boring .
Not a long blog today, as you can imagine that I am pretty busy at the moment.
So CU from Tocumwal next week
Cheers Ritz