Alphen aan den Rijn   August 29 2012
ritzdeluy@hotmail.com     www.glidinginternational.com     www.soaringcafe.com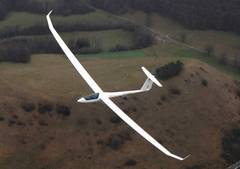 The QUINTUS M. winner in open class in Uvalde.
Quite a few pilots told me,  when saying good- bye,  that they were looking forward to read my blogs to find out what has happened in Uvalde .They had no time to read  during the comps , but "saved " it for later at home. ENJOY!!!!
When you go to soaringcafe and you click on Uvalde, you will find under there ALL my stories in a long row, thanks to Bill.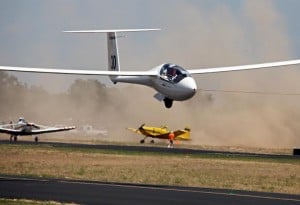 Uvalde as showed on the Dutch site.
 I was pleased to see that after leaving Uvalde, Tilo Holighaus moved to Marfa for a couple of days with the Quintus M. to fine- tune it even more. As he said he gave full gas under the cloud streets to get the best out of the glider. Liked his remark: " Texas -weather or Quintus -weather"? He flew 555 km. with 134 km./h. His friend Andy Lutz had about the same speed and distance in the other Quintus M. but mentioned as well that they only started at 15.30 and that he was astonished to see, what was still possible in this weather. Good on them! And yes we/the pilots had that weather-experience as well in Uvalde.
Tilo with "his " Quintus M.
Picture courtesy Frans Guise.
And did you see Alan Barnes report on the OLC??? The Australian kilometer-eater was in Marfa as well, flew an LS 8 and this was his comment when you missed it:
—" Day started overcast but slowly burned off to blue. I was first to launch at just before 3pm. My plan was a 500km flight around Big Bend National Park and I did most of it, but cut one corner as the area was in a blue hole. There was a fantastic cloud street that I ran for an hour without turning. Had a B1 bomber fly under me in the middle of nowhere – saw its shadow coming but couldn't spot the plane until it was too late to do anything anyhow – fortunately it was 2000ft below me."—
One week after the WGC some of the pilots still had not enough of soaring. I noticed David Leonard , flying for Team USA in 15 m. class , on the 3d spot from the OLC list last Sunday.He did not even use the best hours of the day only the late afternoon, [maybe this IS the best time of the day!]   but raced anyhow from Kelly CO over 615 km. with a nice speed of 147 km./ h. One of his mates called it an outstanding day . Good on them!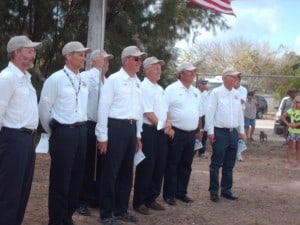 Dave to the left!
The Belgium Masters were less lucky with the weather last weekend. The competition , over 2 weekends was cancelled, hopefully more luck the upcoming weekend as over 20 pilots would love to fly in St Hubert  and  quite a few I know.
Some of my friends flying at Minden told me in Uvalde, that it had been an exceptional season, weather-wise over there in Minden and the Truckee area.Last Saturday pilots were still flying over 800 km.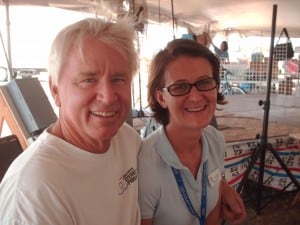 On the picture above; Rick Walters one of the soaring friends from Minden. On the picture  together with Andeea  the operations manager from Seminole-Lake-Gliderport. She did a perfect job in escorting the media, to where they wanted to go in Uvalde and did some good PR for the comps. Great to see young people,  slowly taken over, this is as it should be!!!!
Forgot all about it , but….from Rick I heard that he was one of us, on the Albatross, when we had that pretty decadent picnic at the Lake Tahoe on the wings of the Albatross in 1990, flying from Carson City Airport.
 Never forget the experience, what a day!
Talking about the Albatross ,only yesterday I heard that Bob, who worked for us on this plane, after it arrived in Australia  in Tocumwal in our old WW2 hangar, had "a bit of a rough time" with heart problems. Just spoke to him [he is in Darwin-hospital ] and he sounds much better  again. Very happy with that.
I will even see him, I heard in the beginning of next year when I visit Tocumwal. He lives in Darwin and works now on the Mallard another water-plane flown by Bones [ Ashock] our former tuggie!!! Bones flies the pearl fishers from" Paspaly Pearls" to their work in the sea. The world is small!!!
On the left picture you see Bob the second on the right.My ex George is to the left with Bones [ captain on the Mallard now] on his site.
In the middle both with white shirts Michael Giles, who flew with us and flew WGC's as well in the past  and Cameron Bodey[tuggie with us in the past now A 300F captain]
After arriving home more bad news as one of our long- time- house -friends Peter, was diagnosed with a brain tumor! He always searched for me the Internet to give me nice , scientific or funny stories/pictures. Wish him well and a speedy recovery.
Good news as well when Jo and Tony visited us last week  in Amsterdam. Tony was at so many WGC's I lost track, both as pilot and as TC and very anxious to know what had happened in Texas. So enough to talk about! Tony still flies his Ventus at age 76 and the Lanceair they both own and was build by Tony!
Looking back at the OLC this summer, as the metereological summer is nearly over now, "we " had a few top days with over 2000 entered flights; 
May 13 with 2858 flights
May 16 with 2490 flights 
May 27 and 28 with 2061 and 2713 flights.
June had none …..but July 22 was a good one again with 2598 flights.
August 11 shows 2013 entered flights.
So…maybe we can say that when OLC flights are a norm ……SPRING was TOP!!!!
And ….because I am VERY proud on the readers, taking the opportunity to send me comments….I share a few more thank you's .
—" Ritz, it was a great pleasure to meet you after several years of reading your writing. Many gliding fans who were not at the contest have said that you brought the experience to them. I would like to add that those of us who were there also benefited greatly from talking with you. Your international perspective is unique, and we enjoyed learning about our fellow pilots and teams from you. No international gliding event is complete without Ritz!—"
—" thank you so much for your wonderful reports around the clock from the WGC. We were very well informed thanks to you. You are deserving a triple A from all readers .—"
 Those were the very last I share otherwise you start thinking I am too big for my boots!!!! 
Still suffering a bit from jet lag but I should say nothing as my South African friends travelled for 36 hours. They are allowed to be tired from jet lag.
cheers Ritz