With the corona virus now nearly in EVERY part of the world, it feels like there is a stand-still in everything.
The Netherlands were organizing the Eurovision Song Festival, the EC soccer AND for the first time in years the F1 circus would be back at Zandvoort….it's not going to happen!!!!
A pity? ….yes , a disaster…. NO.Of course not.
If China is the example for all of this, then we know that we are stuck with it for at least 3 months, depending how strong the reactions were from when it started in a country.
From no worries, as said by Trump in the USA and Bolsonaro in Brasil , Johnson in the UK an Kim in N Korea , TO ACTIONS AS A TOTAL LOCK-DOWN.
Our health is the MOST IMPORTANT, so let's listen to those who know and advise!!!!!
————————————————————–
Seminole;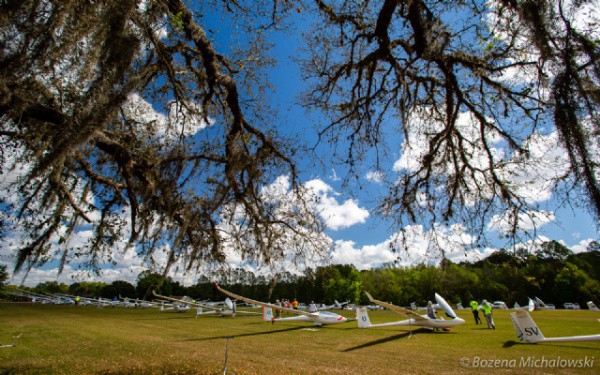 Soaring day 3; task TAT (Turn Area Task) of 178 miles nominal distance with a minimum time of 2:45.
John [Good ], send them all up in the air after a nice St. Patricks day, though the Florida Governor closed the bars at 5 PM.
Corona still has a big influence as I read in their daily blog:
" With two days left in the contest, we are still being very careful with social distancing, no pilots meeting, lots of hand washing and dinners being served with volunteers in gloves. It was a little awkward to do away with the pilots meeting but now everyone is getting used to it. Information is delivered electronically but a paper task sheet is available with Rick Sheppe outfitted in blue dish gloves. "
About the weather and the flying;
" Cloud bases were around 4,500ft around the gliderport rising to almost 6,000ft later in the day. Lift averaged 4.5kts on average with some topping out at 8kts. Biggest blast of the flight was a cloud street that went almost 70 miles from Norton to Gore. How you handled this leg was the difference between the leaders and the rest of the field. As you approached the southern section of the task area, the clouds were disappearing in some of the area around Winter Haven. However, there was a small line of clouds you could work towards the lake. "
" Karl Striedieck and Sarah Arnold took the day running away from the field in an Arcus. Their 216 miles was covered at a blazing 77 miles an hour. Phil Gaisford finished second with a raw speed of 68.32 mph in a Discus 2b with Rich Owen finishing third in a trusty LS-8 at 68.09 mph. The score sheet is really tight right now with the top 10 pilots separated by about 200 points. "
So Karl and Sarah clearly are used to the for them new ARCUS and instruments, winning the day , which is good for Stendal.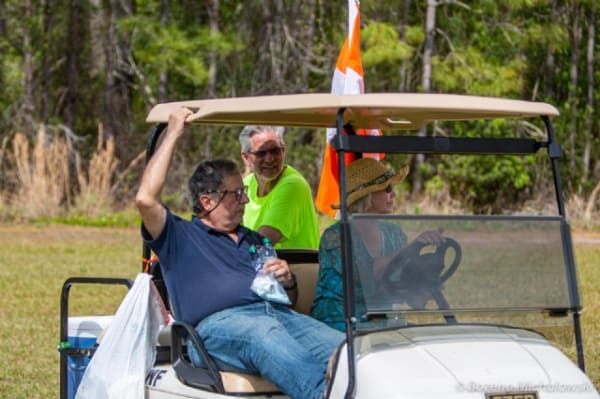 Soaring-day 4; task…. 3 hour Turn Area Task .
About the weather….. cloud bases starting at 3,000 feet at launch to right at 4,400 feet when the gate opened. Lift varied between 3 knots to right at 6.5 knots in the task area.
About the flying…. "Most of the pilots were looking for the nice streets that were around the task area yesterday, but few were found. Rich Owen finished in first place with a 64.19 mph raw speed over a course of 194 miles. Phil Gaisford finished in second by a narrow margin, flying 196 miles at 64.07. Fernando Silva finished in third. "
Scorer is Rick [Sheppe].
Soaring day 5 and the very last one!!!!!
Even with further corona -restrictions in the USA, they squeezed a last day out; a 2.45 TAT, won by Phil, …AGAIN, and then it is no secret that he is the overall winner too in his Discus 2b. 4.963 points.
Rich in his LS 8/15 m. ,was 3d for the day but runner up overall; 4.849 p.
And the ARCUS team, Karl and Sarah, had a bit of an off-day after an early start, being 10th for the day, but still a 3d place overall for them;4.776.
This was edition 30 and I read that one pilot attended all 30 senior-comps and even won the first one; Don Wasness, good on him.
And then this awful news for all ….
" On a very sad note: Cathrine Eaglin, in her early 20s, who ran the launch line in a very professional way for a number of years, both here and at numerous contests, was killed in a car accident Thursday night. She will be greatly missed. "
VERY SAD!!!! She was there this last week helping out as well. My sympathy goes to all at the comps and specially her family!!!!!
I know their feelings.
————————————————————-
With a NE wind, bringing polar air, we had a couple of pretty cold day's and lot's of sunshine. We even had -6 , 2 nights ago, the coldest and lowest temperature this entire winter.
The season could have started, with cold but great soaring conditions with great clouds,…but no worries next year there will be the next spring and is it all over…I hope!!!
The last flights in Holland were on March 14, after ….the clubs have been closed.
Only a few flights with this great weather last Saturday; One from Denmark, Switzerland,Germany and Sweden.
From Australia still a few flights…" We are still flying… for how long nobody knows. "
From NZ ;" Best way to 'self isolate', not many people on the Mt Cook summit!  "
In Tocumwal the club from Ingo , the SRGC , has decided to not fly for the next 6 months. It is the beginning of the winter season anyhow, so a good idea.
Only 23 OLC flights on Monday. The best was in Poland ;401 km. in a Pegase.
13 Yesterday with one from Europe.
Heard that the EUROGLIDE has been cancelled too. Next year then,…
Everything …next year!!!!!Olympic Games as well.

Everything is different. And it will change every week. It's a weird world we live in now.
Soaring-news is not very important at the moment.
Let's hope all the rules have worked and we will have less death.
Obey,…stay safe and healthy!!!!
CU next week
cheers Ritz