Blog 1.200!!!!!
As every year the Senior Nationals are hold at Seminole Lake Gliderport at Clermont [Florida] in the USA.
" This is the 30th edition of the Senior Soaring Championship. What started as a friendly competition between friends have turned into a highly competitive event " .
March 13 official practice-day and contest between March 14 and 20.

They started with 3 practice day's to get in the rhythm on March 11 for the 67 pilots!!! From them I met 12 .
THEN it was March 14 with,
Day 1 ;with 50 starting pilots , corona around the corner [ Disney World and Universal closed their doors.…We decided to cancel all meetings and provide the information via electronic means using email and WhatsApp. ] but also reasonable weather for some good flying.
A TAT [Turn Area Task ] was set from 2.45 hours.
Clouds popped up "Good Cu, nice long runs under well formed clouds, and some markers on course. "
Phil Gaisford in the Discus 2 b, was the best….distance 198 miles in 2.49! Good old Karl Striedeck ,once a topper always a topper, is practicing already for the WGC in Stendal in the ARCUS M . A pretty new glider and instruments for him, but with Sarah in the back they were runners up. Good to see them together in Stendal.
Day 2; No briefing,…no get-togethers…because of corona, but flying…yes.
"Today, the pilots started launching a little early due to the good weather. Climbs were 3-4 knots to about 4,300 ft at the start. The 2:45hr TAT took us for a tour of southern Florida. "
Phil won the day again , collected 2000 points in total and no doubt,..leads the pact:another 2.45 TAT…183 miles in time 2.48.
Karl and Sarah were on the 19th place and share spot 4 overall with 2 other pilots.
Day 3; Part of their news for the day;
" After a successful launch, the day did not look like the previous 5 days. Cu were forming but a mid deck of clouds was moving in from the East. Climbs were 3 knots to 3,200ft but as the task opening time approached, the mid deck covered much of the task area. Since the next few days of weather are forecasted to be good, the CD decided that it would not be a fair day and cancelled the task. "
Day 4; today….is St Patrick day and they all wanted a day off so they got it. No flying!!!But the announced already…"tomorrow will be a race day!!!!"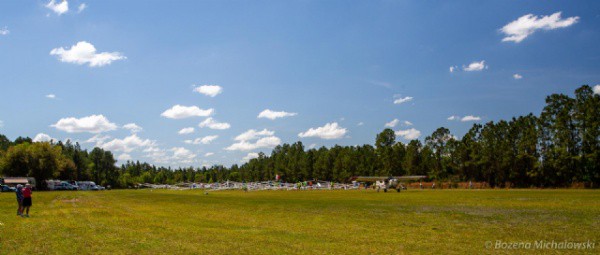 ————————————————————
Still good soaring in autumn in Tocumwal as you can see….busy and great clouds.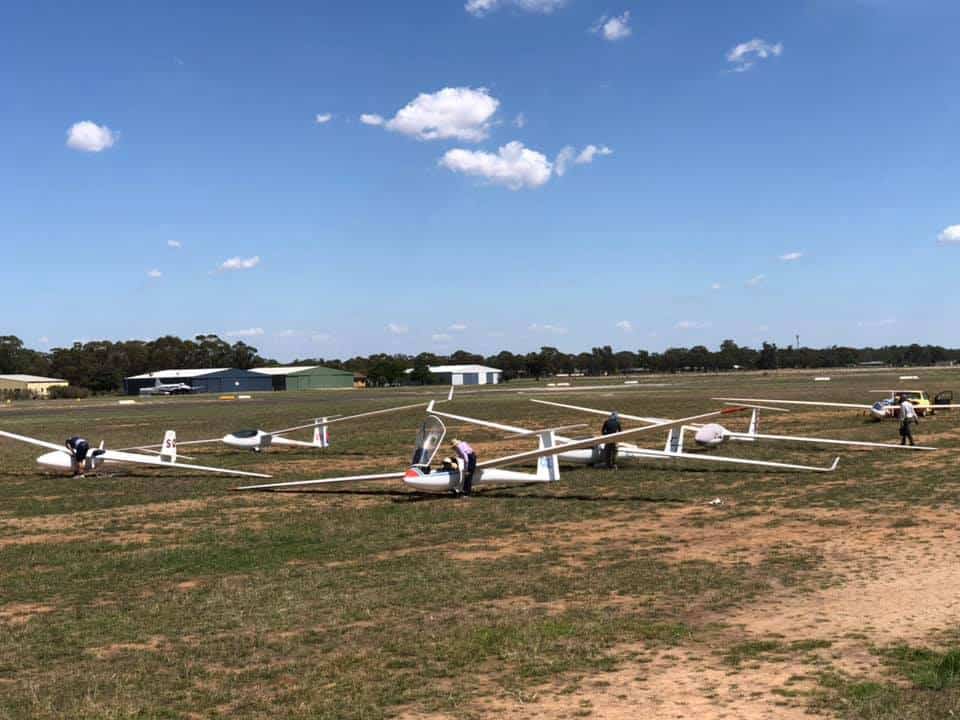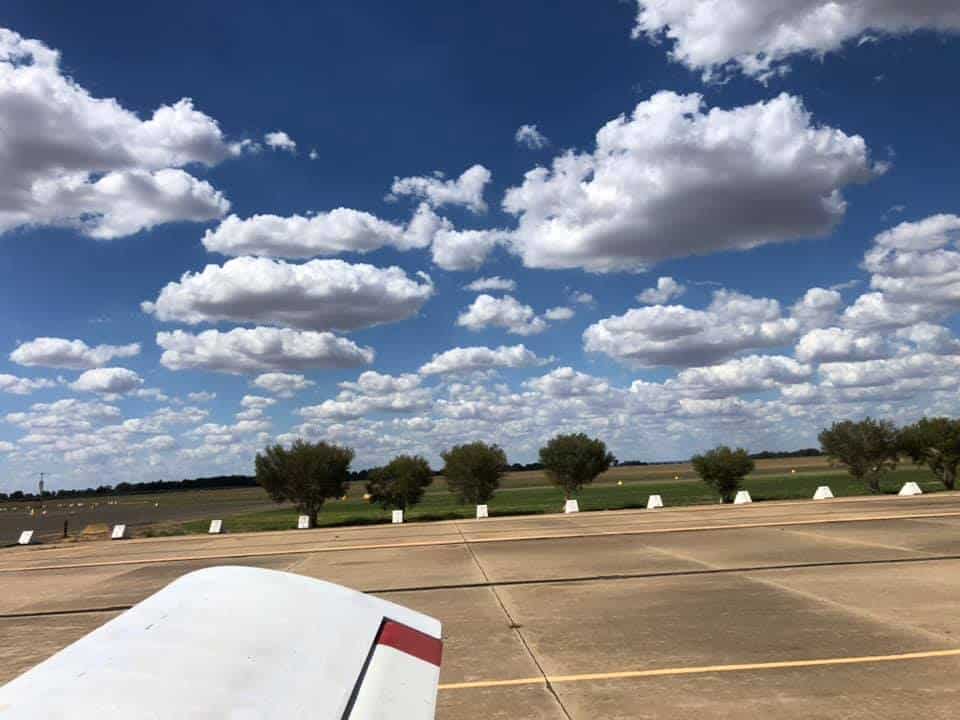 ——————————————————————————-
Back to sailing for a minute; About glider pilot Bill Hatfield's fabulous sailing trip.
The WORLD SAILING SPEED RECORD COUNCIL has ratified Bill's record here in the news:
"The WSSR Council announces the establishment of a new World Record Reference Time:
Time: Around the World Westabout. Singlehanded 40ft
Yacht: "L'Eau Commotion". Northshore 38. Monohull
Name: Bill Hatfield. AUS
Dates:.8th June 2019 to the 22nd February 2020
Start time: 02; 04; 10 UTC on 08/06/19.
Finish time: 00; 28; 19 UTC on 22/02/20
Elapsed time: 258 days 22 hours 24 minutes and 9 seconds
Distance: 21600 NM
Average speed: 3. 48 kts
Comments:.No previous record – hence this will be listed as an "Initial Benchmark Time"tter No 317
————————————————————————
CORONA.
The Netherlands are pretty much locked down now schools, bars and restaurants are closed as well ,till April 6. People worked already at home ,planes are at the ground and trains [85 % less passengers on Monday morning,…[unheard… never happened before in history!] and buses have a special schedule. In fact Europe is partly locked down!France totally for 2 weeks. Also Italy and Spain and since today also Belgium have a "lockdown".It seems the out side borders of Europe are closed as well.
This is a great disaster for the health of our world and of the global economy.
Where it ends?? I don't know. As you could read briefings in Seminole are via internet, also the openings briefing from the NIJAC in Malden here in Holland, was last Saturday via social media.
Will they fly??? Guess not!! It would be my grand son's first soaring day in Holland at the Club from the Gelderse, this upcoming Saturday.
Let's wait and see.
As long as EVERYBODY STAYS SAFE!!!!
Proud on the Netherlands as everybody is obeying VERY well what has been ordered.
Our prime minister Rutte, was just GREAT when he spoke to all of us. Last time a prime minister spoke on TV and radio to the country, was in 1973 with the oil crises.
—————————————————————-
GLIDING INTERNATIONAL.
The March /April digital version arrived in my mail box and it had lot's of —-news about the WWGC.
Statements , from pilots, crews, Aussie TC, CD ,the president of the GFA and other interested soaring-people and ….a sharp note to start with.
"The results of the 2020 WWGC at Lake Keepit In Australia in January, is proving to be a major embarrassment for the Australian Gliding Movement and their executive team.Few will have ever experienced its like.
Gliding International does not propose to be judgmental on the situation the Australian Gliding Federation now faces ,but list known facts."
Of course after the IGC meeting some news has changed, as the TC Terry Cubley had to step down from all his FAI and ICG functions.
A nice picture from the champions in 18 m. on page 1. And then lot's of pages with the opinion of John Good, the GFA report, the jury report and the protest from the TC's and some questions for Germany' s Katrin Senne …19 pages from everything you need to know.
——Fires in the Aussie summer were terrible, also for soaring.
—–And ….fire in a Experimental Jet Powered Glider…highlighting the need for better fire protection.
—–it seems that the climate change makes the summer down under twice as long as winters.
——an alternative contest format from Italy.
—–lot's of international aviation news for glider pilots [6 pages] and of course "things with wings".
Great spring weather here at the moment , so I rush out side to make my garden even more beautiful.
Stay safe!!!!!
Cheers Ritz.