HAPPY NEW YEAR!!!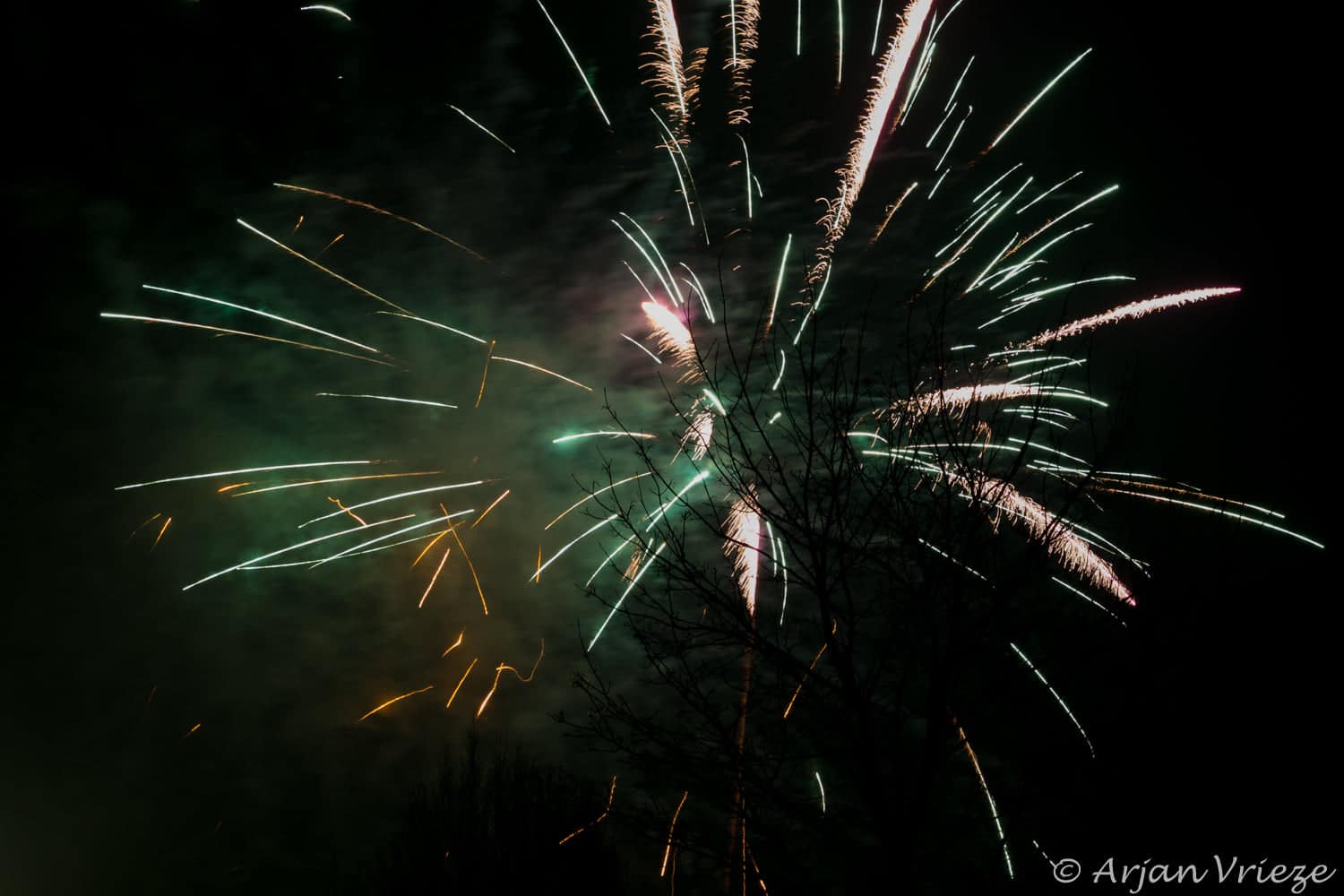 ——–The F 1.0 continued in beautiful Leeton, where George once, years ago 1985?, became THE WINNER, as……, as a Dutchie, he could not be Aussie champion.
There was a day with hail and snow during that competition ,but I missed that, as I was on my way home to Holland already.
Young Ralf Holighaus was so kind to bring me by car to Tullamarine Airport. His dad Klaus flew the comps too and before we all went to Leeton they stayed , as we did, at the SSC in Tocumwal.
All was practice for the 1987 Benalla WGC.
Back to now.,…On January 1 in 2021 there was the next message;
"UPDATE FROM THE FORMULA 1.0 GRAND PRIX.
It's been a trying few days. Poor weather and storms have rolled in, and both yesterday and today we have been unable to get a sufficient window to run a task. Also, with the recent COVID-related border closures, several of our competitors and tug pilots have had to derig and make a mad dash for the border before they got locked out. It was a risk we were always aware of, but unfortunate nonetheless. The competition is still running, so stay tuned for the next task."
So those from South Australia and Victoria who were there, had to rush home. What a weird beginning again of this year.
Eddie made a video from his Fox, flying over the highway to the Toc bridge where the border is from NSW and Victoria; ONLY CARS!!!! Huge traffic jam!!!! NEVER ever saw such a thing in Australia.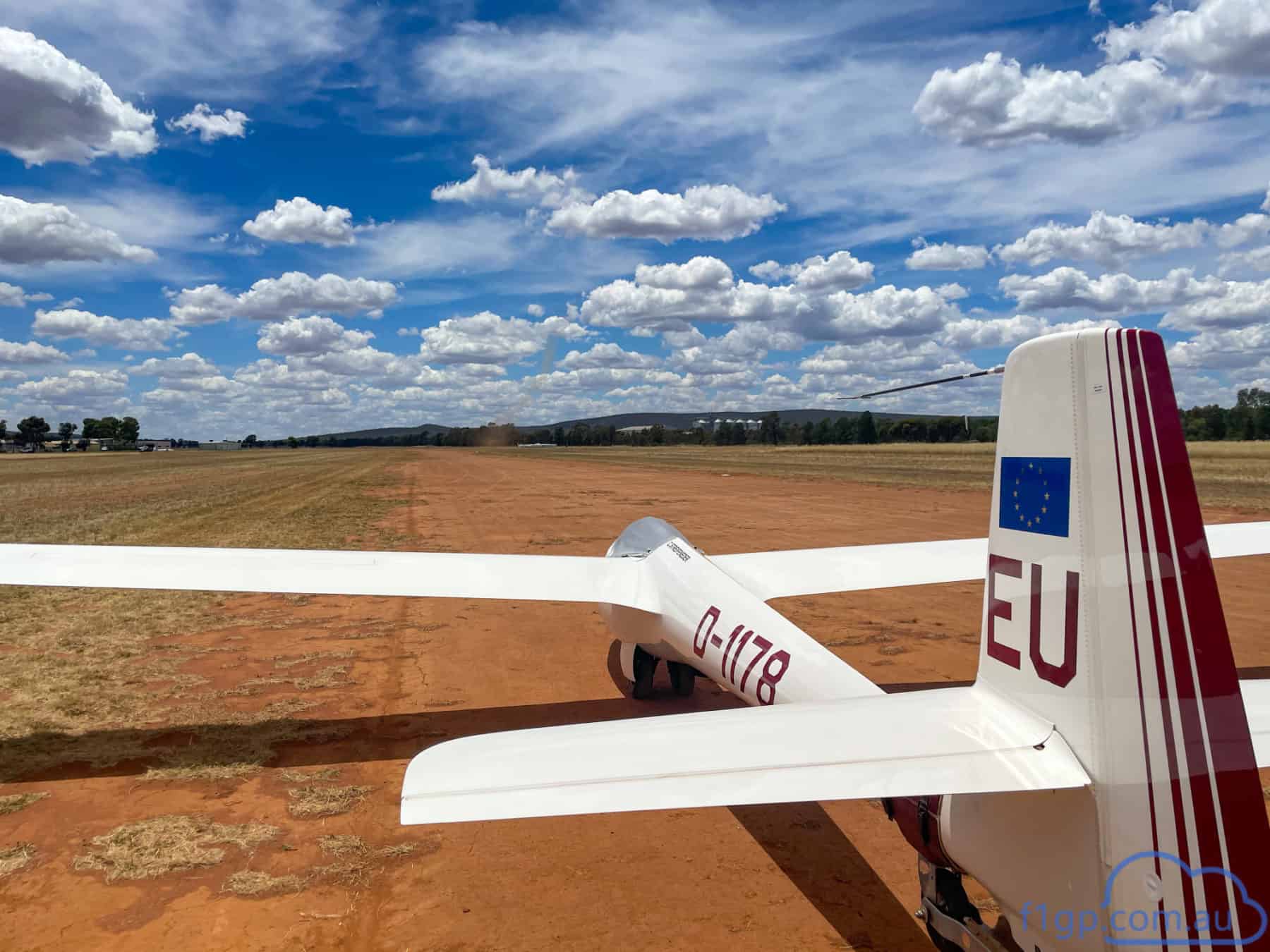 Looking back,…..Day 2 was won by Nick Gilbert, flying a St. Cirrus. He is the son from Jane and Tom from Temora. Nick is VERY involved in this F 1.0 flying. He is also the comp organizer ,but as he lives in SA he had to go back before the end ,but keeps an eye on things from there.
Then a few non-flying days and one more day for the few pilots who were still there.
Day 6 with as winner Scott Lennon in his Libelle; 10 points in the pocket!
Their daily news
"Good morning race fans! The weather has given us a window of opportunity, and we're going for it. Newcomer ninja Jenny Thompson is currently leading on 17 points, Scott Lennon is on 12 points, but days like this can change anything. Weather is very uncertain the next two days, so this might be IT !178km racing task today, starting early, and getting home before overdevelopment or rain kicks in."
Indeed the scores changed. Scott has 22 points in total now and Jenny 20, as she was 7th and "got" 3 points!!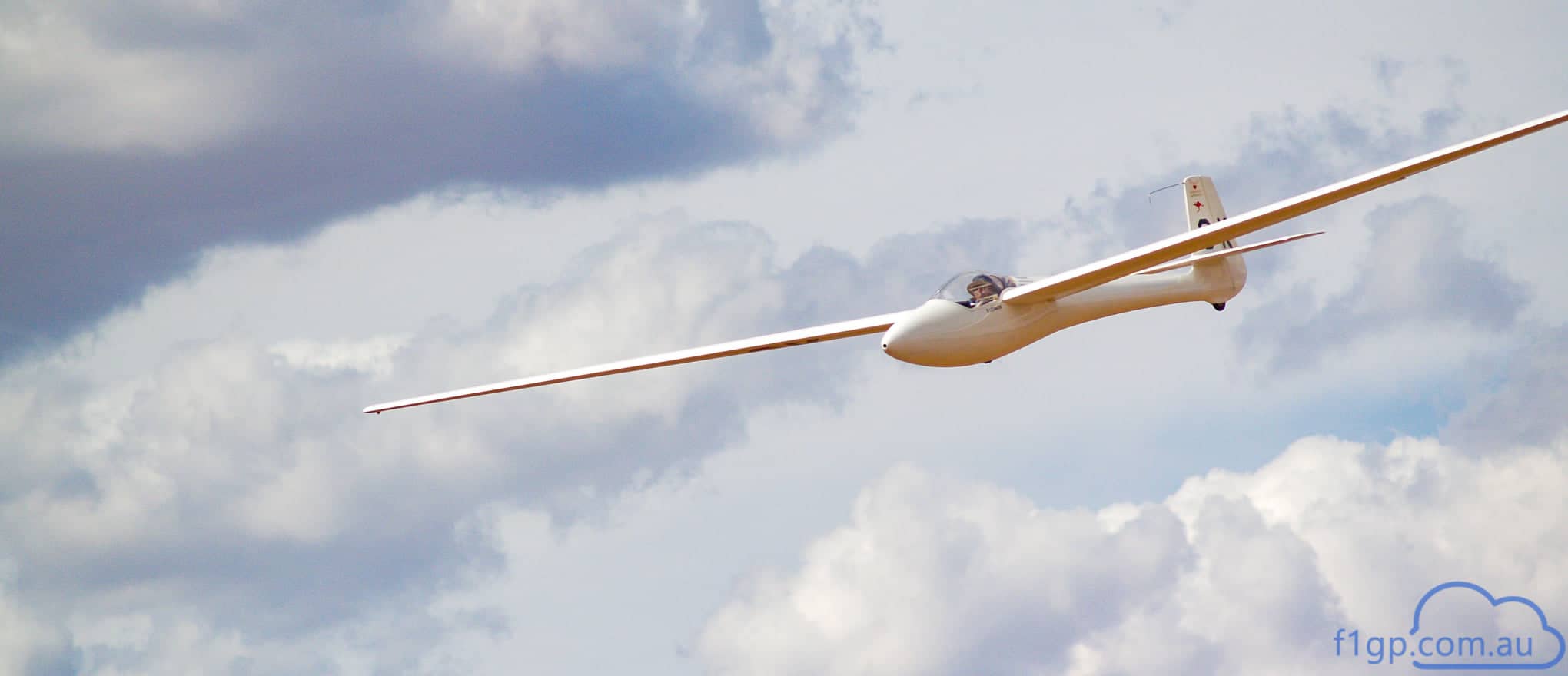 Monday was cancelled. Rain in the morning but much better after 3.Maybe one more day to go???
YES!!!!!! Day 8 showed 158 km and the day was won by F 1.0 pilot from the first moment AND just married….Christian Streifeneder in the St Libelle.
A low and blue day as they called it, but at finish time great clouds!!!
"Well done to Christian Streifeneder, winner of the final day! Not the most straight forward of days, many pilots battled a long into-wind leg and very broken thermals – but Christian got high, stayed high, and smoked the field! Well done on your first day win!"
Another Libelle was runner up and till now good flying Jenny, daughter of Jenny Thompson who flew the WWGC in Lake Keepit, lost a few spots as she was 9th and got 1 point. For her first participation AND winner of day 1, a great result!!!!Congratulations "young" Jenny!!!! Mum was there as crew so what do you want more!!!
So in the end, after 4 flyable days , it was
1. Scott Lennon in the St. Libelle with 30 points.
2. Christian Streifeneder in the St. Libelle with 24 p.
3. Charlie Ianson in the St Cirrus with 24 p. AND Jenny Thompson in the Hornet with the same amount.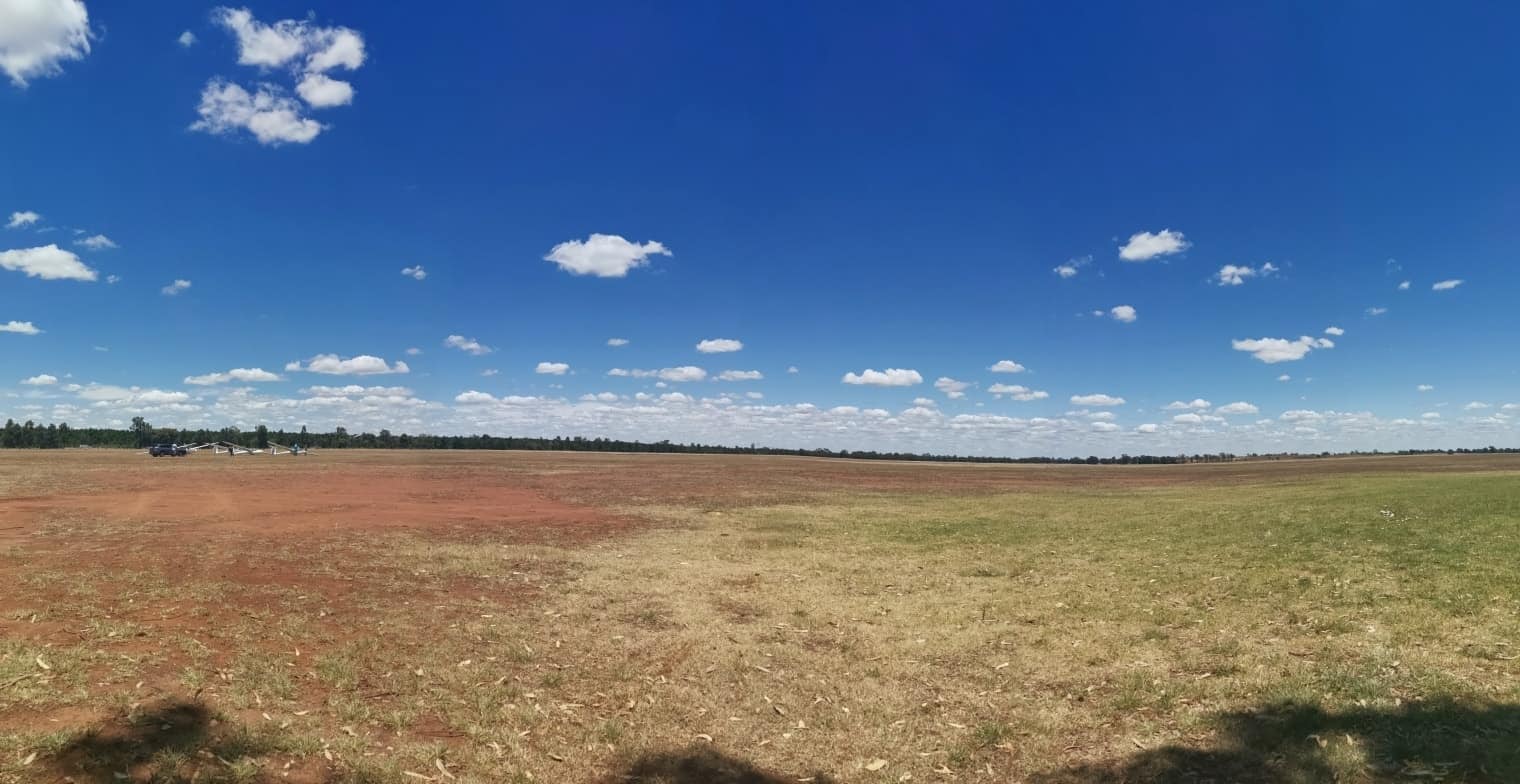 A pity so many had to leave, as the set-up from this competition is "inviting" for all.
"Conventional gliding competitions can require a huge financial commitment. Formula 1.0 is centered around the club class handicap of 1.0, which means that pilots can buy a competitive sailplane for less than $10,000. In the first running of the contest in the 2017 / 2018 season, the contest was won by Nathan Johnson in a borrowed 1976 Glasflugel Hornet."

——-Since 2002 the IGC keeps a list of pilots who have flown their 1250km badge.
The first to do so was Terry Delore on March 1 in 2002.
The last one , till now, was in 2020. Tijl Schmelzer on June 29.
He is number 32 on the IGC list for 1.250 badge-holders.
2020 showed 3 x a 1250-badge also for Baptiste Innocent on August 4 and Max Stevens on January 12.
It's remarkable that 2018 had 7, the most of all in one year and 4 flown in Africa.
3 Of them on January 6 so,….a real good day by Uys, Oscar and Pieter [Nouwens] !!Max Leenders from Holland, flew one on January 13, also in S A..
April 2018 … on the 29th, it was Bert Schmelzer jr. [ Belgium], who flew one.[ number 26 on the list]
The other 2 are Carl Audissou[France] on April 2 and Mike Oakley [ NZ] on November 7.
——-Looking at the IGS lists, it is interesting to know who starts 2021 as the best ones, on the official pilot ranking list. Here is the top 5.
1. Sebastian Kawa with 1000 points.
2. Michael Sommer with 999.6 p.
3. Wolfgang Janowitsch with 996 p.
4. Felipe Levin with 990.8 p.
5.Tomasz Rubaj with 990.4 p.

——Also the Perlan Project suffers from the Covid-19 virus.
Here is their news I got;
"The world-wide pandemic kept Perlan from traveling to Argentina this year to continue our quest to reach 90,000 feet and achieve the highest, wing-borne human flight in history."
——The first comps for the 21 season has been cancelled. The Junior Nationals in Australia are "off". They were scheduled for end of this week but due to new "lock downs" , it's over and out.
BUT,…….there is …."Good News! QLD will be holding a Junior Regatta at Kingaroy from the 10th-16th of January! The single-seater competition and two-seater coaching program are full steam ahead after the disappointing news of the cancellation of JoeyGlide in Leeton."
The South Australian State comps are on right now in Waikirie with at this stage after 3 days of flying Pete Temple as number 1 [from 4] in 18 m. and a bad day today for Bernie Sizer in club,[7 participants] as he was "out" after 103 of the 230 km and dropped overall from 1 to 3.
–—-AND: The UK team is already organized for the JWGC in Pocuinai, here they are…Good luck guy's;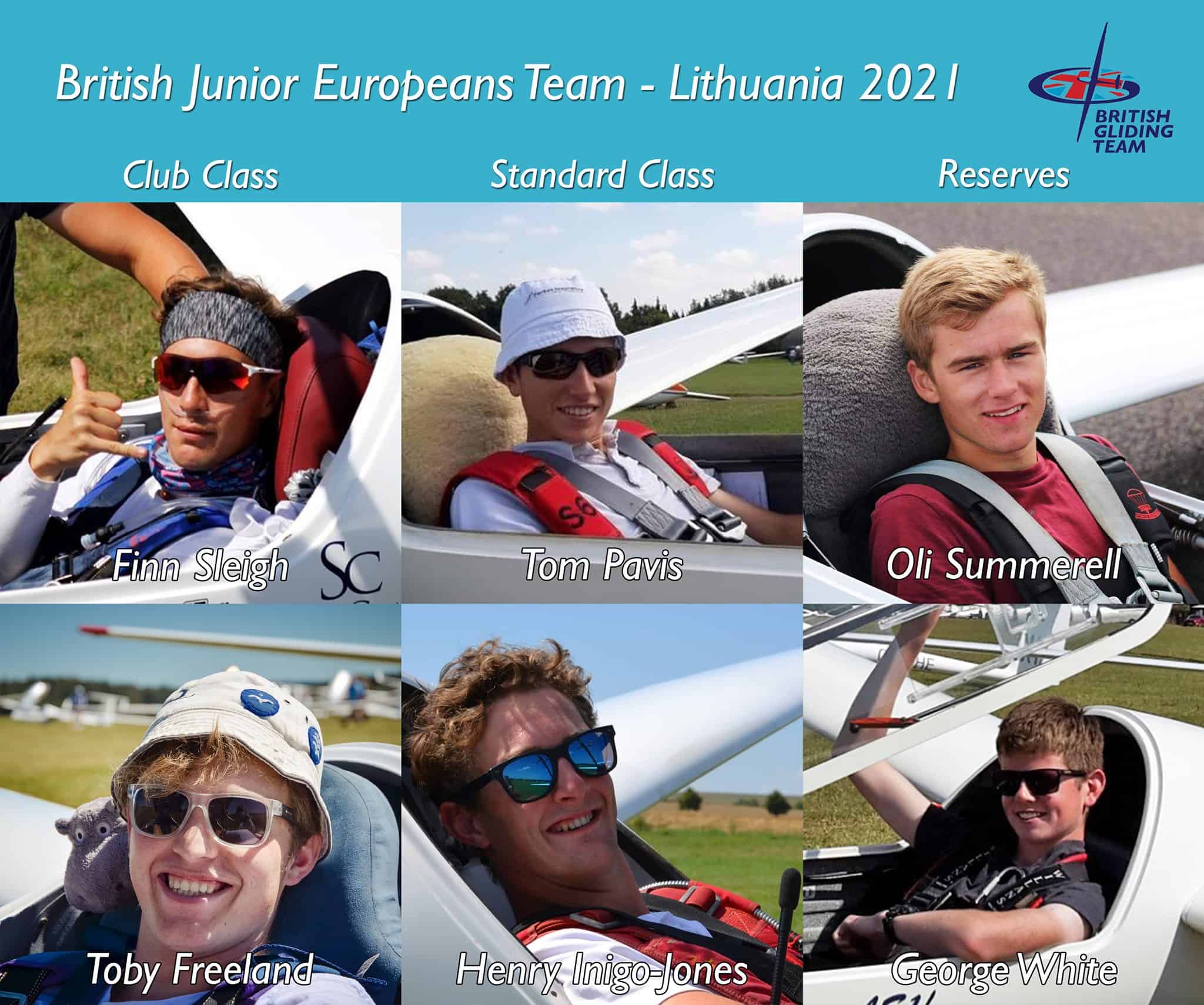 ——–ALL depending on COVID -19 the The Australian 2-seatgliding championship will be flown from February 13-20 in Narromine.
Till now they have been 100% corona free and they want to keep it like that !!!! SO strict rules have to be obeyed.
"The competition will be a single class event for both 20m 2 Seat Class gliders and Sports/Open Class which is literally ANY 2 Seat Glider from a K13, Pipistrel, DG505 through to a Nimbus 3/4DM or ASH 25/30.
The competition will be ballasted and run in accordance with the GFA National Competition Rules and will employ the GFA National MultiClass Handicaps."

——-The last day of the year 2020 showed good flights from Worcester in S.A. My friends Karin and Markus flew in their ARCUS M a nice 1000 km[860 FAI triangle]
So did Swiss pilot Yves and USA pilot Nicolas;1.053 km. to the right and to the left from Worcester about 300 k out on each site plus some more km/s.
The first day of the year 2021 showed on the OLC , still good weather in Worcester , with a 761 km. flight from Sven and a few nice nearly 600 km. flights from Beverley and Waikerie in Australia.
You are more or less up to date, so CU next Wednesday with news from the N. Z. NATIONALS flown from Omarama between January 2 and 10!
At this stage Mike Oakley/Morgan leads after 2 days of flying before Keith Essex both fly in open class in ASH 25 and ASG 32.
In 18 m it is Mike's son Nick who leads after 2 days in a Discus 2A. Tony van Dyke won day 1 but was out on day 2. A pity.
Today was their message;
"Unfortunately the day has only got a wee bit better. Very still on the airfield with high cloud overhead meaning that nothing much is happening to keep gliders in the air! Not taskable so the day has been cancelled."
So the 2 hour AAT was cancelled.
HUGE THANKS to Bill, who is making my blog even more safe to use..read less login-hick-ups!!!
Cheers Ritz
To finish a great picture from Swiss Chris on New Years Day when a storm approached the airfield of Tocumwal.