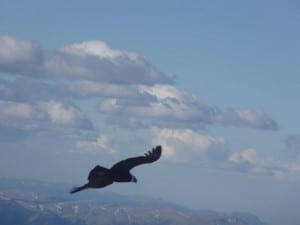 Condor flying in Argentina;picture, Bruce Cooper.
Alphen aan den Rijn     Sunday February 20 2011     ritzdeluy@hotmail.com
Last Monday observers noticed a big flame on the sun. Result ;a sun-storm full of electrical parts left the sun and reached earth on Thursday.In 2003 this happened also and then parts of Sweden lost their power , 40 years ago "it" hit Canada , also loss of power and now China, but nothing happened in Europe,  as far as I heard or read.
Enjoy the interview with Bruce Cooper, who flew a new world record in a double seater Nimbus 4 DM, on December 25 2010,  from Bariloche in Argentina with French pilot Jean Marie Clement; 1.650 km. triangle. It took them 15 hours and 38 minutes. Bruce is from the UK, is semi-retired as airline pilot, owns an ASW27 and as he says, "we go a long time back"!
Ritz "meets"  Bruce Cooper
 "Hello Ritz, nice to hear from you. We go back a long way, I think it was the Australian worlds. [1987!] Dare I mention Vivienne Bryner and her green bikini?  "
That's the answer I received from Bruce when I asked him to answer 5 questions about his world records flown in Argentina on December 25 2010,  together with French pilot Jean Marie Clement.
1. First of all congratulations on the world records. Was there any sign on  that early  Christmas morning 2010 , something BIG/SPECIAL was going to happen, with other words "was it in the air"??
We planned the task 12 months ago and I spent 10 days working through the soaring and out landing options in the led up to the day. The possibility was on the forecast and plan from 4 days before and we spent all of the 23rd finalizing and uploading the new data base to include the new airstrips we might need. On the 24th J-M C tried a 2,000 km flight to get his diploma out of the way but the weather was not good enough. The sat pic did suggest that we should have tried the triangle on the 24th but that was only after launch time. The weather pattern was probably at its best over night and the day we flew the weather deteriorated after 800 km. I was particularly keen on a triangle flight as it is something few people have done in that area. As it happens the task would have been really easy if flown in the over- night- weather.
2. You flew with Jean-Marie Clement, could you please introduce us to him? Is he a "regular " in Argentina?
J-M C has been going to Argentina since around 2002 and is one of the 3 teams chasing world records down there along with Klaus Ohlman and Terry Delore/ Steve Fosset. He ships his Nimbus 4 calsign MM alias "mille mille" which is Italian for 2,000  each year. The glider was equipped from new with 2,000 km flights in mind. J-M C was European champ in the 80s and came 4th in the worlds. He has been very kind to me and I enjoy flying with him. To sum him up I would tell the story of our last world record 12 months ago when he said" the weather is not good this morning so we should have a nice lunch and break the world 1,000km O&R speed record in the afternoon" the lunch was excellent and we broke his own record that afternoon completing the task in less than 5 hours. That is how he is. I have been fortunate to fly with many world champions and several of the top Kiwi pilots but J-M C has probably taught me more in the last 15 months than I have learned in the rest of my 39 years gliding. I would love to  fly with Terry Delore as J-M C rates him as the best pilot ever!
3. How do you share the soaring, who is in command, do you set rules before a flight, who does what ?
Interesting question ! We don't have any set plan. Each of us has a different style of flying and we each fly a section till the other sees a better way and then swap. We share ideas but when one is following a line of energy and the other is squirming and really wants to take a different route , it's a good time to swap controls and rest before the next stint. 15 hours is a long time and sharing the flying is a big advantage over the solo pilot. On our early flights together you could see from the logger who was flying by the style but now we are more similar. We have flown together for 6 months (wow that's a lot of time together??) out of the last 15 so we have both picked up on each other's style
4. In the past you flew in Australia? How come you changed from flat conditions to mountain-flying and why do you like it so much?
I grew up in the Scottish mountains and have always loved wave flying. I had flown a mountain comp at Vinon and the pre-worlds at Omarama previously. My last 2 trips to Australia were both fantastic. I flew at Corowa where Grietje and Francesco run one of the best soaring centers and they really looked after me. Then I was lucky enough to spend a season instructing at Benalla .My daughter Molly joined me for a month  and I had the pleasure of sending solo at the age of 15. I still miss Tocumwal and still enjoy the flat land flying. I like to vary my flying and I think I would tire of just one area or one type of soaring. I like the idea of stretching my self and going where I have not been before, preferably where no one has been before. Mountains and wave are my real passion though and I am desperate to get back to Omarama but this Argentine adventure literally landed in my lap and I felt I had to rise to the challenge and make the most of a very rare opportunity. It is so difficult to make gliding happen in Argentina that every season could be the last and I need to try to get even one more season there. 
5. What would you like to  add I did not ask?
how about,,, what's next?
Well I also like ridge running and I was fortunate enough to be offered the chance to fly with Juan Mandlebaum who made that great movie  " a fine weeks soaring" featuring Karl Striedieck and I will be going to Mifflin for a couple of weeks ridge flying in May. I am keen to do things that are different so if anyone comes up with an idea to go somewhere out of the way and wants someone to fly with, just call. I'm semi retired. I would love to fly the Atlas mountains, basically anything that's different.
I think anyone would guess that we have a 2000km triangle planned, but others do too. I love friendly competitiveness roll on next season !
Thanks a lot Bruce, will keep in touch now I have "found"  you again!!!
I received the link to the nice and very interesting  project of the  construction of the Concordia. You might know that Dick Butler and Gerhard Waibel are busy with this very interesting project of building the proto type of this  glider. They are building the fuselage now in the ASG 29 fuselage-mold.Here is the link;
http://soaringcafe.com/2011/02/building-the-concordia-the-fuselage/
The weather in Australia in Victoria and the border of NSW  is improving after all the rain and flights up to over 400 km were flown in Tocumwal [ASH 26] and up to over 300 km .in Benalla.[Ventus 2CT]    In the East part of  New South Wales,  the weather is still very good for nearly autumn,  with a flight from Lake Keepit in the Nimbus 3 D from 544 km. and one day later a lovely 600 km triangle.
Yesterday kilometer-eater and brand new National club class champion in Benalla,  Alan Barnes flew from Mac Caffrey Field a great 611 km. triangle in his LS1f. [500km, FAI] and from George Lees Airfield , good old George flew a 761 km flight in the Nimbus 4DM with a speed of  113 km/h, proofing he is still GOOD!!!!!
We had real spring weather on Wednesday and Thursday, so I "worked" carefully on my tan. Now it is cold again and grey. See you on Wednesday, not long and it IS Spring!!! Looking forward to more sun and blue skies!!!!  cheers Ritz