Alphen aan den Rijn       Wednesday February 9 2011    ritzdeluy@hotmail.com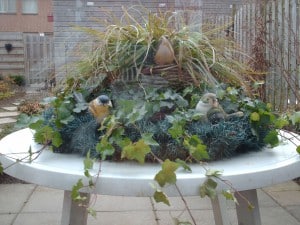 "Spring"….not yet!
No spring has not yet arrived. Though temperatures were up to 13 dgr. again here in Holland. Yesterday was just a fantastic spring day, with in the morning  3/8 of cu's and later blue skies with only trails from overflying planes from and to Schiphol.
Luckily that terrible wind stopped after 5 days. Slowly we see more and more European pilots  flying from their home fields and wave in this time of the year starts to be really good at several places as well. Most of the pilots have returned from Africa, Namibia and Australia and in less then 2 weeks all containers will be on their way home; the European season starts….soon!
The first BIG competition in the year 2011 in Europe,   is the annual meeting from many pilots at Nitra airport; they fly to win the Pribina cup between April 22-30 !!! They  published their first bulletin and the final entrees will be expected online before February 28,  when they close.
They only want 50 pilots max. in one class and the limit in total is 150 pilots, the winners from last year are automatically qualified . Look for news when you are interested at;  www.pribinacup.sk  Competition director is Vladimir Voltin, here on the picture made in Eskilstuna in 2006.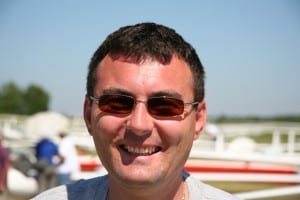 The well known Horsham week started  at Horsham [Australia] last Sunday, with weather better the expected and fore- casted.This is the last competition in Australia, which is fun and serious and lot's of pilots enjoy the atmosphere over there. 29 Pilots fly in 4 classes, sports,standard,15 m. and 18m/open class !!!!  Look for news and results at www.soaringspot.com
It says enough about the 2010/2011 season  that "fresh" Australian champion , Alan Barnes called last -Sunday's- flying- weather, the best of the season "so far" , AND…. the OZ season is nearly over, though as I said before you can still have great days till April, but shorter ones.
Alan flew a 513 km. flight in his LS1f from Jondaryan [on the East coast in Queensland]
Don't want to come back too much on the tragic events in Queensland ,but this video from you tube is showing clearly  the power of water during the flash flood in Toowoomba. When you had a perfect parking-place, it turned out not safe enough.
http://www.youtube.com/swf/l.swf?video_id=kYUpkPTcqPY
120 Students from Belgium  enjoyed a[ study-]holiday at the Island of Lanzarote, one of the Canaries . They flew up with Ryan Air and had planned on flying back with them as well. But a few of the students really made a stewardess that angry, as they could not/ refused to  pay for excess luggage, that she ordered all out and the plane , a Boeing 737, departed nearly empty . Of course the students had NO money to pay for an extra return ticket so the Belgium consulate was asked for help. The Belgium Ministrie of Foreign Affairs mediated and in smaller groups the whole bunch was flown back later; WITH Ryan Air.
Talking about Belgium;  The 2d Masters will be flown this year again from St Hubert. Only 20 pilots will be allowed and there is a selection system to enter, [according to your place on the IGC ranking ] . Also restrictions for gliders; only gliders with BGA handicap  between 98 [ p.e  discus] up to 110 .[ p.e Ventus 2CXT]
 Look for news at   www.aeroclubdesardennes.be  These comps will be flown in the END of the season ,  the last week-end from August and the first from September.
From Tocumwal I received an e-news- letter  with all newsy news messages about the club over the last months.Ingo [Renner] as instructor and Bill [Harvey] as tuggie had a busy season even with the abundant rain fall. But also on 40 dgr. days,  they were running the show . Extra help arrived on several days from Melbourne , as Lothar and Ross drove up. Even Diana ,on her way with George to the Nationals in Benalla and  former tuggie at Sportavia , jumped in the tow plane again, making a few extra hours , giving Bill a rest and enjoying herself to the fullest.
On the picture; good old and still the one and only 4 times WORLD CHAMPION gliding Ingo Renner with mate Dundee[Dieter]
Thanks Judy for the picture!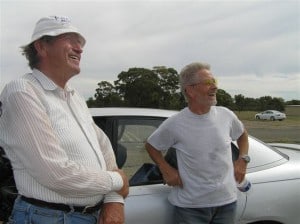 The National Clubclass comps for New Zealand are at Matamata  and 24 competitors are hoping to be called the winner on February 13. First day had 10 out-landings.
Matamata is on the North Island and it is good to see pilots from the places I know now , as Auckland, Tauranga and Taupo.
Matamata you can find on the map, just between Hamilton and Tauranga. Results from this comps also on www.soaringspot.com
CU on Sunday, AND………….since yesterday, you can enter your name on line , on the list of participants, if  you want to fly the Dutch Nationals in May; The CAE NLS NK Zweefvliegen at the National Gliding Center Terlet. The first 10 pilots are already on the list!!!! cheers Ritz