ALPHEN AAN DEN RIJN  Friday December 28 2012
ritzdeluy@hotmail.com     www.glidinginternational.com     www.soaringcafe.com
An update as I just received my Gliding International and though I have not a lot of time , I quickly read the very interesting interview with Sebastian Kawa. His book  "Sky full of heat "  is for sale and you can order it now via www.glidinginternational.com
Sebastian speaks free about his time in Uvalde, about the hospitality of the locals, about his nearest concurrent Mathias Sturm  from Germany,who he considers as a pilot who really flies well ,"striking"  and takes risks by for example flying on his own in the blue, about his family life, his wife and children, 2 young girls, about the Diana, about Mac who flew a Diana as well in Uvalde and " certainly flies well" and….. his wish to try  next time an 18 m. class glider!
As you know he flies now in Chaves in a Discus 2A in standard class and he defends his 2010 title!
Also very interesting and I promised Marina to write about it after the GI was out, is the story from Giorgio Galetto, in which he very openly talks about his crash in France, with the title "It can happen to you". Giorgio survived a serious accident is pretty fit again at the moment, but hard on himself , to help you to avoid such an accident.
"I am a pilot guilty of improper conduct during a contest flight. During the flight, when parallel to the ridge  ,I thought I would take what lift there was and adjusted my speed accordingly. My external visual inspection had been to slow and too wide ranged. I was passive, I had a lack of response and attention. All this was due to a state of great exhaustion. The flight conditions were extremely tiring all the time flying along a testing ridge. I did not drink and eat properly during the flight as I always do. "
The day of the accident had a 414 km. long task, under the poorest conditions. He tells further about the impact through the trees, the damage on the glider and the physical damage. For the rest of the story you can read the latest January/February GI and before it was in German in Segelfliegen the Magazine.
Thanks Marina!
Further on a magic picture from Maria Szemplinsky on the centre spread of the GI,—talking about trees,—with husband Jerzy flying over colourfull trees at Lake Placid,
—- the 23 m. two seater from Schempp-Hirth the QUINTUS by the new commentator for GI on new sailplanes from Europe,  Italian pilot Aldo Cernezzi [lovely guy]
—- The MORNING GLORY,
—-a visit to the Lithuanian Vintage Gliding Club by Francis Humblet
—-feet or metres
—-Flarm and much more ENJOY!!!!!
My lovely Christmas days are over , busy, but full of JOY. Hope you had some good days as well. Packing now my last things for the trip to Australia.
Holland had about 12 dgr. ABOVE 0, so a very mild Christmas time. Even Munich in Germany was "hot" with up to 22 dgr. PLUS , but Russia suffers from extreme cold up to minus 60 dgr. and by that temperature people even die,123 already at the moment,.. very sad. And the South of the USA suffers from heavy snow storms.
On December 27 it was 25 years ago that Kees Musters who won the WGC in Hobbs [New Mexico] crashed with his hangglider against some rocks on a mountain. Kees spend a lot of time with us and not only we,  but I found out a lot of soaring-friends,  still miss him/ think of him.
R.I.P.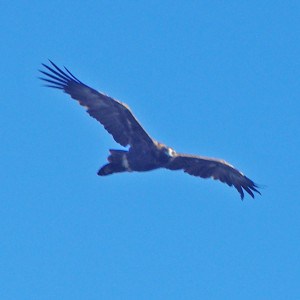 For those who have never heard from the Kees Musters Speed Award,  here is what it is all about. The link was send to me by a young ZES member the club where both Kees and George and I were a member from.
—" History; The Kees Musters Speed Awards was initiated in 1988 by individual members of the Soaring Society of America (SSA) in memory of former World Soaring Champion Kees Musters of the Netherlands. Funding for the award came from donations from soaring pilots around the world.
—"Rules; The award is given permanently to the pilot achieving the fastest daily speed in the 15m Class at the World Gliding Championships. Should there be a tie, it shall be resolved between the tieing pilots in favor of the one who achieved the second (or third, etc. in case of continuing tie) fastest daily speed, compared to the other tieing second (of third, etc.) pilot(s).
—"Description;  The award consists of a oak wood plaque with lucite over a photo of a 15m class glider with a brass plate with engraving.
—" Administration ; The plaque shall be sent by SSA to the organizers of each 15m World Gliding Championships for delivery prior to the end of the competition. The organisers are responsible for the engraving.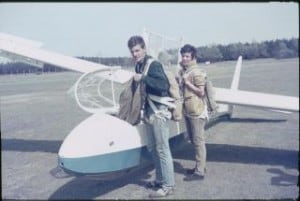 Kees and I in 1967.
In between nearly everybody who is participating in the WGC at Chaves is on the way or has arrived. The Christmas weather over there was not TOO good with storms and rain. Still very windy on Wednesday and a relative low 22 dgr. C. But on TV I saw that South America is hit by very hot weather. 43 the highest ever in Rio De Janeiro and also Buenos Aires is hot again.
I heard that about 50 gliders are rented out by several Argentinian clubs. Good for them!I also noticed on blogs that some pilots really have to work hard to get it all in the condition they want, some wing tips do not fit, gliders don't fit in trailers and a validation to fly from Chili to Argentina , where a German pilot picked up his glider, takes time as well. And,…some gliders arrive later then planned causing less practise for the overseas pilots.
One pilot made a real search for all on FB about what he had forgotten. Lot's of reactions ….in the end it turned out he left his tips in the trailer at home in Europe, but NO WORRIES the TC takes them for him.
That's where the TC is for,  is n't it? I did that job many times, loved it!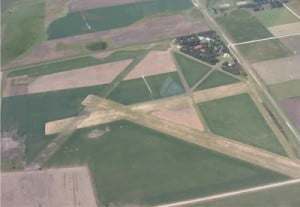 Chaves from above.The camping area is between the trees.
Here is Howard Jones [with his  permission] from team UK,  flying together with Jez Hood in standard class and I quote the whole story from FB,  as I did not know which parts I should take, as it was all interesting. I feel SO sorry for all of them,  but I know the soaring fraternity will be there to help where possible with tents and what's more damaged!!!!! No people injured,…that is the most important.
It was a hot day,…..here is Howard's story,
–" So yesterday was baking hot but we got more gear out of the container and rolled the fuselages out to check them. Hard hot work but they were all good so we got everyone else's tents out and took them back to the campsite. We built the three event shelters first, and they were welcome respite from the sun. As there is no food or drink etc on the airfield yet we decided to pop into town to get some provisions.In main cafe in town we briefly caught up with the outside world but then the manager started rushing all his tables inside… Then the whole street erupted. A wall of dust engulfed us and then horizontal rain with 60mph winds, we sprinted to the car and just made it inside. Now we had to get back to the camp, it was in the middle of the trees, but we needed to check all was still ok. We drove through the streets of the town with near zero vis, horizontal gale force rain and trees coming down in the street. As we approached the airfield the storm had passed, and we tentatively drove towards the camp. It was completely flattened. Our three event shelters were damaged, and Ian and liz's tent had three broken poles. With a stiff upper lip we got on with repairing the mess. After three hours of repairs all looked as good as new (well almost). It was now raining pretty constantly and the site had turned into a quagmire. Luckily we had the repaired event shelters to keep all our kit dry and all the electrics. Time to breath again… We went to bad early after a nice supper with the Dutch in their industrial strength shelter. At 4pm I was woken by strong winds again and I got up to check everything was ok, the wind just seemed to be effecting the tops of the trees and the shelters were fine, it was nothing like the gust front we had the previous afternoon. Then about two tonnes of tree fell and hit the ground just on the far side of the tents. Nice. So what do I do now? Maybe run around outside and get hit in the head by something. The tents and shelters all seemed fine so I opted for curling up in a ball under my duvet and hoping no branches hit my tent. Then I heard the noise. It was like about 20 juggernauts hammering down the road towards me. The ball I was in got tighter. When it hit, my tent went flat over the top of me and there were horrendous crunching and tearing noises all around, then it was gone. I climbed out and joined Ian and Liz who had escaped their tent and we surveyed the damage. There was nothing to do except wrap the tables, fridge and un-erected tents etc in one of the canopies from the shelter, and retreat out of the rain until morning. by then we were just glad to be alive. We will start making repairs today once it stops raining. hopefully at least two of three shelters will be saved. With no wifi at the site we have no real way of knowing what weather is coming next… Glad we decided not to rig any gliders. Anyway Happy Christmas to all from us in sunny Argentina!!–"
Not all tents were blown away and for incoming guests , who could not put on their tent, the organizers had a place to stay till the weather got better. Electricity was gone and Internet off,…..WOW, what a first week in Chaves before the comps start.But hopefully this bad rehearsal makes a great soaring- show!!!
And,…the day before yesterday I heard all is back to normal for our "pommie"friends.GOOD to hear!
Some last news in 2012;
http://jannorphotography.weebly.com/other.html
With the next text;
—"Some excellent photos of OG at the South African Nationals by Jan and Eleanor Hattingh.—"
Published by Jonker Sailplanes. Could n't agree more!
I received this news from Frauke in the USA about women in gliding, which I like to share with you.
—"On a sadder note for 2012: we lost three outstanding women glider pilots. First in January it was Sabrina Jackintell who was the women world altitude holder. Then in November Gill van den Broeck passed away. She might not have been as welknown over here but on the world wide women soaring scene she was an ikon. And just in the last "minute" she was honored with the Majewska Medal for all she had done for women soaring. And now news reached me that on December 15, Helen Dick passed away at age 93. Helen was the first US woman who earned a Diamond badge and the second woman inducted into the Soaring Hall of Fame.—"
Boxing day is THE day for people who love sailing, as the Sydney to Hobart race is for years and years POPULAR in Australia. The weather in Victoria and the S of NSW was pretty good also for the glider pilots, with flights from 948 km.[750 Fai triangle in Ventus 2 CM] from Corowa, 784/5 km. from Benalla in ASH 26E and ASG 29 E/18m. and 595 in the DG 600/17m. from Tocumwal.
Never heard till now from Polish pilot Thomasz Chudoment, but he is flying the Arcus in Kiripotib at the moment , flew 6 times, 3x over 1000 and 3 x over 750. Not bad!
I met Dutch kilometer eater ,Bert de Wijs on an open day not long ago and he told me he had had a nasty fall in his house,  having been in serious condition [pain]  with a shoulder and knee problem.
I was pleasantly surprised to see him in Kiripotib, flying the ASW22 BE, BUT, his shoulder on which he had an operation is still not good and in his comment he hopes that his 3d flight on Boxingday was not his last one. Hope so too for him.
Bert with Bert Schmelzer jr.
And….. I got a list of a claim for class D world records as received by the FAI, just to let you know;
Claim number : 16721
Sub-class :D15 (15m Class Gliders)
Category: General
Type of record : Straight Distance to a Goal
Course/location : S. Lago Puerredón – El Sosneado Rio (Argentina)
Performance : 1'403 km
Pilot : Jean-Marc Perrin (Switzerland)
Glider : DG-800 / Glaser-Dirks operated by Date :20.12.2012
Current record :  no record set yet
and
Claim number : 16722
Sub-class :D15 (15m Class Gliders)
Category: General
Type of record : Free Distance
Course/location : S. Lago Puerredón – El Sosneado Rio (Argentina)
Performance : 1'403 km
Pilot : Jean-Marc Perrin (Switzerland)
Glider : DG-800 / Glaser-Dirks operated by
Date :20.12.2012 Current record :  no record set yet
And interesting weather in Australia also; from nearly in the heart of Australia Alice Springs to the far East border, was on Monday a line full of thunderstorms from about 2000 km. wide/long. Causing colder air south of it and hot weather N.of the line.Sydney had pretty cool temperatures with 22 dgr. The Sydney to Hobart race started on Boxingday.
That 's it for 2012,  a year full of good moments, hope 2013 will be the same or even better. For you too!!!!!!
Off to Tocumwal now and though the main goal is a sad one,—– 25 years without our Dennis,—- [on January 3] , I look forward to catch up with my friends, to see "our" old hangar and the airfield. Still love Tocumwal!!!
CU next year, suitcase is packed, laptop will be packed now,
Ritz