ALPHEN AAN DEN RIJN   SATURDAY DECEMBER 22 2012
only 3 days to go for Christmas
SO
MERRY CHRISTMAS
AND
a Happy , Safe and Healthy 2013
Season greetings for ALL of you ! Wishing you wonderful Christmas days and a happy , healthy and safe 2013 in which I hope to meet a lot of you again!
As I have the grand children for a few days and I have to pack this upcoming week there will be not a lot of writing and during the change in to the new year I will have just arrived in Tocumwal after 24 hours of travelling by plane, a night in Melbourne and a 3 hour trip to Toc.
So I am a bit early , but better too early then too late.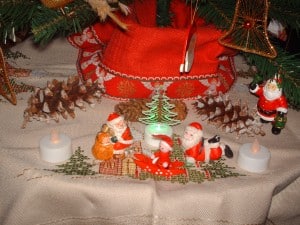 Soaring life continued after Wednesday's blog and Wednesday turned out to be a topper again in  Namibia where they have not a golden time but a platinum one. Sterling flights in long winged high performance gliders with [of course atleast you expect that] more kilometers then the bit smaller wings , but all great achievements.
When you ARE at the spot,[money, time ], when the weather is there and when you have a good glider you have all ingredients to perform at your best.
What about Alexander Müller flying [ from Pokweni] 1.391,21 km. with a best speed of 143 km.h. in the EB 29 [from Walter Binder] which he " cherishes with credits and glory " , in this distance a 1000 k FAI triangle as well.
And yesterday Alexander flew his last flight for this season from Pokweni;  he flew 11 out of 13 flights OVER 1000 km including another top flight on the last day;1.286,73 km. and 2x 900-plus!
What about Bostjan, who "  used"  the EB 28 [ flying from Bitterwasser]  for his fun,fame and glory with a speed of 149 km./h. over a 1.203 FAI triangle,[ a total of 1.291 km.]
On Thursday Bostjan flew 1000- km-number- 11 in the 15 days he is there till now. The flight [ 1.171 km] was with Woody, who flew with us in the past as well, but mainly flies and flew in Bitterwasser; you can call him a "local".
IMPRESSIVE as well the flight from Belgium pilot Johan Luyckx in a 15m version  LAK 17; just 1000 km but a nice 900 km FAI triangle. More of my Belgium friends arrive soon in Bitterwasser.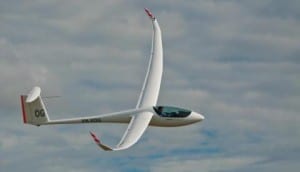 OG with Oscar Goudriaan NATIONAL CHAMPION from South Africa.
 Welkom finished on a high,  as after all the rain and scrubbed days at least 2 TOP days with over 500 and 600 km. were set. Days on which pilots can show what they can, not that in a 2 hour AAT you can't see that , but flying a set task certainly a long one, is different then a task in which you can find your own border within a circle.
And certainly with storms "hanging"around it is THE way to still have have a good competition day.
They managed to squeeze 8 days out of 13, certainly not bad.
When I left you on Wednesday the pilots in 18 m/open had a 2.00 AAT, to avoid storms.
AND ,…look with what speed good old Oscar [JS1 C] flew around, must have been a great final glide!!!!??? 167.4 km./h!!!And on top of that he flew 338 km. And,… in 2 hours and ONE minute, so nearly on the dot!!
Not bad from Natalie [ASH 25] as well she flew 311 km. in 2 hours and 2 minutes so a nice speed of 152.5 km./h. Good on her!!! She was by the way on spot 2 overall on Wednesday evening with "only" 100 points behind Oscar!!!
Of course the high speed over such a small task devalues the points , so no 1000 points for Oscar but I guess he is as happy with the 707 points and Natalie with her 704 points.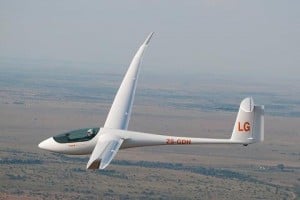 The JS 1 C this one is from brother Laurens who flew with a speed of 143 km./h around!
Not bad either!
On Thursday another AAT , this time 2.30! And Natalie from Germany is getting closer as she was 2d that day and Oscar 4th but the difference in points was only 36 points on another devalued day.
Winner was Lithuanian pilot Gintas Zube with 260 km. in 2.28; speed 144 km./h.in the JS 1B.
Friday was the last day and had a set task from 413.3 km. in 18/open. Wings were polished extra to get the best performance out of each glider!
Oscar won the day with the nice speed of 145.6 km./h. AND the nationals with a total of 6590 points. Runner up for the day with 9 km. /h. less,  was Natalie and she was the runner up overall as well . John Coutts was 3d passing on the overall list Laurens [7th spot for the day] , who ended on spot 4 overall!
A pity that in the other classes were only a few compititors, you can see their results at www.soaringspot.com
1.599,10 just not 1600 km. for Jean Marc Perrin in his 15 m. DG 808 and a GOAL flight!!!!It's not the best year for the pilots waiting for long wave flights over the Andes , but still a few really good flights .
What about the average speed of 215 km./h over 1.564. km.on 12-12-12 by Philippe Athuil in the Nimbus 4DM.I wrote about the flight on the day after but here is the comment from the "boys " on the  OLC, which I quote;
—"the weather started a bit later  and softer than we thought We wanted to fly a 1000k out and return for a US open class Motorglider multiplace record and have  a 3 turn point as well . After a slow start tip toeing we found the wave improving as we went north with a 11m/s climb close to the turpoint running south was a "pedal to the metal"  and closed the 1000 in 4h41min. After that we ran to our next turnpoint but we could not pass up the Esquiel wave for an extra fun in a classic boomer final glide . Jean Marie Clement showed his expertise, talent and  profound knowledge of Patagonia. Thanks to the whole group for exposing me to such extraordinary flying.—"
Argentinian pilot Damian [Goldenzweig] did some practise for the WGC in Chaves, where he is a participant for his home country in Standard class,  in his LS 8 flying the Regionals in Azul, being 3d ,  2d  and 2d on the first 3 days on a 2.30 and 2.00 AAT  and a set task of 121.2 km.in a combi / 15m. class.
Day 4 had a 3 hour AAT with 1000 points , not for Damian , but he had 941 being 3d. Pretty consistant! He is on spot 2 now overall with 68 points behind the number 1, Martin Bossart, a very typical Dutch name!!!!
The Dutch are on their way to Chaves and Frans shows us in a picture what Argentina is all about, including The TANGO. They all  rave about the steaks to big for the plate and the bottles of beer and wine , no not glasses,  you get in restaurants.
My Aussie friends are there or on their way as well   and I guess it 's getting more busy and more exciting at Chaves now!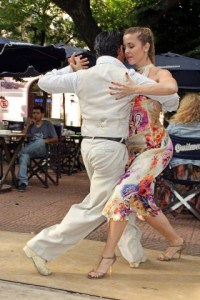 Argentina,..the tango, as seen by Frans after arrival.
Courtesy Frans Guise.
and 3 more impressions from Frans from Buenos Aires, people on the street and the Ministry of Defense.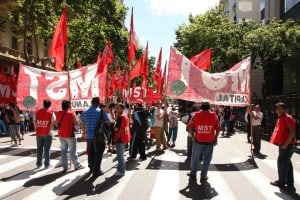 and….demonstrations ,…a few a day.
And,… Schiphol welcomed the 50.000.000 passenger for the year 2012!!!!! The lady, flying from Singapore to Amsterdam was welcomed by the CEO of KLM and Schiphol and more "important people'", but what's MUCH nicer she was flown by one of my friends Eric Borgmann, [captain 777 with KLM] who was runner up in the WGC van Borlange in Sweden, years ago just behind Andy Davis!!! He looked well on TV.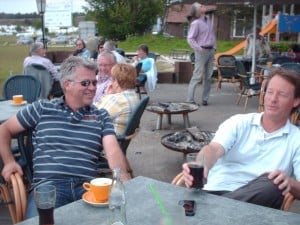 Eric , as glider pilot at Terlet during the Nationals.
Nice flights today from Corowa, where Harry nearly flew a 1000;916 km. [ 804 FAI triangle]  7 Pilots flew over 600 km. first through blue conditions, but as said before "Aussie blue thermals" can be very strong, than linking to a through line in the neighbourhood on 150 NE of Corowa, creating unstable conditions with overdevellopment and further enroute, clusters of showers, as Harry mentions in his comment.
Brian du Rieu flew from Tocumwal also up North through the blue to reach the trough;637 km in his LS 10/18m.
 The world still turns around, so we will go as always ,….. with the flow. I was utterly amazed that the Premier [ Gillard] from Australia strongly believed in the end of the world and said so on TV with even with a thank you to "her"  Aussies……and " Good luck to you all"!!!!!!!!"
Must have been a joke, can't imagine a prime- ministers brain ,  " SO far out of  this world".
Cu NOT on Wednesday cause of Christmas day but will be back on Friday morning  before I leave on Saturday.
Well,….. I have prepared my Christmas dinner for 6 for tonight [daughter Inge is standby from Dec. 24 till 28, that's why] So laptop goes off till Friday and again I wish you
MERRY CHRISTMAS!!!!
 Cheers Ritz