ALPHEN AAN DEN RIJN  Sunday December 16 2012
ritzdeluy@hotmail.com     www.glidinginternational.com     www.soaringcafe.com
Joey Glide was fun to follow. Matthew Scutter was "flying high" but had a few "low-points" as well! From the worst spot to be at, on the first day , nearly winning every day  after is amazingly good .
It looks and I have seen that often, he was flying without fear or reserve looking at the highest he still could  reach after that debacle on day 1!
I once gave you the example of Kees Musters flying at the Benalla WGC in 1987. He started bad , but won several days and ended just out of the podium on spot 4. It's all possible !
Matthew preliminary won also day 4 , a 350 km fixed task, with a speed of 116.8 km. , 10 km. faster than the runner up Andrew Maddocks still firm [ just over 100 points] on spot 1 overall after 4 days.
BUT,….DAY 4 turned out in the end to be NOT the winning day for Matthew,  as he lost 398 points due to an infringement of the Tamworth CTA buffer, after the loggers were checked. Another young pilot  lost 596 points. 2 Other pilots even got ZERO points for the day. A tough way to learn, but that's how it is!
The NZ boy's did pretty well, being after 4 days on spot 7 and 8;here is a reaction;—"Today was a good day. It was blue in most places but there was still strong lift in most places. Some climbs went to 1100ft.  Nick and Alex were still a bit anxious about going out in the blue after landing out last time it was blue. They still did ok with speeds close to 100 kph. "—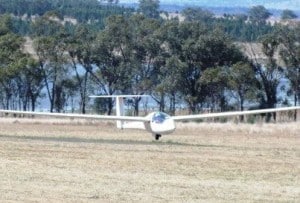 Alex rolling out.
For day 5  the forecast was for a blue day again but after the long tough day 4, [where some of the young ones flew up to 5 hours] ,they set  a rest day!
That day however turned out good as yes , Matthew blew the disappointment out of his system by flying 580 km. with a speed of 131 km./h.in the Discus 2.
And all pilots, fresh again, managed to fly soaring day 5 with a B task from 2 hours [AAT] AND a winner with a wellknow name Matthew Scutter who flew 250 km. in 2 hours and nearly 6 minutes.
—"Today was forecast to deteriorate quickly with high cloud coming over. On the start line they changed to task "B" a 2 hr AAT. There was a fair bit of uncertainty initially with difficult conditions expected.–"
The last day— today— I can not even give you  preliminary results , neither the names from the winners! One outlanding, a 2 hour AAT and results LATER as the organizers want to keep it secret till the prize giving! Well, why not, it's their party and,…I have seen how those young ones can party!!!!!!!!
For the final results you can go to www.soaringspot.com , as for those who don't know, it's my birthday today , so NO time to look at it anymore.
BUT a very nice competition it was.
The Victorian State Comps only counted 3 days out of 7. Already in his 70thies Tony Tabart won day 3 and finished on spot ? overall in 18m/open class in his Ventus 2 CM/18m. due to one bad day, loosing nearly 350 points. He finished on spot 3 overall, while Peter Buskens in the JS 1 won the comps.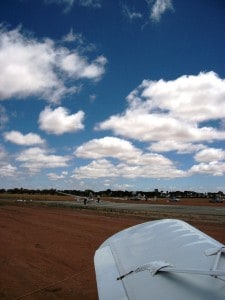 Not so lucky with the weather either ,  but still going till December 21 ,is the National Competition in Welkom. After  flying-day 1 and after  that 2 scrubbed days, because of the rain, day 4 [soaring day 2] had a 2 hour AAT to get in the rhythm  again. Laurens just missed out on winning on his birthday as John Coutts wanted to win the day as well and he did with 237.4 km. in 2 hours and 3 minutes! Laurens flew 241.8 km but needed more time.[ 2.06,5].
Day 3 unfortunately had to be cancelled again, as well as day 4. So 2 days of soaring and 5 cancelled days, BUT there is hope for today!!!!!
Corowa pilot Jos from Holland missed just out on a 1000 km. triangle flying 907 km [total of 945 km.]  last Wednesday.A pity! Several nice long flights from Corowa that Wednesday but also on Thursday., with an 818 km. out and return from Harry Wondergem another Dutch pilot flying from Corowa. He set a
Narromine had good weather with a triangle from 861 km.[total of 898 km.] flown by Pepe. Look at the skies in Temora and Narromine as seen on Wednesday by the Gilberts and Anne and shared on FB.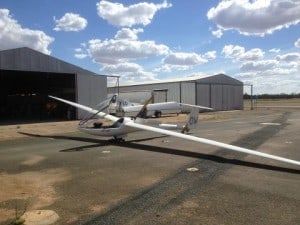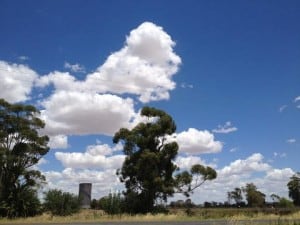 The rebuilt DG 400 from the Gilberts ready to go in Temora and great clouds used by p.e. Pepe in Narromine, shared via FB.

AND,….at Corowa as seen on their site, which in my opinion is one of the most advanced sites in soaring, not social, but technical informative!
More for me well known pilots in Namibia. They continue to fly great distances over there a a real "feast" for the eyes every morning.
Tocumwal based glider pilot Milan Petcovic [YU]  , atleast when he flies in Australia, flew a 1000 k record flight from Bitterwasser in the Nimbus 3DM and Ludwig Starkl flew in the Antares [20m]  NEARLY 1000 km;989.
Milan , who is an airline pilot for Cathay Pacific, had a very nice interview with Lothar Arndt, another member of both the Sportaviation and Riverina Gliding Club on March 2011 after he flew his first 1000km.-flight from Bitterwasser and I quote a few lines about his opinion of Bitterwasser:
–"this record flight was made in Namibia on the very south west corner of Africa. Africa as a continent is fascinating and for me in particular Namibia with its huge Kalahari desert which meets the cold Atlantic ocean on the west. People in Namibia are wonderful, greeting you with their big genuine smiles. I must say that gliding in Namibia besides all its beauty is "extreme" because for hundreds of kilometers you could be flying over the desert without a single sign of civilization and it is not rare that you have no suitable terrain for an outfield landing. Altitudes at which you fly are between 3000 and 5000 meters what means that you are using  supplemental oxygen most of the time. The temperature in the glider just prior to take off is over 40 C and then in the late afternoon as the sun is setting down the temperature drops down close to freezing. Average duration of the flight is between 7 to 10 hours  (we were flying on a daily basis for 2 weeks) and therefore you must make sure to properly hydrate and feed (nourish) your body. Also, you must make the glider cockpit as comfortable as possible for flights of such duration. Unfortunately such gliding activities are very expensive and I haven't have the courage yet to sum up all my recent spending's. I will not exaggerate if I say that tens of thousands of dollars (US) must be invested in such activities. In addition to this, one must invest lots and lots of time what means that all your vacations and many many days off must be spent at glider ports.–"
 "Advanced Soaring" by Bernard Eckey is out as a revised and extended 3 d edition  with a fore- word by 4 time world champion Ingo Renner and 3 time world champion Michael Sommer. When you still need a Christmas present, here is your chance!
Here is some additional information. AND,…they also offer 10% discount on a bulk order of 5 or more books. Just to let you know!
–"a; The new book contains 432 pages (almost 100 additional pages compared to the second edition) b;it features spectacular gliding shots from fellow pilots around the world.  c; The inclusion of additional topics makes it the first all encompassing book on gliding.d; 180 graphics and drawings enhance the text and provide a much improved illustration. –"
Shocked by the disaster in Connecticut, what a DRAMA!!!!!Poor parents, grand parents , brothers and sisters and school mates and family from the adults who were killed.
VERY busy day so my soaringcafeblog can unfortunately only be later then normal. Sorry about that.
Cheers Ritz