ALPHEN AAN DEN RIJN    WEDNESDAY DECEMBER 5 2012
Sinterklaas-evening….. a traditional evening full of presents here in Holland, even with the recession.
ritzdeluy@hotmail.com     www.glidinginternational.com     www.soaringcafe.com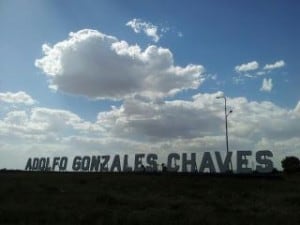 Pictures from Chaves last year. Courtesy Jeroen Verkuijl.
Not long and the WGC in Chaves is up and running; 29 days to go. The last World Class comps in co-operation with the standard and club class is known  now, with 24 definite/accepted pilots. In the uneven years the PW 5 pilots will have their own WGC in the future. The replacement for the world class will be in 2014 the 20m. 2-seater-class.
In standard class 26 pilots ,[ 2 are not yet definite]  and in club class 42 and one not yet sure,  Dutch pilot Jeroen Verkuijl, who flew so well last year during the Pre-Worlds , who is very eager to go BUT,…  it's all depending on …..  holidays !
It's going to be a REAL interesting race there,  as most pilots of the 89 pilots are toppers! Could n't pick winners this time, though….. I have some favourites who could do well, VERY well, one of them Sebastian Kawa !!!!
The German pilots look very much ready for Chaves . Young sportsoldier Marco Barth [4695 points] won the regional North competition in Argentina[ AC San Francisco] last week in standard class, with Enrique Levin as runner up.[4646]  Strong team as always for Germany.
Marco flew an LS1f and Enrique a Discus B. Best day was a 3 hour AAT, the rest,  also AAT's had less time/kilometers. Damian Goldenzweig was 6th in an LS4.
Guess after his trip from Uvalde to Chaves the German TC  Uli,  his wife Chrissie and gorgeous little son Fin should have arrived by now.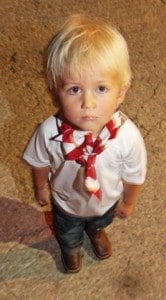 Little Fin in Uvalde!
picture courtesy Frans Guise.
Talking about Argentina …the big day was on Monday. Jim and Dennis flew a 1.706,39 km. wave flight from Nahuel Huapi while Jean Marc Perrin flew a fast 1.251,62 with nearly 140 km./h in a 15 m. DG 808 from Jose de San Mart nearly exactly South of Nahuel. Great effort as well.
Told you last Sunday about Alexander Müller flying from Pokweni and that I expected some long flights again from him in the EB 29; 2 flights,…2x over 1000 km. And Janusz [Centka] 2d flight from Kiripotib in the ARCUS was over 1000 as well.
Daan and Henk,  more and more get used to the new type for them, the ARCUS as well as to the LX 9000;over 800 km. "practise"!
Another kilometer-eater has arrived this time in Bitterwasser ; Guy Bechtold from Luxembourg and you can count Bostjan Pristavec one as well. He flew his first flight in total blue conditions in the EB 28; 800 km. triangle! And I just noticed he topped the OLC yesterday already with 1.145 km and an FAI triangle!!! Good on him! Speed 130 km./h not bad either!
Pretty good weekend- weather in Namibia with 7 over 1000 km. flights on Saturday and another 5 on Sunday. Between all those top flights on Sunday on spot 50, the CD from Uvalde Ken,who flew a 300 triangle from Houston, on as he said :"an unbelievable good soaring day for December".
Yesterday Namibia added another 11 over -1000km.-flights. And also Kuruman in S.A. had one .Even the best pilots can have a day it does n't work and miss out on it, so as said before "you still have to do it."
The first 50 flights on the OLC yesterday are all over 600 km. except for 2  but I count  flights from an LS 6 and discus from Omarama from 581 and 558 km. as top results as well.
A 3 hour AAT for club class during the NSW State Comps in Narromine, but only ONE pilot flying 151 km. in exact 3 hours that says enough about the weather on day 1, certainly not as fantastic as the week before. Not much better for the standard -pilots as the set 299 km was for most TOO far! Brian Hayhow flew 244.4 km. In open /18 m. Brian DuRieu flew 261 from the 344 set km.
Day 2 had a 2 hour AAT for all classes and Tom Claffey  [ASG 29] still is in that great GP-flow and was runner up for  the day with 232 km in 2.04 . His wife Kerrie won the day in standard class in the LS 8.
By the way Shinzo won in the Nimbus 4DM the 18m./open class with a time just under 2 hours and 229.9 km.and got the 1000 points .
In  15 m. class Lisa [Trotter] was the daily best.
Today, on day 3 a 2.30 AAT  in 18/open, it was the other way around , 1000 points for Tom and 873 for Shinzo.And very nice to see that 2 members from the Mount Beauty Club won in 15 m. class. A pretty difficult day with tough wind up to 35 kts, but also nice wave .
For all results in the several classes you can go to www.soaringspot.com
Due to all great soaring from Narromine during Cup Week, I missed out on a new speed record from Jenny Thomson over 300km, flown from Narromine as well, just to let you know !It's a feminine speed record over a 300 km triangle for 15/18m.  and open class and the speed was 146.7 km/h!Congratulations!
From Jo I received a nice link to an ABC radio program talking about the good soaring in Narromine during the Narromine Cup Week, which is as you know by now, an event with a social mix from not so experienced to very experienced pilots.
Never knew Allan Barnes is original from New Zealand and lives in Brisbane now! You can hear him, Beryl Hartley,  the face from Narromine and treasurer of the Narromine Gliding Club and Jenny about her speed record, by downloading the MP3 file on the link.Enjoy! Thanks Jo!
http://www.abc.net.au/local/audio/2012/11/30/3644993.htm?site=westernplains
Due to being a bit slack , pretty lousy weather and being a little tired after a full/busy week, I missed out on the last seminar at the University of Delft last Saturday, organised by the Flight Deck Business Club, Aukje Engel and her team,  in co-operation with the University of Delft and Justairborne.
Topic was ; Passion for flying and that passion was shared in words , by 2 Dutch top pilots in words Ronald Termaat and Tim Kuijpers and a passionate F16 pilot,… as well as  several other speakers.
Also the Euroglide Sponsor Challenge and a new brand new competition starting in 2013 in the N. from Holland , the Frisian E glide, 440 km. over the Wadden Islands with  electric self launchers, were trendy topics. Great idea by the way!!!!
Jonker Sailplanes  was there with a glider and the DSA,  the student aeroclub from Delft,  showed their Condor Simulator.
With nearly 200 guests a busy , informative day which ended with a lottery where you could win a 737 simulator session as co, a trip in a balloon and 3 Sky Dives! A drink afterwards was great to share soaring-sentiments in the no-fly-time!Some impressions by Frans Guise, who travels around Christmas to Argentina to be part of the 32 WGC in Chaves!
Speakers amongst others; Ronald Termaat and a young F 16 pilot  .
An attentive audience and Aukje from the Flight Deck Bussiness Club.
Our Polish friends can read the book "Sky full of heat" , from Sebastian Kawa already. The English version was supposed to be "out" on the same day , but it seems  we have to have a bit more patience. I have ordered my book already with John Roake at www.glidinginternational.com and I am looking forward to read it.
My book "Not for pilots " from Frank Versteegh arrives here today [ was n't home yesterday, so got the note it arrives today between 11 and 13.00 hours] another book I was looking forward  to read.
Not such good news for people working for KLM/Air France, it seems 10% of the jobs will be "scrubbed", before 2015, which is around 3000 people from KLM and 5000 for Air France .
Last Monday we had the first snow here in Alphen. Don't laugh all you friends in Scandinavia ,Canada, Switzerland Austria  etc.about the amount it is SNOW!!! The rest of the week remains in a winter atmosphere. Time for warm "winter-pullies" and….to pack the suitcase!CU next Sunday. Cheers Ritz