Alphen aan den Rijn    Sunday June 24 2012
ritzdeluy@hotmail.com     www.glidinginternational.com     www.soaringcafe.com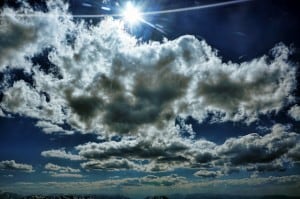 Courtesy Bert Schmelzer jr.
While brother Tijl is " trying out " Morocco [Quarzazate] Bert Schmelzer jr. spoils us with his great pictures WITH text, this time flying from Hausen Am Albis to Dachstein[far East] and back; 782 km.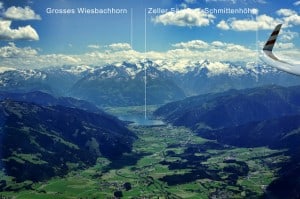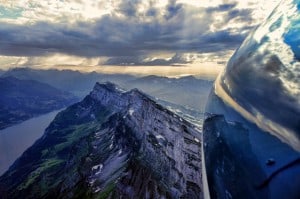 click to enlarge and read the names;courtesy Bert Schmelzer jr.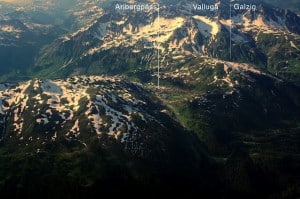 When I heard last week from  Tijl that he was going to Quarzazate I asked him to write a bit more about flying there as we do not know too much about this place and the conditions.Here is his first story;
—" First day in Ouarzazate, Morocco. Never thought I would say this, but the thermals are too strong. Good weather combined with strong wind from the Sahara means sandstorms. We did a short checkflight today. Couldn't see the fantastic cumulus clouds on top (at ca 3000+m?) until 750m ground. And from 1500m the ground bellow started to disappear. We did the wise thing: stay VMC, and flew a bit around …the airfield. Visibility got even worse after landing. Small world indeed). Great guys. They showed us around the plane, and helped us out with a small repair on the glider.
The Solarimpulse team is here as well (here for promotion of the MASEN 500MW CSP solar power plant). The team consists of mostly Swiss guys (of which I already met one before.
The plane it self is impressive. The logistics are equally impressive. I ll let the pics do the words for that.—"
Thanks Tijl!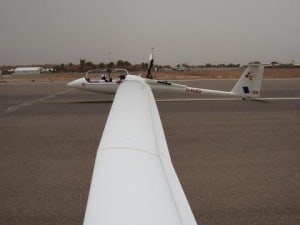 Tijl ready for his checkflight with Bernd Dolba in the ASH 25EB28.
AND


Sand storm.Visibility less then 2 km.
And the SOLAR PLANE ready for promotion inside the hangar.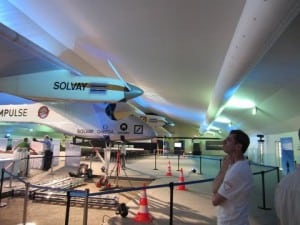 I wrote you already more about the solar plane Impulse.And that it arrived in Morocco. Great to see this picture from Tijl now.
On the longest day  I had to put the lights on at 8 PM. Dark skies with thunderstorms just passed by for over an hour. Luckily not too bad here! Much worse in Austria and parts of Germany.
The Scandinavian Midsummernight is over now as well. Always great fun!
It all means that we are still in summer BUT with the days getting shorter , autumn and winter or …..the other way around down under, are there before we know. Time is going TOO fast!
EURO GLIDE  continues and as you can see it is not only soaring but also sharing friendship and good food! Gliders arrived so did the cars and trailers as you can see on the picture from Frans Wijsman who "found " the webcam from Rotenburg! Good!
Pictures say more then words!!!!!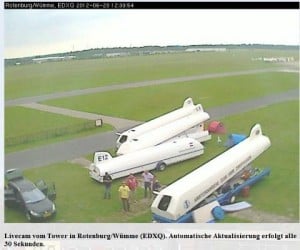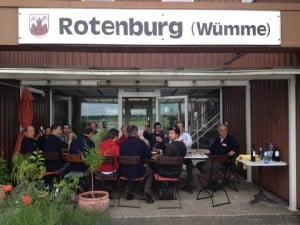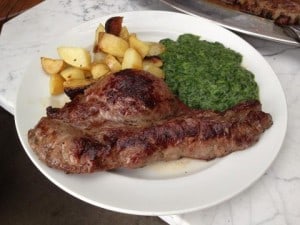 Pictures en route [Rotenburg] by Rens van Broekhuizen via FB.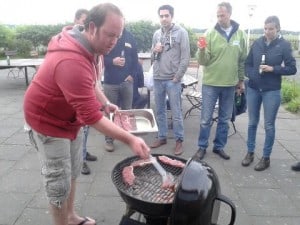 and a picture from Jeroen Beeke ; Rens "cooking"the meat.
Thursday and Friday were rather good so some pilots made a lot of progress. 2 Teams have for different reasons left the race. Here is what I read on the Friday-organizers-report;
—"21:45 – Today was a great flyable day, the teams made a lot of progression. The UFO and MD are up front, just about 155KM before the second turning point. On the airfield Gorlizt it is about to become a nice evening, at this moment there are 11 teams located over there! Have a nice evening and keep in mind, tomorrow will be another beautiful day.—"
MD is Max [Dolfin] a great mate, who spends his winters in Corowa [Australia] and knows all about long-distance-flying and UFO is Max a very nice guy and collegue of my daughter.
Yesterdays report says;
—"Leading in sequence now: 1.UFO and 2.LT. MCT and QV are short behind them. —"

You can read all this news,  day by day  on www.euroglide.nl   and look at where the gliders live are  at Glidertracking.com.
Day 3 of the UK 18 m. Nationals  was a difficult one . None of the pilots finished but some were close. The task length was 345 km and Mike Young managed to fly 335 km. [469 points] while Derren Francis was just 1 km. behind.[467 points] Derren in the Ventus is still on top, followed by the JS 1 gliders and 2 ASG 29's. No flying on Thursday and Friday due to miserable weather and temperatures.
BUT…….yesterday a small task again with 155 km…..and it was scrubbed, weather was NOT good enough. A pity.
 Talking about bad weather in the UK, here is news from Graham [ Garnett ] I "found" on FB.
—"Just a quick note to let everyone know that Lasham will be holding a second Regionals competition alongside the Junior Nationals between the 18th-26th August.
So in an attempt to give people the fun they missed out on earlier in the month… and to try to give value for money, anyone entered in either the Open class the 15m class or either Regionals classes can enter this second competition for a cost of £50.

Anyone else that would like to join us and everyone is welcome will be charged the normal Regionals rate of £170.office@lasham.org.uk—
The idea is to try to make up a bit for the rubbish weather we had at the beginning of June when most people only got one scoring day out of the nine possible.
If you fancy coming to Lasham in August to join us please contact the Lasham office to add your name to the list 01256 384900 or office@lasham.org.uk
The weather can't be that bad again, can it…..
Graham Garnett
Nice to see that Norway  twice topped the OLC list last week. Flying the Nimbus 4 DM,  Erlend Sorbye flew from Elverum, [also a wave paradise,]  a nearly 700 [600 km. FAI triangle] and over 800 km. task.
On the site from the Perlan Project you can read the latest news- letter , so when you are interested you can go to     http://perlanproject.org/newsletters/
Some nice flights yesterday on the OLC. 1000 km-plus in the USA where John Seaborn flew with the Ventus 2 1.128 km. with a speed of 154 km/ph. from Boulder in wave and also in Germany some nice long flights , as well as in Switzerland, have a look at www.onlinecontest.org
Cu on Wednesday. cheers Ritz
Finishing with 2 more pictures from Bert flying back "home".Thanks Bert!!!!!