Alphen aan den Rijn     Wednesday June 20 2012
ritzdeluy@hotmail.com     www.glidinginternational.com     www.soaringcafe.com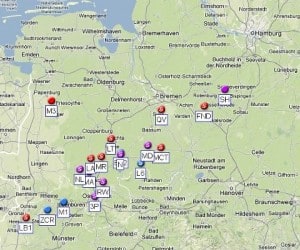 EUROGLIDE, second day , first flying day on tracking system.
Glidertracking.com 
On Monday morning when the Euro glide pilots were ready to go,  a big line of thunder-storms heavy rain and wind moved from the SW to the NE from Holland. Also the weather in Germany was not too good. The afternoon was much better, but satellite pictures showed it was not good enough; too late to start, so it was a day of waiting for the pilots!
In the end the morning-thunderstorms were severe at some places, setting houses in fire and making a chaos on the main Dutch train-station Utrecht where lightning hit as well.
Euroglide is once in 2 years and a "feast"  for pilots who want to take their own decisions. Nothing is sure , one big adventure. They started now yesterday, start facilities were open at Eindhoven from 9 onwards and the last pilots left at 10.55.
The "best "pilot at this stage is about 82 km. from the first TP ; Bart Renckens, flying not as a team but alone in his Ventus 2 CM. GOOD on him!!!!!You can follow them daily on www.euroglide.nl with a map where they are and a bit of a story. Enjoy!
Also via  Glidertracking.com you can follow them in REAL time!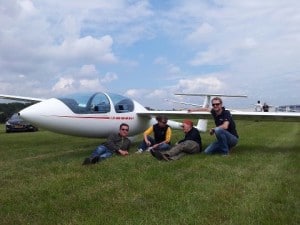 Team Bas Krebbers en Reitze van der Linden en team NV waiting for the first start.
pictures via FB.
And after arrival on the first flying day, it is good resting and eating and having fun. Ton Staassen member of my "old" club ZES arrived in Höpen, as I saw on FB.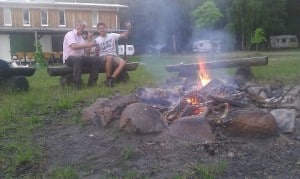 Today there seems to be no usable thermal activity in the N of Germany, so a restday or maybe a day for tactical decisions/displacements. Looking back at the 2010 EUROGLIDE, I remember that all records were broken. Pilots never had been back home so quickly!!! In 4 days the first glider was back!!!!!!!
Amazing those 1000 km flights from Belgium. Sunday was another day to feel happy about his 3d 1000 in ONE season, for Tijl Schmelzer. Did he fly the first 2 from Keiheuvel the first one an Out and Return and the 2 d  extra special as he started and landed at Keiheuvel, this time he flew the Nimbus 4DM from Hasselt [Kiewit] together with Ken Evens.
It seems Tijl's "concept of cloud making" works as from Weelde also in Belgium Herman Peeraer flew a 1000 in a Ventus 2CT/18m.  using " it"and I am pretty sure 3x a 1000 in ONE season from Belgium never happenbed before!!!!
So here is the concept again;  http://www.scribd.com/doc/97134912/Cloud-Making-Machines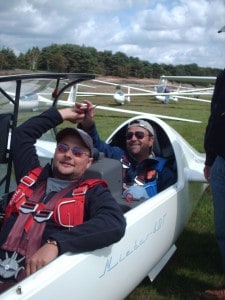 Tijl and Ken a good pair!
I felt sorry , looking back, for the UK open class pilots. ONE day is not much. Pete Harvey won with 833 points , followed by Steve Jones and Kim Tipple. Pete and Steve will be in Uvalde for the 32 WGC. The weather there will be much better then it was in the UK, so there they can show
Peter Sheard a bit older then the first 3 was a good number 4.
On that one soarable day only 7 from 21 finished.
The Pre- European comps in Vinon, had good weather and 6 out of 6 days pilots were in the air. In 15 m. the 2 French pilots Christophe Ruche and Louis Bouderlique were the winners and showed they are ready for Uvalde! As is Sebastian Kawa who was 3d.
In 18 m. class 2 toppers were out [Giorgio and Wolfgang due to an incident and tiredness] but Killian Walbrou is a topper too. Winning the last day , he moved to spot 1 in general. Good on him. Good "old" Gilles Navas was the best on 4 days in the general scores but had a less good last day [ 583 points against 812 from the winner]
In open class Bosjan Pristavec topped the overall scores on day 5 and 6 , the final day with more then 400 points. Stephan Beck topped that list on 3 days in the ASW 22 BLE. He will not be in Uvalde as Holger Karow, Tassilo Bode and Michael Sommer will defend the German colours there.
Looking at comps in progress,  of course the 18m. Nationals in the UK  [  Husbos  to be correct Husbands Bosworth] are interesting to follow. That is ….when they can fly!!!!
32 Pilots are on the list, waiting for "nice" weather. Mike Young and Russell Cheetham are amongst them. After the Pre Europeans they will fly their Nationals and the WGC in Uvalde.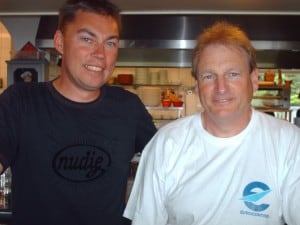 Russell, here with Ronald Termaat. Both will fly in Uvalde!
But on Monday they were UP in the air with a 277 km. task. Not an easy day for some looking at the results. Russell did well being 2d, [863 points] so did" good old "  Andy Davis with a 6th place. Steve Jones on 8, Mike Young 17 [ 582] and Phil Jones 20.
Tuesday, yesterday; finally some great weather reached the UK as well and a task from 426.3 km. was handed to the pilots.
I only know Derren Francis [Ventus 2cx]  by name, but I will remember his name  now even better. He must be a good pilot, as he won 2 days in a row!
More good flights in the UK yesterday from Dunstable [804 km. in ASH 25 EB and the longest flight till now from Dunstable this season] and Lasham.
Preparations in full swing for the Uvalde WGC. As you know I am going to be the main blogger for the SOARINGCAFE !!! Looking so much forward to this nice job!
Apartment…tick, cellular phone with text and web and unlimited minutes in the USA…tick, bicycle…tick, if necessary car…tick, tickets to and from the USA …tick,shirts with soaringcafe on it…tick, pick up in San Antonio…tick. The boys from soaringcafe spoil me!!
That's it for today , back on Sunday! Cheers Ritz