Alphen aan den Rijn     Sunday June 17 2012
ritzdeluy@hotmail.com      www.glidinginternational.com      www.soaringcafe.com
Back home again, and…pretty good weather!!! Holland was less good but the SW coast of Holland gave us all kind of weather and not too much rain. We even had one day with full sunshine. The area is called the Zeeuwse Riviera and they are correct.
The first evening with 8/9 Bft. wind was interesting, on top of the dunes you "just went with the wind" difficult even to stand up, on the beach you were sand blasted and close to the sea it was nice to walk.
Enough about that, as of course we "sniffed" culture as well.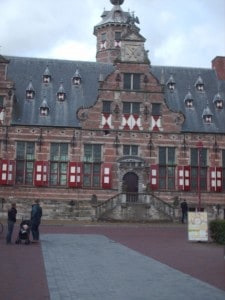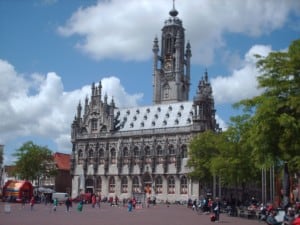 The town of Middelburg. Look at the skies!!!
For sure you have followed all the latest gliding news. I did not so I have to do some research. Come back on that on Wednesday when there would be something very exciting.
While on holiday I saw that more parts of Holland where good that Thursday, with great flights up to 800 km and over 1000 km just over the Dutch border. Another very successful flight by Belgium pilot Tijl Schmelzer;Here is his comment: 
—"Awesome. Success on the 3rd attempt. A declared 1014km with finish in Flanders.A flight made possible thanks to:
– The Cloudmaking Machines
– Well over 250 hours of flight preparation and planning
– W.Grosskinski as an inspiration
–Topmeteo and Toptherm
– Jos Gielen, the tow pilot
– ATC of KB
– And, off course, my family
I wrote a report in December last year with the conceptual background of the flight. You can find it here:
http://www.scribd.com/doc/97134912/Cloud-Making-Machines
The Dutch gliders  are on their way,  for a hopefully safe trip to Houston, where they will be  hooked on and taken by the owners to Uvalde for the WGC. YES it is coming closer now, UVALDE!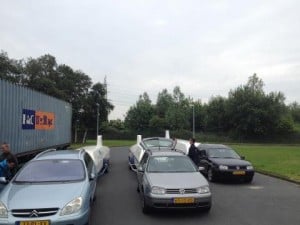 ready to be "packed".
Picture via FB from Jeroen Kroen.
Tomorrow the big Europe-race, EUROGLIDE starts. More then 150 people pilots, crew and organisers are involved in this mega race. Will keep you informed.
Did have some mail contact with Marina about Giorgio, who is back home now. My private mails I will not share but Marina also shared some news on FB  and for those who are not involved with this social site, I can share that news;
—-"Dear friends, sooner or later I wil find the time to reply individually, but you are really a lot. Giorgio is now standing with his corset which prevents twisting and bending of the trunk. By the end of next week we will be at home, where for the next two months he will need mine and Chiara's help for everything. It may seem strange, but my first reaction, after I found that Giorgio was in one pi…ece and moved his legs, was a blind rage, furious. I cannot still believe that a  pilots with his experience, which has more than 6,000 flying hours in the mountains, who knows this area well, could make such a mistake. Giorgio is not the kind of person that hides himself behind useless excuses and he will write soon a report. 
He was very tired when he arrived in France and rather than give up and go home, as did the Austrian Wolfgang Janowich, has remained mostly out of habit. 
And now we all need to work on this. We can carry on our gliders all the tools make available by the modern technology, but the real safety is in the head of the pilots. Thank you all for your support.—"
Something to think about!
CU on Wednesday,back to my guests now,
Cheers Ritz