Alphen aan den Rijn        Sunday June 3 2012
ritzdeluy@hotmail.com     www.glidinginternational.com      www.soaringcafe.com
The ladies , flying the German Nationals ,  started on their first day in each class with a 2 hour  AAT. Not an easy day with several outlandings.
In Club class Swaantje Geyer, member of the German Female Team,  was 2d with 150 km. in 2 hour 19 and she was one of the 4 finishers from 14 participants in this class.
In Standard 10 from 12 made it home and in 15 m. class 11 from 12.
day 2; another 2 hour AAT and this time 5 finished in club,  5 in standard and in 15 m. 6 pilots. In club Christine Grote won, she was the winner of the 2003  Worlds[the 2d]  in Jihlava,  in the Czech Rep. on her first participation in a WWGC. And if I am not wrong she is Uli Gmelins partner.  During that competition Swaantje Geyer flew the WWGC as well and was 4th. Today she was 2d again but tops the overall scores…but just, only 9 points.
In standard class in her LS 8 Cornelia Schaich won this day and she was in 2003 the world champion in standard class.
Katrin Senne won 2 days in 15 m. class and she was in 2003 the silver winner, you see all these ladies were good and still are good!!!
Day 3; On Friday they had a small window direction W.
A racing task with 166.7 km. for standard and 15 m. and 125.4 k. for the club-ladies. In 15 m. Katrin Senne shows how good she still is with her 3d win -in- a- row. All "girls"in 15 m.  started at the same time 13.28/29.
In standard a " bad " day for Cornelia being the only one not finishing, after being first and 2d on the days before. Maybe she was too eager….But not too many points lost as she was just 2 km. out.
Gaby Haberkern, also a member of the German National Team, won the day, she was unlucky the day before being last but one!
Day 4; a better day so bigger tasks!Club; 295, standard; 401 km. and 15 m. flew that task as well. But…not everybody came back home. In 15 m. it was Katrin Senne again winning the day , with her 5 other "girls" finished.
Same long distance for standard, but NOBODY managed to finish, best distance was 281 km.
Christine in her St Libelle won the day again in club class, speed 56.92 km./h. but …she made it. With her 5 other ladies flew the 295 km.
In each class the scores are very close together so a lot can happen. Hope they have a good day today!
In Bayreuth  the pilots were supposed to start on Thursday , but the German weather Bureau advised against soaring that day,  due to the expectation of heavy thunderstorms with bad hail. The organisers followed the advise and organised a trip to town instead.
When we were in Bayreuth with the WGC a long time ago, we went to the famous Opera House as well. In the town of Wagner , we wanted to see and hear Wagner 's music. We stood for quite a while in a queue to order tickets. The lady smiled at us and asked for which year, we felt straight away it was not meant to be. We could come back in 4 years for the Festival, tickets would be then available. 
Bayreuth-airfield  celebrates it's 100 year anniversary. First flight from here was in 1912; so a jubileum!
With Werner Meuser and Uli Schwenk they have 2 former WGC and EGC champions as well.
And those pilots had on day 2 a rest-day again. Still showers hanging around. And that on the first day of the metereological summer!!!
On Saturday they hoped that the weather would improve in a great way , as the day started with 8/8… but it was supposed to happen!!! First launches were postponed but then pilots hoped to go for 349 km in 15 m. , 398 in 18 and 440 in open class.
It was not meant to be. Even C tasks did not help , it stayed 8/8 and the day was cancelled again at 16.30. Can't say they did n't try!!!!
Looking at the OLC, Bernd Goretzki , who flew last winter in Bitterwasser and managed to fly there 9 out of 15 days with a 1000 km.-plus, flew  2 European 1000 km.flights  [from Loktow]  on May 27 and 28 in the Ventus 2CM/18m. ! Good on him!
Some of my friends fly from Ocana and had nice flights; Roland with 744 km. in the DG808B/18 m., Hans with 734 km in the ASH 31/21m. and Pepe with 787 k. in the same glider.
I could see some tension already on FB…would it be one of those SUPER days for soaring again yesterday in Holland and Belgium? And YES it was. Bart Renckens declared and flew a 750 from Holland [Soesterberg] far into Germany.
I guess I have NEVER seen so many over 500 km. flights flown in Holland on page 1 of the OLC.
Ronald Termaat the fresh Dutch 18m. /combi-champion even set out an out and return to the Czech border in the Nimbus 4DT, but turned around about 20 km. before as they needed to be back home in time. He claims like a few more that the Sauerland was not strong but …still it all worked out well.
From Belgium Tijl Schmelzer flew another great long distance flight with 922 km.
Liked the LS 7 flight from Peter Fischer as well; 830 km!!!
By the way the weather changes so quickly that today we will have one of the coldest in history for the 3d day of summer, and it is so wet,but….it gets better again this upcoming week.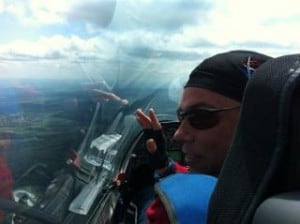 Ronald and Marco "nearly"  up and down to the Czech border;888.km.
Picture from FB by Marco Vermeer.
Looking around at Nationals;  The Norwegian Nationals started on May 26  in Elverum, the French Nationals in standard and 15 m. started yesterday in Vinon as well as the Pre- European comps called Provence Glide 2012 [ will keep an eye on that ] and the UK nationals also on June 2 from Lasham and alongside the Lasham Regionals. Busy , busy with comps at this time! The Finnish Nationals in 18m. start today at Räyskälä with 14 competitors , as well as the well known local gliding competition Jannen Kisat with 20 participants!
You know it all, or nearly all, so enjoy your day. Cheers Ritz.
Next blog on Wednesday and then you have to miss me a few times as I go on a beach holiday with my friends from June 8-15. Just to let you know.