Alphen aan den Rijn     Sunday April 8 2012
ritzdeluy@hotmail.com     www.glidinginternational.com     www.soaringcafe.com
HAPPY EASTER.
How small is this world when you have SKYPE!Last Monday I spoke to Tocumwal Dundee[ Dieter] who was on his way to Coober Pedy and called from Port Augusta where he stayed for the night. During our SKYPE conversation somebody called him from Coober Pedy on his mobile. A connection from Port Augusta, Coober Pedy and Alphen aan den Rijn !
Another amazing flight by Jim Payne, who was TC for the USA in 1991 in Uvalde and his mate and owner of the DG Dennis Tito. They started from Rosamond Sky Park [ California] and flew all the way up NW over the Sierra Nevada. This mountain range in the States of California and Nevada goes N to S over 640 km.
Both are not the youngest anymore but fly like "spring chicken"! Great effort!!! This time they flew 1.620 km with a nice speed of 130 km./h. As I read in Jim's comment, both love those "wave adventures " and in the 4 flights after the DG 1001M flight test was completed they flew in 4 flights 5.823 km. and logged those on the OLC list for us to look at. Congratulations to Jim for his 5000 hours and to both for their SUPER flights.
I have never been on the California site but for sure loved Minden ,Lake Tahoe and Truckee in Nevada.
Unforgettable of course that landing in the Albatross on Lake Tahoe on June 24 in 1990!When I look at the pictures[sorry not digital and my scanner is not working!] I still have mixed feelings. The picture below shows promotion activities in Sydney.The rest of the story and more pictures on www.soaringcafe.com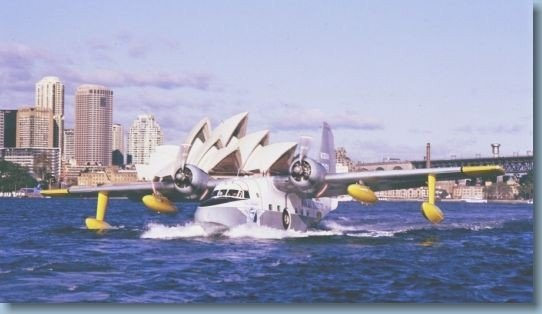 Great flights as  well and a good average of kilometers over the last flights by Ron Schwartz flying the Schweitzer; 601 km. and 708 and 687 between March 26 and April 4!
And Robert Templin in the LS 3 flew from Blairstown nearly 4000 km in total since January, mostly racing over the ridges.
And the Sparrow Hawk from Minden,  is gaining lot's of OLC points .
The ridges from Blairstown remain good with several great ridge flights yesterday. Have a look on the OLC.
BUT……The weather here was fantastic too but very cold. Ronald Termaat[with Etienne Dillen] managed to fly 680 km. in the Nimbus 4 DT  from Terlet. Well done as he had not the easiest weather . They started early and other pilots looked at them, as he writes in his comment with a view:"What are they going to do"!
With a good weather forecast  they moved W. first and then N. through a front with snow showers. Arriving a bit low after passing that front ,  they picked up a thermal and off they went direction E. about 275 km. out. When it got more blue over Germany, they went home and found their best thermal in the mid of the blue ; 3m.
Also a few OVER 500 km. flights from Soesterberg! Good for Holland!!!
With the start of the Pribina Cup  yesterday the early birds who were flying already in the area over , there to practise had good luck on April 4. Flights up to 640 that day from Prievidza and close by Nitra. Unfortunately the days after were weatherwise less good, but the comps still have to start.No more news yet.
In Torino the president of the Aeroclub welcomed  24 pilots "fighting"for their CUP in one mixed class. Several well known pilots participate and several in  2 seaters as Arcus T and duo discus.First day had a task of 115 km. Will keep you informed!
In Chincilla in Australia   [Queensland]is  from April 6 till 14 the Easter Competition with 42 pilots in 2 classes. Nearly all participants from the Uvalde WGC are practising here. They started with a 3 hour AAT.
More memories/analyses for those who are interested; Sorry I know that not everybody is interested in big comps, but I still love them.
It is very interesting to see that several pilots flying the 1991 22d. WGC do fly during  this 32d. WGC again. I counted at least 9 of them! By the way , on April 4 2012 the fees had to be paid and everybody should be registered now.
Who were those 9 pilots?
From Australia,  Brad Edwards [WGC champion in Uvalde in 15 m] and David Jansen.
From Belgium Patrick Stouffs.
From team Canada only Ed Hollestelle will be in Uvalde again , this time not as pilot but as TC.
From team France Laurent Aboulin flew as student, in 1991 in standard class this year 21 year later in a Quintus in open class.
The German team is totally different and flew in 1991 with 9 pilots under them, Klaus Holighaus, Bruno Gantenbrink and Holger Back. This year they also have a very strong team with in open class 2 former world champions Holger Karow [2003] and Michael Sommer , who won the last 3 WGC's. And Susanne Schoedel as WWGC champion.
The Italian team will have 3 pilots from 1991 flying this year again. Riccardo Brigliadori, Giorgio Galetto and Stefano Ghiorzo. A pity Smilian died, he was such a colourful TC for Italy that year and such a lovely person.
South Africa was then an individual entree and with Laurens and Oscar Goudriaan they have 2 pilots flying again. Also Dick Bradley flew in standard class in 1991, 21 year later he is chief steward.
What struck me too; in 1991 New Zealand had 7 participants at this stage no one is registered.
Argentina had no pilots in 1991, this year 6 and Norway has till now no entrees as well. In 1991 they had 5 pilots.
The biggest team is from Germany. Each NAC is allowed to send 2 pilots but they could add on the 6 pilots, a female WGC champion and Michael Sommer as last years open class winner.
Enjoy your long Easter weekend to the fullest.I do too and start NOW!
Cheers Ritz