Alphen aan den Rijn      Sunday March 25 2012
ritzdeluy@hotmail.com     www.glidinginternational.com     www.soaringcafe.com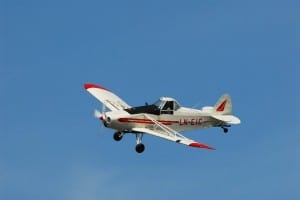 Time changed all over Europe;we moved the hands from the clocks 1 hour forward! It was already nice light and sunny early in the morning , but still a bit early dark, now our evenings are longer too. With 20 dgr. [it has never been so warm in Holland in this time of the year ] we enjoy it to the fullest. And…the HIGH will keep its influence over  us the next week as well!!
Looking at soaring here; over 200km-flights were possible yesterday. Visibility , though, was pretty poor!
Good conditions for Robert in Norway on his wave camp.
Friday morning he mentioned; "Sunny morning with no wind and pleasantly warm here at Vågå/Frya. Maybe we do not need to freeze at altitude today? Perhaps a nice day on the airfield with a barbecue for lunch?
The day before he was full  of a great soaring-wave-day; Highest altitude on Thursday ; FL 210. And…on the last day , yesterday they had wave up to 7100 m and lentic skies all over Southern Norway. Great pictures again. Thanks Robert for sharing them.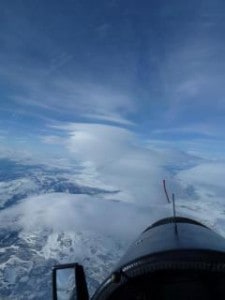 Pictures courtesy Robert Danewid.
More wave in wave- paradise Minden close to the Lake Tahoe. On Thursday 3 pilots in Sparrow Hawk, DG 400/17m. and ASW 27 flew 849, [119 km./h] 771 [140 km./h] and 780 km.[ 152.km/h.]
Even more paradises as Rosamond where " good old " Jim Payne flew in the DG1001M a distance in blue circumstances , but with good wave, however  building up slowly with a rare southerly flow;1.264 km.
Heard that other paradises as Aosta in Italy and all wave center in France [ " good young" Alexander Späth flew in a Dicus 2T from Puimoisson , nearly 750 km. even enjoying the impressive snow on the mountains!] are busy enough.
But nice thermal flights this week as well, one from the meteo man from the WGC in Wiener Neustadt Hermann Trimmel; 521 km. in the 17m. Ventus CT.
"Reading"  the weather always is important as glider pilot!
Talking about height!!! The Perlan Projectis still busy with a goal that has never been reached before; to soar higher then any fixed-wing manned aircraft has done. At the last SSA Conference in Reno , Rand from the SoaringCafe had an interview with Greg Cole, founder and chief designer of windward performance. You can find it one the next link;
http://soaringcafe.com/2012/03/ssa-2012-the-perlan-project-an-interview-with-greg-cole/
I told you in the past about the tracking system "invented" by some young glider pilots here in Holland. I saw their enthusiasm during the Nationals, as we were sitting in the same room. This week they published their new website and with pleasure I announce it as well.
www.glidertracking.com
In the future they are integrating the live -tracking-page [ live.glidertracking.com ] on this new site. The system is based on ADS-B and spot-signal.  News on the site will be soon in English as well. Keep an eye on it!
Really nice to see that in a family, father and 2 sons, enjoy a soaring-holiday and go solo in the same week!!! This happened at Sportaviation in Tocumwal, where the Daniels family went solo, first dad on Monday then the 2 sons on Thursday. A great family-event!Look for the nice pictures at www.sportaviation.com.au
Not only the sportsoldiers in Germany have a "good soaring-life" look at this news I got from Jo . Should deliver new champions as well!!!
http://www.therepublic.com/view/story/b83f40e71b9e42e2956e390fe096bf53/CO–Artificial-Turf-Landing-Strip
Enjoy your new week, to start and finish some of our "great tuggies" in action, this time in Eskilstuna pictures courtesy Roger Karlsson. Grrrr….tropical  rain spoils the Formula 1 GP in Malaysia.
cheers Ritz