Alphen aan den Rijn    Sunday December 17 2011
and
65 years old/young since yesterday
ritzdeluy@hotmail.com     www.glidinginternational.com     www.soaringcafe.com 
First of all THANK YOU to everybody  on Facebook, via mails, [ my laptop nearly crashed from the amount, ] phone calls or cards/letters [ even jimpix cards, never heard of them before!] ,  taking time to congratulate me with this "milestone ???" in my life. Really officially retired now, dear friends ,retirement pay and  money from the government coming in every month for doing "nothing", only enjoying myself with some writing! Of course I/we paid for it in the past , every month. Just a great system here in Holland and due to the fact I lived abroad I miss out on 2 % for each year I lived in Curacao and Australia. But who cares…would not have missed those years for a million!!!!!
One of my very attentive readers/friends wrote me I "changed "  Holger Karow for Holger Back in my last blog. Do know them both from several comps, but this says enough of me being 65, is n't it? What would Freud say if he was still alive??!!!Anyhow sorry about that, guy's!!!
Did you know WELKOM is the Dutch word for welcome??? Rain unfortunately, is welcome there as well as  day 4 was cancelled. Good reason for some pilots to clean glider and trailer after a muddy outlanding. One car and trailer had a serious problem [ jack-knifed car and trailer]  but luckily nobody was injured. Carol,  I guess Clifford, great lady we did some TC jobs in the past as the only ladies at that time, writes about it in her blog on soaringspot.[ www.soaringspot.com  ]
Here is Bruces story on day 5;
—"Tough day in the office for this little duck. It was blue as blue, and took a long time for most of us to grind our way up to starting height. I left after the first bunch had gone, and had quite a good run out on track. However approaching the first turn I could not find anything going up, and all I could see was wet paddocks and water ahead. I was rightly nervous, as I spent probably 45 minutes …really low and going nowhere, with a low point of 500 feet – no fun at all. Once I finally got up the flight went as well as you could expect on such a day, and I managed to catch some of the crowd that had flown over the top while I was checking out the local farming scene. The fast guys crucified us pointswise though. Happy to be home today.
Had a lovely BBQ with the Jonkers boys tonight on the airfield, together with the Clogs, Danes and Germans. Great group of guys. Todd has found a place in the back of a Nimbus 3DM which pleases him much more than the idea of a Twin Astir.
Tomorrow will be more of the same I think – Woohoo!!—"
And also Ronald had his story on Facebook about day 5 and with his permission here it is;
—" Today it was blue weather. Thermals expected till 1200m, later higher. But before the start a grup could take wave. Unfortunately it was not me and I struggled around 1000m. This resulted in a later start then I liked. Thermals would stop at 17:00, I started at 14:24 for a 330km task. First leg was good, only one thermal. Second leg brought me and Arne J. Boye-Møller down to 230 agl. Not good. We struggled a long time to get up again. The ground here was all wet due to yesterdays rain. We made it back home but lost a lot of points. I dropped from first to fourth and have some work to do!
As they did not too well, somebody else had to better, and yes guess who; the Jonker brothers , Uys and Attie gaining BOTH 1000 points and the Goudriaan brothers, Oscar and Laurens, who I know for ages,  starting early for the 330 km. and coming home early.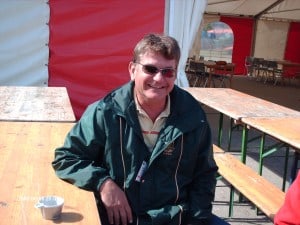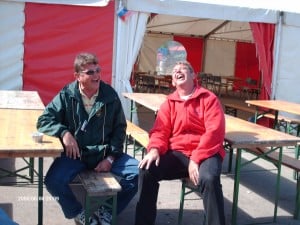 at this stage Oscar leads the 18 m. class.
Not a very easy competition for some:
" Todd Clark (Aussie) has parked his borrowed Twin Astir next to a snake hole – his description of the snake sounds like a spitting cobra.  But Todd is good with animals, see his photo on the JS Facebook page."
And used to brown snakes as every Aussie is!!! Even I , not that I like them however!!!!!
In club class Wayne Schmidt still tops the club class while his wife Maneste is on spot 9. Stefan van den Berg with the very Dutch name is 2d all over.
Day 6  finally gave better weather. Here is the story from Ronald;
—"It turned out to be better than expected. Before the start there was wave again. A few people could catch it. I did not. So I started on my own in the blue and pushed really hard. 20km after the first turn of the 340km task I joined the group. Second turn was difficult due to a cirrus layer. Arne and myself could caref…ully fly out of this area where we joined in the last thermal with Oscar and Laurence Goudriaan. It started with 2m/s but turned into over 3m/s to 2300 agl. Enough for the 85km finalglide. Arne his average was 143km/h (he started a bit later from the wave) and I flew 141km/h, good for 1st and 2nd. Oscar flew 133km/h. So I climbed up to 2nd overall again.—"
And from Bruce;
—-"I sneaked home in second place today, and that feels good. I was beginning to wonder… There's nothing like a good fast cu day. You know, when you pull into consistent 9 or 10 knot climbs and watch the altimeter wind up. I lost some time in a couple of places, but tonight I'm smiling again. It's just a shame that salad and vegetables are so hard to come by, otherwise my day would be complete.What can I say about today? I struggled to get high at the start, and ended up being one of the last to go. After that the flight seemed OK till I got back and saw the scoresheet! These guys are good pilots, and right now I am way off the pace. The last two (blue) days my intention was to travel with the crowd, but it has all come unravelled. Probably I need to relax a bit and not try so hard.
Tomorrow may be a better day with a longer task. We'll see what that brings.It was high and fast today, and I felt more comfortable. The scoring computer is looking like an exploded view diagram, so it might be some time before we know who did what 🙂 We had a few climbs over 10 knots, a heap of 9's, and some 8's. Plus I saw 14,000 feet! All good fun!—"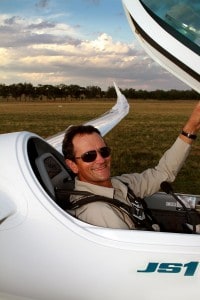 Bruce Taylor in his JS 1,courtesy Iain Baker.
Oscar tops the 18m.-overall- list at this moment,  with less then 100 points on Ronald. A few days to go so everything is possible!In Club after 6 days of flying Wayne Schmidt still leads.
Also rain in Australia at the Internode Junior Nationals  at Kingaroy. Only 3 days have been soarable. A pity. December 15 and 16 were cancelled. They finally finished the contest with a day 4 , won by Andrew Maddocks and as good runner up Nathan Johnson. That was also the sequense of the overall scores with Nick Maddocks as number 3. Good you guys, surely a huge party before going home. Congratulations!!!
Nice flights however from Corowa  where 2 of my friends Harry and Max topped the OLC with interesting flights on Wednesday. Harry in his Ventus, this time in 15 m conversion, flew a -just-not-750 triangle [ missed out on 3.8 km.] but a total distance of 805 km. and Max flew after some troubles with the spot and one of the instruments a free distance of 859 km. Both flew direction West Wyalong which is just passed halfway when you drive with the car from Tocumwal to Narromine. We did that often.
While I was celebrating the pilots in Bitterwasser, Pokweni and Kiripotib celebrated as well  with a lot of  1000 km.flights. A great season over there in Namibia. Though I have read last year that Alexander Müller sometimes thinks  "why should I work SO hard to fly a triangle while it all can be easier", he flew a very nice 1000 km.triangle yesterday and on my birthday another 1000 as well.
Got a phone call from SA from Ute and they are at the moment in Kuruman Johan Pi together with Norbert and Gert Kalisch. The Kalisch brothers flew in their open class gliders both 1000 km and Hans was on his way while Ute called me for  a nice 800 km.
A 750 new Serbian FAI Triangle-speed- record  also on my birthday for Australian/Tocumwal pilot Milan Petkovic who flies from Bitterwasser at the moment.
With that great -14 hour- first-flight-for-the-season from Swiss pilot Jean -Marc Perrin, he tops straight away the OLC list of best flight for the 2012 season. A nice story by Steffi Keller in the OLC magazine of December 13 and 14, tells you all about this flight. To find it you have to go to OLC and on the right top you find the latest news. Enjoy!
A bit early, but the company where my daughter flies Transavia has a lovely Christmas video which I like to share with you. No, my daughter is not in it.
And…we missed out last Friday on the Bft. 10 wind it went S from Holland. We only got our first snow, falling, and disappearing after 1 hour!!! Other parts from Europe have been "punished" with bad weather.
CU next week, cheers Ritz, time to continue reading my mails.
transavia.com wishes you a merry christmas and a happy 2012. [2 min. and 58 sec]
www.youtube.com