Alphen aan den Rijn    Wednesday October 5 2011    ritzdeluy@hotmail.com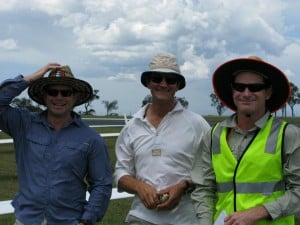 A very relaxed Bruce in the middle.
To start with , a picture from Aussie top-pilot Bruce Taylor  at Warwick. Got the permission too late to add it to the last blog , but this is a more recent one  for you. After winning the pre- worlds in Uvalde with more then 600 points ahead on the runner up and now scoring 4000 points in 4 days, he deserves to have a special spot. Being relaxed seems to be the secret and of course he has a great glider flying the JS1.
As relaxed was Brad Edwards in 1991 when he won the WGC in Uvalde while playing when possible his guitar and singing a long with friends. Same as Tim Kuijpers who just won the JWGC.
So dear competion-pilots/friends ……FLY  RELAXED!!!!!
My friend Jo send me some Aussie news  and it is nice to see that Narromine hosts the 50thiest Nationals in January 2012. Great to see Chris Stevens is still so active and yes I know he is a great organizer. He also was a regular in the past with us at Tocumwal. I visited a few Nationals in Narromine and I was always happy to be there. How could it be different with hosts as Beryl and Arney Hartley?!
Here is all the news on behalf of Ross McLean;
 Hello everyone
Don't forget Narromine Cup week is coming up in the last week of November. Come up and fly with all your friends, try for a personal best, be it Silver C, Gold C, 500K, 750k or maybe that elusive 1000k you are after.  We are always looking for willing helpers to take some of the load off Beryl, Arnie, Chris, Kenny Mc and David. So don't be bashful about offering to help.
If you are thinking about attending please let Beryl know at arnie.hartley@gmail.com
 The 50thMultiClass Nationals are coming to Narromine in January 2012. Work has already commenced in earnest and the Contest Director is our own Chris Stephens who does such an outstanding job running Narromine Cup week.  Chris is also looking for willing helpers.  This is quite an historic event for Narromine Gliding Club as the very first Nationals were held at Narromine 50 years ago and we would all like it to be a great event.  The competition website is well established and can be accessed from the "MultiClass Nationals" button on any page of the NGC website or you can go there directly via the following link:
http://www.narromineglidingclub.com.au/Narromine50/MultiClass2012.html
If you intend to enter but have not yet done so, please go the site and click on the "ENTRY FORM" button, download the entry form and send the completed form back to Beryl with your entry fee. Banking details are on the form.
ROSS
The FIRST and the 50thiest one in Narromine; good on them!!!!!
By the way , the new 2 seater class and club and sports-class fly in January [2-13 2012] from Benalla. Then you are totally updated concerning comps down under.
In my last blog I had a nice picture from Rene de Dreu en Tim Kuijpers, former European champion and current Junior world champion.
Now I heard that Rene is the contact address for Alexander Schleicher BENELUX. Good on him. Congratulations Rene and good luck!!!!
For Holland he is taking over from Francesco Bruinsma, who as you know is busy enough with his wife Grietje to run soaring – Corowa and from October 1, Rene also started the agency for Belgium and  Luxembourg.
With the great ASG 29 and the latest ASH 31 and ASH 30[ flapped 2- seater]  the future looks bright for Schleicher!!! And…the ASW 27 and 28 are still popular as well as is the ASH 26 and not to forget the club-trainer ASK 21. For ALL the news look at;  www.alexander-schleicher.nl
On October 2 both Tocumwal and Benalla were to be seen again at the OLC . Between all the longer flights in the USA and some in Argentina , Judy Renner flew in her discus 317 km. and one day later , on a public holiday for some states, good old George Lee from his own airfield a nice FAI triangle in his Nimbus 4DM with a speed of 113 km./h. And..Francesco opened the Corowa season with the first flight of the season in the ASH 31 MI/18m.
Hidden behind trees and [too] high grass our former WW2 hangar in Tocumwal. Closed now! But luckily on the South  site of the field operates Sportaviation and the SRGC.
On October 4 the 2d day of the regional comps from the airfield of  Bebedouro in Brasil. Pepe flies over there in the ASH 25. A few well known Brazilians as Joao Widmer, as well. He is flying the Standard Jantar.
Not much more to say so see you on Sunday. cheers Ritz