—-I start with the picture of these 4 young men, according to Kingaroy "the future of soaring".
And,…I believe them.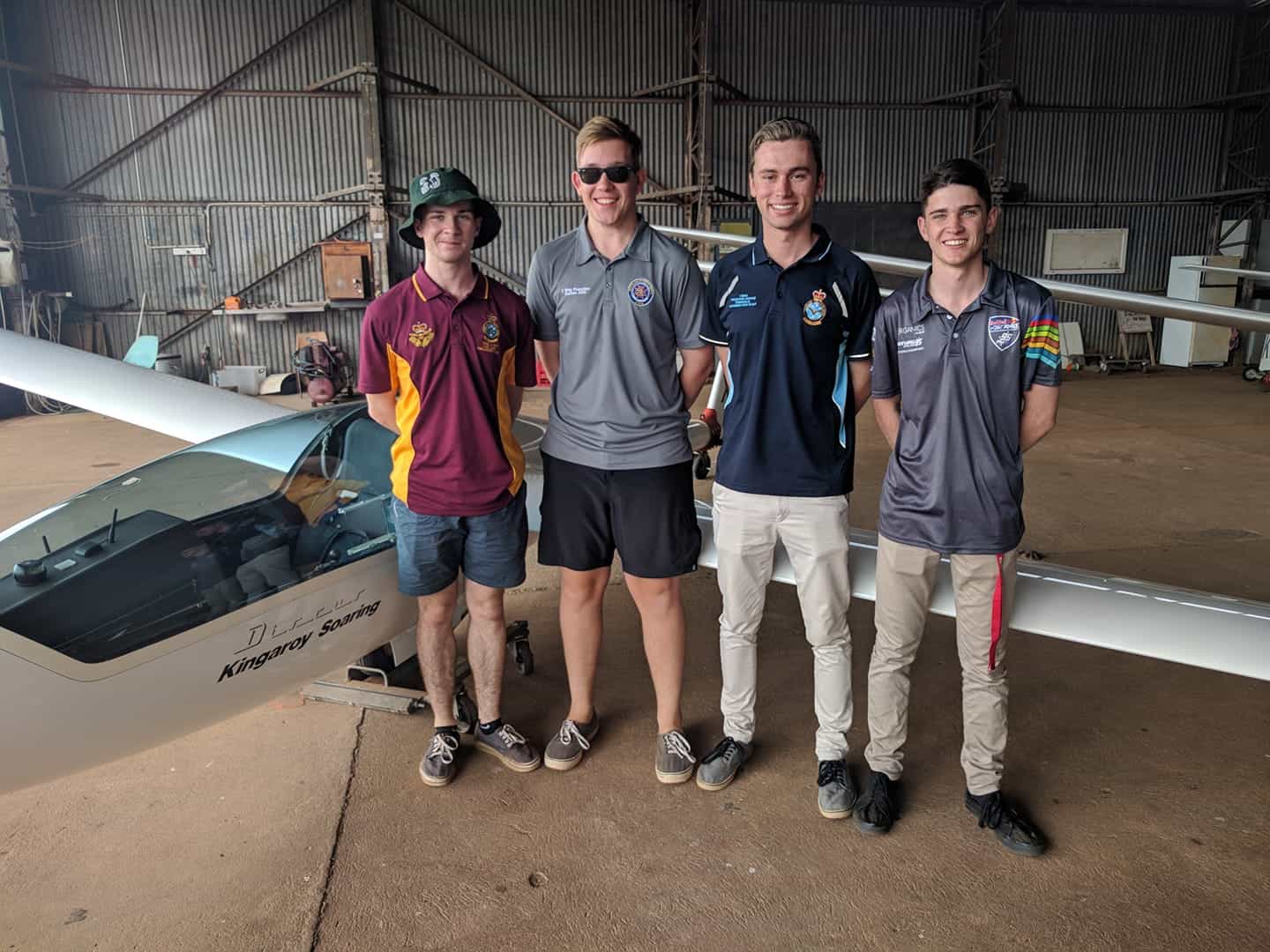 —–The Darling Downs Soaring Club, continued with the Queensland State Comps and last Wednesday the club class indeed did not fly.
Later I read the news from Lisa Turner, as you know they flew and I do understand why the clubbies stayed home
"Well we had it all today, 8/8 mid level cloud, rain, freezing cold and fire/smoke. Thank goodness for the fire! Just happy to be home today."
So with 2 more days to go the hope was for better weather again.
It turned out to be one day in club!
It was a 214 km. task won by a "new "face.. David Nash in a Discus.
Jo was 3d and is the winner of the State comps in club class with 40 points, 2 more than Peter Brunton.
In the sports class 2 more day's . Task 6 was won by David Jansen and Adam had some kind of off day and lost 4 points. He won the last task again …342 km…with a speed of 122 km./h.
In the end he was the winner with 28 points, 2 more than David.
He finished the comps with: "Had a ripper flight today, finishing off with a day win by around 20mins, to take the #1 spot for the comp! Congratulations to Jo Davis who won Club Class & Peter Brunton, a 15 year old who came in 2nd & obviously with the best placed junior trophy – simply awesome!!"
What a TALENT this number 2 Peter!!!!!! Talking about Future of soaring….!!!!!
——I missed a great flight last week flown in France in wave in the Pyrenees in a STEMME S12;1.1456,76 km!!!!!
"Sunday, September 27, Gil Souviron and Baptiste Innocent broke a French record from Perpignan airport ! They have realized the largest flight in France ever, with a take-off and landing at the same airport."
——Egon Otto Rehn is still at Luis Magalhaes and had another top day; 1.018 km. in a Quintus M!!Also on September 27!!!
So the last days of September showed great weather in different parts of the world.
AND..talking about Brazil…..last Sunday Henrique Navarro flew from Bebedouro a new record;
"..and we did it. Brazilian gliding speed record on a 100km FAI triangle at 168kph.The current record was mine at a 160kph speed, but I reached it on a 500km FAI triangle some years ago. And I always though the 100km FAI triangle record deserved a special attemp, as it is so special, so small, so full of details, so fast! We are talking about a bit more than half an hour…Today the day was good for a short period of time, in a hotspot around 50km away from Bebedouro, and with the risk of a very low visibility – actually the start and mainly the finish line were crossed on IFR conditions due to strong smoke. So, perfect for a 100km tentative. And we did it, even though I am confident it is possible to do it above 180kph in Bebedouro. Maybe on next try?"
——We are in October now and the first day, looking at soaring, was average but then it was BOOMING!!!!
On October 2 …. Föhn….and the Alps had it! 3x Over 1000 km flights from Switzerland an Koenigsdorf.
Yves Gerster flew from Thun in Switzerland with a "student" who learned how to fly in wave, during a wave workshop. This was the last day and it was successful as they flew 1.155 km. in the ARCUS T.
Koenigsdorf ,a well know ski resort as well and the German spot to start long wave flights over the Alps, when you fly South first, showed a QUINTUS flight by Matthias Schunk from
5.830 m. MSL was the highest he reached rather in the beginning if the flight and then it was more ridge flying;1.122 km.
Nicolai Wolf went to the airport as well and prepared his Ventus 3 M ; 1.017 km!!
Both found it a "super, super interesting day!!!"
Unterwoessen, more to the East of Koenigsdorf had great October weather as well. When you can fly 530 km in a KA 6, that say's enough of the weather and the pilot Jan Lyczywek.
When I was in Unterwoessen, I enjoyed seeing pilots on the slope of the mountain on a "hang wind" .
BUT.…..it was not over yet, the föhn a strong dry wind on the Nord side of the Alps, kept going and on October 3 a few more long flights. One again by Matthias in the Quintus M, this time 1.126 km. "The best föhn day I ever had!"
Young Benjamin Bachmaier , who likes blogging like I do, flew in the ARCUS T over 1.122 km.
Both did not land back at the field of departure but anyhow loved their interesting flight with different weather situations!!!
Weather which was NOT good for many little towns on the Alps in France and Italy. Some just disappeared by wild water and sand/mud slides and stones from the mountains. At least 10 people were killed and around 20 still missing.
The other side of the weather-medal!!!!!
–—-Porta Westfalica, loved also by Dutch pilots, was the place to be for them last Sunday on October 4. A great day with thermals, wave and ridge soaring over the slopes. Busy place to be as many were trying to start at the slope and race rather low over tree tops and slopes.
Great distances as well; 511 km in LS 4….508 in St Cirrus WL…507 in St Libelle WL…502 in LS 8.
This type of soaring on the slope is sometimes done here at the Nord Sea too over the dunes. Long ago I got some pictures and I found them again.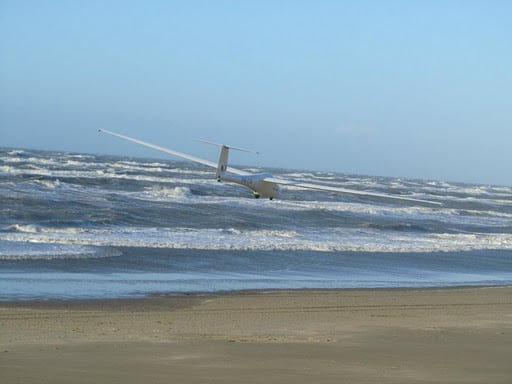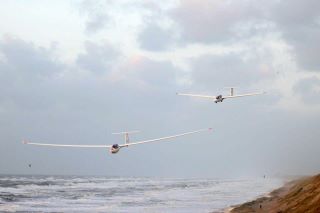 Porta Westfalica was good too. 48 Pilots from different countries lined up on October 4 on the 250 m. high slope. A real soaring traffic jam!!!!
"Good weather, but good timing was crucial in the ever-changing weather conditions."
Robin Smit…runner up at the Naromine JWGC …wrote a nice picture story about the day. Have a look!!! Great pictures!!!!
"Great day once again at Porta!
Woke up to early today at 04:15 to drive the 3.5hours to Portages together with Marissa.
Arrived at the airfield and quick assembled the glider and put it in tow grid, good to be on time with the 35 glider who came to Porta.
Always a interesting tow with a rope what looks like a bungee… The ridge was very good straight away with also a bit of thermal influence.
The first time at the Suentel did not have the guts to go to the Ith without ant gliders there, so turned around and flew back quite far west.
Later the Ith was good doable and even some wave in the end to 6500ft, to bad there was 8/8 cloud cover….
Good day out again with some good company!"

——-On October 4 [till October 11] the KINGAROY OCTOBER GRAND PRIX started with 19 pilots. A lot of names we remember from the Queensland State Comps. They arrived at Kingaroy with good practice!!!!
The 293 km. task [1] was flown with a speed of 118 km./h by David Jansen [LS8/ 15 m.] who turned out to be the daily winner with John..Butch.. Buchanan [Ventus 2/15 m.] as runner up.
Adam was on spot 13…he flies the Duo Discus.
Task 2 was flown under "blue" skies. 281 km. was set and flown best by Ray Stewart in the JS3/15 m;121 km./h. David was runner up , Butch 3d and Lisa [Trotter] 4th in LS8 /15m.
Today was task 3 [289 km.] with many penalty seconds or warnings for starting to high or finishing too low.
The Trotter family did well. Peter won the day in his LS 8 and his wife Lisa , same 15 m. conversion glider, was runner up. Ray was 3d so 10, 8 and 7 points were given.
After 3 days they are halfway and Ray in the JS 3 leads with 24 points, followed by David with 21 and Butch with 20. Peter and Lisa are next with 16 and 14 points.
CU next week.
Cheers Ritz