July 1 2020;Holland opens more facilities in this COVID-19 period. Europe opens borders from and to safe countries and in Holland the donor law starts today…automatically you donate your organs to somebody else IF you have not reacted on the government mail.
As promised,…..Yes…. indeed we had a heat wave last week!!!! Not in the whole country but in a few states and "my" state was one of them.
Friday we had 33 dgr. C and the change arrived in the evening and what change!!!
Never ever in my life I have seen such heavy weather.
Hail, rain, thunderstorms and storm,…we had it all and for at least an hour.
That caused a lot of disaster in my town. The street in front of my house was a wild river.
Car's tried to go through the high water, but got stuck. Luckily somebody organised the traffic, which was really good as when a bus passed by earlier, the water went to the front of my door.
The damage is huge..I was lucky…only 5 cm. of water in my shed,.so Saturday was cleaning and mopping day.
A sport hall and ware house lost part of their roofs, many cellars were under water so the firebrigade was busy all night and Saturday to get rid of the water.
I remember one such day when the roof of the sun-room at the SSC in Tocumwal just collapsed after a down burst.
What we had now was a huge super-cell, not happening a lot in Holland.
———————————————————————
Ferrara in Italy…Standard class Nationals.
June 26-July 5 ..2020
Competition soaring has started again.
Norway was one of the first as I could see, with their nationals and they flew 5 days.
To be read in the new Nordic Gliding & aviation magazine by Executive editor Jens Trabolt.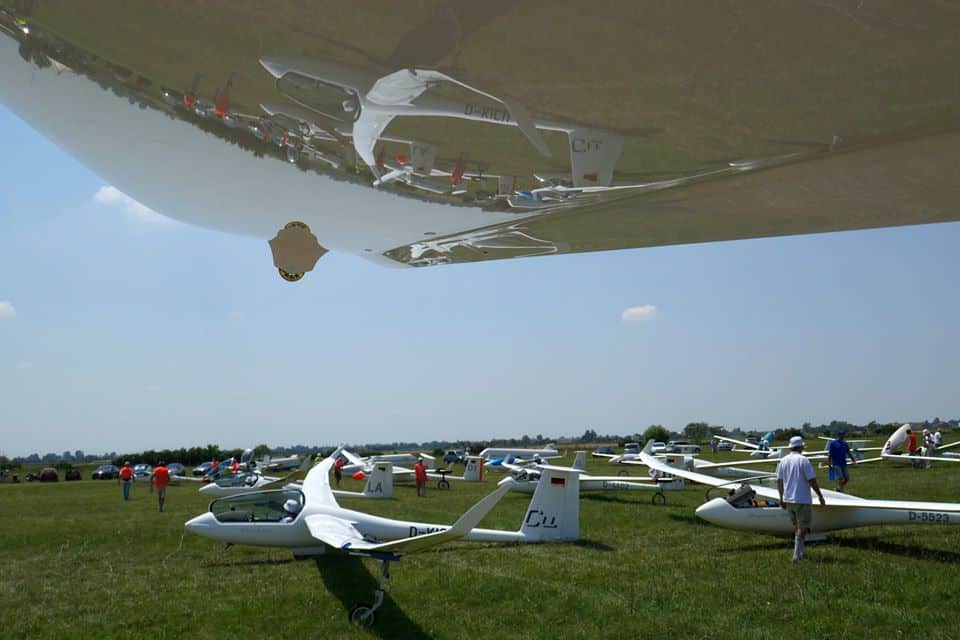 Italy has the standard class Nationals in Ferrara. They started on June 26 with a 179 km. task for the 11 pilots.
Among them 2 from the Luca family, 2 from the Fergnani family and "good old" Luca Urbani.
Last Sunday 's news [June 28] ;
" There is a not a great sky today, gliding conditions will be weaker than yesterday but there will still be enough thermal activity to complete the tasks of 205 km for the Standard Class and 236 km for the Ferrara City Cup "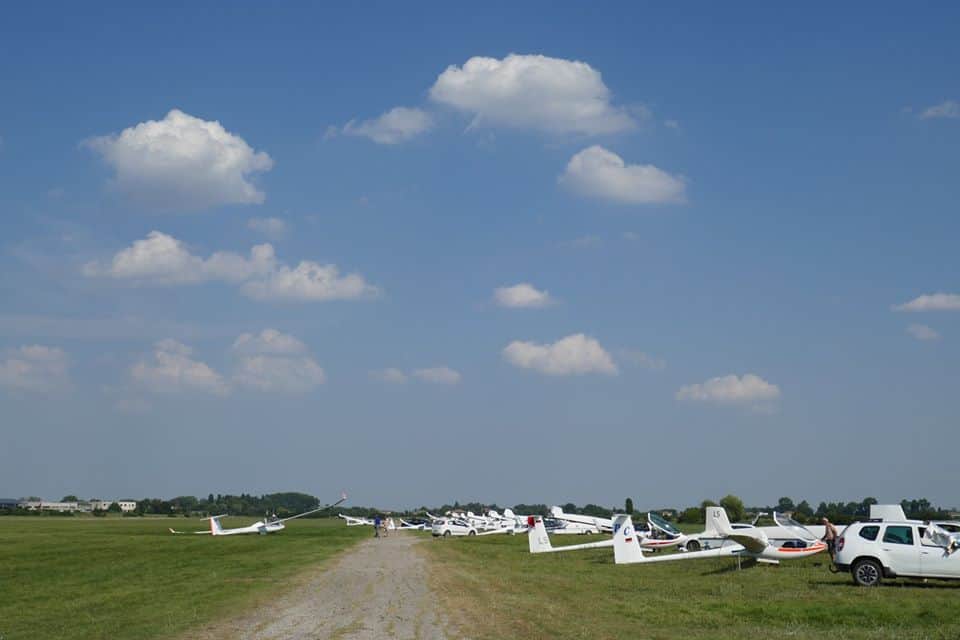 At the same time the Coppa Citta di Ferrara is flown by 23 pilots among them toppers as Giorgio Galetto, Ricardo Brigliadori and Peter Hartmann.
Day 1 with 228 km. was won by Davide [Schiavotto] in a JS 3 /18 m.who I met for the first time in Husbos at the JWGC. Leonardo was his TC then.
4 Pilots were "out".
Day 2 with 262 km. was for Peter [Antares 23E] with a speed of 121 km./h. Ricardo was runner up Js 1/21 m.They started with 1 minute difference and finished together, so a difference of 3 points for the day.
All finished!
Day 3 with 240 km. was for Ricardo and Peter was runner up.
Day 4 showed NO FLYING.
Day 5 today has been cancelled. The great weather is "off" in Europe hopefully not for too long.RAIN!!!!!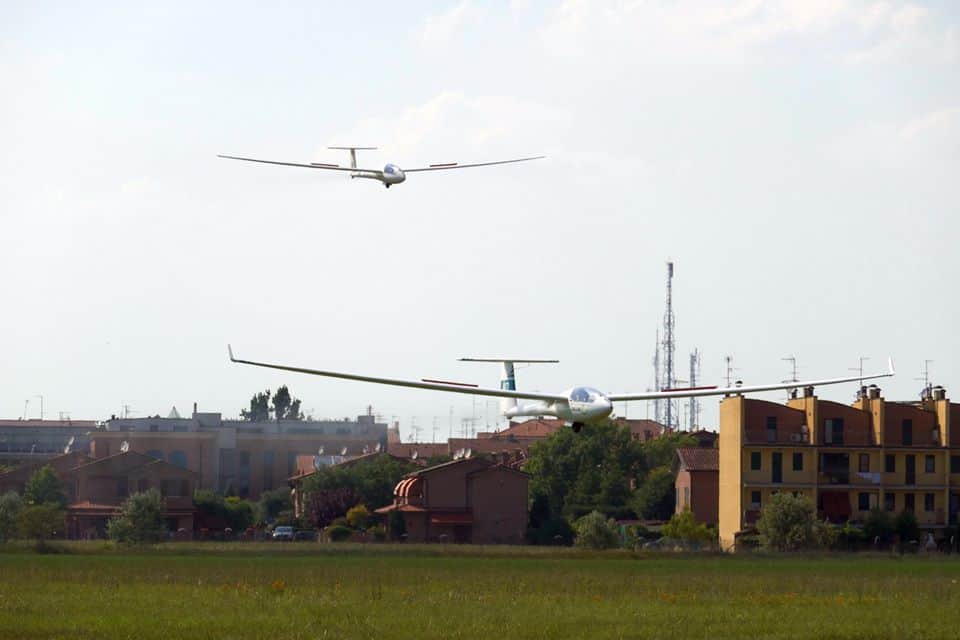 —————————————————————-
CELJE CUP 2020 in SLOVENIA
June 27-July 4.
"Aeroclub Celje organises international competition Celje Cup 2020, as part of XXIX. Slovenian national gliding championships in club, 15m mixed and open class.
Competition is organised in association with Aeronautical Association of Slovenia. "
They fly in club [ 22 pilots and 3 are flying HC] and open class with 22 pilots, among them Katrin Senne , Pierre de Broqueville and Gintas Zube all as HC pilots.
They started with 2 x a 3 hour AAT in open. Gintas won both day's in his ASG 29E/18m. He also won day with a 1.30 AAT with 162 km in time 1.29.
Pierre flew 169 km in his EB 29 in time 1.40.
No flying yesterday and no task yet for today,..but if it rains there as it does here,..I do understand!!!

———————————————————–
Some pilots REALLY love their long distance flying. One of them Tijl Schmelzer!! AND,…for what ever he does or flies he is the best prepared pilot I know!!!
Tijl;"After many years of planning and waiting for the right weather constellation, the stars and cloudstreets aligned.
If the paperwork works out, this will be 1250km Diploma nr. 32, and the 7th flown in Europe."
Here is part of his OLC comment and you can see the track there as well;
" After a takeoff and tow under 8 octas altocu, I made it narrowly to the first cumulus clouds, which gave a choppy 0.5m/s. After the connection to the cu was made, things quickly improved. The altocu field transformed into wide cloudstreets. From Le Mans towards the South East of Paris, everything went on rails with XC-speeds of above 150km/h. The Champagne area, the Ardennes, and the Eiffel were all equally brilliant with few difficulties. The Sauerland, as usual with this type of weather, was not as good, but cloudbase was luckily 2000m. The turnpoint was reached with an average speed of 128km/h, in the middle of the 123 km/h (thermal) and 137 km/h (rolls) forecast. I then had to choose to either go for 1250km diploma, or use the altitude to just glide 35km towards the north east for the Belgian free straight distance record. I decided to take a risk and try for the diploma. After taking the turnpoint, I carefully maneuvered to the slopes. Unfortunately, the wind forecast turned out to be quite correct, and against the headwind still with the heavy glider, it was hardly possible to retain altitude ridge running. So it was necessary to continue using thermals on this leg. This took a large amount of time. A bit South-East of Porta was the last thermal, and ahead were only dark grey skies. I could just reach the last turnpoint, and immediately opened the water valves. Then the empty Ventus 3 showed his efficiency and excellent feel for the airmass. The vario didn't move above 0.5m/s on the slopes, but the tailwind pushed in direction of the goal. Only at Bisperode, where the wind fully hit the slope, climb rates were a bit better and I could make some altitude. From the last good slope near Ithwiesen, a glide ratio of 75 was needed to reach the goal. On the last stretch, the rarely used low and shallow slopes towards Northeim and the airfield Sultmer Berg made it possible to complete the task with a small but sufficient margin. What a fantastic experience! "
The full story with pictures will follow in a few days in his blog aboutgliding.com
Look what the French wrote about it last Monday!
"Monday 29.06.2020 : an amazing day ! On Sunday, we received a message from Tijl Schmelzer "Can I fly from Saint-Sulpice tomorrow with a very early launch?". Positive answer, of course. Tijl started his long drive from Belgium to Brittany.
Monday @ 7:15, we met Tijl and his parents at the airfield. His beautiful Ventus3T "2X" was already rigged and full of water.
Unfortunately the sky was disappointing 8/8 of grey, but thermal activity started at 9h45 east of the airfield Tijl had very well prepared his challenge. He quickly and cleverly adapted his task and changed his start point. I towed him at 9:56 to La Gacilly where Tijl took his start. He landed 12 hours later in Germany near Hannover after a 1254km distance.
Since the flight of the Herbaud brothers (Vinon-Fes) it is the longest straight flight ever made from France and the very first one enabling a 1250km FAI diploma. And that's from Brittany .
Congratulations Tijl ! What a blast "! shared by Philippe de Péchy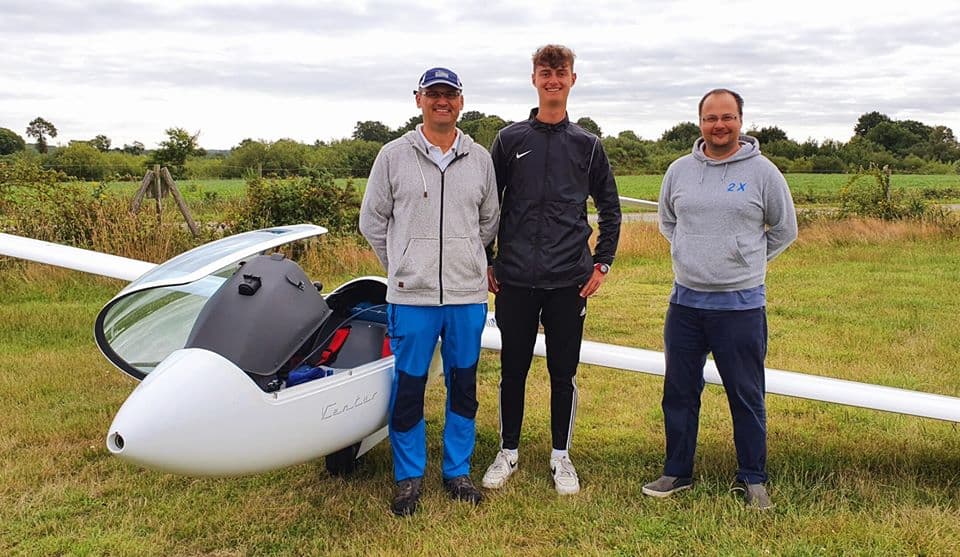 So a goal flight from 1.264,29 km. in the Ventus 3T. Congratulations to Tijl for his flight and the family to bring him back home from close to Hanover, after the flight .As you know they are a REAL gliding family!!!!
Here is in short their story...they heard Saturday evening from Tijl's plans.
Straight away they drove that evening to Keiheuvel to pick up the glider and bring it to Antwerp.
Next day they drove the 750 km to Rennes put their tent at the field for a short sleep , rigged and put water in the Ventus 3 and waited till Tijl was airborne after a change of plan.
Tijl;
" the early morning satellite pictures showed a high moisture plate coming in from the ocean, which wasn't forecasted by any of the weather models. This meant a 45 minute delay, and moving the start point 55km to the east. So sadly, no startpoint over the Atlantic Ocean. This required a quick change of plans and stretching the turnpoints to the limits of the weather and airspace window (and it turned out to be very tight). "
Keeping an eye on the OGN, they left at 11 AM and drove with the empty trailer over 1.400 km. via Parijs, Vallenciennes, Liège, Aken, Keulen, Dortmund, Porta-Westfalica !!! Mum 2 hours , dad 2 hours and so on!
At 23.30 they caught up, …glider in the trailer and back home another 420 km. to arrive there at 5.30 AM , to open their practice at 9!!!!
Tired but happy and satisfied!!!!
When you do not love soaring,…..you can't do this, this is pure dedication to soaring and to their son's, as Bert has done in before too.
Bert jr. has the 28th 1.250-diploma. Tijl now the 32d world wide.
CHAPEAU for the family.

From Holland the 700 km flight in his LS 4 from Robin [Smit] last Sunday is worthwhile mentioning too.His goal was an out and return to "douce" France, but there was a lot of wind….45 km/h.!!!So he changed his plans .
It took him a while to fly 215 km out, but the way back with the strong wind "blowing" him back was fast and within 1.5 h. he was back at Gilze were he was launched by winch,…he put the winch AND the cables out before his flight.
So as he said 800 km would have been in it as well.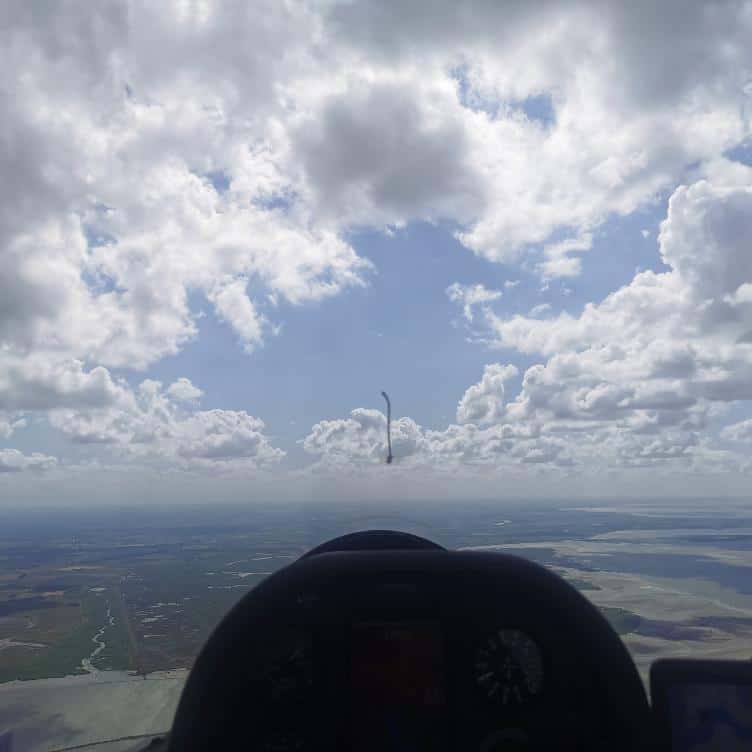 Also ..last Sunday. ..an epic day for the pilots in the Nixus.
Jim [Payne] flew the glider over 2.270 km. from Minden!!!!Even with a "crash" of the flight recorder!
" I declared a 767 km out & return which we completed at 215.9 kph (134.1 mph), beating a 72 mph record that my brother, Tom, and I set 16 years ago from Ely. "
It turned out a much longer zig-zag flight, as you can read in his OLC comment.
That day Keith [Essex] ..who else…flew 1.618 km. in his 15 m. JS 3. Also a zig -zag-flight in mostly high wave!
————————————————-
To finish a picture from all kind of activities in a hangar/workshop in Japan as shared by Takeshi Saito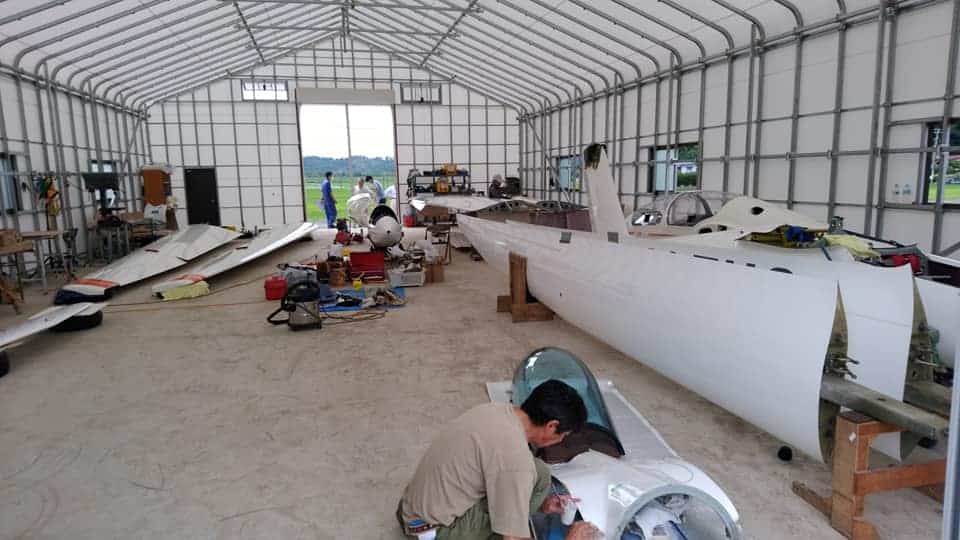 CU next week, oh and about the WWGC,…..the tribunal for the appeals exists out of 3 persons one from Sweden, one from France and one from Greece.
It will take I guess a few months before we know the final results.
I'll keep you updated.
Cheers Ritz