Post 1.197
Starting with some news from the WWGC investigation written by the president of the GFA Peter Cesco!!!

" I am writing to all members in the interests of transparency and honesty about the recent issue of Unsportsmanlike conduct at the World Womens Gliding Championship. "

Peter writes a lot, shares apologies from the Australian TC Terry and helper Matt, [pretty poor in my opinion ] and addressed the International soaring world, by writing to the IGC.
Both Terry and Matt, have been "punished" .
By the way, Terry has NOT resigned from his function as delegate for Australia as member of the General Conference.
I think the report [….into the access an use of undelayed tracking data obtained from the G-track live system….] attached to the letter, is pretty good and covers a lot, but still in a way " what we did was not REALLY wrong".

I guess this is not over yet!
AND,…. I guess it will be properly looked at again, at the IGC meeting in March in Budapest on March 6 and 7. Not Ireland as I abusively mentioned… sorry!!!!.
I wanted to be sure of the date and checked google on IGC meeting saw March 8 OK,. IGC ..OK, Ireland ..must then be OK too..
BUT NO I looked at the IGC meeting on MARCH 8 in Ireland and IGC meant don't laugh. [I never made such a stupid mistake!!!!] Institute of Guidance Councellors….will never forget that anymore!!!
The whole WORLD TOP of soaring people will be in Budapest , that is when the Corona virus does n't spoil it ,with an, I hope and expect, objective opinion.
IMPORTANT!!!
As it was a WORLD Gliding event cat 1, it needs the attention of the total soaring world, so it never happens again.
Soaring is and should be, an honest/fair and clean sport.


Narromine 2-seat NATIONALS!!.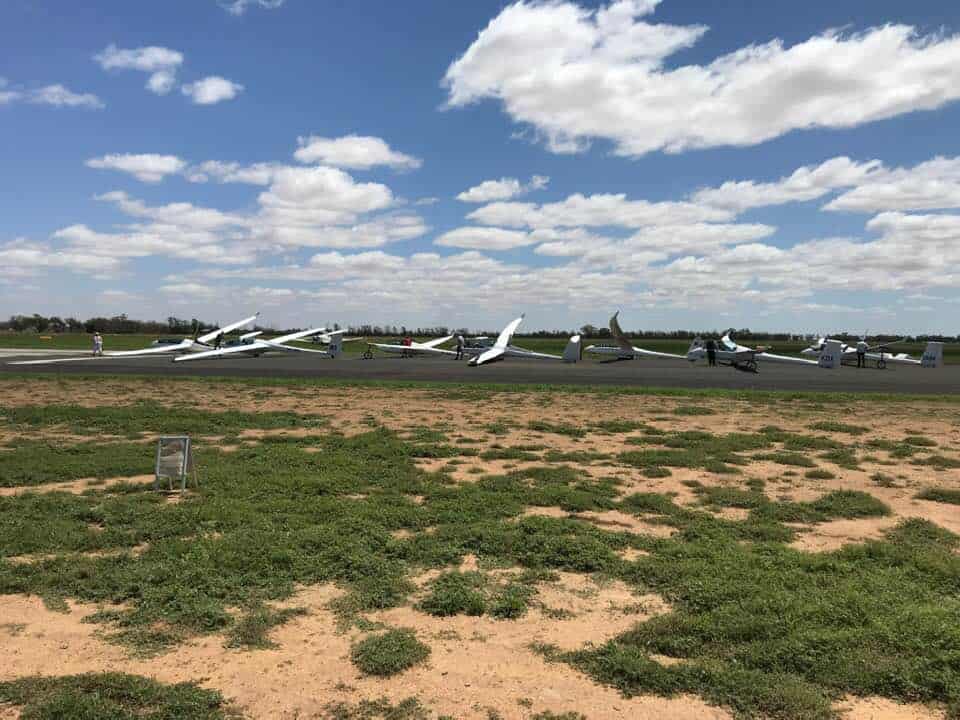 No secret that Adam loves his flying and ,..if possible,…always wants to win.
For those who want to learn from Adam as "influencer" here is what he had to say;
" I've realized that I'm flying with a different attitude & mentality this summer. In short, last 2 seasons, I have been flying with a 'demon' or 'mongrel' like attitude, I was going for the day win, plus some extra every day. This season, I'm flying at 90%, not pushing at all, expecting a 900pt day – which happens, but not reliably. "
Flying with Keith is fun and,..winning a day was now a fact as well at Narromine….back in the old mood for a day???
Thursday was day 6 and task 5; a set racing task from 296 km. So a race from tp. to tp. is "easy" start, fly and return.
No, it's not what always happens, certainly not on a blue day.
But Adam and Keith won the day and they were the only ones over 100 km./h. ;102 to be precise. They started as the last pilots and raced to their first WIN during this competition.
Adam;" Winner winner, today, the moment I saw the task, I could see the winning tactic for the day clearly. Start last, the other 9 will start almost together, at worst, bunch up around half way, Keith & I will then catch up by clear air, then coast home – this is exactly what happened, & we were rewarded ."
More in his Adam Woolley's Gliding Adventures
Bruce and Brad were runner up with 98 km./h showing it was not easy. Also Lumpy and Joergen and Alland and Harry had 98 km./h.
Bruce mentioned in his Taylor's Gliding Page ;
" Absolutely blue for yesterday's flight. It was one of those scratchy days when you are always looking for the next climb. As a pair of loners we decided to leave when we wanted, rather than later, when we should have, and of course that always costs us. We did a good flight except for the middle of the leg coming East where the sink hammered us down to treetop height before we climbed away. By that time the crowd had caught us and we came home with them. Congrats to Adam and Keith who did start at the right time and put together a nice flight. "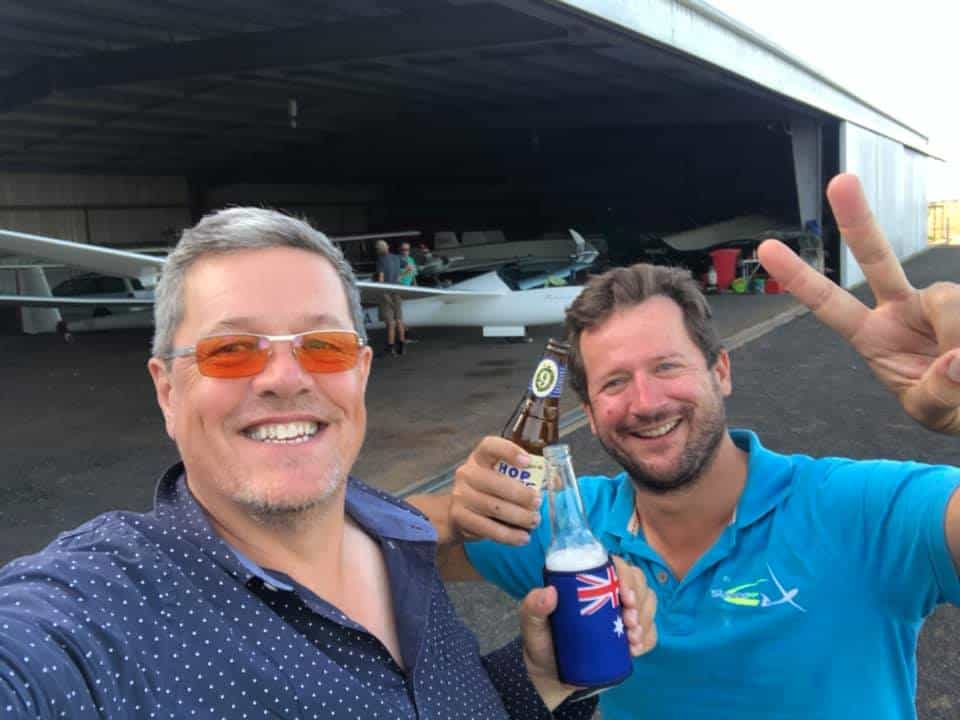 Friday was another flying day …2.30 AAT and a bad one for some!!!
Not for the Duo Discus XL from the Hunter Valley. Mich Webster won the day and the speed says it all; 89 km./h….not an easy day ,but still 230 km. in time 2.33.
Only 6 from 10 finished and with the "outlanders", also Adam/Keith after 255 km.
Adam;" Almost got home, but in the end we had to fire the engine 15km from home.. " Longer story in Adam Woolley's Gliding Adventures
2 Gliders started rather late at 14.59 , one finished Bruce and Brad and one was out, Lumpy and Joergen. What Happened?
Here is Bruce
" Another tough day… for us anyway. My turn to fly under some quite heavy mid- and high-level cloud, and I did my best to slim down our lead . We worked really hard to stay in the sun all day, which was rule number 1 when I learned how to fly, but after some head scratching post flight, I think Brad has figured out what went wrong. We went far deeper in the first turn than everyone else, and while we were indeed in the sun for all of the next leg, we had inadvertently flown into a more stable, drier airmass, behind the main line of cloud. Despite the sun we had to be content with really weak climbs, and continually falling below 2,000 feet agl, even down to about 800 feet just before our last climb, which just allowed us to squeak home. Crazy thing was, the last climbs were better, as we had flown back into the better air, even though it was nearly dark!
Photos are of the sky in the task area after we landed, and the happy but hapless pilots .
One day to go, still in front of the chasing hounds. "
They landed at 18.43 whilst the winner was back at 17.11. But they flew 299 km. in time 3.43!!!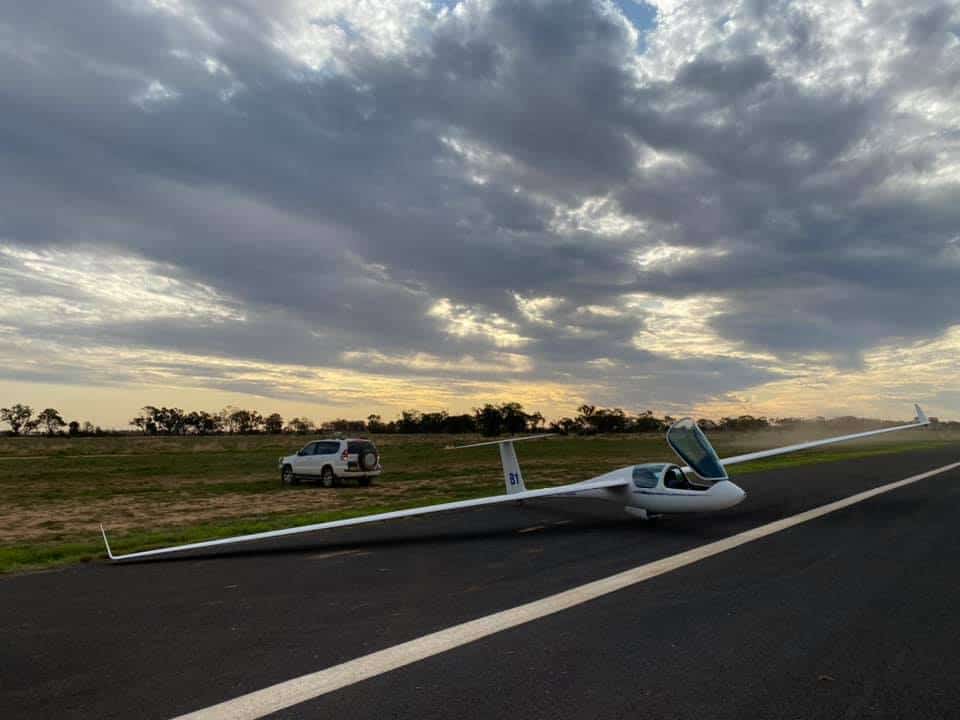 Saturday LAST DAY!!!!
with 2 teams on an equal 4th place,…so a lot can still happen.
But clearly…. the winners will be Brad and Bruce, OR Allan and "good old Harry"…….2.885 for 2.820, so that's exciting!!!!AND,…about 400 points difference with the next pilot Butch in the Duo Discus T.
A 3 hour AAT to finish this comps and in 3 hours you can do a lot "right" and/ or "wrong".
417 km . in time 3.13,…that's good…129 km./h.! Adam and Keith had a great last day. Winning 1000 points and climbing from 4 to 3 so PODIUM.
Bruce and Brad lost with their 380 km. in time 3.12 some 130 points but they still had enough to be THE CHAMPIONS.
Harry and Allan consolidated their silver!!!
Here are some comments;
Bruce…" Great fun day for the final flight. Adam Woolley did a screamer to finish up and won the day by a mile, but we managed to put together a good, solid flight to maintain our lead. Probably the nicest day of the comp, apart from the practice day, with nice cu and some excellent streeting. Not super high, and the sky was slightly European, so we saw some cycling and plenty of clouds not working, but pretty straightforward ." Taylor's Gliding Page
Adam;" Well that was a bloody lot of fun! Read the sky like a book today, there was CU to 5000′, with lots of streeting. I said to Keith as we crossed the line, "let's just have fun today & (sorry) no one will be able to keep up with me", arrogant I know, but that's the mood I was in – favorite flight of the summer, what a way to finish – thanks Keith Gateley!
It was very much a European day, not that high, but extreme streeting, I think we did 150km+ without turning, at one point we had our thermalling down to 15%! "Adam Woolley's Gliding Adventures
Final results :
1. Brad and Bruce in ASG 32MI with 3.753 points and CHAMPIONS.
2. Allan and Harry in ARCUS M with 3.680 p.
3. Adam and Keith in ARCUS M with 3.340 p.
———————————————————————
Something totally different, but when I read the story it has to do with soaring as well.
An 81 year old glider pilot , Bill Hatfield , sailed as the oldest person ever NONSTOP AND UNASSISTED AROUND THE WORLD, in a yacht designed by gliding colleague Hank Kaufmann ,……..yes Anita's dad.
It took him 8 months, but what an achievement!!!
A dream,…since he was 7…came through.
" He set a world record as the first person to sail round the world solo unassisted non-stop westabout in a boat under 40′ – and as a bonus being the oldest person to sail round the world solo unassisted non-stop in any direction (which seems to be the media focus) "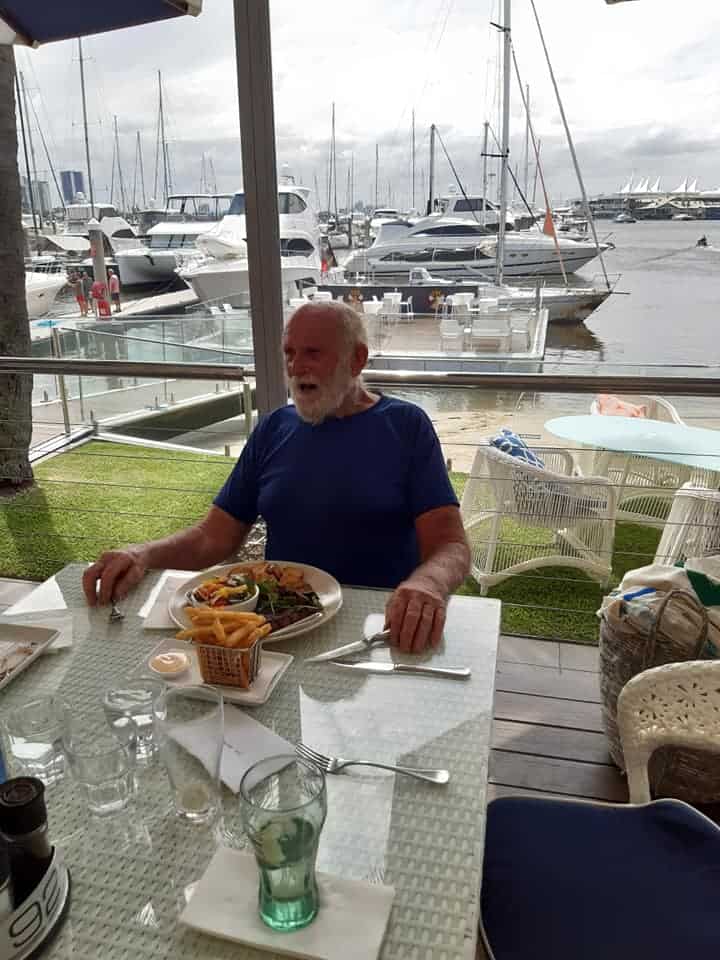 " The achievement is all the more impressive considering he sailed west, battling against the prevailing winds and currents ." was the comment of regional rear commodore for North-East Australia Nick Halsey.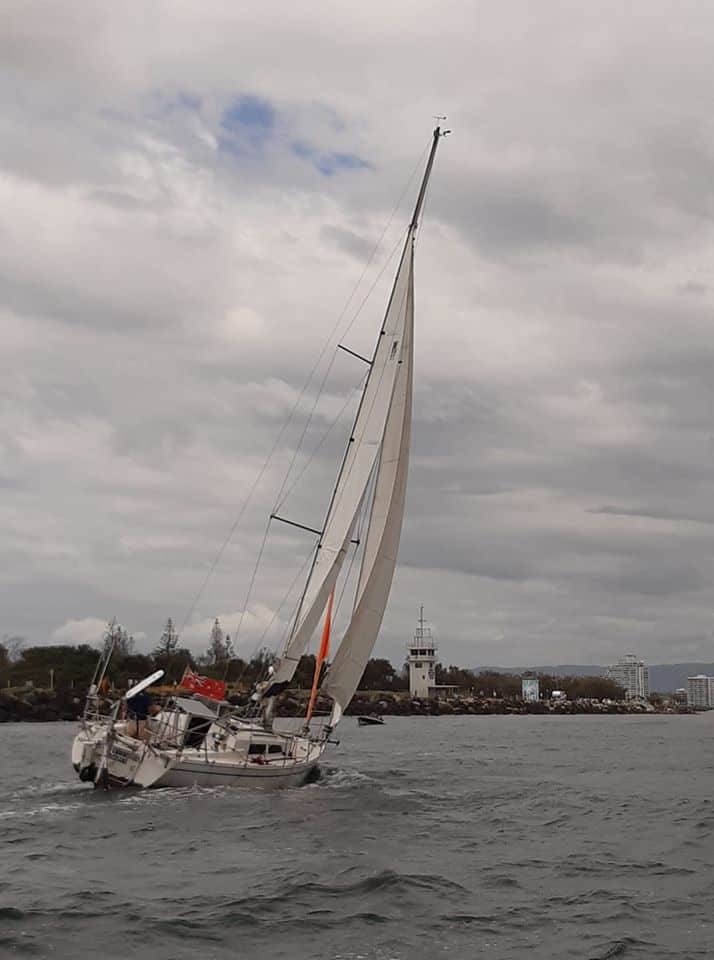 ——————————————————————————
Still great late summer weather down under,…. specially last Saturday. What about a 728 km flight some kind of out and return past Temora to the NE ,with a little triangle there, from Benalla in an LS 3 by a German pilot, Marius Gerke. TOP JOB!!!!!Sitting for more than 7 hours!!!
Tobias Geiger had a great flight too 654 km [579 triangle] in his 15 m. Ventus 2ax.
From Tocumwal Chris Davison flew 683 km in his JS 1 .
AND,…what about yesterday!!! I read that it was unexpected good and all who were in Toc had great fun.
Chris flew 792 km [647 triangle], Grant is his St Jantar 616 km,[566 triangle] and Lumpy , just back from Narromine , 934 in his JS 3 .It looks like nearly an out and return passed Mildura ,so to the NW with one leg from 456 km out.
——————————————
2020 LAKE KEEPIT REGATTA
February 22-29
32 Pilots are at the moment flying in good old Lake Keepit in one class for all. The REGATTA is in progress. I have a special feeling since I have been in Lake Keepit for this field and the hard working people over there.
The first 2 day's unfortunately had to be cancelled . Then there were 2 small AAT's
Last Monday showed a 2.15 AAT with only 1 finisher; Milan Sejka who flew in his LS 8 a distance of 176 km in time 2.47, so a real difficult day but,…. he finished and "got" 208 points. 2 Other Pilots flew over 100 km.
Tuesday had a 2 hour AAT and a tad better weather. 2 Of my new Lake Keepit mates were the best; Casey who organized my lovely room and Dave the meteo man ,who could cook very good as well, I tasted it ;227 and 216 km. both in JS 1in time 2.01 and 1.59. Casey started at 14.42 and Dave at 14.27.
Kimberly, who "did" the FB site during the WWGC was 15th in her Pegase.
Today; Another short 2 hour AAT and this time won by Brad in his mighty ASG 32 MI. With this kind of glider and a former WGC Champion in it you can fly as the only of the bunch over 200 km……229 to be precise in time 2.02!!!
Dave was runner up and starting this time 10 minutes later than Brad [ 190 km. in time 2.01] and Casey was 6th [ 177 km in 2.01] with Jacques [Graells] as 7th.[172km. in time 1.53.
A few more day's to come.
————————————————————-
Not long and it is Easter. Got the Easter eggs already at the table. That means that the first real big competition in Europe starts at Nitra. [Slovakia]
The PRIBINA CUP from April 10 -18!!
Noticed already 114 pilots at the list of the 20thiest version of this always very well organized competition!!!
36 In open class, GOOD!!!!!,…37 in club,……28 in 15 m.. and 13 in the 2-seat-class.
Another early European competition, this year the very first I see, will be flown in Italy [hopefully with this Corona virus over there!} between March 29 and April 5 with at this stage 22 participants.
Torino is the place to be for the Trofeo Citta di Torino 2020.
There will be one handicapped class and I noticed a lot of 2 seaters.
——————————————————–
AND last news from the OLC;
OLC direct claim with two gliding IT systems stopped……You can read the reason why at the OLC page under segelflugszene.
" In 2014, the OLC signed a preUpload agreement with three hardware and software companies, under which IGC flight files can be uploaded directly to the OLC from their systems.
Meanwhile it is known that it is unfortunately no longer possible with two of these systems to upload IGC flight files directly to the OLC. The reason for this is that the operators, in violation of the terms of the respective contract of 2014, unauthorized stored the IGC flight files of participants on third servers or in their own cloud. " MORE at
https://www.onlinecontest.org/olc-3.0/segelflugszene/cmsnews.html?month=022020&news=2953#2953
That's it for today, "transition from scenes" means that there is not a lot of competition news, but enough to keep you satisfied.In the worst case I'll dive in my photo books for some history!!!
Cheers Ritz