POST 1.195!!!
TAUPO !!!
After a bad start with 3 non flying day's ,the comps continued with better weather and nice tasks.
So we now continue too with the last day's. Exciting day's as well!!!!
On Thursday it was day 7 and as Hugh [like his writing style!!!] mentioned;
"Oooh – the 13th! Lucky for some, but bad news for others!
Again an "iffy" day, but a launch was begun about 1315 and away we went, chasing five big circles in the sky.
Most would admit it was hard work, but what it did do was show the men up from the boys. The "guns" got around in style, and the mere mortals landed out. It must be noted, though, that these are the first real landouts we've had all tournament, and also noted that all were on good farm strips. Well done you guys."
Open; 2 hour AAT and a prey for Keith [Essex] who is on steam at the moment, after a few mishaps.He flew as the only one just over 200 km in just under 2 hours.
Peter [Hartmann] was runner up .
The "real" NZ pilots Brett [Hunter], Patrick [Driessen] and Tony [van Dyke] followed with Patrick still in the overall lead.
Friday was for Peter …286 km. in time 2.19…and Patrick was runner up during the 2.15 AAT. With ONE day to go it's Peter now who wants to claim the title.Patrick is still runner up with a tad less than 200 points, maybe to much ????
As Hugh mentioned;" It's tough at the top, they say, but so are these pilots. Noone's giving an inch, but everyone's trying to take a mile. Anything to get those few extra points that will make the difference between becoming the National Champion and the other place which is not the national champion. "
Saturday LAST day!!!!
Another short 2.15 AAT . Tim was back on track and flew 214 km in time 2.24. That was 10 km. further than Keith who was runner up.
Then there was Patrick what would he do ?
He was 3d consolidating his 2d place. For Peter from Austria it was party time …he won the NZ Nationals, but… as Austrian, he was the winner and Patrick will be the new NZ champion.
Tony who was 3d on the one but last day, dropped to 5 after an out landing. A pity!!! Hugh Mentioned;
"The weather forecast indicated over-development later in the day, so a task was set for a 1200 takeoff, and gliders were gridded.
It was already overdeveloped. The self-launcher GDE took off to fly to Matamata, but the news from him as our sniffer extraordinaire was all bad."
So ,…they flew…squeezed a day out in this class ….but all starts were after 2.30 PM.

Final scores in open after 9 day's flying out of 14:
1. Peter Hartmann in Duo Discus with 8.275 points.
2. Patrick Driessen in JS 1 8.193p. and NZ CHAMPION.
3. Tim Bromhead in Ventus CT 17.6 m. 7.154 p.

Racing; had a 2 hour AAT as well, but they struggled.Only 3 of the 10 who started ….finished. Mark [Wilson] yes you remember for sure ,…in the LIBELLE won the day!!!
Friday one but last day!!! Of course the handicap of 89 helps but the soaring of Mark in his LIBELLE is just great.
During the 2.15 AAT he flew 246 km in time 2.19. He was the only one with a speed over 100 km./h ;105.86 to be precise.
With one more day to go, Mark leads with 7.464 points quite a few more than runner up Steve [Wallace] who was runner up for the day; 6.575 p.
And more from Hugh who was 6th for the day :" Today was fun. The forecast was not great, two tasks were prepared, and a decision was postponed until 1300 to see which way the weather went. Once again the think-tank did a good job and conditions were actually quite good on the task chosen, allowing the better pilots to show their skills but also catering for the not so experienced pilots to push themselves a bit, learn from the masters, and gain confidence either by getting around or landing out. All good stuff. "
Saturday also here LAST day and Mark could have stayed on the ground when it would not be a 1000 p day, but he did not . He flew around in his LIBELLE and covered 194 km. but all in vain as there were not enough pilots flying over 100 km. Only he and Steve.
So no extra points in this class;
Final scores in racing after 8 day's flying out of 14:
1. Mark Wilson in the Libelle with 7.464 points and NZ CHAMPION!!!!!
2. Steve Foreman in LS 4 with 6.575 p.
3. Trace Austin in Discus with 6.512 p.
I really liked the blog from Hugh who flew [6th in the final scores!!!] and wrote in a lovely way, AND he was in the middle of the happening, so here is his last post:
" Well, what a dramatic last day. One had to feel sorry for the Contest Director having to make a call on a 50/50 day with so much at stake, but make a call he did, and 50/50 it was. Most of the Open class got around, and there was a significant shift in the placings. Most of the Racing class landed out, so there was no change in the placings. Congratulations to the two new National champions- well deserved wins to Patrick Driessen in the Open and Mark Wilson in the Racing class. A special vote of thanks and a light-hearted but sincere award was made to Peter Hartmann who won the Open class on points, but as a visiting overseas pilot was not eligible to be National Champion.
—————————————————–
——The British Gliding Association shared this message on October 28 2019 which is STILL IMPORTANT!!!
" Did you know that BGA safety data is warning us that tug upset incidents are currently occurring at 5x the historic rate – and include incidents involving ALL tug types?
The fundamental issue is glider pilots allowing the glider to pitch up too high behind the tug.
Causes include glider pilot distraction and failure to confirm rope separation before manoeuvring the glider at the end of the tow.
More advice including video is available at https://members.gliding.co.uk/bga-safety-m…/safe-aerotowing/
Please share with your glider pilot friends.
British Gliding Association
—————————————————————————————–
The Narromine 2-Seat Nationals.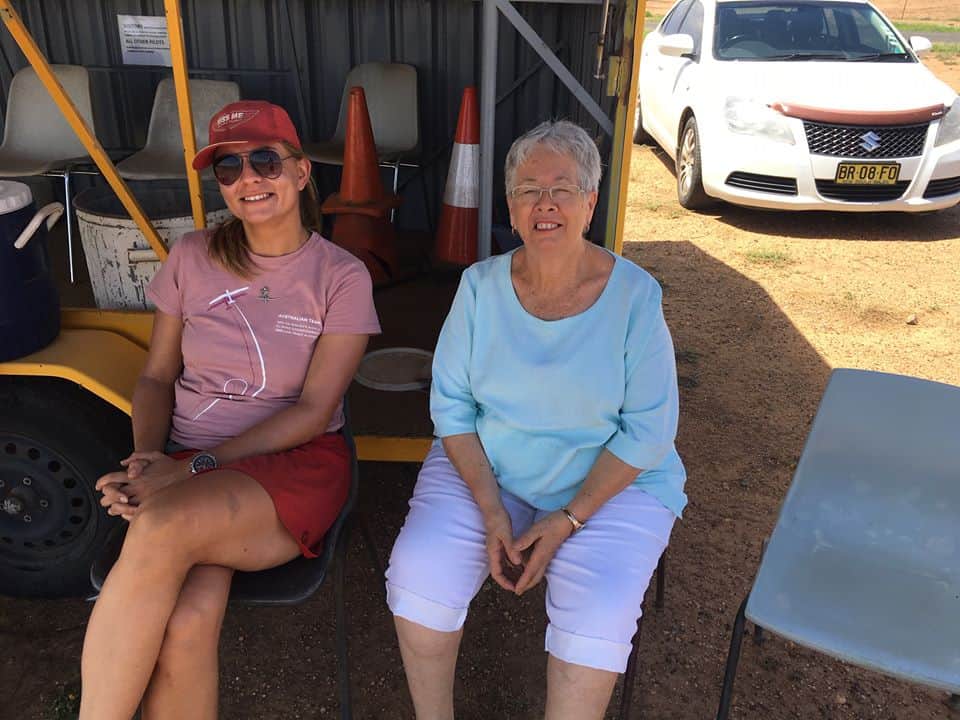 Off to Australia again where the 2-seat Nationals started with 12 couples so 24 pilots.
http://www.narromineglidingclub.com.au/…/20mTwoSeatNats.html
A few very good ones so it will be interesting. These comps moved from Horsham to Narromine and will be flown between February 16 and 22.
4x An Arcus M, 6 x a Duo Discus from just Duo till, X, XL and T.
And Brad Edwards is there with his brand new ASG 32MI.
Practice was on Saturday the 15th with a nice 3 hour AAT won by Brad and Taylor would that be Bruce?? Yes, of course ….TOP COUPLE …unbeatable????!!!Not that brother Bill would have been not good but Bruce is , as pilot, a "tad" better.
361 km in time 2.51.
Adam [Woolley] and Keith [Gately] in the ARCUS M were runner up with 347 km and good old Harry [Medlicott] was 3d with Allan [Barnes] in the front seat.
Allan wrote:" We had vario problems before launch – had to go to the back of the grid. Once airborne there were no issues but we started as soon as in position, at about 14:34, only 4 minutes later than planned. Climbs were only moderate, averaging about 3kt all the way round and they were small. We shared the flying about 50/50 and managed to nail the final glide with a 3:00:01 finish time. A pity we didn't nail the climbs as well as the final glide!"
Only practice guy's!!!!
No flying on Sunday. Keith mentioned :" Task B to Task C, Hangar 17 Bar is officially open. "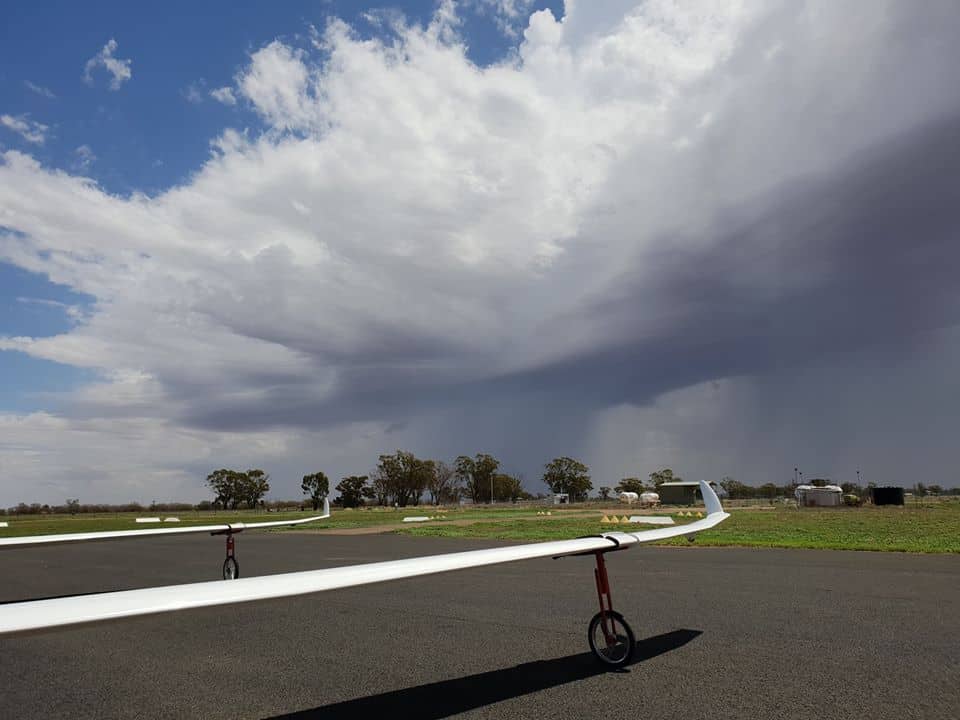 And….. Bruce spoke highly over the brand new glider in his Taylor's Gliding Page.
" We will be flying his brand new ASG 32, and the plan is that we swap seats each day, and hence swap flying duties to whoever is sitting in the front seat. I had never flown this glider until yesterday, and as per Brad's prior advice that it was "a bloody beauty", that is exactly as I found it! It is quite delightful to fly, is comfortable, quiet and it even smells new. I feel terribly spoiled to be allowed to join Brad in this glider, and in this event, and I should thank his brother, Bill Edwards for being unavailable to take his usual seat. "
More on his page with pictures as well.
By the way,..in Benalla and Tocumwal they had last Sunday, flights between 512 [ASW 27] and 706 km.[Ventus 2CT /18m]
Monday in Narromine; NO FLYING." Good decision to cancel the day. We wouldn't have gone anywhere. "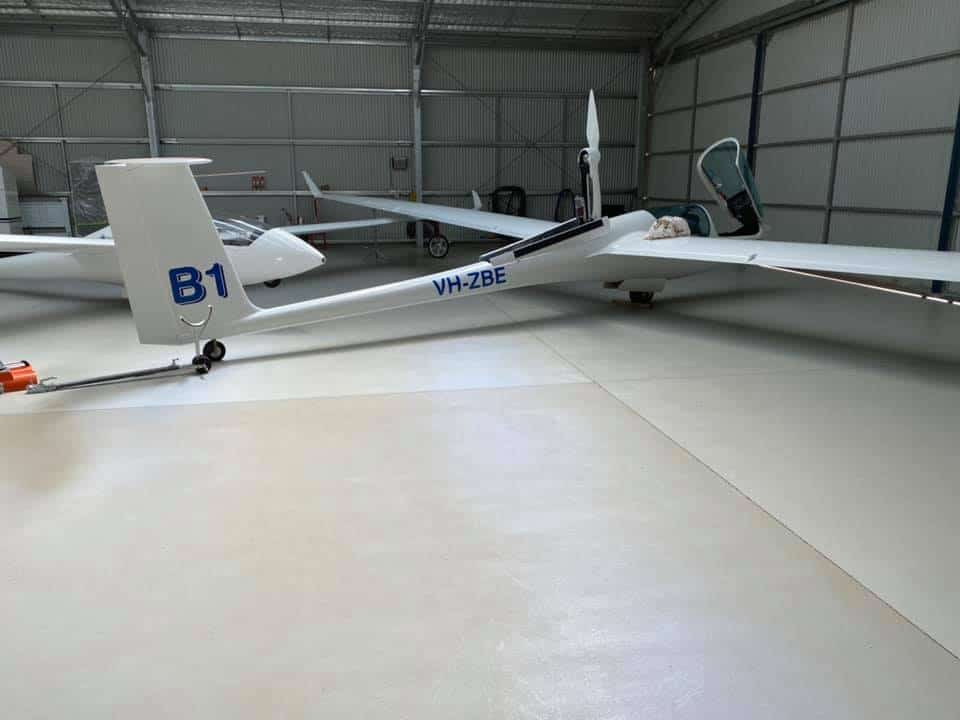 Tuesday first flying day!
And,.. a 3 hour AAT was set . Unfortunately most of the pilots had less than 100 points. One team had 469 p. …..Yes Brad and Bruce…flying 227 km, in time 2.59!!!, showing this was a REAL marginal/difficult day!!!
They were the only finishers!!!!
" It was Brad's turn to fly and he turned in a stellar performance, in what were extremely difficult conditions.
Basically we flew the minimum distance on a 3 hour AAT, crawled around no higher than about 2,500 feet until our patience was finally rewarded with our last climb to 9,000 feet at 120km out from home. We slid home very gently with enough of a tailwind to make it, with no more lift available at 6:30pm. What a wonderful flight; we loved it! "
More in Taylor's Gliding Page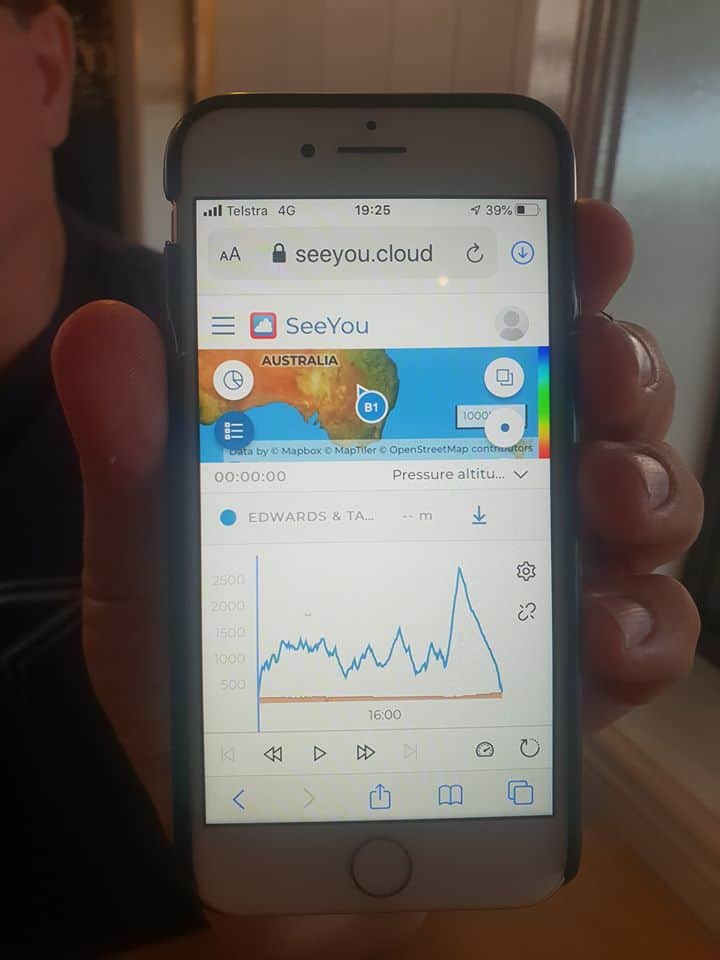 Good old Harry and Allan , runners up, flew 111 km. but did not finish had to start their engine.
Why???? Here is their [Allan's] story.
" Finally, after two cancelled thunderstorm- days , we got the first competition day. Not even sure if it will be validated, but we had the odds stacked against us so I'm quite pleased how far we got. We were at the back of the grid, with a 3 hr task into a sky already decaying before we launched. Fortunately we managed to get into start position just after the gate opened and set of at 14:58 or so. At the end of the second glide we dumped our water and saw Justin starting his engine a few hundred below us. Pushed on into the murk, stopping in almost anything going up, There were two options today – try to do minimum distance and not worry about speed, or try to cross the big band of cirrus and mid-level cloud to connect with an energy line that was leading from the far side of the first sector to the far side of the second. We sort of migrated to the second option, because when we reached the first sector, we never had a line of lift heading towards the second, and that energy like kept beckoning.
When we eventually got there, low, we could only find rubbishy lift -never lift all the way around the turn. We spent over half an hour working that rubbish, hardly gaining, and drifting toward the far edge of the circle. Eventually options ran out, and we turned for the second sector but so low that there was no option but to start the engine. Getting home was a lot quicker than the outward journey! "
As you can read, a VERY TOUGH job in the office!!!!
Today flying-day 2. Another 3 hour AAT and flown by all except 1 team.
327 km. in 3 hours by Butch and his mate, so over 100 km./h [108] but still not a real Narromine -day,even now it is nearly autumn there.
Allan and Harry were 1 km. faster but on handicap they were runner up.
The "star-team" lost 97 points, so there is hope for the rest!![4th]
They still lead after 2 day's but "only by 123 points!!!
Why did they loose those points?
Bruce;" Forecast totally blue turned into some nice cu around the start. It did go blue out around the first turn but there were wisps for almost all the rest of the task. We had a total brain fade today, combined with some flight computer technical issues which meant we came home 16 mins early. Ouch!  "
More in Taylor's Gliding Page
Last but not least a picture shared by Eric Napoleon the TC from the French ladies in Lake Keepit…no words needed!!!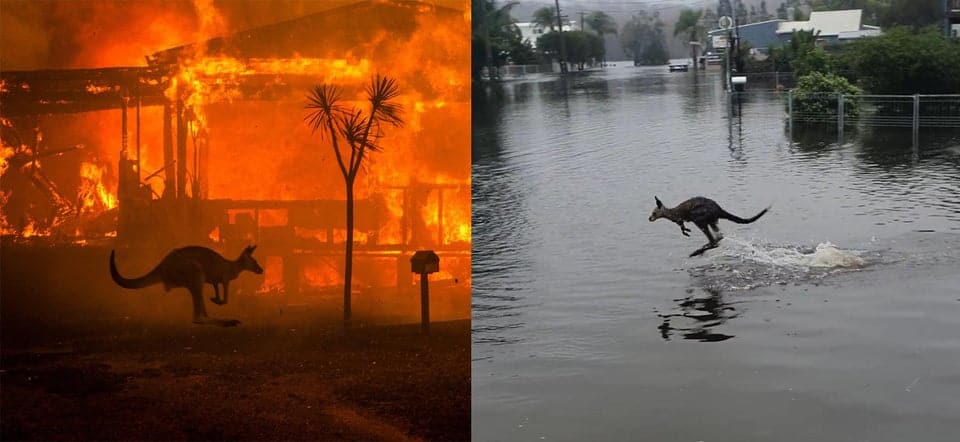 And very sad news for 4 families as 2 2-engine-training planes collided midair today close to Mangalore . One landing coming from the N and one just left from Mangalore. Each plane had a trainee and instructor!!!
Very sad!!!!!!

Cu next week.
Cheers Ritz