—-The N. and middle of Europe had an interesting weekend!
The BBC called it " the storm of the century" , and CNN spoke about "one for the record books".
We had a real storm, even with a name,…CIARA,…. covering Denmark, The UK and Ireland and Belgium, Holland, Germany to even further East and to Paris .
The noise from the wind was terrible, I was a bit scared and the trees bend over and I had to rush out side to save some pot-plants!!
Not a lot of traffic as the warnings ahead did their job, but still unbelievable damage ….between 150 and 200 million . In the UK mostly heavy flooding, here roofs from houses , trees on houses and cars .
In France 130.000 houses had no electricity.
Same in the East of Europe and a total of 6 people who died due to this storm. That's the worst bit!!!
Planes tried hard to land at Schiphol Airport, but after trying a few times they went back to where they came from when that was still possible. Air Europe came from Madrid and flew back there with ladies in it crying out LOUD!!!.
One interesting phenomena was the speed of a 747 flying from New York to London in record time, less than 5 hours….yes,….tailwind!!!
London airports had the same huge problems for landings.
This week , in fact today, the containers in Corowa have been packed, so those gliders will be in time for the European season as well, as they will be picked up on Friday. In the last week, they had some good flights, to remember whilst going back to the Netherlands and Germany.
Today was one of those great day's, but as often no flying due to packing.

Also the Worcester-gliders have been packed for a trip back to Germany.
With the hottest EVER January WORLD WIDE, glider pilots might,… like birds, feel the need of flying early too.
Nature is far ahead of the normal on this side of the world.
—-The Horsham Week had it's 2d flying day last Friday. A pretty good one with a 3 hour AAT in Club class.
Best pilot for the day ,Craig Dilks in his PIK 20B with 268 km. in time 3.09.
Runner up for 956 points, Gary Stevenson [HC] in Discus 2.
On Saturday February 8 , task 3 was a fact and straight away the last day as well and luckily again "nice" weather with a Kestrel 17 as winner but the Dunn's fly HC.
So Jarislaw was winner again with 106 km./h. with 267 km during a 2.30 AAT and a speed of 106 km./h.
So looking at the final results Jarislaw was the best with Craig as runner up.
The HC pilots did well too; The Dun's in the end had the most points as Tim [Shirley] lost some points on the last day.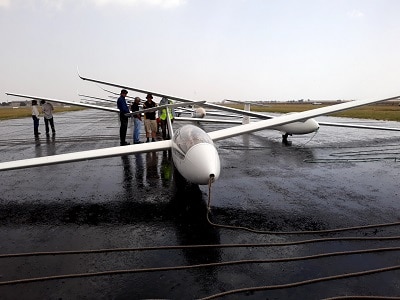 In open/18 m. it was a late start for all at around 3.25 PM. Daily winner in ASG 29 , John Orton. He flew during the 2.30 AAT, 319 km. in time 3.01.
Saturday , the last day, had a racing task from 323 km. and Mike Durrant flew around with a speed of 126 km./h.
With that , he won the Horsham comps as he passed John Orton , who was 7th for the day and dropped from 1 to 5.
Craig Vinall who was runner up moved from 4 to 2 so runner up.
So a few changes on this last day.
Another day with a late start around 3.30 PM.
—-In Taupo, where the NZ Nationals are in progress the weather improved as well and after 3 non flying days, the open class pilots flew 3 in a row with on Wednesday, Thursday and Friday Tim Bromhead [Ventus CT 17.5 m.] as winner, from a racing task from 262 km and a 3 hour AAT.
He won the AAT with 413 km. in 3 hour at the dot!!!!! Speed ….137 km./h!!!!
So 3 day's in a row with Tim as daily winner. Good on him!!!
Keith [Essex] who flies and flew at many places found it a good day hence his reaction :" One of the best days I've seen at Taupo. Got low once, that slowed me down a bit, otherwise a stunning day. "
He unfortunately got some penalty points and though he flew with a speed of 133 km./h he was 10th.
Then it was quiet again in Taupo.
On the 9th , however, it was back to business with a real good task , an AAT, from 3.30.
With a speed of 113 km./h Tim won again; 423 km in time 3.44! He started at 13.38 whilst runner up Patrick Driessen started at 14.22!!!
A later start as well for Keith , who just could not make it back home.
In racing class 3 good day's as well with a 278 km. [ winner Mark Wilson] and 209 km. racing task and a 3 hour AAT.
The racing task was won by Trace Austin in Discus, the AAT with 369 km. by Mark Wilson in the mighty LIBELLE; 50 km. MORE than the rest. SPEED 117 km./h!!!!
Still a few day's to go as they finish at the 15th!
Also the smaller ships got a 3.30 AAT which was won by Trace with 346 km. in time 3.54.
There was a good sum-up from John Etches, from the first week in Taupo and I share this news with you as it is from "the horses mouth":
"Well here we are at the end of the first week, and back on the air in more ways than one. Apologies for the lack of news over the last few days, but we are having a few technical issues. Anyway we're definitely back on track with the gliding; several good days, and at least one GREAT day when thermals were powerful and plentiful, and streets were bustling with fast traffic at 6,500 ft.
Wednesday was the first good day, and a racing task was set up to Thames and back. The westerly that had been so annoying for the first couple of days proved a bonus on the Kaimais, so most had a fun day. The winners were Tim Bromhead in his new toy ZK-GOP in the Open class, and Mark Wilson in the Libelle showing how it should be done in the Racing class.
The next day, Thursday, had similar conditions so a similar task was set and again Tim took the honors in the Open class but local lad Trace Austin pipped Mark for first place in the Racing class.
Friday was a boomer. An AAT task was set, and it was one of those days when everything that that you thought should work actually did, so everyone arrived back with a smile on their face, especially our two winners again, Tim and Mark.
Saturday was Soggyday, and most were quite glad of a day off. The Contest Director was the winner that day – on the golf course!
Today, Sunday, was again a good day, although not quite as good as Skysight had predicted. There were lots of expanses of blue, but a good AAT task was set with big circles which would have included Mt Ruapehu if conditions cooperated. (They didn't!) Results not finalized yet, but the general consensus seems to be that it was hard work, but satisfying and, most importantly, good fun. That will continue tonight with a dinner at the Gliding Club prepared by Neil Harker.
Week 2 started …PRETTY GOOD,….as they could fly!!!! Rather small tasks though….
Monday; task 5 for both racing and open class. A day as writer Hugh mentioned with " a bit of everything. It started with blue skies and uncertainty, and finished with lots of smiling faces and stories over a beer. "
racing… 2 hour AAT ;A new name Derek Shipley won the 1000 points in his St. Jantar; 239 km.in time 2.12. All 10 pilots who started flew the task and 3 with a speed over 100 km./h.
Mark in the LIBELLE still leads the overall scores,….BUT,…by only 21 points as Trace in his Discus is on "his heels"!!!
On Tuesday NO FLYING but Wednesday had some good flights again during a 2 hour AAT.
As they said;" Great flying out there with some boomer thermals, some good convergence, and always a few of those great-looking Cu's with black bottoms that suck you in to going out of your way to get a climb and then produce 1knot up and 4 knots down!" by Hugh de Lautour , one of the pilots .He flies a Ventus 2CT 17.6 m..and was 5th for the day.
It was LIBELLE -day again and Mark got the 1000 points for 282 km in time 2.48. Peter Cook in Discus A was runner up with 6 points less; 220 km. in time 2.11.time
Open…3 hour AAT; and there he was…Keith ….winning the day with 409 km. in time 3.02.Gaining 75 points on runner up for the day Patrick, who still leads the overall scores.
Keith comment:" Good Taupo day with decent lines. Better attitude today as well".
14 Started, 14 finished. Austrian Peter keeps going with the DUO DISCUS [handicap 102 to JS 1 and ASG 29 with 111]
An off day it seems, for till now every-day's-winner Tim, who now was 8th!!
Wednesday , today, showed also here a task number 7 for flying day 6.
" The day got off to a bit of an uncertain start – Rasp and Skysight disagreed on details, but both indicated a late start to any development so a task was set and the launch was scheduled for the later time of 1300. Even then it was scratchy, and many struggled to get away, but by 1400 there was enough activity for everyone to get a start ." Hugh de Lautour .
A 2 hour AAT and also here the day was won by an "oldie" ,…the Mosquito with Steve Wallace in it; 290 km. in time 2.07 so a good speed of 137 km./h!! Good on him!!Peter, Keith and Patrick followed,…where is Tim, who won every day in the first week???,…he did not fly.
Comment from Keith;" Weird day. Good to start but didn't work very well by the end of the day. Had to push further into the turnpoints then I would have liked but would have been under time if I didn't ."
Patrick still leads but Keith is close very close,…8 points!!!
—–Talking about NZ here is a reaction from Terry Delore after his magic flight and he is planning on MORE:
" Next big one is not a record its Bluff to Cape Reinga the length of New Zealand with my copilot and Daughter Abbey Delore. This may happen at months end if I can new engine installed in our ASH 25 mi Zulu Foxtrot.
And for the record it looks like the free out and return distance is in the bag but the declared 1730 o/r and 1500k o/r speed are in doubt due to missing the start line by 200m, I was in quadrant but the rules have changed! Hard lesson!
Best regards, Terry"
—–Good news from the FIREBRIGADE in Australia;
" Last night, the Soalhaven's Currowan fire [ on the NSW South Coast ] was officially declared out after burning for 2.5 months. Amazing news and wishing best of luck in putting out all the remaining fires – and thanks to the RFS for your amazing work ." by one of my friends Tom.
This fire burned for 74 day's,… burnt out 499,621 hectares,…..312 houses were destroyed and 173 damaged,…1.889 homes were saved by the fire fighters.
On the other hand,…it's now flooding ….that spoils the good life in those beautiful coast places.
And tropical cyclone Uesie is on it's way to the East coast and will " send large swells and heavy rains from as early  as tomorrow".
Most probably" landing" between Brisbane and Sydney.
We will have a storm this upcoming weekend again too!! Hate storms!!
Cu next week
Cheers Ritz