We do have some great photographers world wide in our sport. We do have some real toppers in Holland as well; Look at these pictures from Arjan.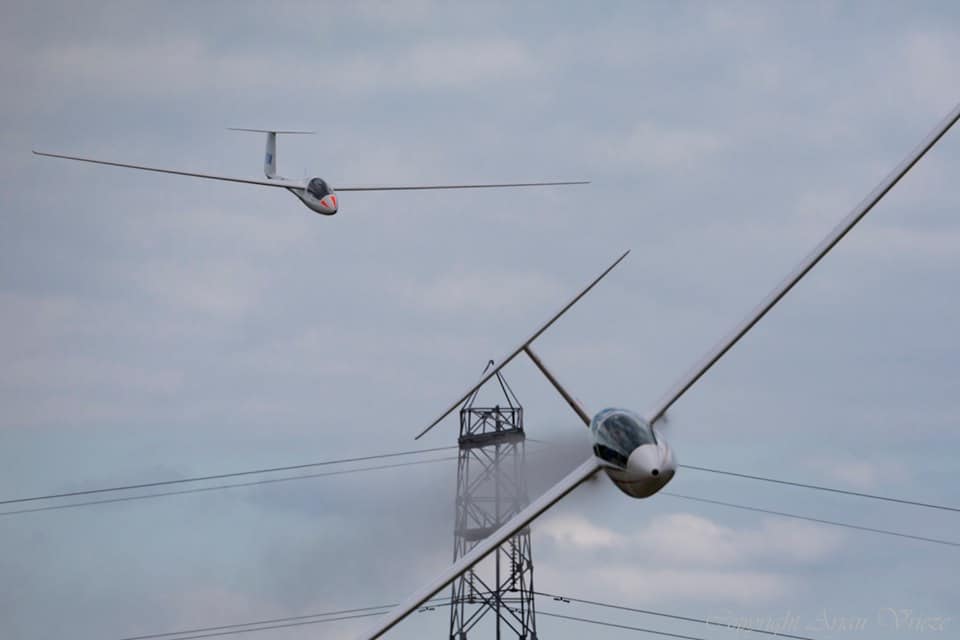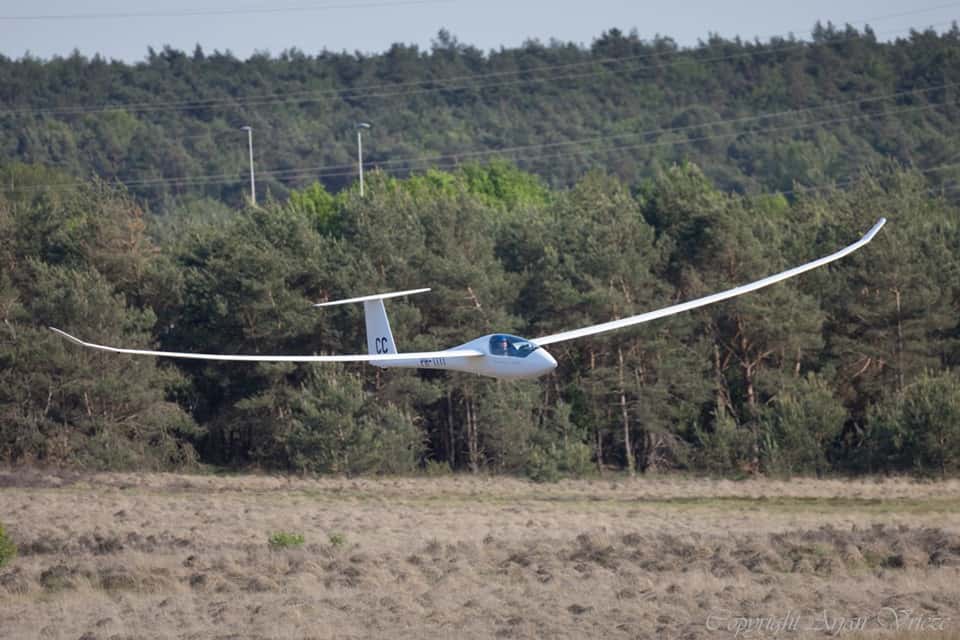 Courtesy Arjan Vrieze.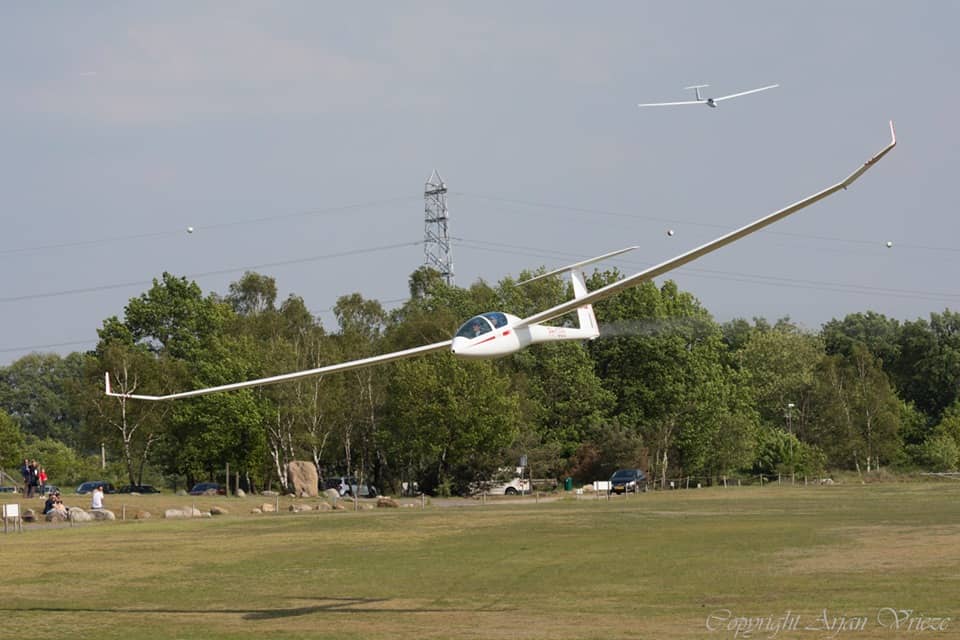 All finishes last Saturday and I saw them with my own eyes. Some look more "crazy" than they are,all SAFE!!!
Courtesy Arjan.
In my Sunday blog you saw more pictures and news from Saturday.
Nice temperatures on Sunday, due to a warm front, but NO SOARING WEATHER!!!
Day 4 was cancelled.
Day 5 task 4; They expected good weather, so tasks according to the expectations. Though in the afternoon it deteriorated a bit here, so it seems over there as well.
Open; 376 km…95 km./h for Mark Wering in his JS 1C ,which was 10 k faster than the same glider from Ronald with 84 km./h. So a daily winner for 1000 points and runner up with 832.
5 From 7 finished.
18m; 362 km….4 pilots finished with 88/89 km./h. Sikko won in his ASG 29ES,[982 points]  runner up was Victor Wetzinga in the same glider. Then Hadriaan and Steven who still leads overall. 9 from 14 finished.
Combi; 324 km….9 from 14 finished and Jeroen Verkuijl won again ,3 out of 4 win's!! 70 km./h shows how difficult it was.
club; 301 km….Great 1000 points-win for Frank Hiemstra in his St. Cirrus; 69 km./h.
10 From 16 finished, 2 only 40 km. out.
So 4 good flying day's means a VALID DUTCH NATIONAL CHAMPIONSHIP!!!
Day 6 started her with severe rain and thunderstorms and though it is just over 100 km. , they must have had the same weather. Indeed the day was cancelled! A pub quiz kept them busy in the later afternoon.
No news yet about today but they might fly.
THEY DO, day 7 task 5…….541 km. in open,527 in 18 m., 450 k. in combi and club has to fly 351 km. Great tasks!!! Long day!!!
———————————————————————
53d EDITION of the very international HAHNWEIDE Comps.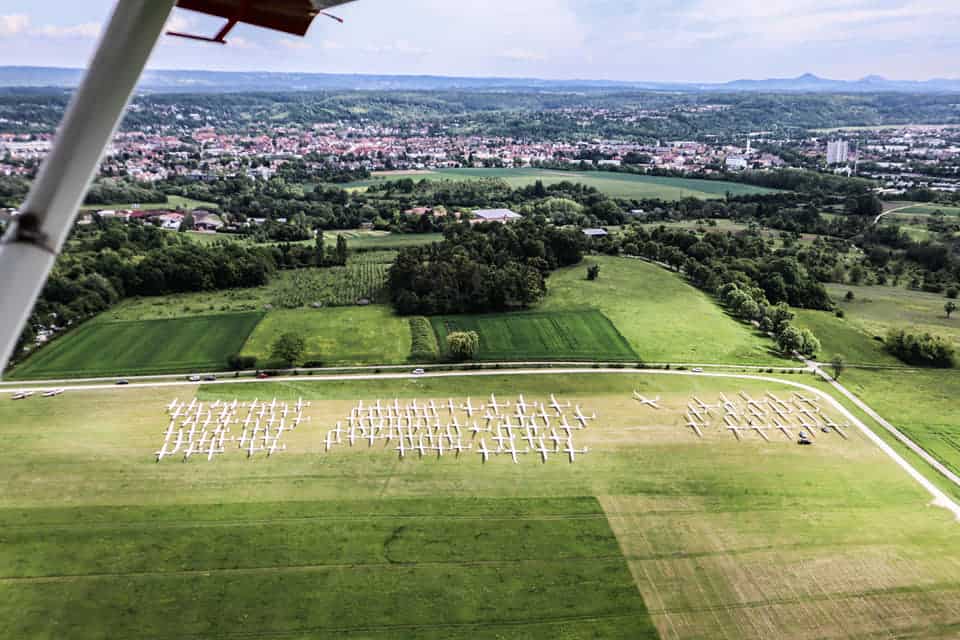 Courtesy Hahnweidewettbewerb
Saturday the 25th was cancelled ,….so 7 day's left for the 101 pilots.
On Sunday  it started there at the beautiful Hahnweide with task 2. They flew in 5 classes and a lot of  international visitors choose Hahnweide as their soaring goal.
In 18 m. class … 4.30 AAT; it was Andy Davis from the UK receiving the first 1000 points in JS 1C for flying 531 km. in in 4.37. Giancarlo Grinza [Italy] was runner up ,in Ventus 3F. 30 In this class and 27 finished.
Also in this class Swedish, UK, Italian ,Swiss and Slovenian participants.
15 m…. class 448 km.: 13 participants and 9 finished. Daily winner UK pilot Timothy Scott in ASG 29 /15m.  Speed 105 km./h.
Swiss, UK , Slovenian and Swedish pilots in this class.
2-seaters… 4 Hour AAT and Norbert Sommer in the ARCUS M won the day followed by Katrin Senne in the ASG 32 MI flying that day, with Arne Boye Moeller. 17 From 22 finished and among them Laurens Goudriaan from S. Africa in his nice new ASG 32 MI, Adam Woolley/Butch  for Australia, Patrick Stouffs and Arnoud de Broqueville from Belgium and John Coutts from NZ.
An off-day for topper Holger Karow who was one of the out-landers.
Open class …4.30 AAT; AND 1000 points for German pilot Felipe Levin in the EB 29 R; 513 km in time 4.31. Runner up was French pilot Sylvain Gerbaud [JS 1 C/21m] and Uli Schwenk from Germany in the ETA was on spot 3.
In St class …411km; the first 1000 points were for Aussie Matthew Scutter flying a Discus 2 ax, with a speed of 116 km./h.  From 18 in this class 15 finished. Among them pilots from France, the UK and Italy.
Day 3 on Monday with task 2; with more difficult conditions, but….. "a small window"!!!.
It turned out a tricky day with out-landings as later in the day there was over-development ,total overcast as I could see on Matthews video. He was back.
18 m. 265 km.: 20 from 29 finished, so a tough day. Good old Reinhard Schramme won the day with a speed of 94 km./h in his Ventus 3 T,which says enough about the day. Mario Kiessling, who was only 21st on day 1, was runner up now. Andy was 12th.
15 m. 2.30 AAT;  6 from 14 who started finished and the winner was Stefani Muhl .Good on her. She flew 222 km in time 2.35, so a speed of 85 km./h. for 599 points.
2-seaters 225 km.; Katrin Senne is in a good flow. She won the day with a speed of 92 km./h. Holger had a good day and was runner up with Laurens as 3d.
14 from 21 were out.
Special day for Adam and Butch here is their story after they were out / back at the field, after 55 km.
"Common call for me after we landed, who on earth did I upset to deserve this? Followed by lots of laughter, just laughter, how did we get so unlucky – read the first point!
Pre-start, I think we identified that we needed to wait for the weather to come through, plus get high enough & close enough to the start. We started when we wanted to effectively, behind the general gaggle in a good position. First climb, good, second, good, third, good, all to base. Then, glide, glide, glide, past many options, all that didn't work.
Finally we reached option G, which included back tracking down the Alb, working wisps, bowls, hillside, towns, smoke, gullies, chicken coops, you name it… all the while tracking in the only direction there was available, HWW.
& that's where we landed, totally dumbfounded, but laughing our heads off with bemusement. I hope for no nightmares tonight..."
Bad day still happy chappies. Selfie with Butch and selfie with Benjamin,Keith,Matthew , Butch and ???
Adam Woolley's Gliding Adventures
Open class 249 km; Jim Acketoft from Sweden was the best and flew over 100 km./h in his EB 29DR.[113 km./h] for 678 points.
Also Felipe, Uli and Dirk [Kaltenmark] Sylvain and Swiss pilot Jurg Haas  and Conrad [Hartter] flew over 100 km./h.
13 From 15 finished.
St.class 2.30 AAT; was the first to be launched and because of  "currently weak thermal conditions the standard class will released 100m higher as usually (700 m AGL)".
Matthew was back  with 244 km. in time 2.27, so 3 minutes under time,  no worries he won the day…AGAIN. 14 from 18 finished.
On Tuesday NO FLYING but some great pictures from Kathrin who is not only a good artist [painting] but a great photographer as well. More photo's from Kathrin at
http://www.wolf-hirth.de/hww19/gallery/gallery.inc.php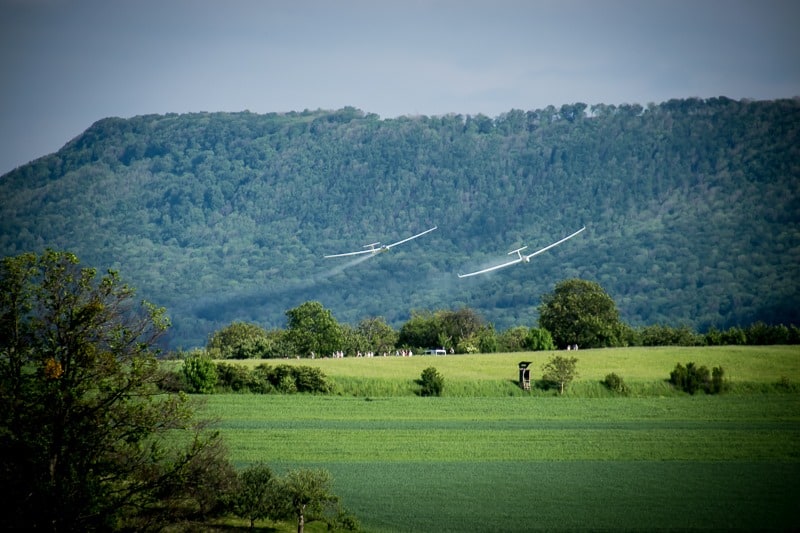 Finish ..day 3…pictures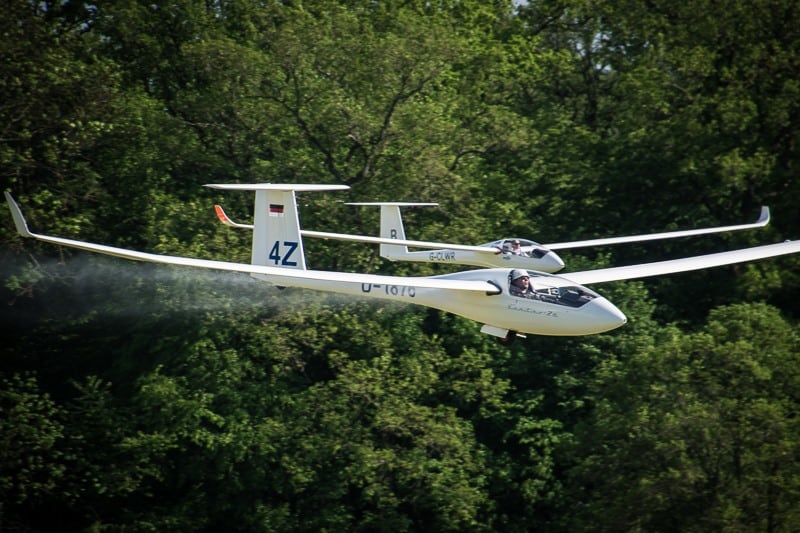 In the evening the annual and traditional " Schempp-Hirth " evening will take place in the hangar of the Fliegergruppe "wolf hirth". 
No news yet about today more later in the week.
Latest; 2-seaters and open have been cancelled the other 3 classes have between 200 and 250 km.
——————————————————–
CLUB class NATIONALS in the UK .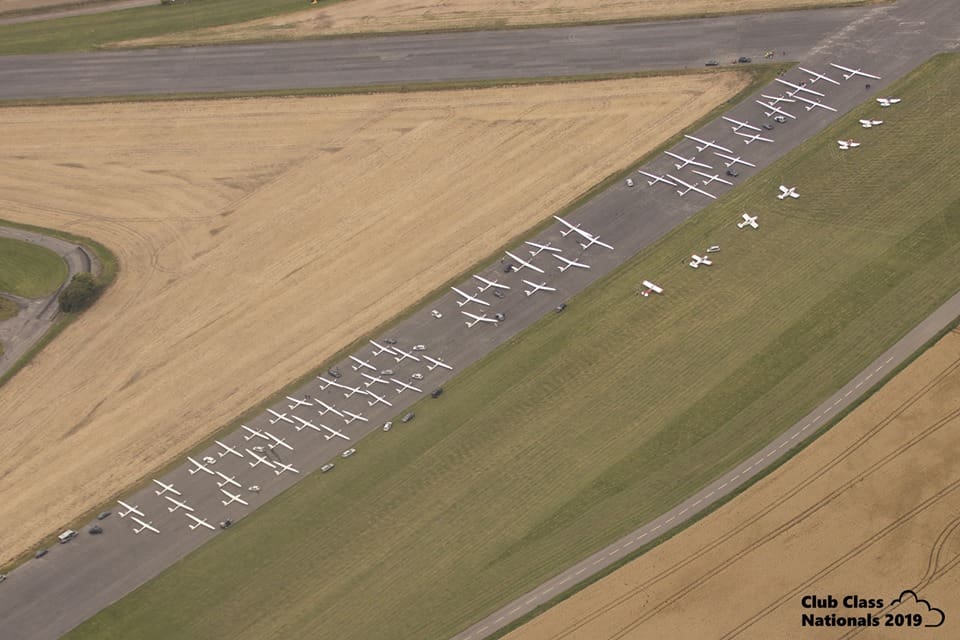 "UK Comp Season is here!
The Club Class Nationals start today [May 25 ]at Aston Down, with some of the best pilots in the country – and indeed the world – battling it out over the next nine days.
The Junior British Team pair of Jake Brattle and Finn Sleigh will be fighting the Senior British Team pair of Tom Arscott and G Dale. We're hoping to see some good flying from Clement Allen and Henry Inigo-Jones, this year's Junior Team reserve pilots, whilst Danny Richmond and Alistair Emson complete the under-26 contingent, both flying their first Nationals in their Standard Cirruses. 
Keep an eye on the Live Tracking here: https://www.cotswoldcomps.co.uk/tracking/And follow along with the Start/Finish radio here:
https://www.cotswoldcomps.co.uk/stream/
More news next week, maybe even on Sunday afternoon again.
There are many more comps around this time. Scores you can find on www.soaringspot.com 
And don't forget …9th World FAI Sailplane Grand Prix Final starts on the 2nd of June 2019 at La Cerdanya, Spain.
CU next week.
Cheers Ritz