RIETI…….Coppa Città di Rieti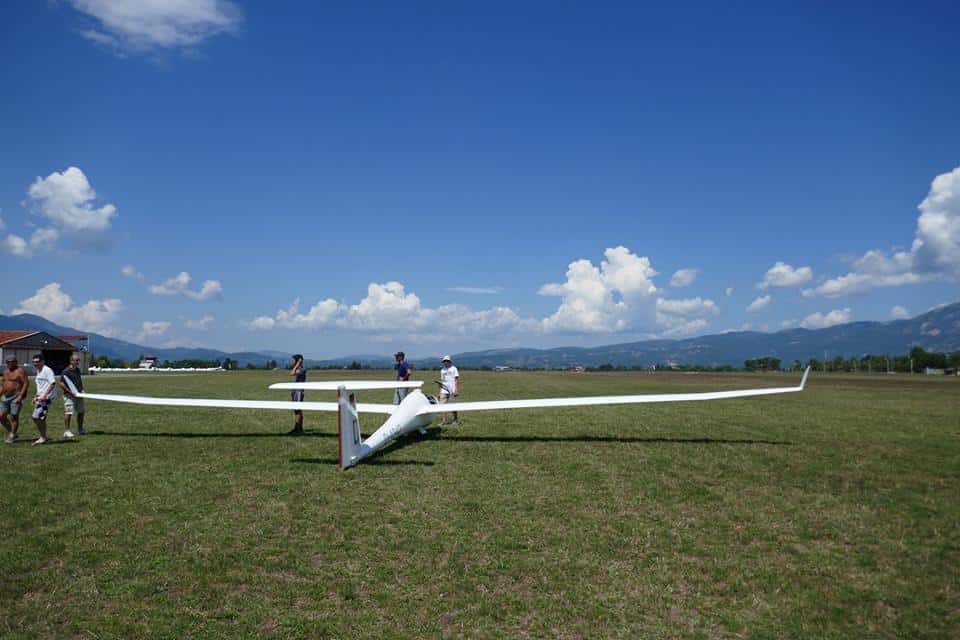 Rieti skies as I remember them SO well.
Courtesy Clara
——The comps in Rieti for the Coppa Città di Rieti, continued BUT they had to wait till Friday;
"Today we return to fly, after three days of bad weather! Take-offs are scheduled for 12.30pm. Three tasks were assigned: three areas each with an average length of 350 km and a time of 2h45 '. There are 25 degrees, the QNH is 1016 hPa, good climbimg conditions are expected, wind will be irrelevant and some rain is still forecasted."[Clara]
So 3 AAT's from 2 hour 55[A groupe] ,2.45 [B groupe] and for the "new ones" 1.50.
Great weather in Rieti and I remember every building.
Pictures courtesy Clara.
Only 5 finishers in the B group, with as winner Peter Hartmann;349 km. in time 3.04. Young Davide was one of them, I noticed on the pictures he is a FATHER now, with a lovely baby and wife. Time flies. I still see him with TC Leonardo in Husbos at the junior worlds.
Also Thomas was back and team Alberto Sironi in the ARCUS T.
The A group had Luca again as winner.[Discus 2A]
Scrubbed on Saturday after a small AAT was not possible. Take offs were supposed for 12 PM but at the briefing they said already to leave straight away because of thunderstorms after 4 PM. In the end the day had to be cancelled, as the rain started at noon just after launching the first pilots, who had to come back..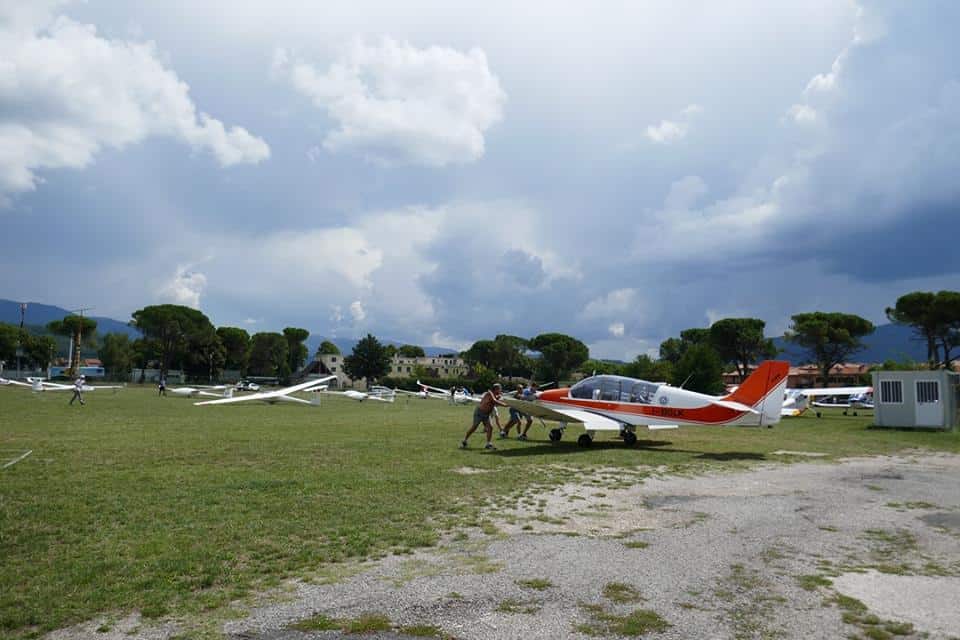 Building up TOO quickly. As shared by Clara.
They  only had a valid task in one class; group B and not all left as the weather was just miserable, some were launched , landed again, tried hard but in vain and gave up.Thomas won the 1.30 AAT with 171 km. in time 1.35. Only 11 from 27 finished in this class.
Unfortunately the weather did not co-operate in the normally always sunny Rieti area; 3 day's out of 7 in group B.
1. Davide in ASG 29 E with 2.004 points, well done Davide!!!
2. Thomas in the Ventus 3 with 1. 933 and 3. Peter in the Antares.
Alex and Dane from NZ were 5th, guess they never saw this kind of weather during their Rieti trips.
On the last couple of days, Aldo, the Competition Director in Rieti,  had to assign a Finish Ring of 25km radius, so the sporting performance could be completed before considering the alternatives of a different airfield or trying the glide back home.Good on him.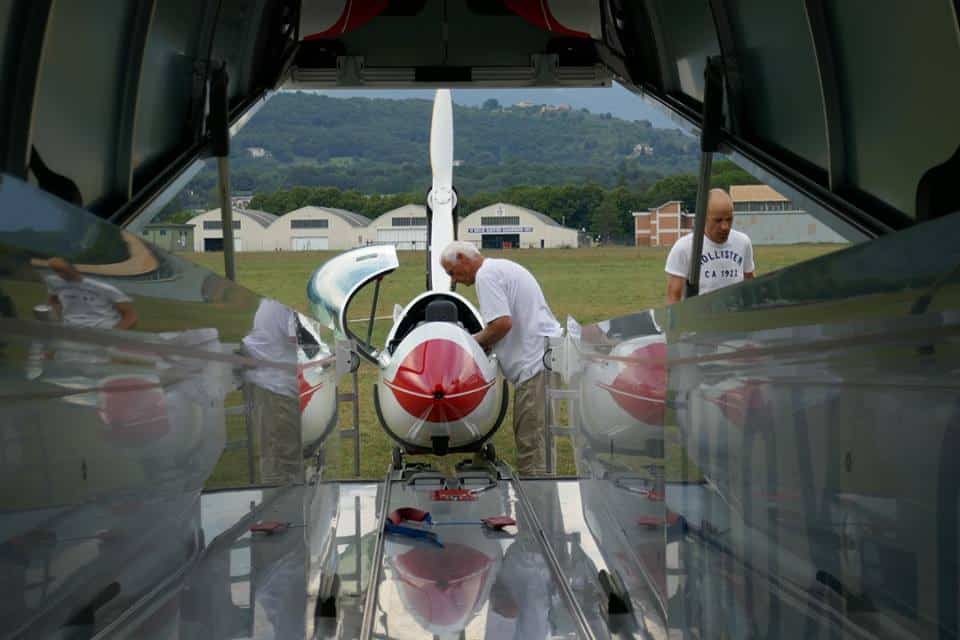 Packing the glider in the trailer again.
Nice picture shared by Clara. THANKS Clara for the news and pictures!!!
With Luca on the highest spot  in group a…  Duo Discus XLT- team G. Marchisio + F. Cavicchio and Lisa Scheller from Germany in LS 8/18 m.!!!
and Davide WITH his  little daughter in group b with Thomas and Peter.
as shared by Clara.
---
 TEXAS  15 m and open class NATIONALS.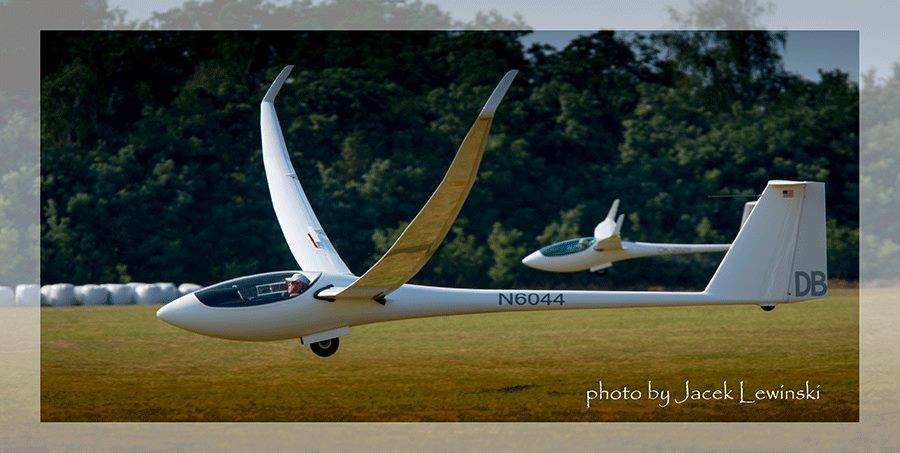 Found this picture in my file. FABULOUS picture of THE CONCORDIA with Dick Butler !!!!!! As seen by Jacek Lewinsky.
Don't even remember where it was, but I wanted to share a picture from the CONCORDIA.
—–The comps in 15 m and open in Uvalde got some good flying as well after the pretty unusual rainfall for 4 day's in a row.
15 m;
Sean Fidler was THE man on day 2. In his ASG 29 he flew 344 miles with a speed of 81 m/ph.
Day 3 was for Rick Indrebo , [same glider]who flew 275 m. with a speed of 85 m./h.
Sarah is flying as well and pretty good in her Ventus 2ax , she was after 3 flying/contest day's on spot 5.
David Leonard, who won day 1 flew very consistent and topped the overall list every day till now .
David was 7th on day 4 and that cost him 100 points so he moved from 1 to 3. Rick won the day and is leading now. But John Osbourne is on his heels ; difference in points 3827 for 3804.
Day 5 was for Ken Sorenson, flying the Ventus 3 in 15 m. configuration and John is the overall leader now 3d for the day, Rick 7th.
David was 14th and "dropped" to 5.
AND SARAH climbed up to 3 overall good on her.Runner up for the day!!!!
Day 6; Very last day and AGAIN a good one for Sarah!!! She was on a daily number 3 spot but with that she consolidated her runner up spot as vice USA 15 m. champion!!! Well done!!![5.624]
Rick won the day AND the comps so he can call himself the new USA champion in 15 m.[ 5.707]Congratulations!!!
Ken mentioned :"Uvalde 15M Nats last day. Definitively a nationals caliber task. Large blue hole with dead air had to be crossed at the beginning of the first leg. Once across the hole the soaring it was screaming good with cu and strong climbs to 8000+ ft. until the final leg home which was mostly blue and weaker. Speed on the task was determined by how you crossed the first hole how you set up to fly the last leg home. Challenging day but great fun. Another example of why Uvalde is a world class soaring site."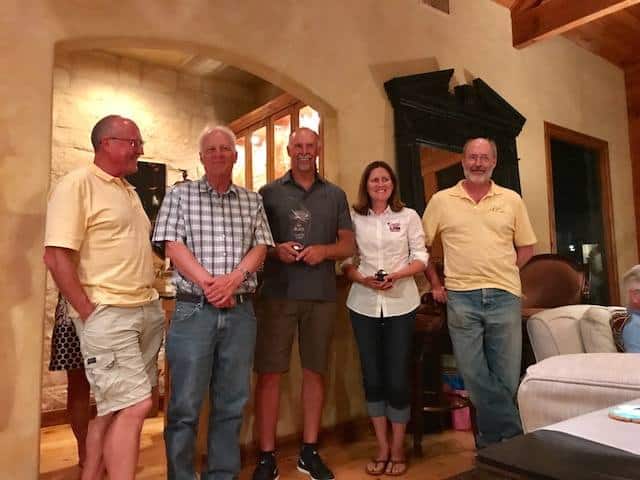 With Peter Deane, Gary Itner, Rick Indrebo, Sara and David Leonard the top 5 from this class!!!
As shared by Soaring Society of America
Open;
Being number 2 on day 1 changed quickly on day 2 for Dick Butler [DB] in his Concordia, the majestic "ship".He won and topped the overall list.
Here is what Steven Leonard, very kind, nice and wise man, who I met in Uvalde in 2012,  had to say on FB:Steven flies a NIMBUS 3/25.5 m.
About day 2;
"Big task today (362 mile assigned task). Cloud base was about 4000 AGL when we started. Got higher as the day went along. Had a tough time on the legs going south (Uno Mas, then to Laredo), great run to Eagle Pass, then a slow trip to Dilley (along with a pretty big detour trying to find a climb), and a bit of a nail biter getting home. Just over 5 hours on course today. Good fun (since I got around!)." [601 OLC km]
AND
"Day 3 ….. 316 mile assigned task. Really weak lift early, started too soon, struggled on the first leg. Got passed by the winners part way down the second leg, and that was my wake-up call. Or something. Got a couple of good climbs, some confidence in reading the clouds, and started running a LOT faster. Again 9th place for the day, 9th overall. Each day has been faster than the last one for me, so I hope I can keep that trend going" [534 OLC km]
On day 3 Dick was runner up with a speed of 91 m./h. over 314 m.
But day 4 was for Dick again;323 m with a speed of 83.22 m./h. With more than 100 points he leads the open class now. As was day 5!!!! Another 1000 points bringing him to 4.978 points in total with one day to go.
Day 5 as seen by Steven in his OLC comment:
"Day 5 US Open Class Nationals. Blue at the field, slow to cook, so first in line (me) gets to be the sniffer. Found acceptable climbs to barely acceptable height, and the launch was underway. 3.5 hour Modified Assigned Task.
Got a good start with a climb right at the edge of the cylinder, then out to a cloud for a 6 knot climb to 7K MSL. Off into the blue down the first leg! Some struggling and feeling sorry for myself and watching other gliders disappear into the distance on the FLARM. Push, and you can catch up. Or go down fast. I think I caught a few and had a pretty good run. Every time after the first leg when a good climb was needed, one appeared. Interesting that there were pretty good climbs even after the cu was gone. Looks like 6th for the day with just under 900 points. One more day, and it is shaping up to be a good one."
Day 6 was a prey for Dave Mockler in the JS 1c/21 m. who is the new vice USA open champion.
But,…Dick was 3d , so no worries to get to the highest spot to receive his so maniest open USA title.[5.936]
Day 6 seen by Steven; Thanks Steven for sharing!!!!
"Day 6 is complete, and so are the US 15 Meter and Open Class Nationals. I managed to fly 275 miles at just under 84 MPH average today, which was good enough for, are you ready for it…. 9th place (again)! I am nothing if not consistent! I set my anchor on the first day, and held to my position for the entire contest.
Uvalde is a very special place. If you have not yet flown there, you need to find a way to get there and fly. You will not regret it."
471 km. with a speed of 127 km./h.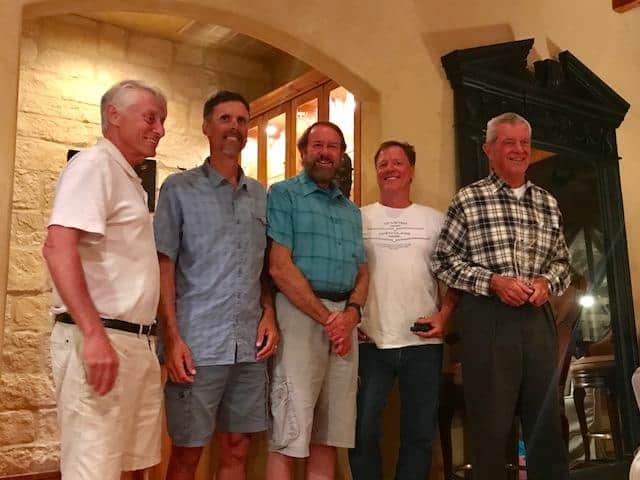 From r to left;  1st: Dick Butler, 2nd: David Mockler, 3rd: Jim Lee, 4th: Keith Essex, 5th: Ron Tabery
As shared by Soaring Society of America
---
—— In our Tocumwal past we converted MANY hang glider pilots to glider pilots. Here is a picture of 3 hang glider mates who grew out to WGC toppers!!!! No they did not convert with us, but I remember the easy way of flying and living from them. So relaxed!!!!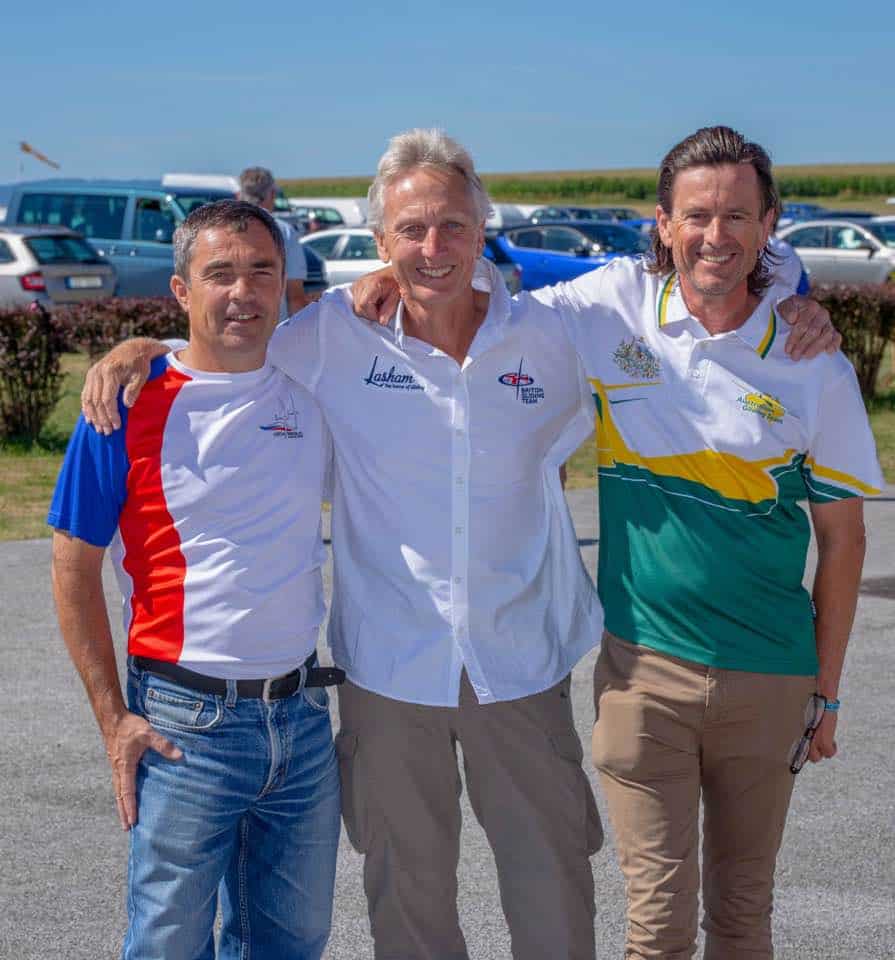 Tomas Suchanek [Czech Rep] Pete Harvey [UK] Alland Barnes [Australia] all "performing" in Hosin.
Courtesy Allan.
---
–—–Visited KEIHEUVEL last Sunday; My annual trip to this very pleasant airfield, but unfortunately there was no competition-flying this weekend. The yellow dry field, burnt by the sun ,looked a bit sad and  to avoid damage they cancelled and postponed the 2 day's Keiheuvel CUP, the 12th edition,  till next year.
But I caught up with several people , had a fabulous lunch prepared by Rudy and Chrisje, finally got to meet Rosa again, madre familias , from the HUYBRECKX family ,89 years old, but she still knew who I was…amazing….Had my annual LEFFE brown Trappist beer WITH grenadine, visited the Schmelzers at their chalet and congratulated Tijl with his inspiring-every-day- win in Klippeneck and Peter with his title in Bailleau.
Some pictures;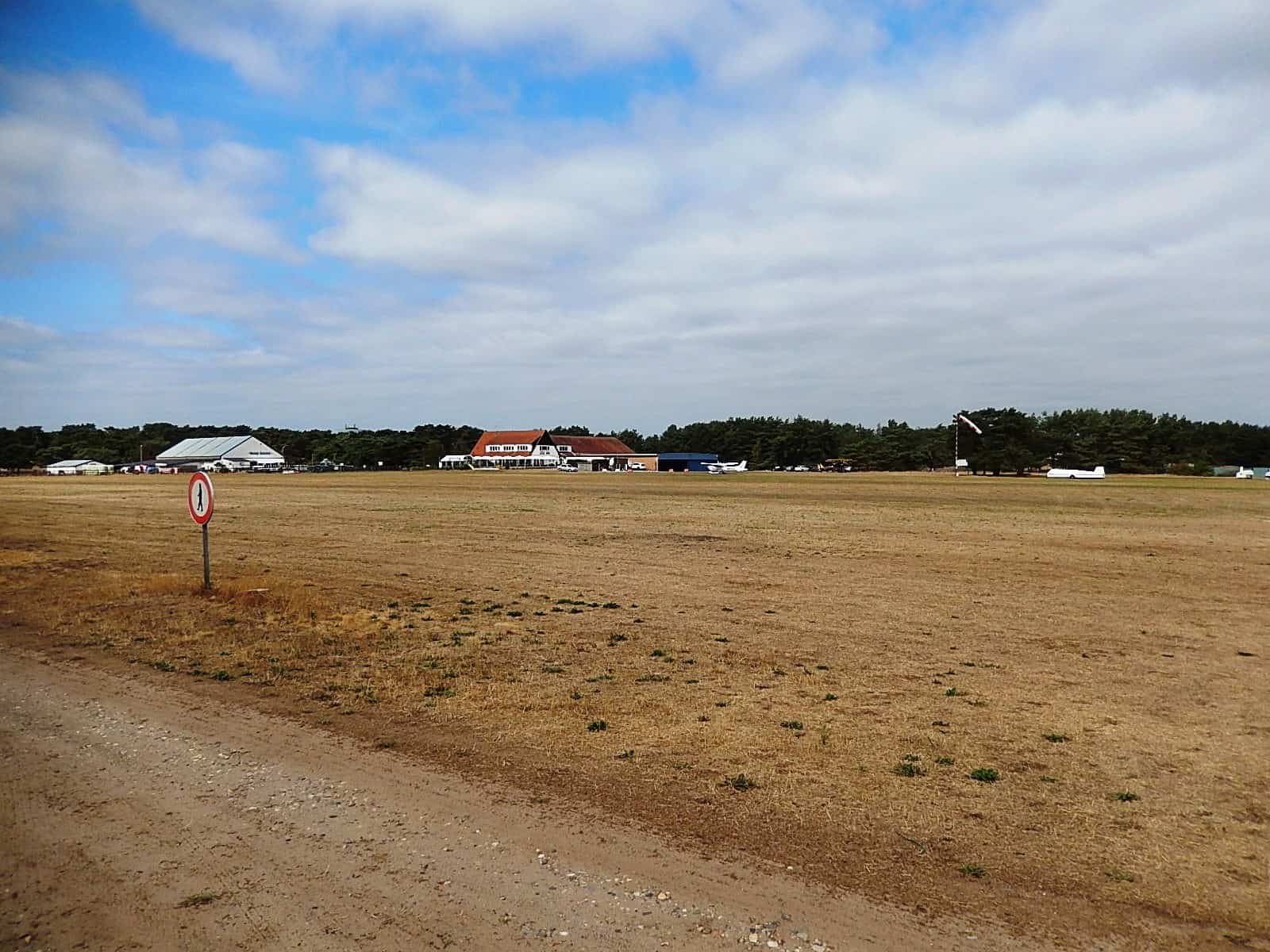 Field looking dry and yellow and sandy.But de KEI ,the restaurant "shines" in the sun and was VERY busy!!!
The Stearman , " lives" at the Keiheuvel, but  left for a FLY IN to Zoersel , an old timer event and Pieter helps the pilot [back seat] and guest .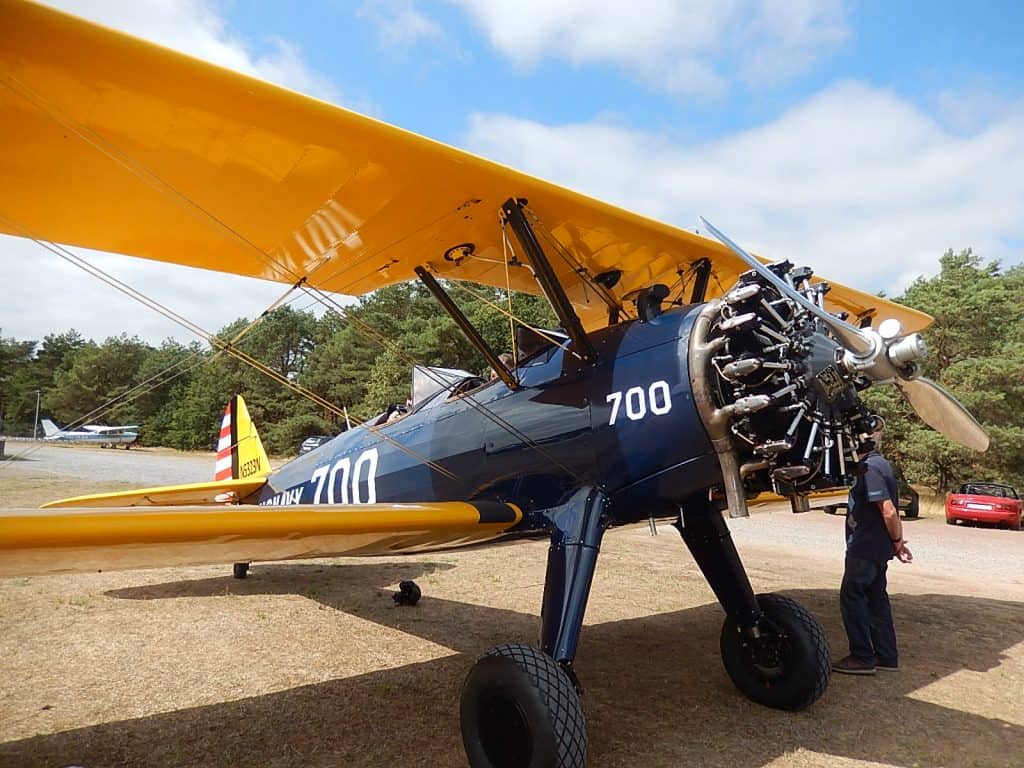 and a totem pole full of gliding-trips all over the world in the garden from the Schmelzers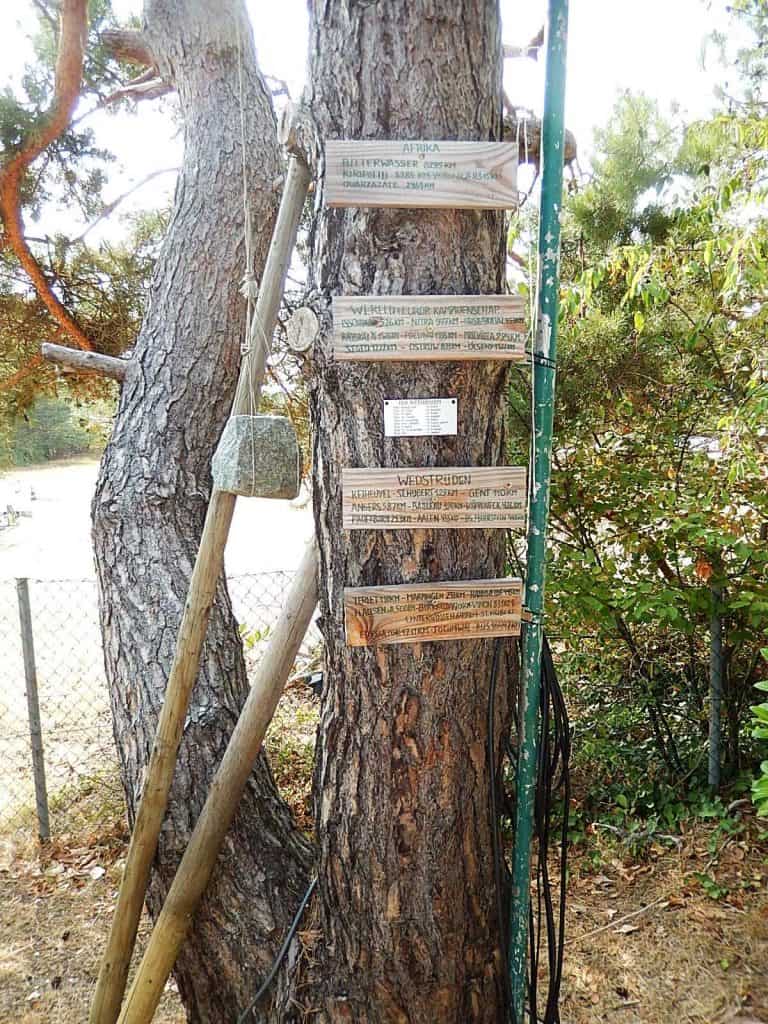 Being so busy with Hosin I missed a"nearly 1000 km" from Tijl from Keiheuvel on August 9, in the Ventus 2CT/18m ;983!!!!!!
Tijl flew this year already 4x a 1000 km and in total already over 20 most from Belgium and with all airspace -restrictions  I can tell you,… that IS SPECIAL!!!!! He is a master in planning his flights!!!
On that day August 9 a few more great flights from Keiheuvel; 838 km. by Jeroen Jennen in LS 8 and and 696 by Tim Huybreckx in Discus 2.
a more recent picture from Tijl after his 1000 k in June . Plus all those winning-day's in Klippeneck,…it has been a great year for him!!!
AND my youngest brother and his wife.
---
—–UK JUNIOR NATIONALS at LASHAM;
And parallel 2 classes flying for the regular regional titles. A total of 86 pilots in 3 classes.
They started on August 18 but pilots had to wait for 3 day's before they could fly. A dip in the glorious weather from this 2018 season.
On day 4 [August 21] they started with task 1 ; 255 k.  for the juniors and 256 for Regionals blue and 324.96 for red.
I counted 45 juniors, but only 15 finished from 39 who started ,2 of them HC. Finn Sleigh in the St Libelle won with a speed of 80.99 km./h.
Red; Phil Jones in the Ventus 3 won with a speed of 80 km./h. TOUGH day!! 8 From 16 finished.
Blue; Mark Holden in the Duo Discus before Tom Arscott and Shaun Lapworth both in St Cirrus.7 Finished from 21.
All scores are preliminary.
Comps finish on August 26 so more next week.
---
——-French FEMALE Nationals flown from Pont Sur Yonne, in club class and till now 3 pretty good days.
Day 1; with 272 km. and a Pegase as winner from the 1000 points with in it Céline Rault.
Day 2; a 2 hour AAT with a new face on spot 1 ;Anaïs Gaubert in the LS 4….154 km in time 2.01
Day 3; 316 km and another Pegase won the day;Mélanie Gadoulet got the 1000 points for a speed of 90.44 km./h.
day 2 and day 1 winner; Anais and Celine.
More next week.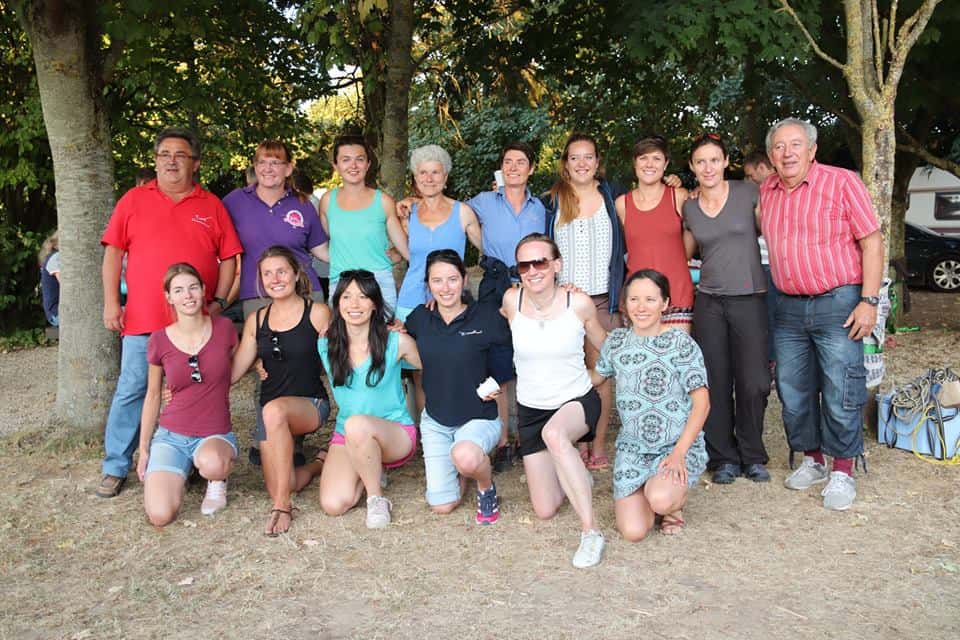 All 13 ladies ready for day 1.
all pictures  shared by Centre de Planeurs du Sénonais
---
—–And PERLAN news!!
Daniel L Johnson
Today the Perlan glider was towed to 40,539 ft. Takeoff was about 200 meters msl, so the tow was a hair short of 40k even.
This is probably the highest aerotow ever — not that anyone is keeping track.
But it does mean that every flight can be productive.
Today's flight was Perlan's highest since last season, and a lot of testing was completed.
Takeoff was delayed about 20 minutes because the retractable (Dyneema) tow rope could not be extracted. You guessed right — a loop had wrapped around the axle, and discovering that and fixing it involved removing a hatch and de-tangling it.
Mike Malis demonstrates efficient engineering pragmatism…
One more item to go onto the pre-flight checklist. (Every item on checklists is related to something that has gone wrong sometime.)
The sky has been full of wave clouds all afternoon.
They needed a strong tug so finished with an Egret, which brought the Perlan in 10 minutes to a height of  3 km.!!!!;
"Perlan Project needed a powerful plane that could fly slow and high to tow the pressurized Perlan 2 glider. The Egrett was a great candidate with 108 foot wingspan and 750 horsepower engine. The Perlan Team flew to Texas to test AV Experts' G-520 with our fabricated and certified tow."
CU next week.
Cheers Ritz