35th WGC at HOSIN !!
Wednesday ;August 8, day 11 ,task 10 !!!!
Some news first;
Toppers/Winner from Tuesday a pretty difficult day, due to the weather, but fast as you have seen already.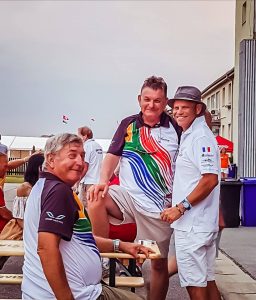 The Goudriaan brothers on spot 4 and 5 and Jean Denis from France on spot 1 in 18 m. class
As shared by Pôle France Planeur
Party time as well ; INTERNATIONAL EVENING. All teams prepared food from their country and that's always a great success.
Both my "home-country-" mates.
The Dutch, with Peter Millenaar in charge  and the Aussie's Pam [Butch wife] and Adam and his mum.  Both countries  nicely presented their food.
As shared by the French and the organizers.
AND it was …….VERY BUSY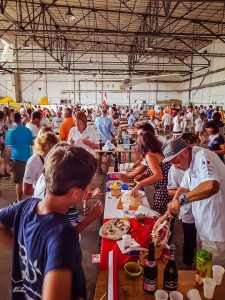 And ………the FAI flag has been stolen….AGAIN.
OH, OH !!!! Not the first time, not the last time either.
Some S.A. News; "Once again launching was delayed today until 12.30, still Task A 3 hr. AAT, as the lift was slow to get going over the airfield. First the sniffer, the met man, took a launch and was soon back on the deck. Then they have an Arcus in the air which is carrying a camera-man for in the air-to-air photos took a launch and was soon reporting lift, and then finally Sebastian Eder of Austria launched – he was involved with the mid-air two days ago, and has decided to withdraw from the competition rather than to continue flying. He opted to self-launch, as the glider is fine, and so launched and has flown back to Austria. Conditions rapidly developed to the west and many set off on task as soon as their start gate was opened.  On the airfield we have had a little bit of rain and some rumbling. Could be an interesting day."
AND it turned out to be a very interesting day GOOD for some, BAD for others. Thunderstorms and showers ,cirrus and the last 50/60 km. DEAD AIR bothered the pilots!!!!!
Let's have a look who could cope with this weather, who was lucky or unlucky. All part of our sport!!!
open; 3 hour AAT… gate open at 14.22… South Africa and France did well in this class flying with a speed of 131 km. /h.  Uys [ Jonker] and Philippe [de Péchy]   both shared the win and got 1000 points. AP [Kotze] and Sylvain [Gerbaud] were number 3 and 4 !!! 8 JS 1C's in the daily top. Uys and Attie will be pleased.
4 Used the engine one of them Pierre and Arnaud in the EB 29 DR. Such a pity!!! Not a lot of changes in the overall top, though Sylvain moved from 9 to 7.
18 m.; 3 hour AAT…gate open at 13.38…MOMENT OF TRUTH IN THIS CLASS.
After the international event, now an international finish as 13 different nationalities flew their selves in the top 13 today; Vladimir from Slovakia was the best with 391 km. in time 2.58; speed 130 km./h.
Then Adomas from Lithuania, Peter from Holland, Lucasz from Poland, Jurg from Switzerland, Bert j. from Belgium, Mario from Germany and Tomas from the Czech Rep. Russell from the UK, Wolfgang from Austria, Takeshi from Japan, Peter from Hungary and from Italy Giancarlo.
Only 26 from 43 finished the rest landed mostly virtual, using engines to come home. Among them the overall number 1 till now, Christophe who dropped from 1 to 8 and that hurts!!!!!
Also Adam and Butch were "out" , Oscar ,Laurens and Mike , as well as Jeroen AND Katrin [ dropping from 2 to 6] and Matthias. OH OH!!!
Overall top 3 now;Mario, Wolfgang and Jean Denis with Peter on a very good 4th place!
20 m.; 3 hour AAT…gate open at 13.55…380 km. in 3 hours was the best and flown by Allan and Matthew getting better and better by the day; 126 km./h.
Sebastian an his mate were runner up and Antti and Juha were 4th.
12 From 17 finished so for some a "bad" day as well. Specially for team Belgium dropping from 5 to 11.
Matthew say's it all in his blog;
"Great day for 20m class today. CAPE was off the charts and although we originally expected the storms to be mild, by launch time it was clear they would be early and often.
We started as the gate opened and most of the fleet followed in hot pursuit.
Out the gate we flew over 100km at 100kts jumping from storm to storm at cloudbase. Sebastian Kawa started just behind (LEECH! 
😁
😂) but somehow managed to catch and outrun us about 80k in. We were planning to keep going along the line of storms, but we saw a number of gliders going away from the storm line, and not wanting to be alone for a tricky jump ahead we went with them. We'd thought everyone would follow us anyway so it wouldn't matter if it didn't work as fast as the storms. Unfortunately the gaggle behind just plowed along the storm line and overtook by an unassailable margin. Surprised to discover Kawa was one of the gliders who'd gone off track we eventually hobbled around with him for the next few turnpoints hopping from scattered storm-cu to storm-cu and avoiding heavy showers. Now heading back to Hosin, it looked unsoarable in the last sector, and the only way to make any more distance was to head a long way off track into a very murky rainy storm line. All the gliders that had passed us were forced down this path because on an AAT task, if you're fast you have to fly further. We, being slow had the luxury of being able to turn for home at this point and shot a 42:1 required glide from the last cloud back to Hosin effortlessly. The Arcus just goes and goes and goes. The gliders who'd got well ahead of us plowed into the dark storms in the distance, got low and got home much later, giving us a day win for free. Kawa opted to deviate 90 degrees for a very long way for one more climb, perhaps safer than our 42:1 glide but I guess speed doesn't matter much when you're leading by 300 points.
No movement in the placings, but slowly working our way to the top."
Matthew Scutter's Gliding
A day with changes in the overall scores, with 3 day's to go,  as on the 11th in the evening, flying is over and party time is on, with on the next day the 12th the prize giving and closing ceremony.
THURSDAY AUGUST 9, day 12, task 11 and then 2 day's to go!!!!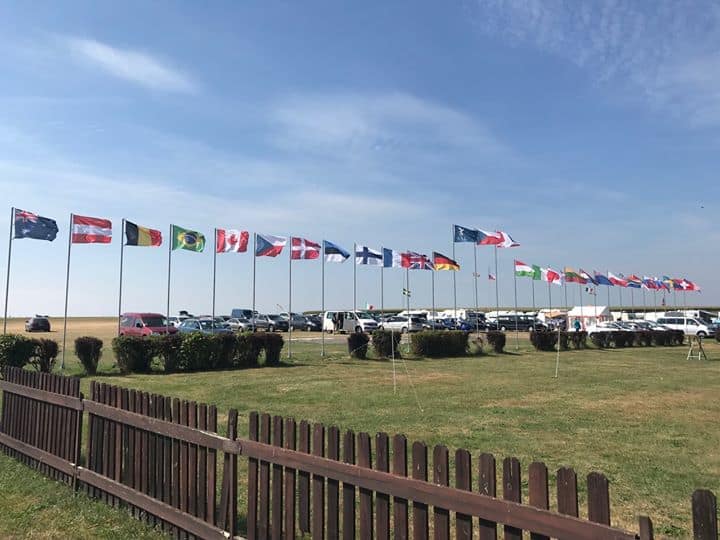 The "world" in HOSIN.
as shared by Team USA.
Some news first; "Yesterday's  incredibly fast development of thunderstorms caused a complete shuffle of the rankings. Unfortunately in Open and 20m class pilots had to start their engines not far from the airfield. 18m class had mixed results after a challenging flight with huge deviations from the track." as mentioned by team Belgium.
And S. A; wrote ;
"This morning is pleasantly cooler and there was some rain last evening. The forecast is expected to be similar to yesterday with probably overdevelopment and showers – yesterday they had showers in every sector and had to navigate around it deviating far off track at times."
It seems that today is the last hot day in Hosin with 33 dgr. C.
We had our change here in Holland yesterday and are back to 22/25 dgr. C., after a short [ 15 minutes] but vicious [thunder-]storm.
Very unusual, for Holland,  but we had 2 heat waves this summer!!!
The Belgian team shared this news;
"Although the sky still is quite blue, first cumulus clouds are appearing and all pilots are in the air already. Still hot hot hot today, and optimistic speed tasks of around 400km for all classes were given. Let's cross fingers now!"
First start not at 11.30 but at 12.15. A -tasks are on. More wind  and even "wave" up to FL 93!!!! Another interesting day, as those who miss out on the wave,will have a totally different day!!!
By the way the FAI flag is back! Hurrah!
On one of the video's I saw a young man behind the table. It is Matej Rendla son of CD Tomas; I noticed Matej when he was a little boy and his dad flew open class, just a flying family like we were, also our kid's always were part of it!!
Matej, organizes/runs the briefings every morning and helps out when and where necessary and what I heard/read he is doing a great job. ONLY 17 YEARS OLD!!!! One for the future- top- comps!!!!What a gem !!!! Such charisma!!!
Motto from the meteo man because of the heat and the drought ; " Save water-drink beer" (but after the flight)"
During the day ,Art Grant and his wife Judy arrived from Canada in Hosin. Well known by many and a nice get-together again!!!
Next week I will catch up with them in Amsterdam.
Official news;  "THE LATEST START GATE HAS BEEN OPENED AT 14:03 FOR OPEN CLASS. ALL CLASSES ARE FLYING IN NICE WEATHER. WE HAVE 2/8 CU OVER THE AIRFIELD WITH CLOUD BASE MORE THAN 2000M ABOVE GROUND AND WITH CU CLOUDS IN AREA OF TASKS AS WELL. TEMPERATURE ON GROUND REACHED 35 DEGREES."
Open; 424 km.
FINALLY the hard work put in by Andy and Pete during the UK Nationals delivered POINTS!!!! They practiced hard on flying together to be good at this WGC and today they "got" the 1000 and 996 points!!! Good on them!!! Uys found HIS way to do things correct and was 3d;  956 points.
2 Pilots just saw the" finish" but could not finish. The rest , 27 pilots, did well flying with a speed of 104 km for number 27 to 137.69 km./h. for Andy.
With 2 day's to go Michael's place looks pretty secure with 9.862 points. Felipe has 9.778 and Petr 9.479. Ricardo 9.302.
But it is only over at Saturday evening!!! I have seen weird things on the last day's.
18 m.; 415 km.
More excitement in the overall top in this class.
Today was THE day for Gyorgy Gulyas from Hungary, who I follow already for a long time. HE WON ; 135.27 km./h.!!!!Good on him!
Just a tad slower was Mike Young , who I also follow since 1987, when we met in Benalla in 1987, when he was still a young lad;134.97 km./h.  Christophe is "back" after the difficult day and finished as 3d. Wolfgang was 4th.
BUT,…..several of the toppers as Mario, Katrin, Matthias, Adam and more had a less good day . Arne even "out-landed"/pulled the engine.
Another day with changes in the overall top.
WOLFGANG is number 1 now!![9.420] he swapped places with  Mario who is on spot 2 [9.389] and Jean Denis stayed on number 3 with 9.196 points . "Our" Peter still on 4!!![9.147]
All pretty close, reason for excitement for the last 2 day's.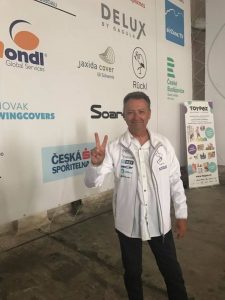 Gyorgy in his new sponsored jacket as daily winner.
Shared by Gagula Darko
20 m. ;387 km.
121 km./h for the Swiss ARCUS M.[Cronjaeger & Sidler] and 1000 points for them. Not a real good day for Antti and Juha, being 11th for the day.
Pretty clear for the next 2 day's is that it will be difficult to keep Sebastian away from another title; 9.784 points.
Team UK, Steve and Garry,  is still going strong on spot 2 [9.543.] More exciting will be if Antti  and Juha can keep their spot 3 with 9.393 points , as Allan and Matthew are closing in with a total of 9.361 points.
I know them all, so may the best 'win' .
Worth mentioning from the morning briefing;
Terry , the IGC delegate for Australia and I believe vice president as well, now TC from team Australia, spoke about the WWGC in Lake Keepit!!
Carol wrote it down for us!!!
"Terry Cubley of GFA (Gliding Federation of Australia) gave a brief presentation of the next Womens World Championships to be held at Lake Keepit in January 2020. At this stage they are uncertain whether there would sufficient support for all 3 classes, Club, Standard & 18m., and there will be a brief survey carried out and a decision would be made by October 2018. Lake Keepit is a full-time operation so one could go visit anytime and there would be gliders to hire in Australia for those wishing to participate in the WWGC. There is local self-catering accommodation, as well as other accommodation approx. 25 minutes away in the towns. "
www.keepitsoaring.com
Have been there several times. Great soaringspot on a lake. Most finishes come in over the lake. Great accommodation close by as well, so if you go please contact them asap, if you like to have a nice little house at the field.
A short wrap up from the circumstances ON THURSDAY by Carol;"The conditions today by all accounts were difficult in that you could not definitely know where and whether the thermals would work, and it appeared to be tricky, and then died again on the final leg, so some have had to use their engines to get back."
And from team Belgium;"Although there were good thermals today, they were not necessarily correlated to the clouds. So not an easy day. "
To finish the day this lovely fly-by from the tuggies!!!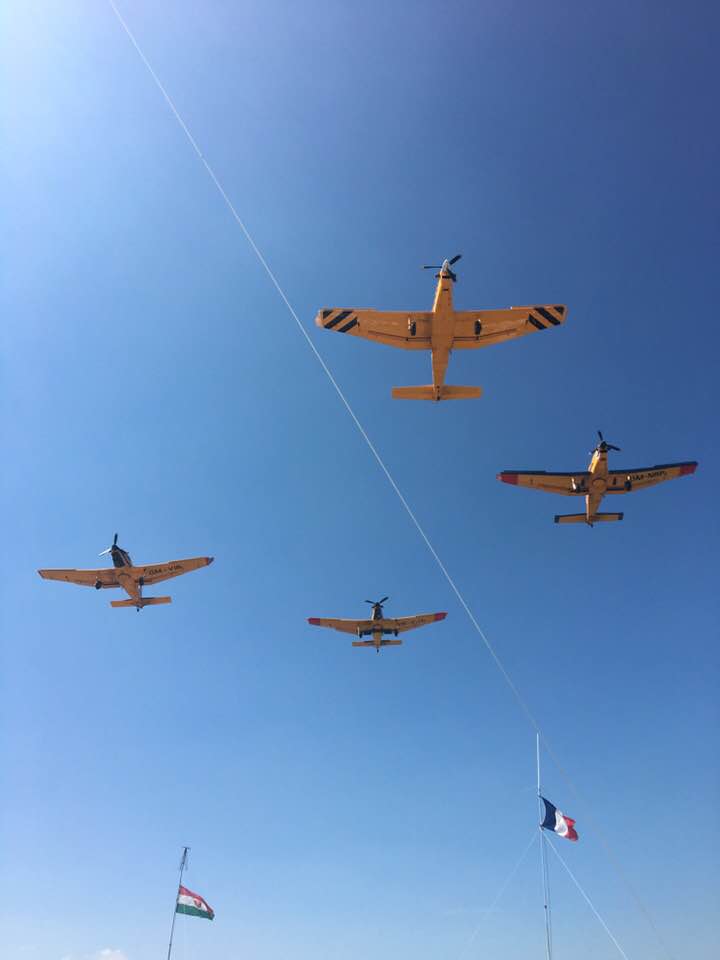 "A great fly by by the tugs!"As shared by Graham TC from Team UK.
FRIDAY; AUGUST 10; day 13, task 12 , one but last day!!! BUT.…NO task 12 , day cancelled.
Some tweets from team UK this morning;
" Good morning from an overcast and much cooler Hosin. Temperatures are considerably cooler this morning with 8/8ths cloud cover. After the heat and humidity of the last 3 weeks, it is quite a welcome change."
And
"No grid before briefing and so probably a no-fly day!"
And official tweet
"Good morning. Briefing at 10.00. No gridding before Briefing."
After briefing the French were the FIRST to share this message;"La journée d'aujourd'hui est annulée, pas d'épreuve."
So the day is cancelled , no tasks today!!
AND the WEBCAM this morning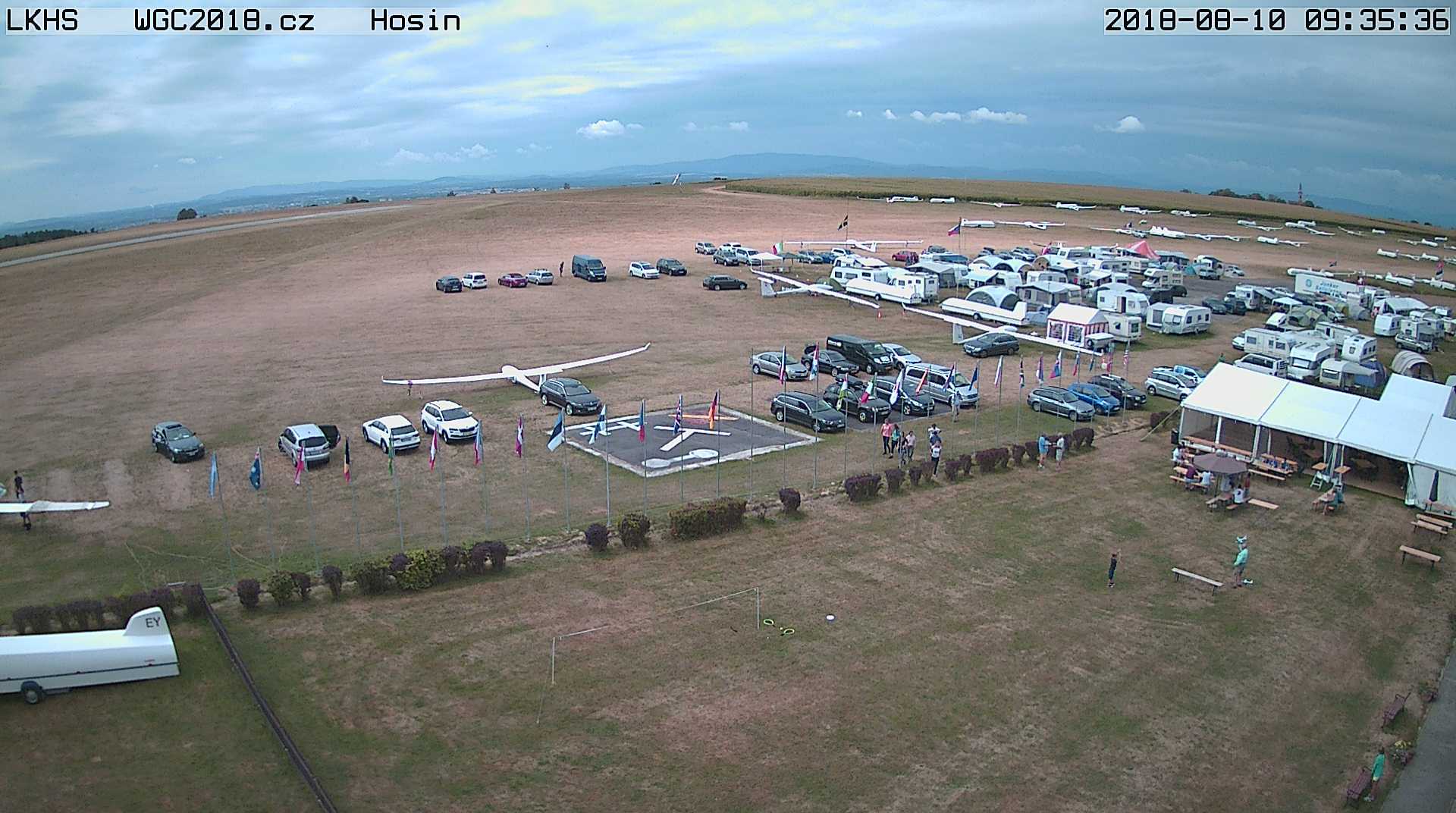 News about the WGC in France shared by Carol ;" Jean-Nicolas Barelieu of the French Federation gave a short presentation of the 2020 FAI World Championships for the Club, Standard & 15m. classes to be held at Chalons-en-Champagne, from 8th – 22nd August 2020. The venue is approx. 2 hrs drive to the east of Paris. He stated that for those interested there would be an International Champagne Cup event for Standard & 15m. classes (handicapped), which would be held to coincide with the French Club Class nationals from 4th – 10th August 2019."
By the way,…the flag is stolen AGAIN!!!!!!
SATURDAY; AUGUST 11, day 14, task 12 !! LAST DAY !!!!
The metman said the day before " it should be flyable".
To finish; 3 HOUR AAT's for ALL CLASSES!!
With the official tweet from the organizers the last day started after a day off ,due to a cold front passing by;
"Good morning and welcome to the last day of racing. We expect AATs today."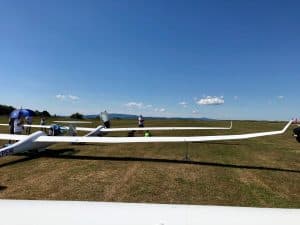 Early clouds to the West as shared by Team USA.
Unless the great looking clouds the first launches were postponed 12.45. It remains exciting, even at home,…such a last day. Will their be" coups" from those who only believe in spot 1 and not 3 or 4?
In a few hours we know!!!
First of all they had to use a reduced A task, due to a late start! Now 2.30 AAT's for all classes.
A pity,…. look at the skies as seen by Arnaud at their last take off from Hosin Airport, in the back of the EB 29.
A clean sky with great cu's.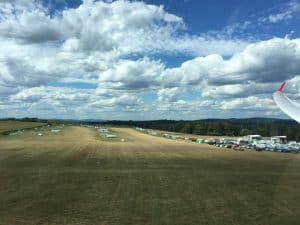 open;
gate open at 14.40. FAST AND FURIOUS race by Philippe de Pechy; 142 km./h over 363 km!!! Michael was 5th, Felipe 7th.
NO SURPRISE, but Michael is AGAIN the new WORLD CHAMPION in OPEN CLASS . Congratulations Michael!!!!
Felipe is VICE WORLD CHAMPION. So a great result for Germany!!!!
Petr remains on his good bronze position. All 3 flew EB 29 DR or R.
2 Other pilots are over 10.000 points-mark Ricardo [ 10.075] and Pete.[10.006]  Well done!!!
1. Michael Sommer; 10.662 points.
2. Felipe Levin ; 10.571 points.
3. Petr Tichy; 10.301 points.
18 m.;
gate open at 14.06. The gliders WO and I from Wolfgang and Mario , number 1 and 2 overall, played a cat and mouse game at 14.55, as I read. Mario left, Wolfgang followed one minute later, BUT,…Mario returned!!!The difference between them is ONLY 31 POINTS!!!!! When they both go wrong, one way or an other, Jean Denis and or Peter will be ready to take their places.
Wolfgang left at 3 PM and finished after 2.32 flying 363 km!!! SPEED ; 142,91 km./h. He was really on a mission!!!! Was already WGC champion wanted to be it again!!!!
It was waiting for Mario……At 6.22 PM, no sign from a score from Mario!!!Does he think/know he has won and drinks bubbles already?????
TC Wolly had called before flight with Bernd Fischer from Top Meteo,for the best weather options.
I feel the pain from Mario, he was "only" on a daily spot 13 !!!
Peter on 17 They tried but in vain!!
What doe this mean???
Wolfgang is the new WORLD CHAMPION again!!!
Mario held on ,on his 2d place so VERY GOOD VICE WORLD CHAMPION. He  restarted 5 minutes after Wolfgang but as I read he had to fly alone.
Jean Denis stayed on 3 so bronze for him and Peter stayed on 4!!!
2 VENTUS 3T in the top and 2 pilots with over 10.000 points.
A great 8th spot for Katrin.
1. Wolfgang Janowitch ;10.236 p.
2. Mario Kiessling ; 10.097 p.
3. Jean- Denis Barrois ; 9.915 p.
20 m.;
gate open at 14.19. With a 4th place for team Kawa they  knew they were the new WORLD CHAMPIONS in 20 m. class. Also the UK -chaps finishing as 5th, were pretty sure from their VICE-WORLD- CHAMPION title.
It was all about Allan and Matthew and Juha and Antti. The Aussies were a bit faster 134.71 km./h but that was not enough for the bronze. The difference was 21 points after 12 day's of fabulous flying!!!
So
1. Team Kawa with10.600 p.
2. Team UK with 10.335 p.
3. Team Finland with 10.211 p.
Worth mentioning 3 other teams over the 10.000 mark; 10.211 p. for Allan and Matthew,….German team Ladenburger & Krohmer 10.123 p they won the last day with 137.82 km./h…..French couple Aboulin & Untersee with 10.058.
Official news:
"SO THE LAST COMPETITION DAY IS OVER. SPEEDS AGAIN REACHED 140 KPH AND SOON WE WILL KNOW NEW WORLD CHAMPIONS. STAY TUNED…
FAREWELL PARTY STARTS AT 19:30, CLOSING CEREMONY IS TOMORROW AT 10 AM AND WILL BE STREAMED ONLINE VIA FACEBOOK."
Some pilots finished with the words spoken on their radio…. "Thanks for the last three weeks"
And from several pilots involved in MANY WGC'S I heard  "Hosin" the best ever."
SO,….the 2018 FAI WGC in Hosin is over again.Such great fun. It seems they had a FABULOUS  atmosphere and that specially the young organizers from Hosin , got a lot of credit for what they did. Very relaxed is what I heard most about Hosin.
The weather was absolute REMARKABLE and used in the correct way.
Thanks to ALL. I loved it even from HOME!!!! Great movies from every day's flying, from the briefing , live tracking…etc. We all felt part of it and the enthusiasm shared in tweets and FB messages showed the pleasure the pilots/crews/organizers had!!!
All go home now with unforgettable memories!!!! I still have them from comps over 35 years ago!!!!
Not to forget the TEAM CUP goes to GERMANY!!!!
1. Germany……………..919,13 points
2. France …………………916,30
3. Czech Rep.. …………904.57
4. The UK …………………902.
5. The Netherlands….881,98
————-
—–CIM…..Rieti had a storm as well on Wednesday so no flying. Also not on Thursday, more rain and wind.
A real down burst at the airport. After the all the high temperatures in Europe we have severe storms!!!!
Here is Clara; " At around 4pm, a thunderstom hit the airfield, dumping heavy rain. Wind speed was recorded at 37 knots steady, gusting 48 knots.
The wind was strong enough to move Bouderlique's Arcus M (GT2) for over 40m. It came to a rest against nearby trailers, damaging the right aileron and the rudder."
A tough day in Rieti.
On Friday , after 2- non- flying- day's, it was Rieti at it's best again with tasks from 456 km. in 18 m/open and 320 for  15 m. class.
Luca Urbani won in 15 m [96 km./h.] and OH OH, Giorgio out landed after 306 km. A pity. He lost 460 points.
Jon Gatfield from the UK won the day with a speed of 102 km./h in the ASG 29ES. Jon leads the overall scores now with 4.905 points followed by Giorgio with 4.866.
Clara finished the day with :" It was a tricky day with strong and weak thermals. Some pilots were happy, they said: "A fun flight! Good task to the north!", three gliders are outlanding."
Saturday , LAST DAY IN RIETI, was according to CD Aldo a "typical " Rieti-day, which means GOOD!!!!
Clara added ;"Today's weather forecasts announce the presence of a line of convergence from Roccaraso to the north of Foligno on the Adriatic side of the Apennines: the three tasks, in fact, will go to exploit this area. We think it will be a fantastic flight to finish in the best way this Cim."
Aldo at briefing and last launches for the 2018 CIM.
As shared by Clara.
What happened on the last Day ???
18 m. After one off-day , Giorgio was himself again and won the the 422 km. set task with a speed of 127.15 km./h. His 6th daily win this week.
Jon Gatfield who won the day before and was 1 overall, was 12th now, and  lost 140 points.
Winner of the CIM 2018 in 18 m. is GIORGIO with 5.936 points. Jon was runner up, Werner Amann 3d..
IOpen class ; Alexander Mueller won in the EB 29 with 5.920 points.
15 m. class ; the top 3 here was between Luca Urbani, Remy Hirt and Aku Jaakkola . Today Remy from Switzerland won and added more points to his overall total;5.622 points.
 20 m. class; The French ARCUS T Denis Guerin / A Donnay was clearly the best ;6.053 more than 600 points ahead of the runners up Team Gerster from Switzerland.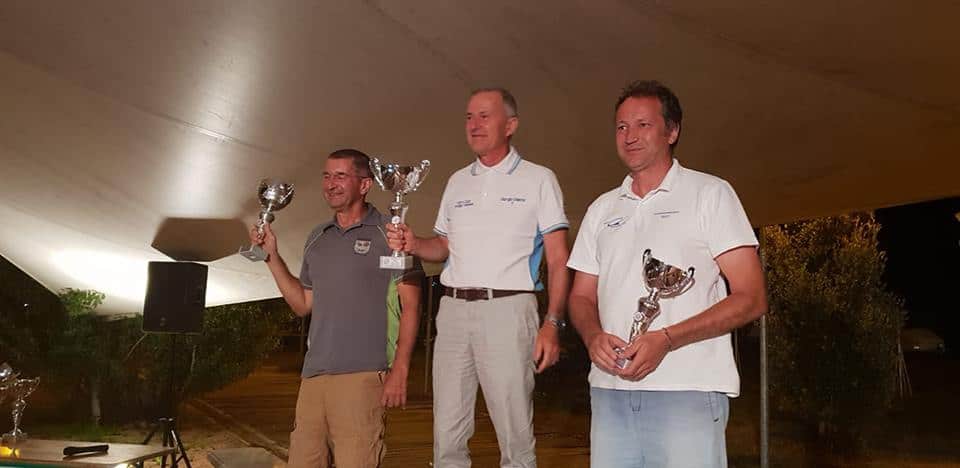 The 18 m. class winners. Giorgio, Jon and Werner.
As shared by Marina.
—–Bailleau had on Wednesday a 4.15 AAT for the "Long-flight-pilots" . Dutch pilot Sjoerd van Empelen, the current junior world champion, and  student at the Delft University [Aerospace Engineering] flew a Nimbus 4 M. and he did very well as runner up with 476 km in time 4.13 !!!!
No flying on Thursday. RAIN !!!!!!
With one day to go "our" Junior Sjoerd is 1 overall with 6.516 points followed by Dutch Jeroen Oostendorp;6.408 points in ASW 22 BLE.
In the speed class with one day to go Belgian Pieter Daems is the best. I know him from Keiheuvel nice young man. He always, was with his dad Jeff at the field when dad flew comps and Pieter  still was a young kid.
Unfortunately, he lost quite some points [ around 300!] on Wednesday being 21st.
But still leads with 6.069 points. His Belgian mates in the Duo Discus are runner up and coming closer!;5.992.
Friday August 10, last day in Bailleau and it goes out with a big BANG!!! After the rain the weather turned extra good and 502 km. was set for the "long flight" pilots.
The speed pilots went for 334 km.
A tough day as some pilots flew 6 hours 17 over the 502 km.!!!But 17 from 26 finished!!
Sjoerd van Empelen, was runner up for the day,so our JUNIOR won GOLD on this pleasant but serious competition, with 28 pilots in this class; [7.476 points]
The other class showed some long flights in time too. 334 km. in nearly 5 hours.
Here young Pieter Daems won the GOLD.[ 6.979 points].24 from 36 finished.
One of the out-landers was Belgian pilot Tom van den Eynden . He was going so well but could not make it home.
He shared a great picture from his out landing!!!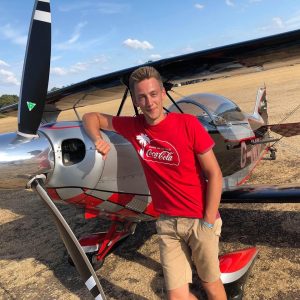 Pieter HAPPY, after an acro demo.
FB picture.
As shared by Tom.
So  8 out of 11 day's GOOD!!!! !!!! A great INTERNATIONAL BAILLEAU 2018-comp is over again.
there was an "amical "class as well with newcomers to competition soaring; 6 pilots in this class,3 from France , 3 from Holland and 1 from Italy.
The first 2 prizes were for the Dutch the 3d for France.
——-UK Club class Nationals at Dunstable; A small 162 km. task on Thursday, as also in the UK the sun has left and rain has started.Finally the heat has been broken in parts of Europe. Bad is the result after the heat; SEVERE STORMS!!!!!
Task 2,3 and 5 were a prey for Ge Dale in his "little" Libelle. He leads overall with 4.722 points.
Just behind him 2 Junior pilots from the UK squad doing a great job; Jake Brattle in DG101G ELAN and Tom Arscott in the St Cirrus.[4.602 and 4.551 points]
After 5 day's and 5 tasks , Thursday was a day off for all because of the weather….so scrubbed!!!!
Friday was cancelled as well.
For the LAST DAY In DUNSTABLE, a 209 km task was set. AND,… Liz Sparrow won just ahead [69.12 km./h]of Ge [68.58 km./h] Slow but great finishers.
I presume this was their last day if not I come back on it on Wednesday.
For now;1. Ge has 5.557 points. 2. Jake 5.335 and 3. Tom 5.277.
——-Dutch Junior Nationals; No flying on August 8 and 9 due to the change from heat wave to normal Dutch weather, via not-normal-heavy-thunders storms.
228 km. was set for Friday August 10. Very tricky weather with wind and local showers, but 4 from 20 managed to cope and finished!!!
Steffen Landman flying an LS 6 /18 m. flew around with a speed of 100 km./h. The runner up , Filip Verver, [LS 8] had 63 km./h. but still leads the overall scores.[3.322]
Steffen moved from 5 to 3.[2.987]
Saturday August 11 also the last day for the Juniors. A 3 hour AAT was set.
I can see from here, about 100 km. N of them,  great cu's [5/8 at 12 PM] but also feel a tough wind.
The "young ones" did well. At the news I just saw pictures from cloud streets ,so it could be expected.
Niels Van Nieuwland in an LS 4 flew 273 km. in time 2.56 and that turned out to be the best ; 1000 points!!!.
Niels was mostly on spot 2  but he nearly won; 4. 352 for him.
Felip ,who lost 25 points had a total of 4.360 points.
He is the DUTCH NATIONAL JUNIOR CHAMPION.DIFFERENCE 8 POINTS.
Luckily they are young and have strong nerves!!!
Steffen won the bronze;3.934.
6 Young pilots from my "old" club the  "ZES " were participating,  2 in a Janus 18.2 m., 2 in a Twin III and 1 in a Mosquito and 1 in an LS 4. Great to see the ZES is going strong!!!
Interesting; Uys Jonker donated a daily prize to one of the juniors; The lucky one was Wout Sliedrecht , flying an LS 4, member of a real soaring family at Malden.
Busy weeks so from Wednesday on "NORMAL " blogs again. More about the 15 m [13 pilots] and open class [14] Nationals in Uvalde Texas, next week. DB flies his CONCORDIA there as well.
When I have/find pictures of the prize giving I will share them on Wednesday.
Cheers Ritz