Wednesday;August 1, day 4, task 4.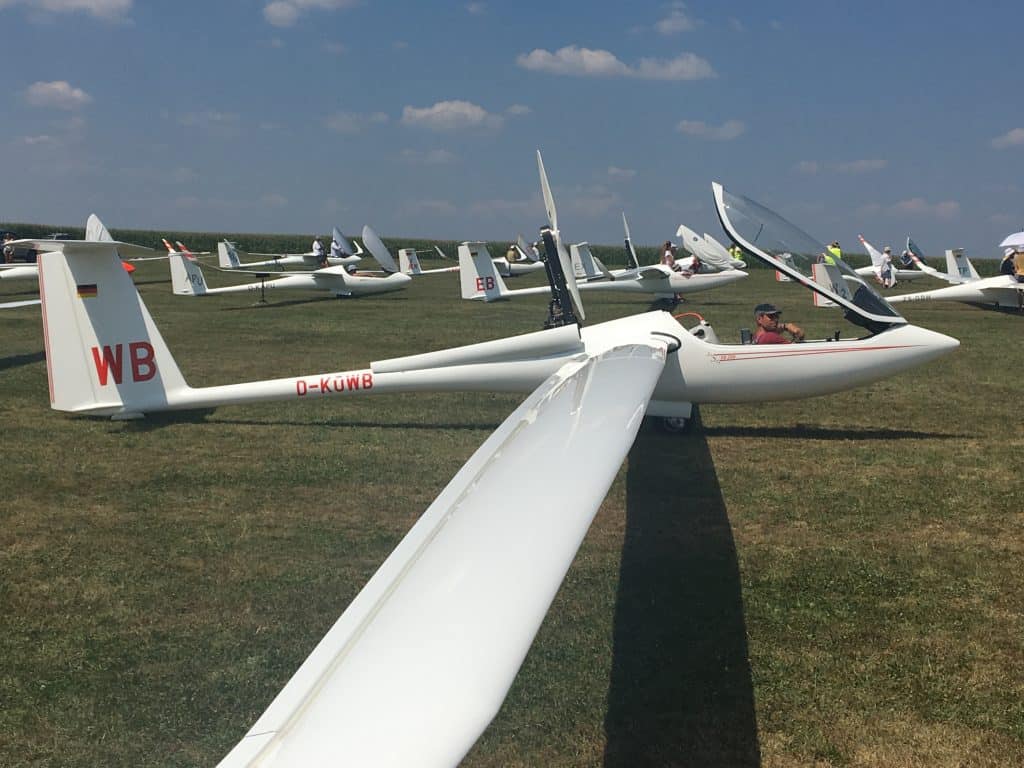 Felipe in WB and Michael in EB,  2 German top pilots, ready to go for day 4.
As shared by team Germany.
I gave you already some morning news in my last blog, on Wednesday, so we continue with what happened that day.
AND,…you can still follow the briefings LIVE; https://www.facebook.com/wgc2018cz/videos/2215404022012771/
What happened on this "bloody" hot day, not only there in Hosin, [32 dgr.C] but also here in the SE of Holland with 33 dgr.C.
First some news from team S A as they are there. This news is written by Carol and she is a lovely and very competent lady in the "men's world. Met her already years ago when there were only 3 female TC's. She allowed me to use her news.
"So launching was again delayed from 11.30 to 11.45, then to midday, and then finally first launching was at 12.15. There are clouds developing all around, and there is also stronger wind than was predicted. The radial-engined Smelaks are not as strong as the others and launching from runway 06 was somewhat disturbing to watch the combination headling quite low over forested area after take-off.
The start gate has opened already for the 18m. class at 13.26, for the 20m. class it will open at 13.40 and for the Open class it will open at 14.06. "
Weatherman Jan predicted 2 day's ago, when he mentioned that every day would be flyable, for Thursday a small front passing by, what if it would come earlier???Maybe late[r]  on Wednesday??
Anyhow they all started with the A task…. Found big blue holes, found lift in it as well and later another air mass a bit hazy and later at places rain.
open; 470 km; gate opened at 14.06…. some started straight away , a lot  around 14.14 ,so did Michael and Felipe. They are just "magic" !!! With 1000 and 999 points for a speed of 139.43 and/31, they added even more points to their overall scores. Unbelievable!!!
Felt sorry for Aussie mate Scot, he was so close in the Quintus but it stopped for him after 403 km.
Great job from Ricardo [Brigliadori] from Italy on spot 3 in the JS 1C.138,46 km./h and …several more ….19….flew over 130 km./h!!!!
18 m. ;485 km. gate opened at 13.26. A great day for my Aussie mates Butch [135.16 km./h] and Woolley [134.08 km./h] ! John won the 1000 points in the JS 3 and Adam 988 in the Ventus 3. They have been able to compare the gliders now!!! For sure we once will hear about it.
2 Guy's who's flying I estimate high , are Matthias Sturm and Mike Young. They were out after 440 km.
Great job from Katrin Senne, being on spot 7 for the day.
She mentioned :"What a day! Great thermals, rain showers, spread outs, big blue holes end at the end the final glide thermal with 7,0 m/s integrated. Cool!"
Russell Cheetham , the current WGC champion, JUST made it home after 4 hours and 36 minutes.  The last to come "home" on spot 32. He started rather late as did Mike , both at 13.58.
The winner  by the way, Butch, did "it" in 3.35!!
And a HAPPY Adam;
" Check out the final climb, from near the ground to the moon! I was eager to start early today after advice pre-launch from Mac, also from what I learnt earlier & I wanted to trust myself. Glad we did, as unforcast showers cut off the late starters & we got lucky. Thanks to Wolfgang [ Janowitsch ]who drove the show when it got tricky at the last, then Mario [Kiessling]who charged on at the right moment. The last climb was magic, 10.5kts bottom to top to come home fast – sometimes you just get lucky!!"
Wolfgang was 4th and Mario 5th. In between on 3 former hang glider pilot Tomas Suchanek.
20 m. ;442 km. gate opened at 13.40. With a speed 3 km. faster than all the rest, Sebastian and his mate flew with 127.12 km./h " home". The UK ARCUS T [124.89 km./h]  team did well just finishing before the Finish ARCUS M team. [123.50 km./h.]
Also Heinz and Karin from the USA on spot 5 did a great job.
Matthew and Allan were happy to be home.
As Matthew mentioned ;"Couldn't string a glide and a climb together to save our lives today, but when it turned to worms and unexpectedly stormed up we made some good calls and survived unscathed. Moved up another place."
He just made it home on as he mentioned "a tricky day".!!
The official evening news ; "UNLIKE THE LAST FEW DAYS WE CHANGED DIRECTION OF TASKS TODAY. ALL CLASSES FLEW TO NORTH EAST WITH THE FAREST POINT IN CZECH/ POLISH BORDER. MOREOVER IT WAS AN EDUCATIONAL FLIGHT OF CZECH GEOGRAPHY, UNTIL TODAY WE FLEW ON EAST SOUTH AND WEST FROM US MAINLY, BUT NORTH EAST DIRECTION STOOD UNDISCOVERED. AS THE FORECAST FOR THIS DIRECTION WAS REALLY GOOD TODAY WITH NO PROBABILITY OF SHOWERS WE DECIDED TO SHOW TO OUR FOREIGN FRIENDS ANOTHER PART OF OUR COUNTRY.ON OUTBOUND LEGS WAS A GOOD WEATHER BUT UNEXPECTED TROUGH WITH STORMS APPEARED AROUND MIDDLE OF INBOUND LEG, SO PILOTS HAD TO GET THROUGH. AND THAT WAS THE CRUCIAL PART OF THE TASK. THE PILOTS WHO WERE ABLE TO CATCH A REASONABLE LIFT BEHIND CAME HOME WITH SPEEDS ALMOST 140 KPH AGAIN."
"This happened as well;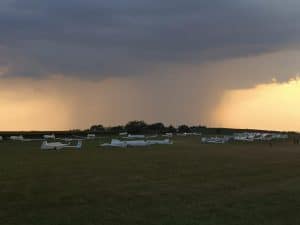 As shared by Matthew .
Matthew Scutter's Gliding
And the S A news ;
Here you are day 4 in a nut-shell:
"Around 6 p.m. the gliders were coming in in their droves with often as many as 8 – 10 on finals for both the concrete runway as well as the grass runway. Oscar says there was all sorts of weather at the eastern part of the task around the 3rd & 4th turnpoints with rain, blue holes, and all sorts (I will not repeat the exact wording!!). It would appear that setting off on task shortly after the gate opening was definitely the right decision even if everyone else then followed. For some it appears that they had to start their engines."
Oscar was 6th and Laurens 8th. And as said Katrin 7th.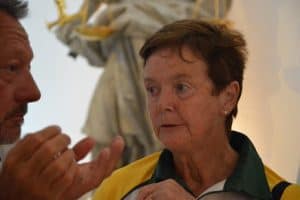 This is Carol the TC from S A. talking to Eric the TC of France.
Just to show you who writes the daily news I can share.
As shared by the organizers.
And then it is EVENING.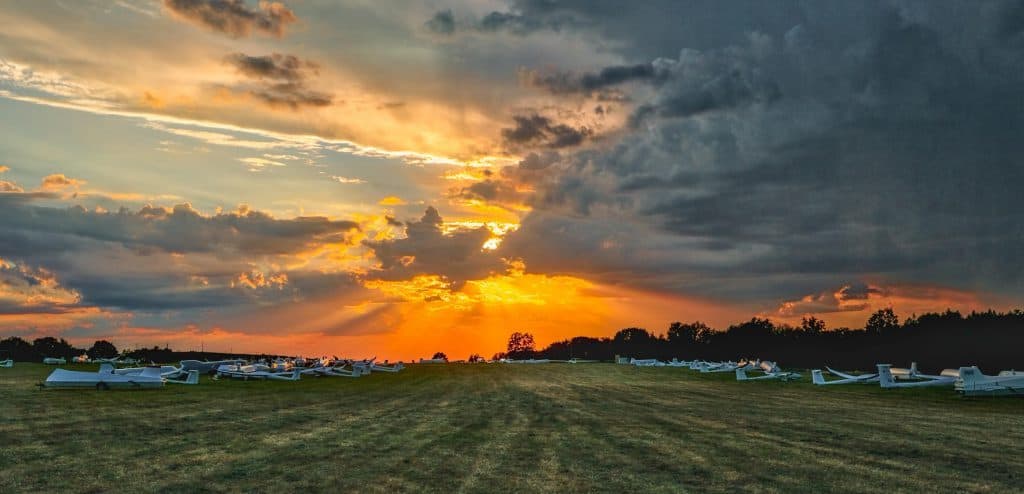 THE GALLERY OF TRIIN JAGOMÄGI FROM ESTONIAN TEAM shows a fabulous series of pictures.
As shared by the organizers.
Thursday; August 2 ,day 5, task 5.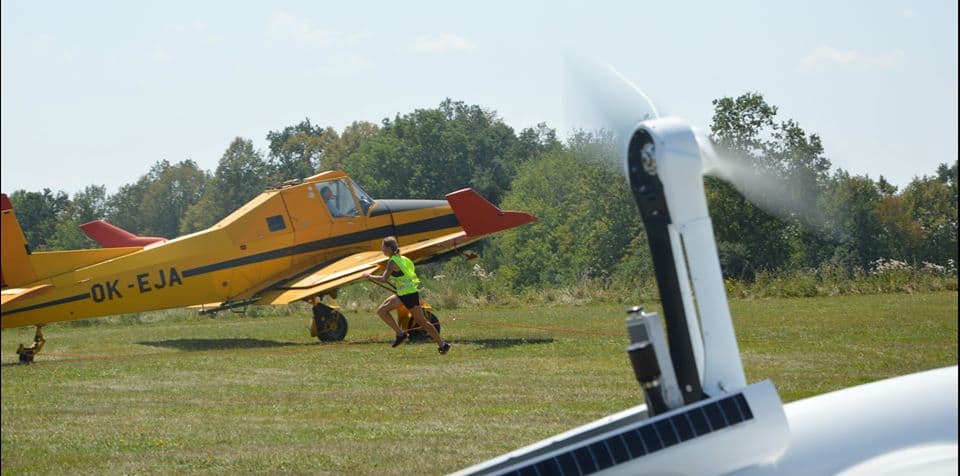 Two methods of getting airborne
Great picture shared by the organizers.
Mind you they had some long and 5 very good practice days, before as well. On the day they did not fly they had the opening!!
But this is a WGC  so life goes on with  AAT's for day 5  and task 5 , shows 3 x a 3 hour AAT.
Mind you not all top competition pilots are top AAT pilots.
Some more news first; Here is Carol after briefing;
'Another blue sky morning with little to no wind. Gridding has again been on 06 runway, and the tasks are 3 hr. AATs for all classes (Open class 289.6km/585.4 km; 18m. class 262.3 km/551.5 km; & 20m. class 249.6 km/506.0 km), so perhaps the task setter is not too sure exactly what the weather is going to do and making it the pilots'decision as to where they fly!! They are expecting the front in the east to dissipate, as well as the front off to the west. There could be showers and storms to the west of the country. The wind is still weak NE'ly, and by 6 p.m. there will probably be no lift, but it could be good earlier up to 2200m. and higher, with more instability & climbing cumulus. "
open ; 3 hour AAT…gate opened at 13.17 ….New name as daily winner,…from Hungary,….Richard Bartolf flying a JS 1C. [431 km. in time 3.04 so 140.20 km./h] And,…the 2 Czech Petr's missed out on ONE point; both 999. [140.16 and 140.12 km./h]
Then ,…9 points less for Michael [470 km. in time 3.22.] and 28 for Felipe.
Another great day in Hosin-Paradise!!!
The Dutch and UK boy's started early at 13.19 , the winners around 13.24/25.
One outlanding after 361 km.
18 m. ; 3 hour AAT…gate opened at 12.37; A UK -day and again even faster than open class. Russell [JS 3]and Mike [VENTUS 3] were in a hurry , started 3 minutes after the gate opened …learning from the day before,….and flew 451 km. in time 3.11/12 so a speed of 141.85 km./h and 140.87 km./h.
Mario did well in his VENTUS 3 and after 5 day's he tops the overall list!!! Arne was 4th and KATRIN 5th and,..she is 3d overall now!!!Top job!!!
But a week to go and scores are VERY CLOSE!!!!
20 m. ; 3 hour AAT….gate opened at 12.51; Hurray for the UK !!!! Again a daily winner this time team Jones /Coppin. Nearly all started after 13.00, so did they 13.15. They flew 404 km in time 3.05 so a speed of 130.57 km./h. A tad faster than the Lithuanian team missing out on ONE point.
A good idea , those AAT's, with storms here, there and everywhere.
Nice to see the live video from TEAM UK during the finishes certainly with their dry comments.
I expected maybe a rest day,  but they announced the plans already for
FRIDAY; August  3, day 6, task 6.
Serious looking faces from team France at the morning briefing.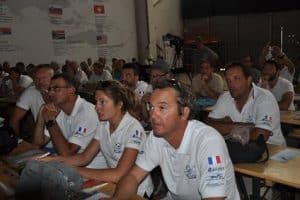 French team listening at the briefing.
As shared by  Pôle France Planeur
Some S. A. News this morning;
"Some rain last evening has damped the airfield and temperatures for the moment are a little cooler which is a pleasant change.
We have racing tasks today for all classes with a first launch expected at 11 a.m. and again off runway 06. Open class has 516.7 km. , 18m. class 541.1 km. and 20m. class 455.2 km.
This evening is going to be the Czech party in the hangar and the team captains were asked to attend a short meeting last evening to establish if Saturday or Sunday should be a rest day. The decision has been made that Sunday will be a rest day, so guess the pilots will not be imbibing too much of the Czech drinks this evening!"

"First launch was finally postponed to 11.45 and again took just under 1 hr. 20 mins. The clouds that were supposed to possibly overdevelop in the west, in fact were exploding to the east with large blow-off and even to the north of the 1st track there are some quite big developing clouds, with some blow-off as well." By Carol.
the weather at launch time. pictures courtesy  Caroline and Dutch team.
Big tasks again;
open 516 km; gate opened at 13.33; Another new face on the daily spot 1 not somebody we don't know; Ricardo Brigliadori!! He started straight away at 13.36 and was "home" at 17.18,39 so a speed of 139,32 km./h!!!.
12 Minutes later than Ricardo, the German EB-boy's, Michael and Filipe, started and managed to be just a tad slower to be on spot 2 and 3. [138.85 and 84] both 993 points!!!
Petr Tichy "holds on"as well he was 4th!!! And Dutch mate Hadriaan 5th. Mind you the first 14 flew between 131 and 139 km./h. Slowest speed today 115 km./h.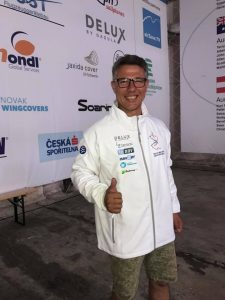 Daily winner Ricardo, as shared by Gagula Darko
18 m. 541 km;gate opened at 12.55; I guess Adam has the feeling he is in a dream. He won 1 day in the OSTROW WGC and now one in the HOSIN WGC.  He surely is doing a great job and the many hours he spend on soaring are paying off as well the believe in the VENTUS 3. Adam flew with a speed of 141,36 km./h. quite faster  2 km./h ,than the runners up Marion and Mike both also in Ventus 3.
Adam's opinion about the VENTUS 3 is written very clear in  Adam Woolley's Gliding Adventures
Here is his FB comment;
"Thank you for the day win John Buchanan, without your help it wouldn't have happened. Thank you too to my team captain, Terry Cubley for providing forever helpful & encouraging words. I got lucky on the start when I couldn't get to altitude, John was in wave & couldn't pass up his good opportunity – especially as at the time, 45 competitors thought it was going to be a distance day as the showers rolled in at the start line.
I started after the main gaggle, but not by choice. What I did notice though was when I was finally climbing up for the start, on the other side it was all sunny & pumping conditions – so the above thought went out of my mind. I didn't get greedy though & set off straight away once at base.
John helped immensely with calling every climb. I literally found every thermal on my own & took a different path to everyone for 80% of the flight – very satisfying.
In short, I was able to look at the clouds closely, without anyone near me I was able to feel my way into the climbs & core quicker. John's calls from up ahead told me that I was picking/catching up in every climb, flarm told me in the glide!"
Daily winner Adam, as shared by Gagula Darko
One outlanding in total and in this class after 440 km.
20 m. 455 km; gate opened at 13.08; TEAM-KAWA -day again , starting quickly after the opening of the gate at 13.12, he and his mate raced in the ASG 32 MI to another podium spot; 131,88 km./h.
Good day as well for team Finland, UK and Belgium!!
A difficult and tricky day was the expectation, but it all went well. It is a great bunch of pilots over there!!One more day to go and they have a rest day!!! Czech EVENING now !!
SATURDAY; August 4 day 7 and task 7.
Some official news first;CZECH EVENING STARTED FROM 19:30 WITH INTRODUCTION OF ORGANIZING STAFF, TOW PILOTS, FAI OFFICIALS. THEN THE PARTY STARTED WITH SERVING CZECH MEALS AND BEERS. THE APPLES – GIRLS BAND – PLAYED GREAT MUSIC AND PLENTY OF PILOTS WERE DANCING IN FRONT OF STAGE ALMOST UNTIL MIDNIGHT.
Must have been a good night.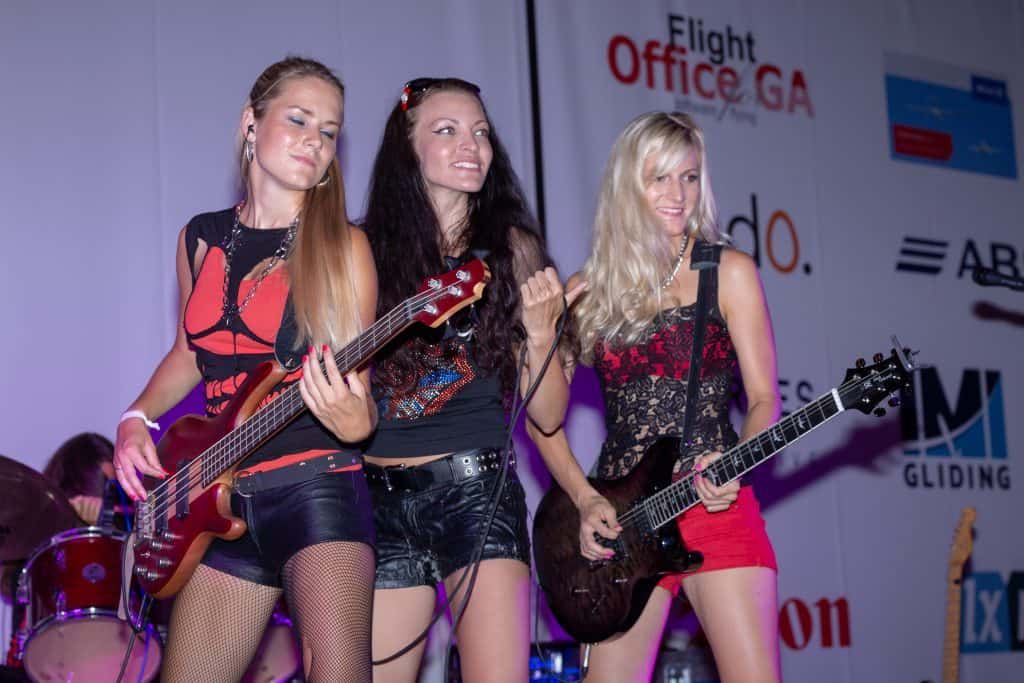 The APPLES as shared by the organizers.
BUT work has to be done again. One more day in the "office" and then an OFFICIAL REST DAY after 7 day's of full -on flying.
3.30 AAT's for all classes. Later changed in 3 hour AAT's. Launches started later than normal at 12.45.
Open; Gate opened at 14.32; Good S.A. day, as Uys won in his JS 1C, flying 465.85 km. in time 3.11 so a great speed of 146.11 km./h. Great speed by many. Pilots 1-11 flew over 140 km./h!!!!
Pilots 12-27 flew over 130 km./h!!! One outlanding after 382.84 km. A pity.
Overall scores after 7 day's; 1. Michael 6.383 points. 2. Filipe 6.303 and 3. Petr [Tichy] 6.174.
All other pilots have less than 6000 points!!
18 m.; Gate opened at 13.54. With 457.62 km in time 3.01 Christophe set a HIGH standard for the day!!! Speed 151.42 km./h. beating the open class time from Uys!!!
Arne and Katrin started and finished together and were runners up;147 km./h.
Though Matthias Sturm did well [ spot 5] with an early start at 13.59, his mate Mario finished  with a later start at 14.23 on spot 28. He lost before the rest day his first overall spot.
Now it looks like this with still a week to go;1. Christophe with 6.172 points. 2. Mario with 6.090 and 3. Katrin with 6.074.
3 More pilots are in the 6000 points -range.
20 m.; gate opened at 14.07 and the HPH 304 TwinShark flew with Stefano and his mate to a great daily win;411 km. in 3 hours at the dot!!!136,53 km/h.
Antti and Juha were just a tad slower 999 points for 442km. in time 3.14 so a speed of 136,47 km./h.
5 Teams in the 6000 points-range; 1. Matkowski & Kawa 6.351. 2. UK team Coppin/Jones 6.203. 3.Emmanuelidis & Jeanmotte from Belgium 6.075. 4. Sorri & Lehto 6.062 5. Barnes & Scutter with 6.010 points.
The official wrap from Saturday;"The weather before launches did not look very promising today. There was completely blue sky and the reports from the sniffer were not as optimistic. However launches finally started at 12:45 and the task time was reduced to three hours for all classes. As it showed up later, when pilots managed to climb up in blue thermals and get on the track, everything suddenly became much better. Again pilots got to experience one of the best possible gliding weather Czech Republic has to offer and the best speed today was above 150 kph! The thunderstorm which developed to the west of the airfield waited for everybody to land before moving further NE. Tomorrow there is forecast of showers and thunderstorms so pilots will have a chance to enjoy their well deserved rest day. "
 SUNDAY ; August 5 OFFICIAL REST DAY!!!!
More in my next blog! Looking forward to that last week!!!!!
One of the WGC -tweets yesterday;
" JS3 and Ventus 3 proved to be the future of 18M class as they are occupying the first 18 spots in total results."
—————–
——-Klippeneck showed 5 daily wins in a row for Tijl Schmelzer!!!! VERY SPECIAL !!!On day 5 , dad was runner up!!! Great such a family holiday!!! And day 6 , you guess it already was for Tijl too ;336 km with a speed of 138.16 km./h so "NOT a piece of cake" , though for him it is so, it seems.
Yesterday was the last day and though he could have taken a day off Tijl still flew; AND,…won the last day too, so 7 out of 7 days !!!! Pretty AMAZING!!!3 Hour AAT, 392 km. in time 3.01 so a speed of 129.95 km./h.
Overall scores 6.087 . Runner up 5.256 points.
Well done Tijl!!!!!
——-CIM in Rieti; after 2 good days  with in 18 m./open a 487 km task and a 2.10 AAT, both won by Giorgio, the news on Friday morning from Clara was ;" No task today for all classes.The risk of long, heavy storms over RIETI is too high. "
55 Pilots from different Nationalities as Aku Jaakkola from Finland in 15 m. winning day 2, 13 teams in 20 m. among them the FRENCH Bouderliques in ARCUS M.
In 18 m/open also Alexander Mueller, Bruno Gantenbrink and Alvaro De Orleans.
——-The Club class NATIONALS in the UK started yesterday [ till the 12th] with 42 pilots from Dunstable with good weather and a 348 km. racing task.
Ian Macarthur won day 1 in the LS 4
——Frank Versteegh, former RED BULL Air Racer, shared some pictures from Holland from above. One  on August 1 in 2018  and one on on September 3 in  2015!!!
Look at what happened, scary!!!!!
WET in 2015 , dry in 2018, same place!!! Holland Oosterbeek, Rosandepolder.
Courtesy Frank MH Versteegh.
CU Next Wednesday
Cheers Ritz