35th WGC in HOSIN.
Monday July 30; day 2 ,task 2;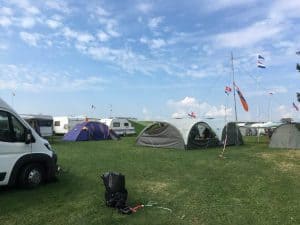 "I always think it's very special, all these different countries having a great time together on a few square meters when you think of all the issues going on in the world." by Caroline Termaat-Douwes.
I could n't agree more!!!
Some news first; bit cloudy morning , blue later,hot, maybe complicated again, let's wait and see. The meteo , Jan Horak, was very optimistic about this WGC;" we will fly every day"!!! AGAIN ,…let's wait and see.
Official news ;"This morning we started again with overcast left from yet another dissipating front. Briefing was at 10:00 . The weather started to improve faster today compared to yesterday and the high clouds have already cleared from the airport. We expect first launches around 12:00. Two tasks are prepared for today. Task A is racing about 350 km due to showers and thunderstorms we expect around Hosín in later afternoon. In case the weather would suddenly improve we have task B ready, racing with distance over 400km for all classes".
First starts at 12.15. Well look at what happened!!!!!!
AND, because of the distance and the speed still no 1000 -points- day yet, only in the practice period!!!
open; 350 km.; gate opened at 14.04… 12 minutes later Michael [Sommer] left on track, and mind you,….. he was back after 2 hours and 10 minutes; speed 161.32 km./h !!!!!! I met Michael several times, when he lived in Australia and frequently flew with us. I know he was fast, but this even astonished me.Great job Michael !!!
In the slip stream  but, as good a pilot ,Felipe [Levin] started at the same time and finished 2 minutes later ;159.30 km./h!!!!!
Number 3 Dutch pilot Hadriaan [van Nes] in a JS 1 C, was a tad slower ;154,66 km./h and then a whole bunch followed. Crazy!! looking at the first 29 pilots speed was between 127,37 and 161,32 km./h !!!
18 m ; 357 km.; gate opened at 13.24…NOT faster than open class this time , but good speed by the French boy's, Christophe [Cousseau] and Jean-Denis [ Barrois], both in JS 3." Bloody fast toy!!"
10 minutes after the gate opened they raced away and in 2.30/33 they were back.
45 pilots nearly back at the same time and speed between 118 km./h for the "slowest" and 142.20 by Christophe.
WOW !!!!!!
AND as I had no picture of the French team in my last blog , I share them NOW.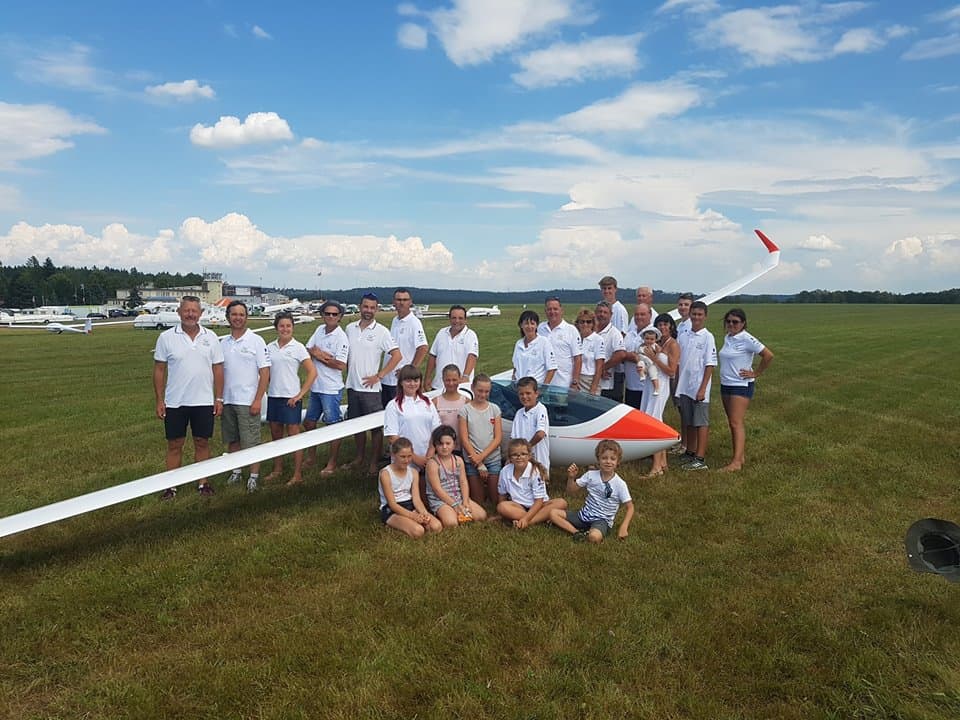 The French team with TC Eric Napoleon to the left.
Courtesy Eric.
20 m.; 349 km.; gate opened at 13.38… All pilots left after 2 PM and maybe,… inspired by Rasmus who took the title home from Ostrow to Denmark…, his mates Nielsen/Jorgensen in the ARCUS T won the day; speed 134.24  km./h.. same as Team Poland both share equal points [841] and Germany followed  with 133.22 on the clock!!!!
I liked the official news on the end of the day;"WITH GREY AND BROKEN SKY AT THE TIME OF OPENING THE START GATES  WE WERE NOT SURE IF THE TASK SETTING FOR TODAY WAS RIGHT. EVERYBODY ON GROUND WATCHED TRACKING AND HAD DOUBTS ABOUT THE CALCULATED SPEEDS. WE HAD GREY SKY AROUND HOSIN WHOLE DAY, WITH ALMOST NO USEABLE CLOUDS. BUT PILOTS ARRIVED WITH AMAZING SPEEDS"
Tomas Rendla the CD, mentioned :"Better than Texas"??? He should know as as far as I remember Tomas flew there himself.
It seems the tasks JUST fitted the weather, as it deteriorated quickly later in the day. But,…no worries ALL were back !!!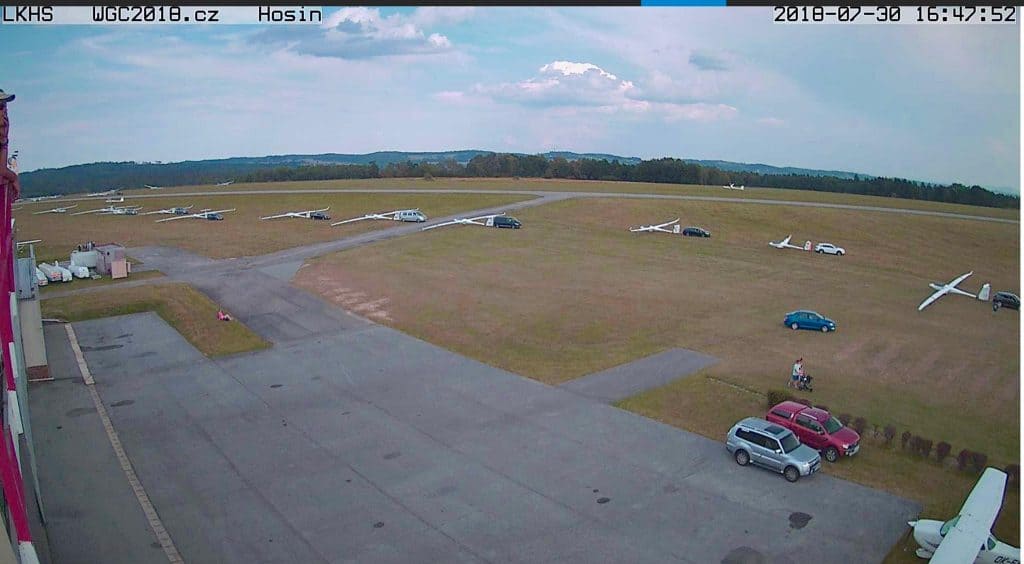 Back " home" ready for a cool drink.
The web cam!
Tuesday July 31 last day of July, day 3, task 3: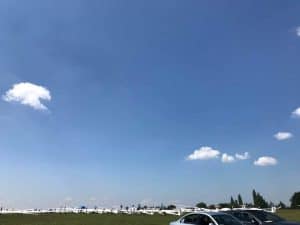 Not totally blue!!
As shared by Team Belgium.
Some news first: nice long tasks for "big ships". HOT and HUMID day!!!! First launch not at 11 but at 11.45.All gliders up in about 1 hour and 20 minutes. Good job!!
Team USA showed a video from one of their 2 seaters in the air showing that the combination 161 km./h and the weather from the day before was pretty weird and unexpected. Interesting! Maybe even "insane".
Team Hosin added about the 161 km./h. ;"Outright unbelievable on this cloudy day."
And,…finally a 1000 points day in all classes!!!
Official news: " We expect a blue day with long tasks into the higher terrain areas."
And later ;;"We are lucky with the weather today again. We waked up to clear sky and meteorologists expect this day to be the hottest of the year. Briefing was at 10:00 as usual. Don't forget you can watch briefings live on our facebook page and see all of them uploaded here. There are just about one to two octads of cumulus clouds around the airfield now but thermals are strong."
And after the flights:"Today it was extremely hot. Temperature was nearly 36°, humidity above 30%, almost no shade due to just few clouds and very weak wind. However that is nothing our competitors should complain about. For them it meant strong updrafts up to flight level 95 which is the maximum altitude pilots are allowed to fly during the competition. Even though there were less thermals around Hosín there was enough of them in the area of the task."
OSTIV Congress continues subjects of Aeroelasticity, Performance and further Meteorology research on Atmospheric Waves and Convection. Please be invited on evening lecture on Flutter.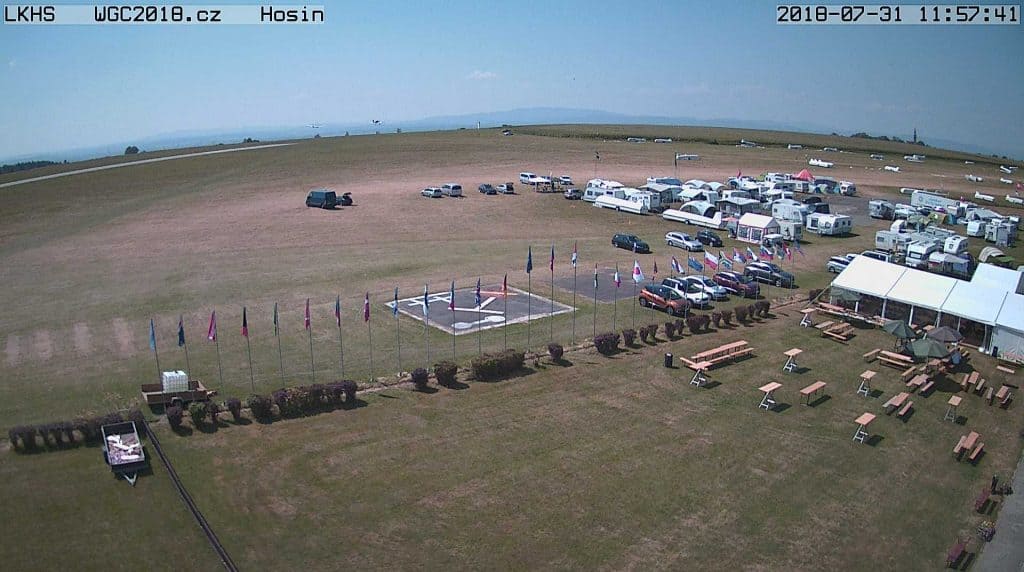 Starts in progress as shown by the web cam.
Open;  522 km; gate opened at 13.35…Most started before 2PM for this pretty long distance. Zdislaw Bednarczuk in the JS 1C was the daily winner [136.65] just ahead of Michael [135.99] and Felipe [135,93 km./h] !And another Philippe this time from France was number 4.
Another HUGE bunch of " fibre", dropped down at Hosin as in between 17.37 and 18.05 a total of 19 open class gliders finished. A few out-landings as well. A few flew over 400 km!!!
At the last TP from open there was a shower, that might be the explanation!!!
18 m.;  512 km.; gate opened at 12.55….second day in a row , a daily prize for Christophe, with a speed of 134,95 km./h in the JS 3. That's about as fast as the "open-boy's" . Laurens was runner up with 134.72 km./h. …difference in points ;3!He must have lost his brother somewhere as they both started but Oscar was back 23 minutes later.
20 m.;  453 km.; gate opened at 13.09…124.79 was the best speed and flown by Allan and Matthew from Downunder!!! They all started before 2PM and ALL finished; the slowest pilots still had 107 km./h.
Team Cronjaeger & Sidler from Switzerland was runner up.
The Polish team was 3d!
Here is Matthew;   Matthew Scutter's Gliding
"It's been a busy few days at Hosin with the 35th Multiclass World Gliding Championships, but finally we have some newsworthy results to share. We had an average first two days with small errors placing us well down the results. The common factor was that we often broke ahead of the gaggle just as we were coming into a tricky area where we would suffer alone.
Today we were surprised to see everyone start almost half an hour ahead of when we wanted to. We got ourselves together and went with them a bit behind, and in the strong conditions our Australian nature seems to give us an edge and we caught the early starters in the first hundred kms. The key difference today was hitting the skids and waiting for a few pilots to catch us up so we had some friends for a blue gap before the leg along the mountains. Our luck was exceptional as we had Laurant Aboulin and Sebastian Kawa join us (both current World Champions), and we flew with them through the tricky patches and on to home. Sebastian did as Sebastian does and slipped ahead at the end but not by enough so we are celebrating our very first day wins at a World Championships."
So another mass land back at Hosin airport today!!! ALL classes arrived around the same time frame.
Wednesday August 1, day 4, task 4!
Some news first and the tasks,…. the rest is for next Sunday.
One comment by TEAM USA more specific team ARC,Heinz and Karin,  about the day before.
"Tough day for Team ARC. Towed off into wrong sector, then tried to figure out what caused the jet like roaring sound….By time teammate 70 confirmed our gear door was hanging down 45 degree, we had few choices; land and fix it and loose contact with our class ( this is a big grid & not a quick land/fix/relaunch situation), or suck it up and fly with our barn doors open.
No excuses – 'just' a big distraction on a 450k flight. 
(What?… can't hear after 5:29hrs of roar roar roar).
Shake it off."
Official morning news:
"August begins with another beautiful day in Hosin. The Task Setters are hard at work."
www.wgc2018.cz. Here you can see the daily briefings!!!!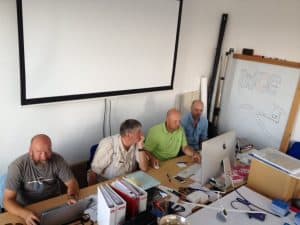 With Chief steward Robert in the middle, the meteo man Jan to the left and "in green" Tomas the CD.
As shared by the organizers.
Tasks for today
open; 470 km.
18 m.; 485 km.
20 m.; 442 km.
————–
—-In between they fly at KLIPPENECK  [Germany] with 85 competitors in 5 classes. They started at July 27 and continue till August 2.
Belgian Tijl Schmelzer [ ASG 29] flies here instead of Hosin where his brother is. AND he does well…already 3 day's NUMBER ONE in 18 m. class !!!
Tijl flew on day 1 , 373 km. with speed of 133 km./h…… on day 2 , 503 km with a speed of 140 km./h!!![ 15 km. FASTER than the runner up!!] and on day 3 a distance of 603 km. with 134 km./h on the clock!!!
His dad Bert sr. [Ventus 2XT] was a bit slower but still fast enough; 122 km./h.
——AND in Bailleau in France with 70 competitors in 3 classes between July 31 [first flying day on July 31] and August 10. Yesterday was their first day with just under and 50 k above  300 km. tasks.
today; 385, for the long- flight -pilots, 283 for the speed -racers and 188 for the "new ones".
Results for both comps at www.soaringspot.com
——  Benvenuti alla CIM 2018! Welcome to CIM 2018! [Coppa Internazionale del Mediterraneo]  in Rieti . It's  on as well, between August 1 and 13.
40 Participants,less than other years,  as a few are just back from Ostrow , others are still in Hosin!!!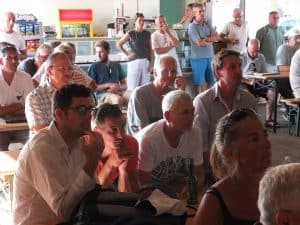 Opening briefing by Aldo in Rieti
As shared by Clara.
—-It's raining 1000 km flights again. Europe has in many parts had the dry -est and hottest July!!! Last Monday another 12 x a 1000 km. from Germany  [best was 1.212.94 km…..declared 860 FAI triangle….from the Wasserkuppe in an ASG 32 EL!!!] and 2x Switzerland and great flights from France as well.
What about 619 km in an ASK 13 from Grenoble ???by Stephan Houdier!!!
Yesterday another 1.100 km. by former WGC champion Jan Rothhardt in VENTUS CM /17.6 m. from Jena Schöngleina .
Cu soon …get a guest this upcoming week, but try to write on Sunday and Wednesday.
Cheers Ritz