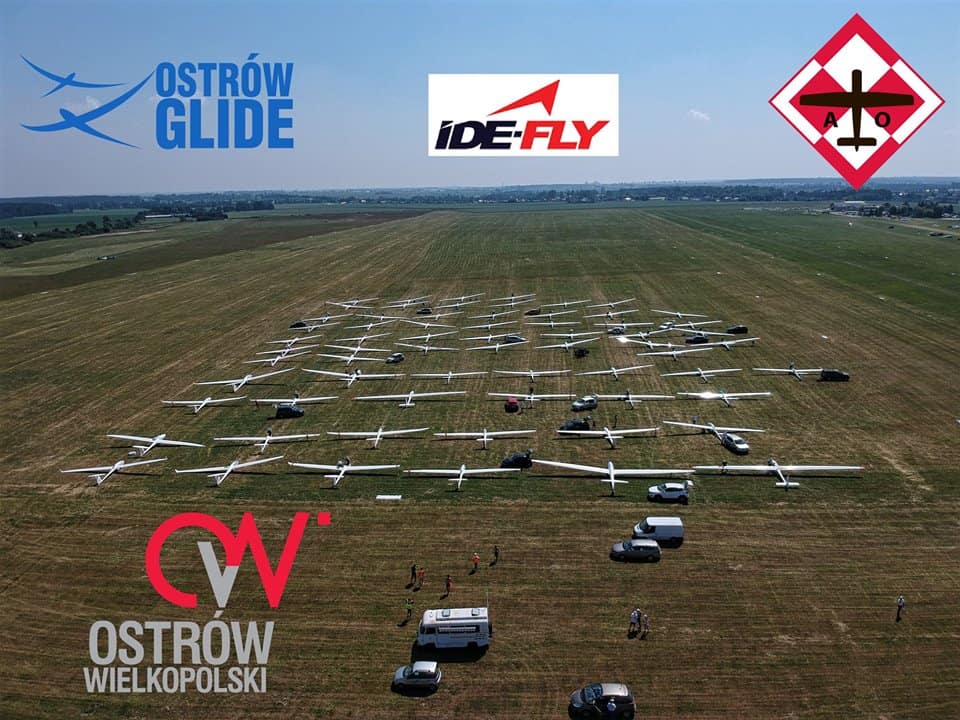 Picture shared by organizers.
OstrowGlide 2018 /Polish 15m. Nationals;
Last Wednesday was a short but superfast day/window!!
Club; 1.30 AAT flown with a speed of 119.17 km./h. by Tomasz Rubaj in the SZD 55. Runner up in the same glider Jakub Barszcz ,but a tad slower; 118.65 km./h.
All 40 pilots who started finished as well.
15 m;1.15 AAT; Polish pilot Marek Herbreder [LS 8] started as one of the last at 14.25 and flew 174 km in time 1.14,19; speed 139.23 km./h.
Even faster was the runner up on spot 2; Lukasz Grabowski [Diana 2] flew 194,87 km in time 1.22 so a speed of 142,15 km./h.!!!
Thursday last day of this "bloody" hot month of Mai.The hottest and wettest ever!!!
Club….2.45 AAT; 320.55 km. in time 2.46.55 was the best and the pilot was " good old" Stanislaw Wujczak !!! A big bunch started straight at 13.04. From 40 , 37 finished, but the later starters needed more time.
15 m….3.15 AAT; Adam Czeladzki in the DUO DISCUS XLT won the day with 414.28 km. in time 3.24,50. Good on him and for those who don't know,… Adam moves in  a wheelchair, but it did not stop him to fly!!!!Chapeau!
Lukasz Błaszczyk was runner up.
Adam and co pilot Fernando [15 m] and Stanislaw [club].
As shared by the organizers.
On Friday JUNE 1 , start of the meteorological summer here, with dramatic loads of rain, there they started with day 7 out of 9 in  club and day 6 [they cancelled in the end task 3 to have equal chances for all , due to an unexpected  change in the task by a tower] in 15 m.!
Club….2.30 AAT; 4 St Jantar's in the top 4 and 279 km. in time 2.37 was the best daily result. No changes in the overall top so everything went well for the "toppers", Tomasz, Jakub and Marek.
15 m….313 km; Great day for team France in the ARCUS T. Eric [Napoleon] and Amelie [Audier] flew 276 km. and that's how close they reached the 313 set km.Adam and Lukasz G. were runner up with 250 km.
Today's weather-en-route, as shared by Per.
AND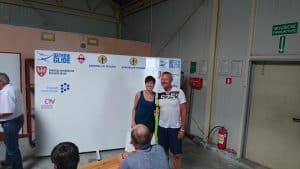 the daily French winners Eric and Amelie
as shared by the organizers.
Final conclusion from the Swedish team;"We have had one week of beautiful weather. So far has it been 7 days out of 8 and with reasonably long tasks. Tomorrow will it rain so the competition is over for this time. We have learned a lot about the local conditions, hopefully can we use this new insight at the WGC."
Rain on Saturday so,Friday-evening- dinner from the Swedish and  French team together,  to finish this practice -period ….unfortunately  no last day of soaring for Club class. But the scores were pretty clear already.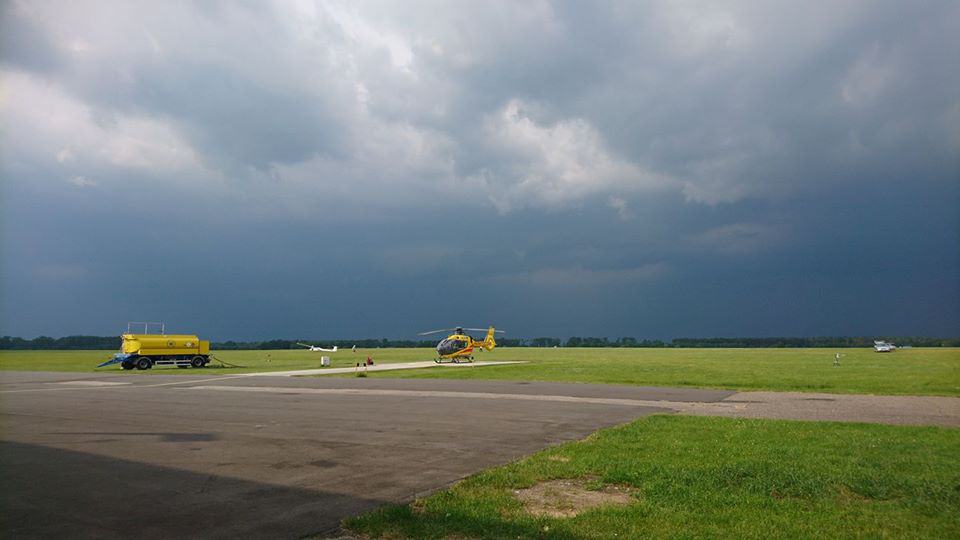 Last-day-weather, as shared by Per.
Final scores in CLUB class;
1.Tomasz Rubaj in SZD 55 with 5,626 points.
2. Jakub Barszcz also in the SZD 55 with 5,463.
3. Marek Sawczuk in ASW 20 f with 5,244 points.
15 m….Task 8:They squeezed out another day for 15 m. class! Unbelievable is n't it ,when you look at the skies!!!
1.15 AAT; AND,…..16 pilots did fly, even the USA pilot in the ASW 27, Timothy.He flew around with 65 km./h over 111 km . for 147 points, but this is PRACTICE for him with capital letters!!!
Winners; Eric and Amelie….150 km. with a speed of 112 km./h. This kept them on spot 5 overall.[4.766]
Both classes had 7 valid day's now.
Final scores and 15 m. Polish champions; And here we are again……..2 Lucaszes…
1. Lukasz Grabowski in Diana 2 with 5.072 points.
2. Lukasz Błaszczyk in Diana 2 a with 5.031  points.
3. Piotr Jarysz in ASG 29 with 4,893 points.
Not far behind so pretty close final scores in this class at  4 Mateusz Siodloczek in Discus 2A with 4,844 points
————-
——–"A-last -minute" Change of venue for the 35th World Gliding Championships in the Open, 18m, and 20m Classes…..
Is a logistical nightmare for many!!!! For organizers, even when they are the same people, who must have been nearly ready for Pribam, but even more for TC's, who had hoped to have organized accommodation, car's, trailers etc for their teams a year or more ahead, in the Pribam-area and all in vain.
A TOO late call in my opinion. When the field in Pribam IS not big enough for 90 gliders now,…. it was not big enough either on the moment from the bid!!!!!
AND,…what about my club the ZES??? They booked the field HOSIN, for their summer soaring holiday!!!! Not easy to find something else so quick.
May I just say…..STUPID !!!!!
——–South African team at the WGC's;
The teams for Poland and Czech:
Poland
15m class: Attie & Uys Jonker
Std class: Nico le Roux & Dolf Pretorius
Team Captain: Stephan van den Berg
Crew: AP Kotze, Bossie Bosman, Nicky Oberhofer, Martin Lessle
Czech Republic
18m class: Oscar & Laurens Goudriaan
Open class: Uys Jonker & AP Kotze
Team Captain: Carol Clifford
Crew: Jason Adriaan, Rowan Hill, Hendrik Wijnmaalen, Julian
AND 
THE UK
In case you missed the publication elsewhere, the British Team selection for the 35th FAI WGC 2018 is;
Poland
Club Class – Tim Fletcher, G Dale
Standard Class – Howard Jones, Dave Bromley
15m Class – Tim Scott, Derren Francis
Team Captain – Werner Stroud
Crews – The 'usual' suspects will reveal themselves in due course……
Czech Republic
20m Multi-Seat Class – Steve Jones/Gary Coppin
18m Class – Mike Young, Russell Cheetham
Open Class – Andy Davis, Peter Harvey
Team Captain – Graham Garnett
Crews – The 'usual' suspects will reveal themselves in due course…….. Baldrick will be in attendance I am reliably informed!
It getting closer now and so excitement levels are increasing!
—————
——–Swedish FAI SGP;
Boras continued on Wednesday with race 3 from 344.72 km. With a speed of 121.08 km./h Jon Gatfield did well and received 8 points.
Winner from the day before, David Gustavsson, in the LAK 17 did NOT start!!! He mentioned earlier how good the VENTUS 3 climbs!!!
Race 4 with 153 km. [ a very blue and hot day] , had an international top. Peter Cutting from Sweden won the day and the 7 points.5 Points for UK pilot Jon and and 4 and 3 for the German pilots Christoph and Stephan.
Bad day for Boerje and David violating the airspace , so "outlanding" after 23 km.
8 Pilots and 6 times penalties!!!
Race 5; 230 km. with a late start at 15.15 . The VENTUS 3 with Boerje in it, won the 9 daily points. This brings him on a runner up spot behind Jon [22]  with one day to go;20 points and 18 for Christoph and Peter, so possibilities enough for these men. It was another blue , hot day, so gaggles,…."the gaggle wins on day's like this " and then "trying to push away from them" for "private" final glides.
Race 6; is" the cherry on the cake" with 378 km !!!! Quite a lot for a GP.
with a speed of 137.8 km./h. Boerje raced over the circuit to win another day AND the Swedish FAI SGP.
A total of 31 points for him in the new Ventus 3.
Runner up with 26 points and also runner up for the day, Christoph. Not far behind Jon with 25 points.
Not too bad  weather as the "slowest" pilot for the day flew around with 122 km./h on the clock!!!
Stefan Langer was the only one who flew and finished all 6 races and got points on those day's!!!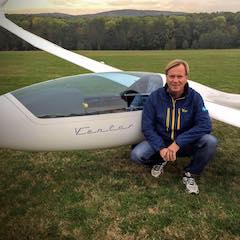 As shared by the organizers.
—————
–——-FRENCH FAI SGP ;
Last Sunday this French FAI SGP started for the 4th time from Rennes  Saint Sulpice in Bretagne, with some very good pilots. Among them 2 Dutch, the fresh new DUTCH open class champion Peter Millenaar [JS 3 ,I read this glider is for the first time in France!!] and many-times-WGC pilot, Jeroen Verkuijl.
Nearly all French pilots flying in the GP are toppers, so too many to call and from the UK Russell Cheetham is for sure a topper as is Gary Stingmore.
2 Spanish participants [AND a Spanish jury president, Angel Casado] and 1 from Belgium, from Slovenia and Switzerland.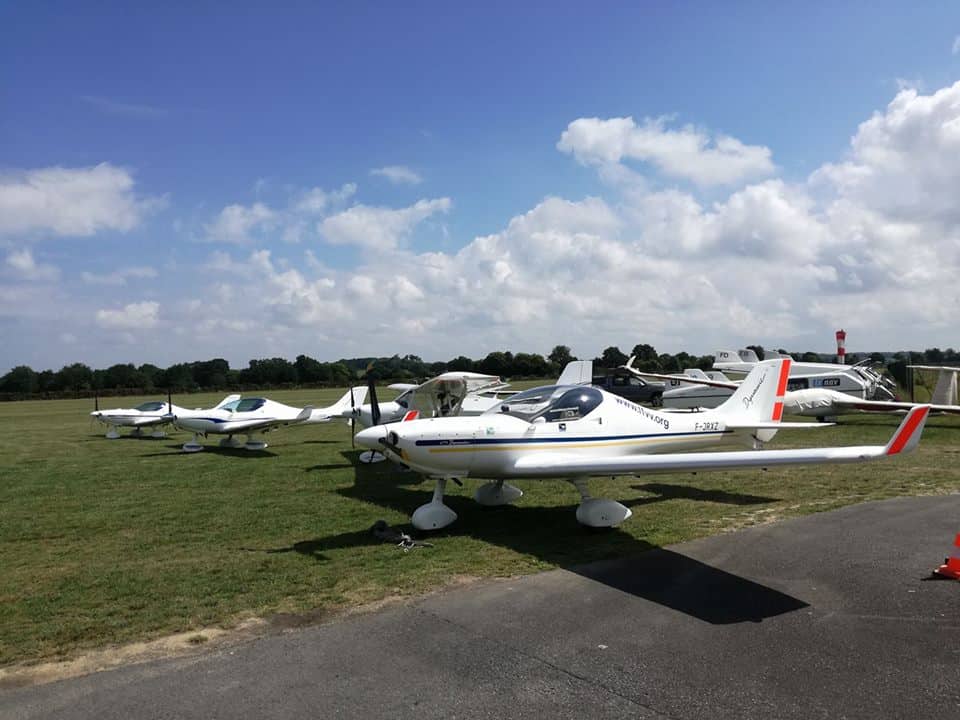 practice day 2….ready to go…..
As shared by the organizers.
June 1 had a practice day from 119 km. and June 2 another practice day with 149 km. [9 from 19 flew the task ,best speed 120 km./h.] BUT it all started on Sunday with 2 JS 3 JET's and one VENTUS 3 and 1 Ventus Cxt…..7 JS 1 variations …6 ASG 29 variations….and 2 LAK variations.
RACE 1; Exciting race , short 121 km, [because of expected thunderstorms later in the day ]and won by current world champion in standard class, Louis Bouderlique in the VENTUS 3 with about the same speed  as Maximilian Seis [JS 1 EVO] who was runner up [115,7 for 115,3 km./h. for 10 and 8 points]
My Dutch mates did well Peter [JS 3] was 3d and Jeroen [JS 1C Evo Jet] 4th [ 7 and 6 points]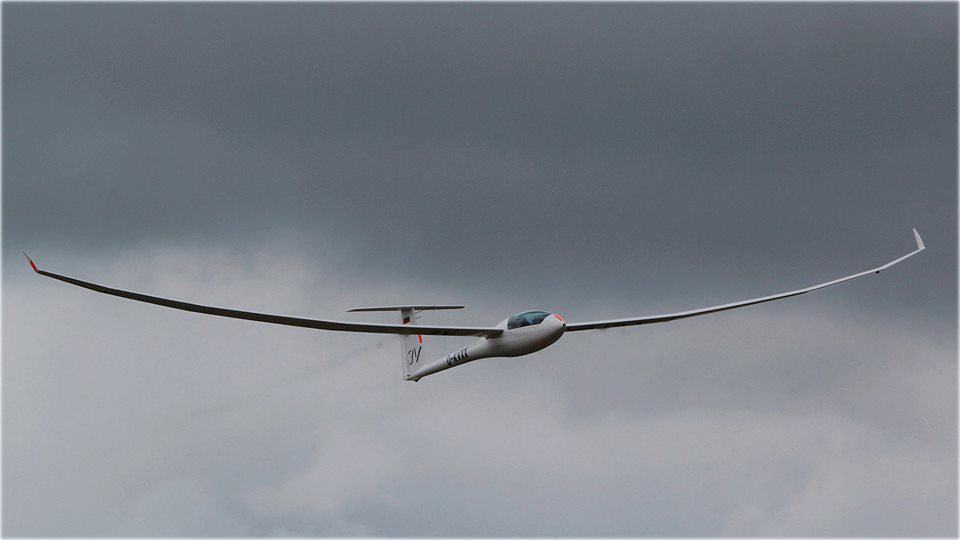 The magic VENTUS 3, first race winner, As shared by the organizers.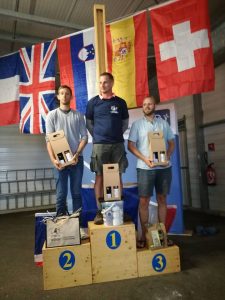 Nice presents!!!
As shared by the organizers.
Race 2; Another short …105 km….tricky day. Overcast and a bit of early-morning-rain  in Rennes, but hope for a day of soaring. Regatta start at 15.35.
BUT,….then the news from the organizers.
"What a day ! The rains stopped at 12:30. Gliders were rigged then launched at 15:35 for a 102km race.
The organisation sent a Dynamic to the eastern point during the task to be sure there was no danger. But the two last control points were impossible to reach, despite pilots were waiting at 1000m that the heay rain moved.
Finally the task has been cancelled to avoid any risk. Only three pilots are outlanded : V and E1 in almost the same field and 1L safely on Redon airport.
Congratulations to all pilots for their safe and sport behavior.
The International Party will start at 20:00."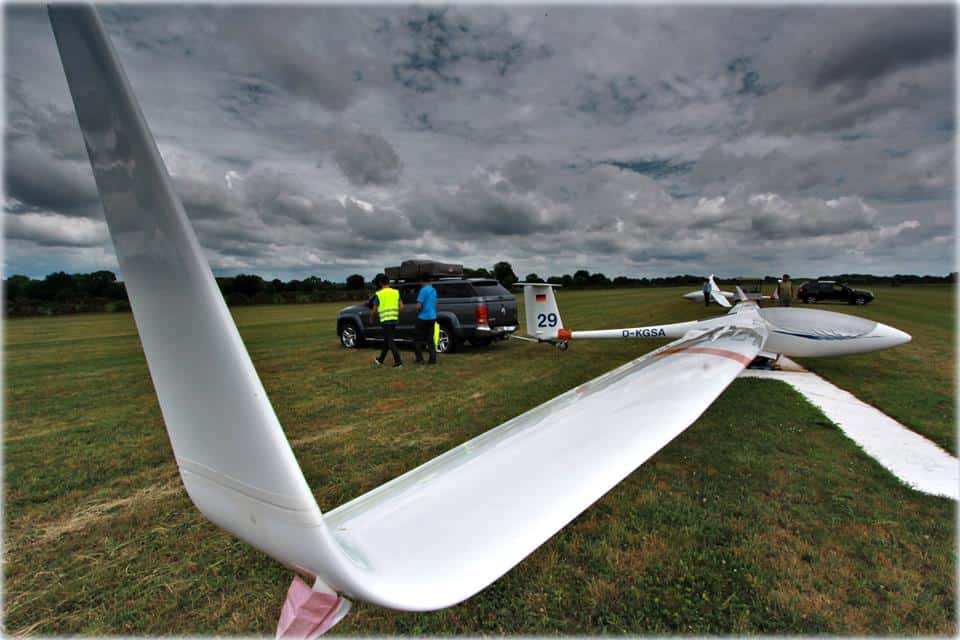 Day 2 weather as shared by the organizers. No points , 3 out-landings but the International party "made" the day.
Race 3;They tried again.Small task and late start; but,….in the end the day had to be scrubbed!!!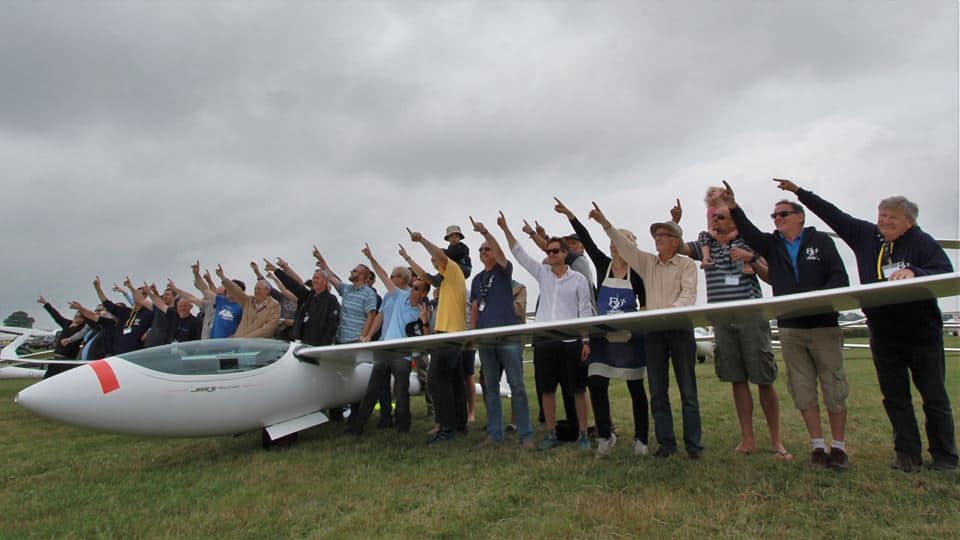 Pilots and crews……"Angry" at the weather-gods?????
As shared by the organizers.
—————-
–—–The Dutch Open Military Championships at Terlet;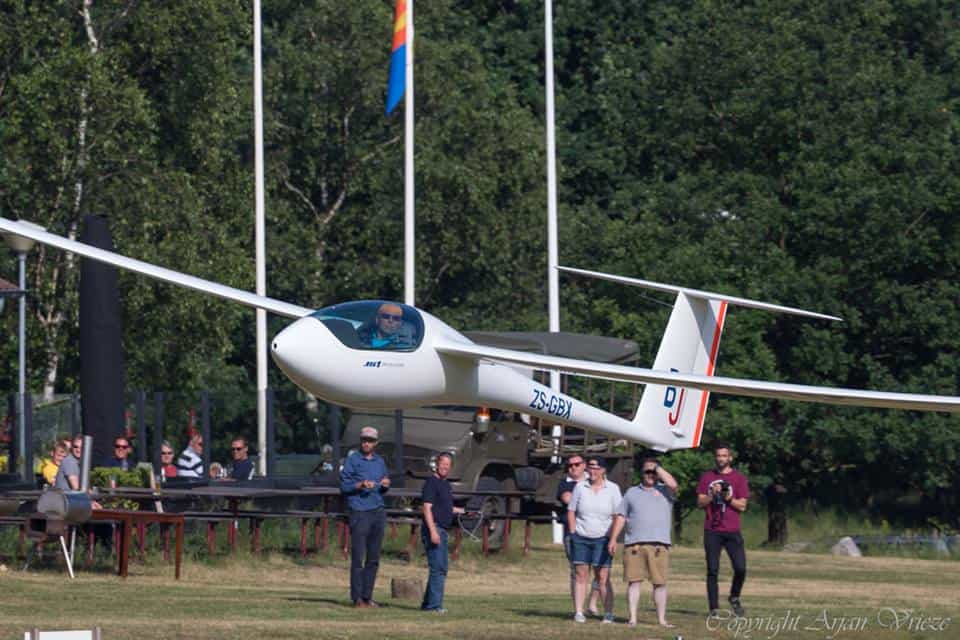 A WOW-factor finish/picture at the OMK on June 4. Typical Bas Seijffert-finish in the JS 1.
Courtesy Arjan Vrieze.
When I asked Arjan how the hell it was possible to take such a picture, he mentioned that he prepares VERY well before he takes the pictures. He knows the circuit of the finishing gliders, takes a ground- set and I-pad with Flight Radar. Also 2 ladies who help him  spotting the gliders. He has 2 professional camera's with lenses. This fabulous picture was made with a 30 megapixel full frame camerawith a 500/4.0 lense on iso 400 and shutter speed of 1/1600. All pictures are in RAW.
Lot's of pilots [59] again at Terlet for an always happy and interesting competition, between "old"  and "young" and experienced and novices.
17 in club, 13 in combi, 15 in the 20 m./2 seaterclass and 14 in 18m./open.
Monday was the first day and it took a while but in the end there was a window to fly in. No worries as ,whilst waiting the military helicopters [guess from Deelen] came to say hello and that looked pretty spectacular on the video!
First starters left around 4 PM with the B-tasks and only 2 classes up in the air!!!
2 seaters;150 km and Lizzy van Someren one of the young female talents flew the Duo Discus XL over 119 km and that was the best result, shared with the Hiemstra family from Friesland ;both 145 points.
open;161 km and 2 finishers Bas [Seijffert] and Sikko [Vermeer] . Some were only 10k out.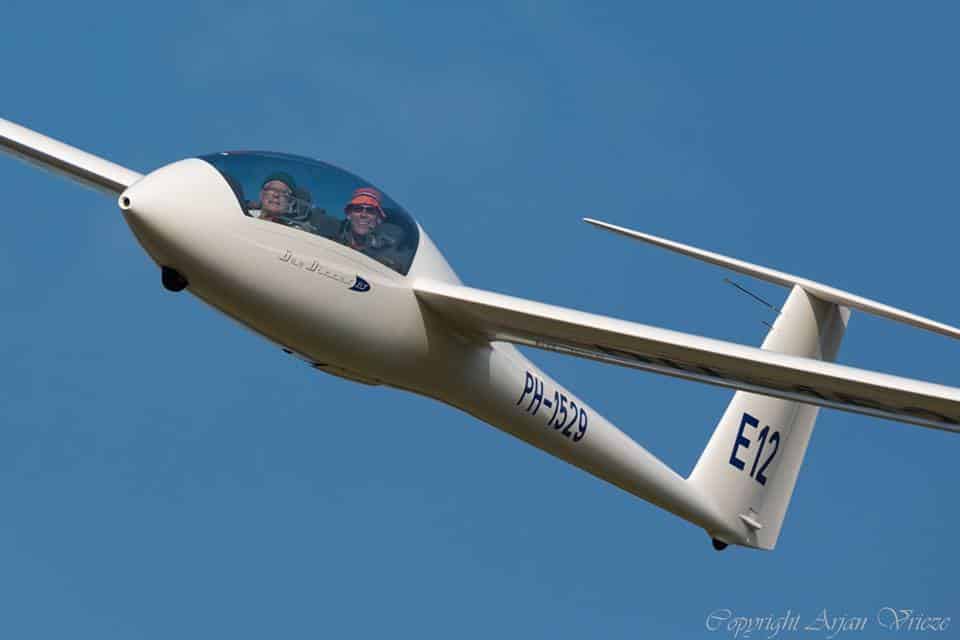 Another WOW factor picture, you can clearly see Reitze and Bas in the E 12 from the Gelderse.I guess they flew HC as they are not on the competitors list.
Another fabulous picture from Arjan Vrieze.
Task 2; It took quite a while before the " milky stuff" disappeared, it hung all over Holland. In the end it ha[ppened and it turned out a rather good day with lot's of finishers!!
Club 188 km; 71 km./h for Maurits Hebels in the St Cirrus followed by junior and vice JWGC champion Robin Smit with 67.91 km./h. [same glider]
Combi 183 km; top-day for the Dutch juniors all over 70 km./h. Annemiek former junior now TC was 5th.
2 seaters 177 km; Lizzy was "out" such a pity ,but the Hiemstra's did well and won the day with 71 km./h.
open 192 km.;another Bas-day and the only one over 100 km.
——————–
——-On June 1 Ingo turned 78!!! Still young from heart he flies and flies and flies!!! On the picture a new student for him in Tocumwal Aaron. Dundee is still there and helps out. He leaves Toc today!!!
HAPPY BIRTHDAY INGO!!!!
Shared by the SRGC.
—-Last but not least; The Rayskala Masters will be flown between June 9 and 16, BUT,…I will be on holiday then so please look for scores at ; www.soaringspot.com and for news at http://www.rayskala.fi
"After record breaking warm May, temperatures dropped 10 degrees for monday June 4th. For glider pilots cold north-westerly flow means unlimited visibility, no bugs on the wings, good use for longjohns and kick-ass thermals. 3 days to go...."
Last Sunday Alexander Mueller flew from Bayreuth 1.195 km in the EB 29. I liked his comment; The EB 29 with an EDITION -wing and NO water even climbs when  only the moon shines."
He added another 1000 on Monday.
Another 1000 from Winzeln [Germany]by Michael Schach in a Ventus 2CT [18 m.] 
Also Uli [Schwenk] in the ETA flying on Sunday from Muensingen and Alexander [Spaeth] flying from Hornberg in the 15 m. Ventus 2ax flew a 1000 that day.
CU on June 20 .So,….not next week…. it's that time of the year again; Duke John High-school -girls week…..all over 70 now and still going strong….2 of them I know since we were 4 years old….!!!!!!
Cheers Ritz
Before I go,……when you are young or a bit older and eager this is an opportunity !!!!!! I know as we gave these possibilities in our SPORTAVIA -time to many keen pilots as well
GROUND CREW WANTED at GLIDE OMARAMA
October 2018 – March 2019
Duties include daily inspections, grid marshalling, trial flight briefings, aircraft cleaning and assisting with basic maintenance. 5-6 days per week. Accommodation provided in a shared staff house. Generous staff flying privileges. Possible progression to instructing, depending on your skills and experience.
Minimum requirements:
100 hours gliding
Silver C
(We may consider less if you learned to fly in the mountains)
Not required but useful:
Gliding instructor rating
Mountain/ridge soaring experience
PPL and tow rating
You must have, or be able to get, permission to work in New Zealand. If you live overseas and are under 35, you are probably eligible for a Working Holiday Visa.
We are in a remote rural location – great for outdoor activities but few shopping and nightlife opportunities.
To apply, send your CV to: info [at] glideomarama [dot] com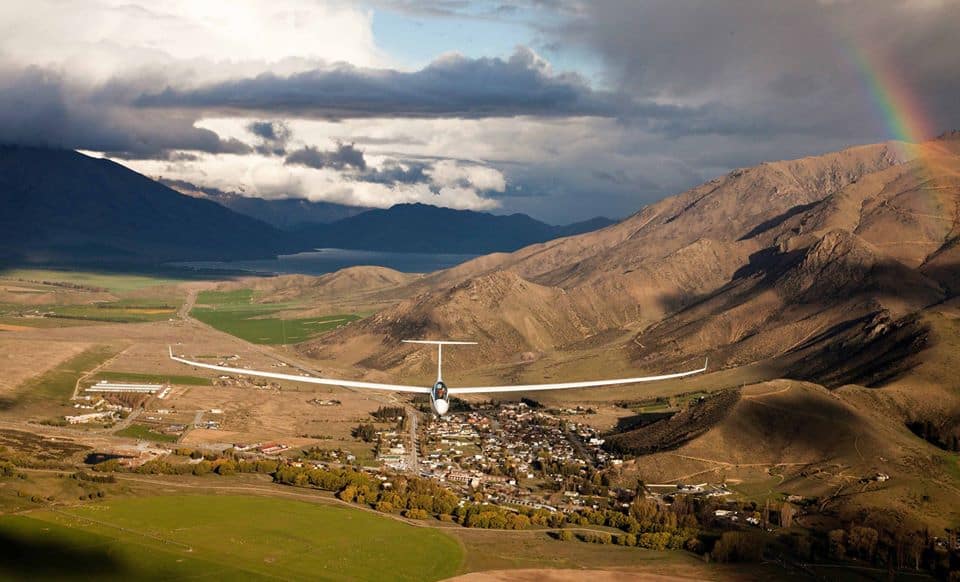 as shared by Glide Omarama
Think about it when you have time!!!!!!