The 3 first comps of the season, 2 in Australia and 1 in South Africa,had wet weather. But from one of my friends in Australia I got the "message"  that the upcoming summer there, will be /should be hot and dry. Let's wait and see.
Gliders arrive soon down under and should be already in Africa this week, where the season starts already early November . The main season in Africa is rather short so I hope it starts booming and does so till at least mid January.
The Namibia 2017 starts for Bitterwasser [ Namibia about 230 km. south-east of Windhoek ] and Kiropotib [Namibia about 160 km. southeast of Windhoek] on November 4 with  Flying with the champions- a very successful project.
Who never heard about it, a refresher…. here in short what it is all about. It is set up by Ludwig Starkl and Wolfgang Janowitsch both from Austria.
THE IDEA
Whether you are just doing your first steps towards cross-country soaring, or you are already a well-experienced pilot, expecting the finishing touches with professional feedback on board: Flying with the Champions offers that in one of the world's best gliding regions.
Effective training with top pilots in double-seaters – regardless of the trainee's present level – makes learning progress much faster. Whether you are aiming for maximum distance, close team flying or competing against each other: Flying with the Champions is the most effective training available in gliding. Lessons learned are reflected in briefings and debriefings, consistent training flights give an idea of possibilities. A highly qualified team on ground and in the air, well structured lessons as well as the outstanding weather-reliability but above all that the joy of flying are the ingredients to make this course a first-class-event…
Who are the coaches this season;
The names of the Champions are always subject of changes, but we have confirmation from: Holger Back, Markus Frank, Stefano Ghiorzo, Arndt Hovestadt, Wolfgang Janowitsch, Reinhard Schramme, Lukasz Wojcik, Erwin Ziegler, Holger Karow, John Coutts, Andy Davis, Pete Harvey, all of them former European/World Champions, respectively National Team Trainer!
When can you do such a course?
7-day courses each:
4. – 10..11. 2017
11. – 17.11. 2017
How does it work?
With a champion in a double-seater, direct transfer of knowledge is possible. With his feedback, the coach supports the development of the trainee's physical and men­tal skills. The structured training ensures defined goals. The trainee gets tools for his further individual development.
What do you pay for this course?
Entry fee: € 6.900,-
Price in Euro per person, including all costs for: glider (incl. oxygen and fuel), individual coaching by one of the Champions, navigation- and seminar documents, membership fee, all support needed for flight operations (briefing, ground handling, landing fee…), WLAN, transfer from and to Windhoek Airport, 8 days accommodation, full board including common sundowner, afternoon tea/coffee and cake, VAT and tourist tax. Not included are alcoholic drinks & personal expenses and, if applicable, costs for accompanying persons.
For more news; http://kiripotib.com/soaring/wp/en/flying-with-the-champions_en/
And; http://www.bitterwasser.com/
———–
Looking back at BORLANGE 1993.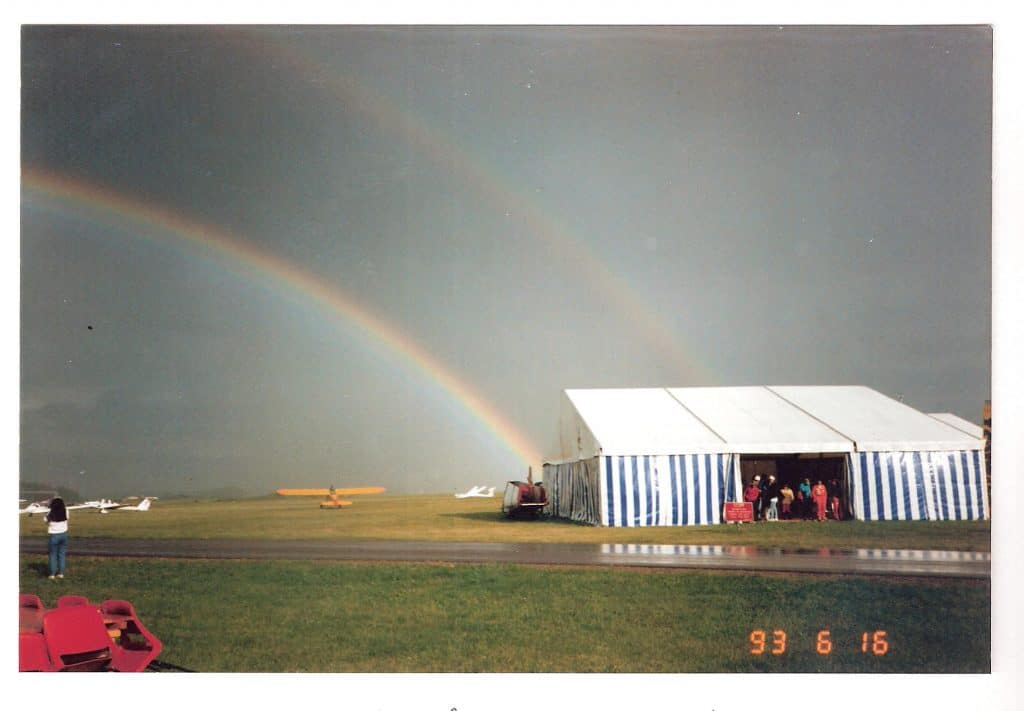 Talking about wet conditions ,…we had them in Borlange at the Dala airport during the 23d WGC in 1993. I was Team Captain for the Dutch team and here we are ready to go for it.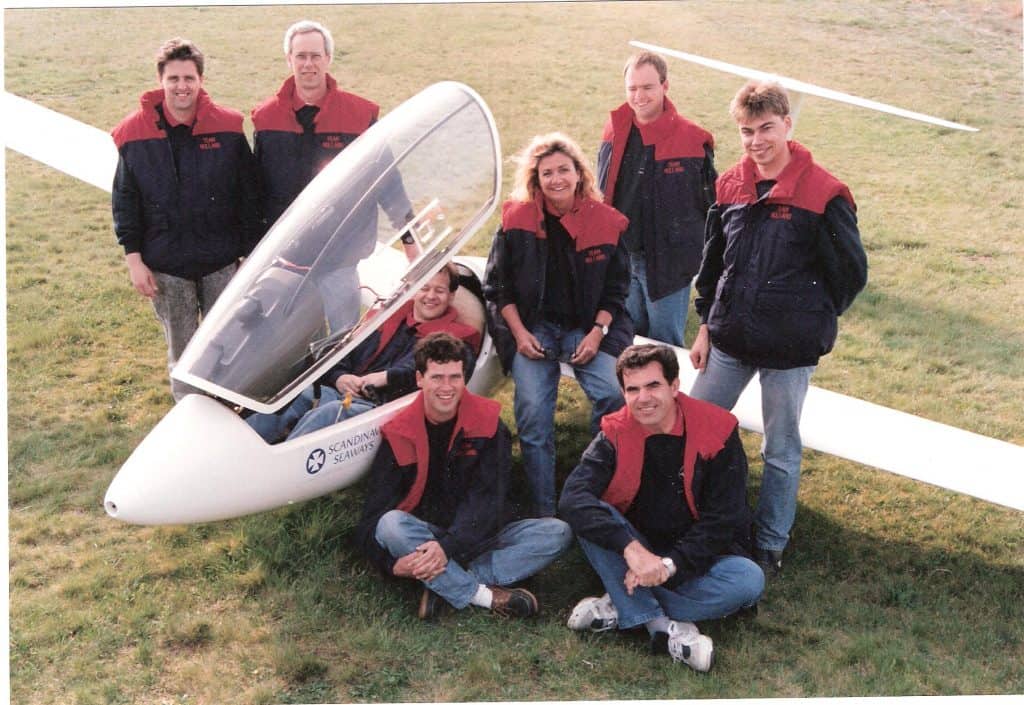 My "men" and me,  with Sikko [Vermeer]  and Baer [Selen 2 x WGC champion] , Max [van Bree] in the glider, me , Martin [Smit yes dad from Robin] and Roland [Termaat] and sitting our junior Eric [Borgmann] and our "senior" Gerrit [Kurstjens]. Great team!!!And a big one with 7 pilots as Bear was the 1991 WGC winner from Uvalde where I was the TC too. All these pilots still fly, one more than the other!!!!
And ,…maybe all bodywarmers were a bit too big.
We went home with the silver for Eric . He flew with a total of 49 pilots in standard class ,so a great achievement ,as he was number 2 behind Andy [Davis] after 9 days of flying.
With all the rain, open class still had 11 days and 15 m. a total of 10.
Pilots from 25 different countries visited Sweden.
The opening was wet, very wet !!!!
So from l. to r. Holland, France with Kiki as TC and 6 pilots, Gerard Lherm,Marc Schroeder, Gilbert Gerbaud, Eric Napoleon, Denis Flamant and Jean Claude Lopitaux ,
Then the very proud and official looking very big team of Australia with Bruce [Brockhoff] as TC and Ingo to the left and Brad [Edwards] in the middle and a very young Bruce Taylor was there, as well as  Mike Giles, David Jansen,Paul Matthews , Miles Gore Brown and Mark Laird.
team Argentina with Mr. Hossinger as their TC and one pilot Fernando Repicky,
Team Germany with Uli Schwenk and Klaus Holighaus, Holger Back,Hans Obermayer, Martin Theisinger, Peter Fisher and Erwin Ziegler,
Team UK with Andy [Davis] and Brian [Spreckley],Alister Kay, Martyn Wells ,Justin Wills and David Watt and as TC Andy Lincoln, team Denmark with Jan [Andersen] , Edvin Thomsen, Kristian Hansen, Ib Wienberg [who flew later with us in Tocumwal with his mates], Jan Schmeltz Pedersen, Ojvind Frank and Stig Oye and
Belgium with Paul Borgard and Jose Jaime and
team Finland with Simo [Kuusisto], Kari Lappalainen[ who flew with us in Toc as well] Jouko Maenpaa, Vesa Pajunen, Juha Sorri and Antti Taimioja.
and the last pictures I have from the opening.
South Africa with to the l. Hannes Steinmuhl, then already 80 years old and Carol [Clifford] as their TC and as pilots 27 year old Oscar Goudriaan , Keith Ashman, Dietrich Heiriss.
Under the Russian team with big smiles, they were not put off by the rain with good old Alexandre Silvanovitch who offered me "Space-food and the
Swiss team with Tomas Badum as TC and 6 pilots,Frederico Blatter, Fridolin Hauser, Werner Danz, Rickard Haechler, Markus Gaumann and Basil Obris .
Then last but not least team Sweden , with Claes Hagnander as TC and 7 pilots; Goeran Andersen, Goeran Ax, Torbjoern Hagnander, Ake Pettersson, Urban Hansson, Rainer Laino and Curt-Olle Ottosson and
the USA. with "big" Rick [RIP] with a small umbrella and Ray Gimmey, Eric Mozer, Richard Hall , Karl Striedeck , Ken Sorensen [CD in Uvalde in 2012] and Doug Jacobs with the well known Jim Payne as TC .
The story about day 2;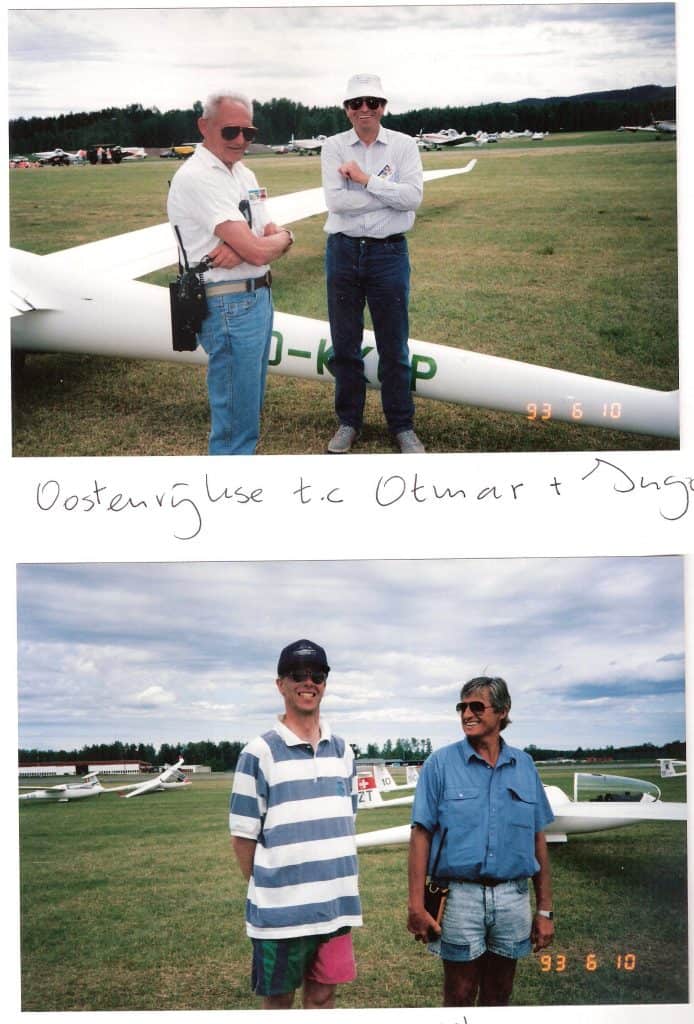 The Austrian TC Otmar with Ingo and the Swiss TC Tomas with Baer.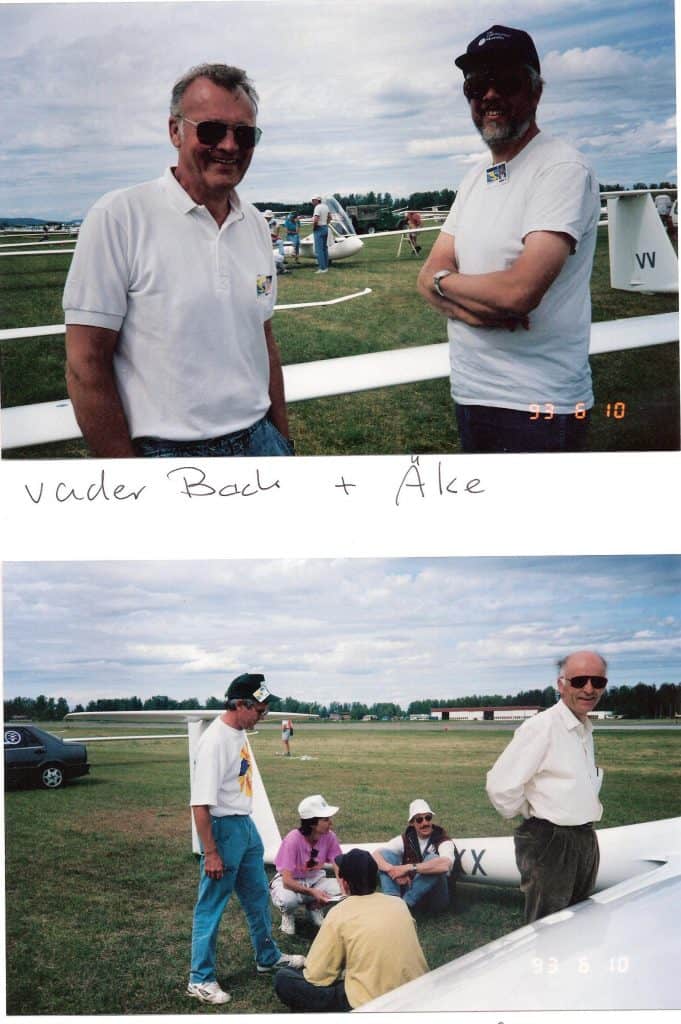 Holger Back's dad and Ake and a smiling  Klaus with Uli against the glider and the parents from Anni and Chris Kehn.
And about day 4;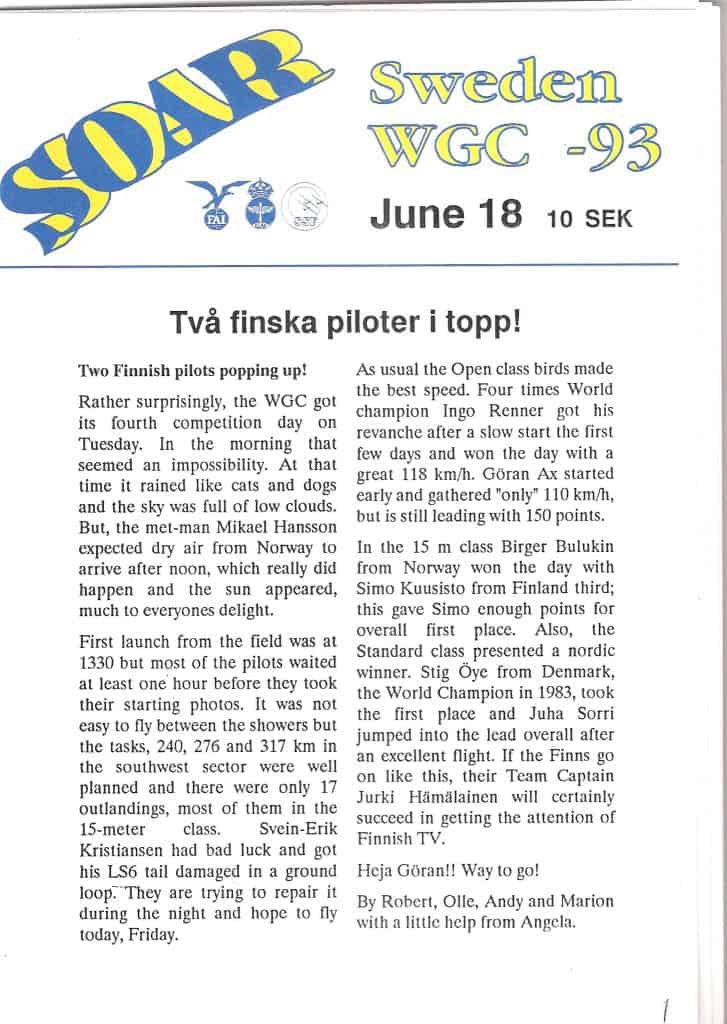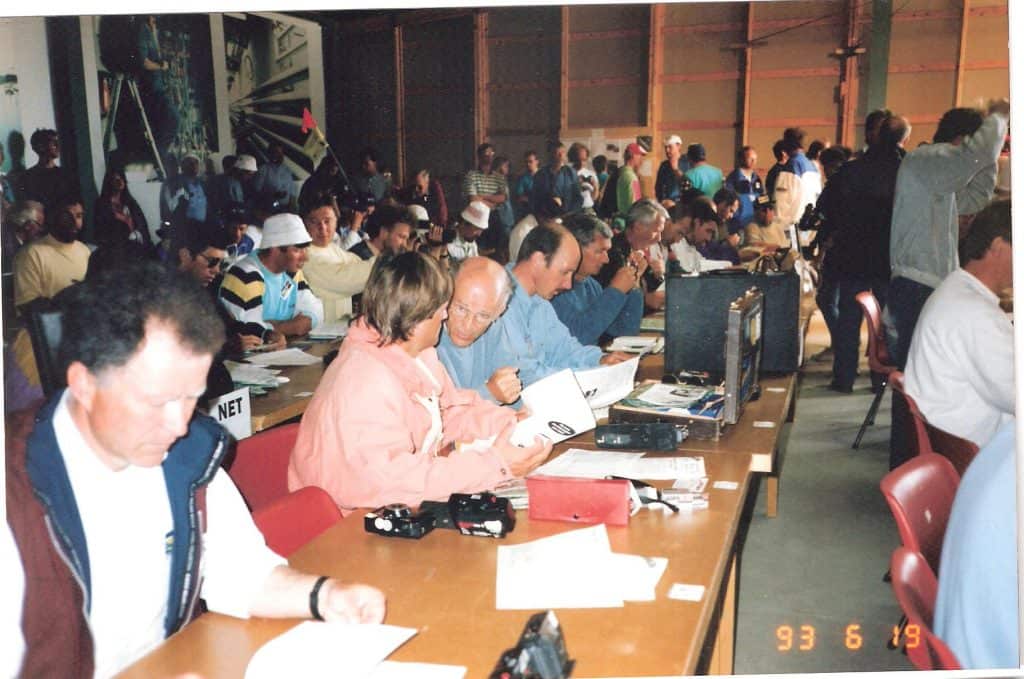 Briefing time with Holger Back and Klaus Holighaus [RIP] and Uli Schwenk.
And my Aussie mates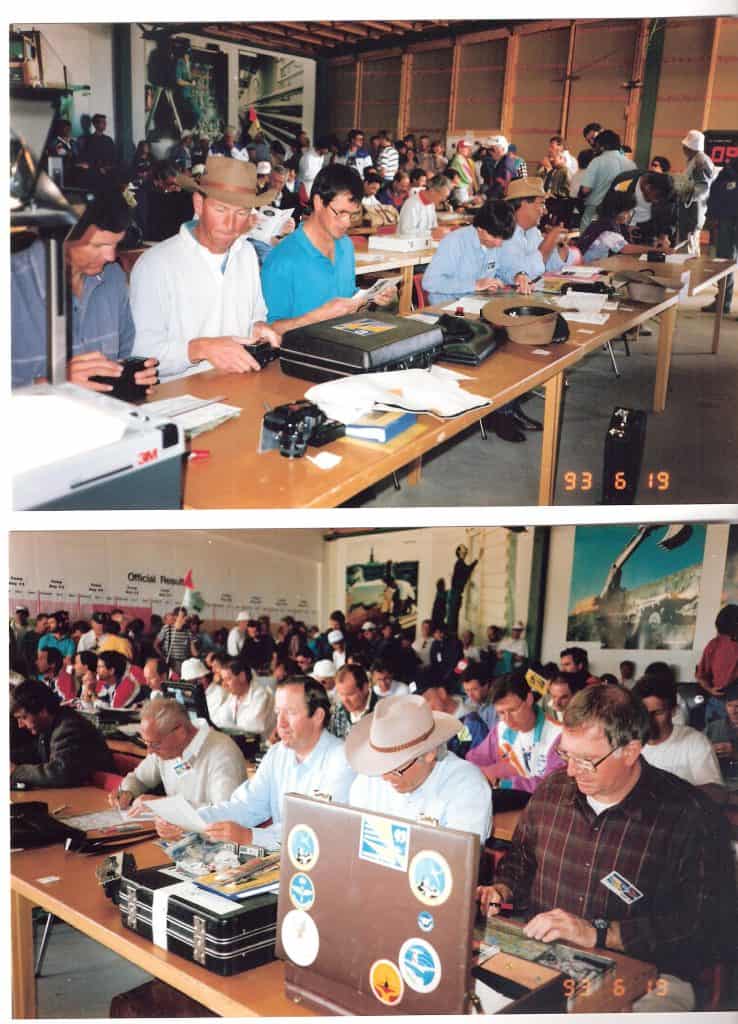 Above; David Jansen, Brad Edwards , Bruce Taylor, Miles Gore-Brown and TC Bruce
Under; Ingo, Giles [Michael] and Paul [Matthews]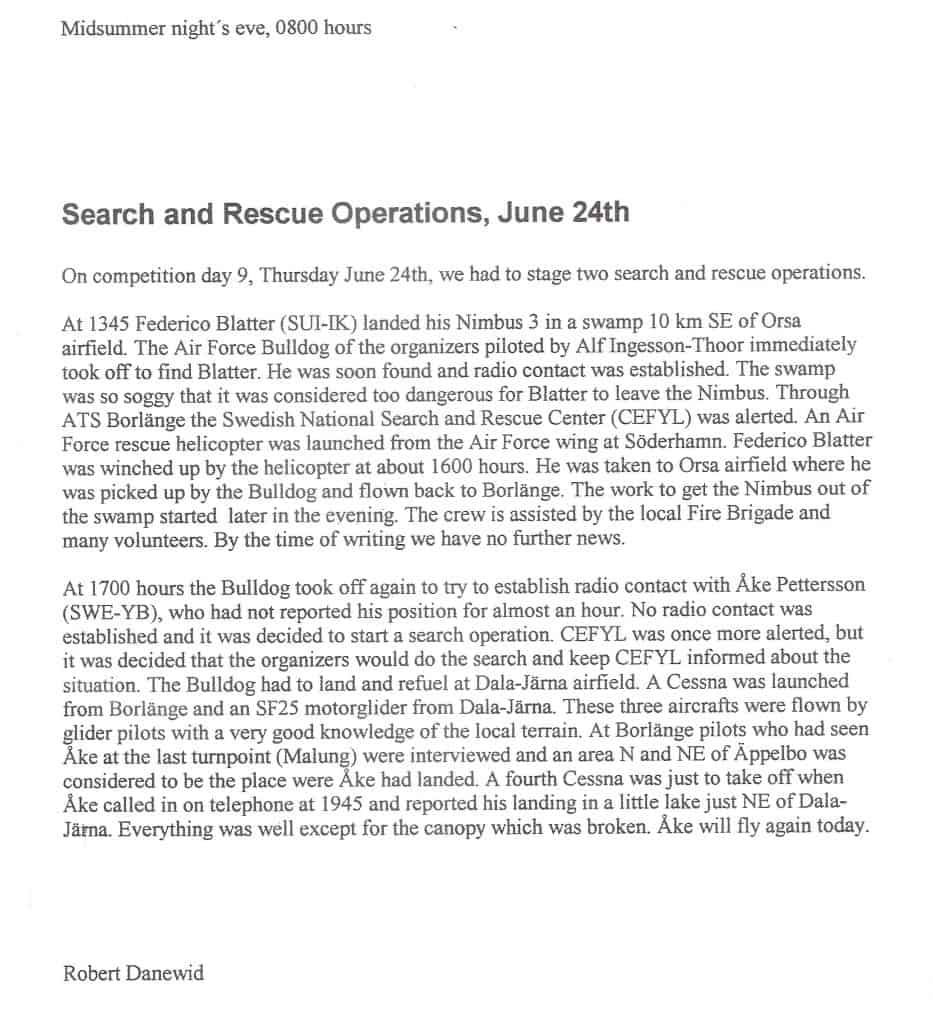 I remember that cost of those rescues was HIGH !!!!!!
So here is the last news from Borlange;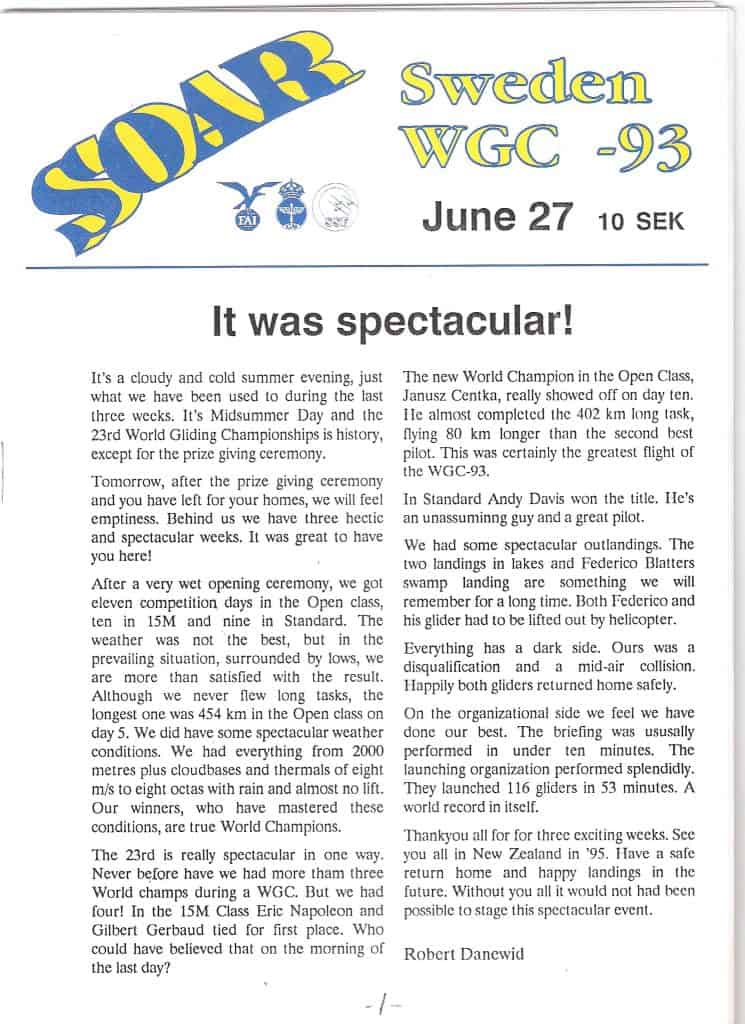 I am more then interested in open class as my ex George flew in that class and I got to know most mates there. Now,…NO picture from this class, sorry about that.Must have been too excited by the silver from Eric our youngest pilot.
But of course the final result: The champion in open class was Janusz Centka with 9897 points.He won the 1991 Uvalde WGC as well, so 2 in a row!!!! Followed by Goeran Ax with 9525 points and the bronze was for Brian Spreckley with 9391 points. 27 Pilots in this class.
But here , with pictures , is the 15 m. class with 2 CHAMPIONS. Very exciting for that time. Both Eric Napoleon and Gilbert Gerbaud had 8220 points. ONLY 4 points less for my mate young Wolfgang [with hair] 8216.
YES the Wolfgang from Flying with the Champions!!!
The French , helping each other had a better last day with 941 daily points whilst Wolfgang had 885. A total of 40 pilots in this class.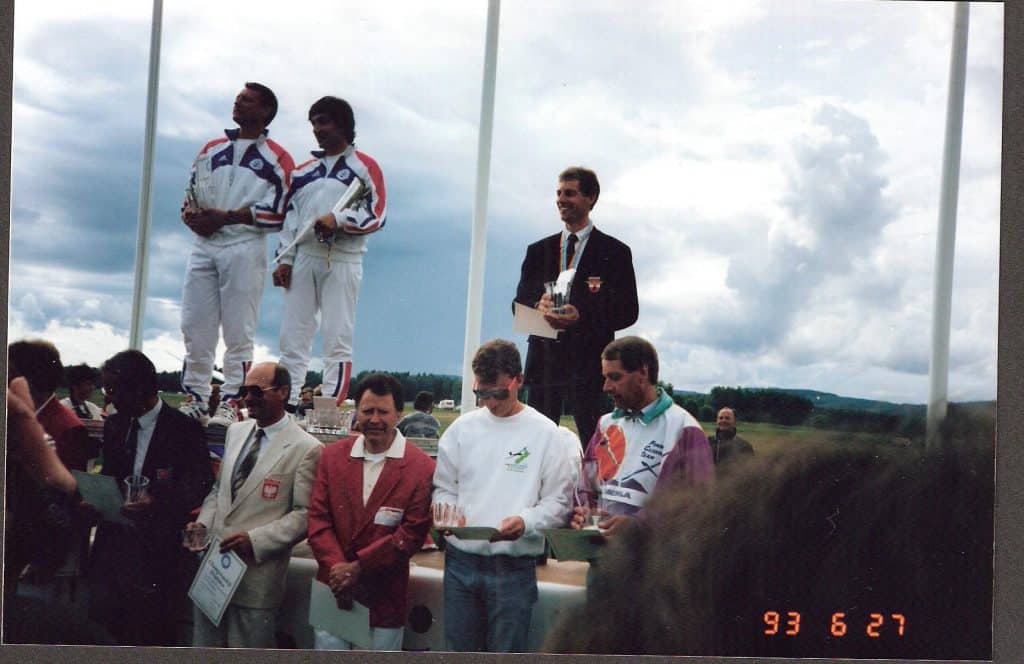 AND the standard class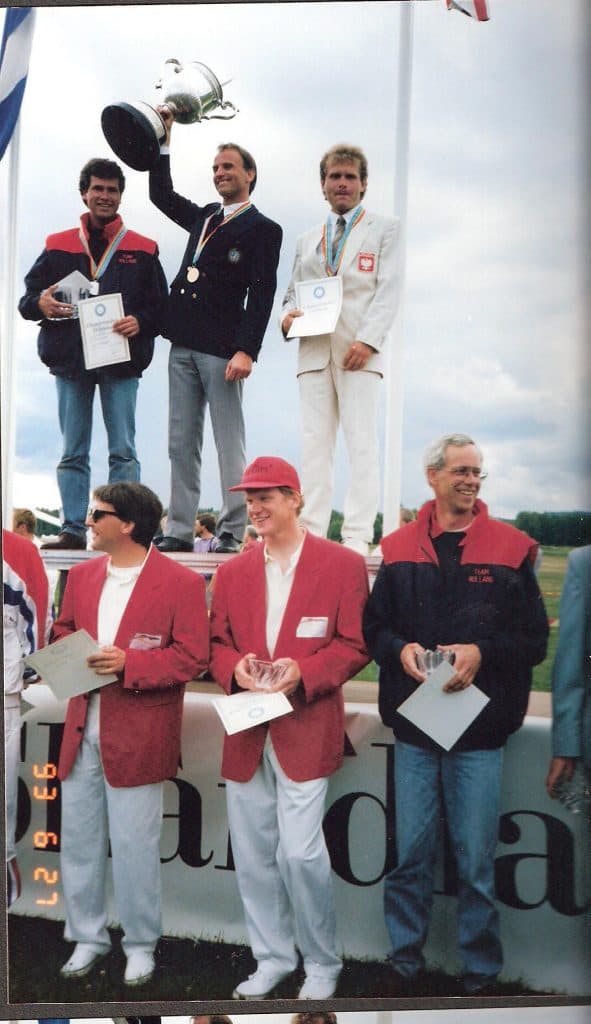 With Eric [silver] Andy , who won 3 day's [gold] and Tomasz[Rubaj] bronze. To the r. Baer Selen who won the last day and finished overall on spot 9.
The Italian team with Smilian to the r. Giorgo to the l. his crew Roberto with the Viking hat,  behind the sign Leo [Leonardo Brigliadori and his wife RIP] Roberto Monti and Luciano Avanzini to l. of Smilian. Also flying Stefano Giorgio .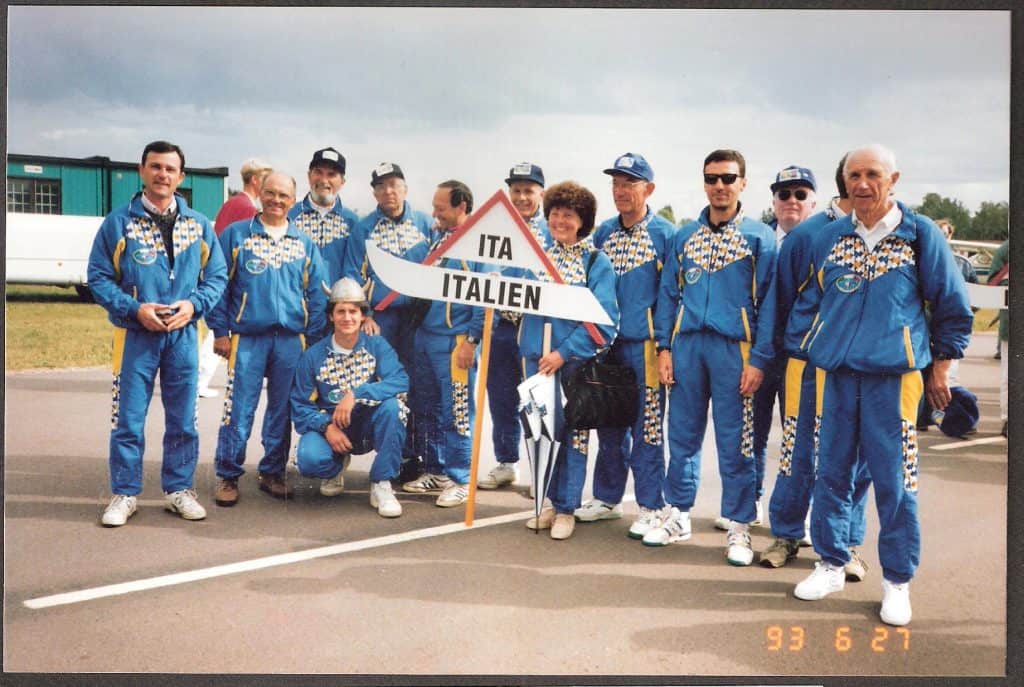 VERY PROUD moment;  from all the many TC's [24]  including Kiki [France] and Fred Gai [Germany] not to forget Smilian Sibic from Italy] to the r. on the picture above , I turned out to be "the best." At least , I guess, the most devoted to the team.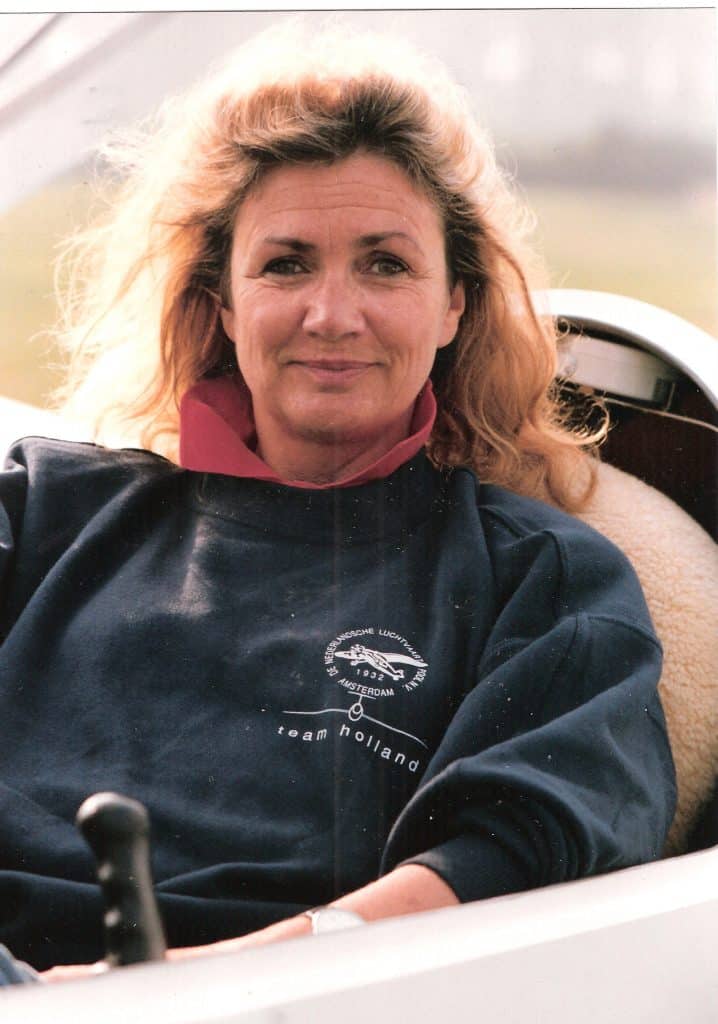 I don't even remember,…. but I was chosen as the best TC, so you see a happy smile. Bigger picture to show our sponsor "de Nederlandsche luchtvaartpool NV" an insurance company with whom I really had a good contact.
"De Nederlandse Luchtvaartpool was founded in 1932,making it one of the oldest aviationinsurers in the world. Today NLP forms an integral part of the Aviabel group, although the company name was retained after the takeover in 2001."
Hope you liked looking back with me to the Borlange WGC. It brings back SO MANY memories!! Even with the off-weather we had a fantastic time and the Borlange crew did a great job. By the way we went on a 24 hour cruise to Sweden and back.
By the way the CD was Alff Ingesson -Thor and his deputy Robert Danewid ,who was later  the Eskilstuna  CD and I was there too, on invitation to be their editor.
President of the jury my friend Tor Johannessen.
Cheers Ritz
CU next week.