You can can call the EGC in the UK, already now a success. I know there were some pilots, who were very skeptical when the vote for Lasham was published and straight away said:" I am not going to sit in the rain at Lasham!" They were definitely WRONG.
YES,….They had rain, the field was sometimes soggy after over- night- rain, ….pilots had to bring their gliders some days to the strip over the tarmac, but ….no worries they flew in the afternoon.After rain,..there is sunshine…correct in the UK.
On one day ALL out-landed, but,….not for the first time during a competition.
BUT,….also….on one day they launched the 18 gliders in open class in 6 minutes!!!!And,….several over 500 km-flights were flown. Not bad,…not bad at all!!!For those who love Formula 1 as well, as I do, here is a picture from SILVERSTONE , shared by Arne.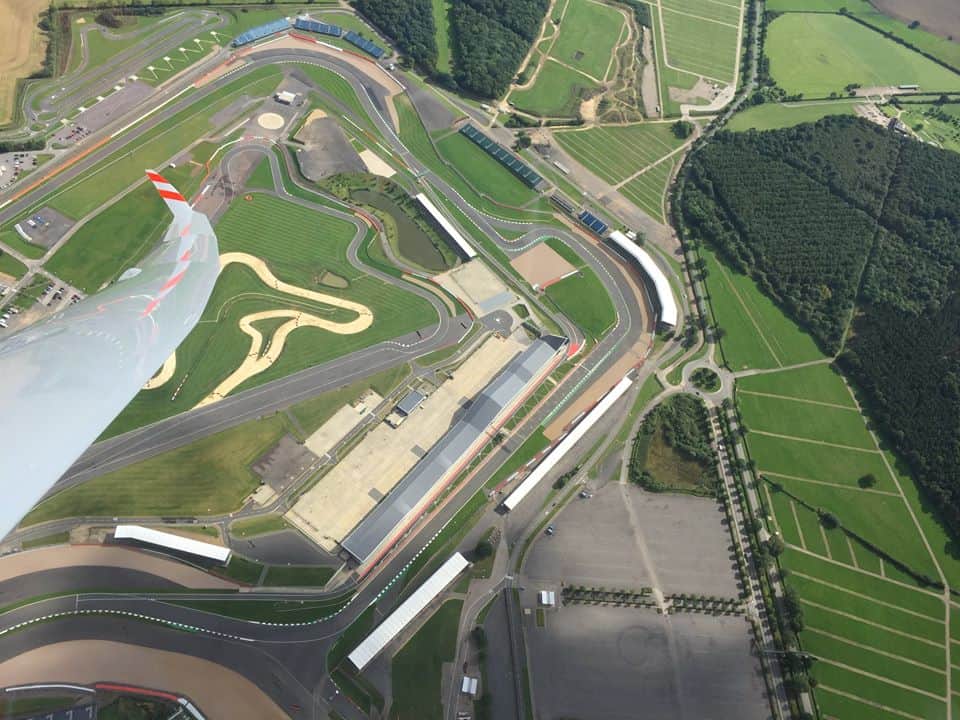 Great picture!!!!!
————
19th EGC in the UK at LASHAM for flapped gliders
August 17…day 5..task 4/5; " Good morning! The Met Man says that there is a good chance that we will fly this afternoon. Grid is delayed to 09:00 to allow the airfield to dry out after last night's rain."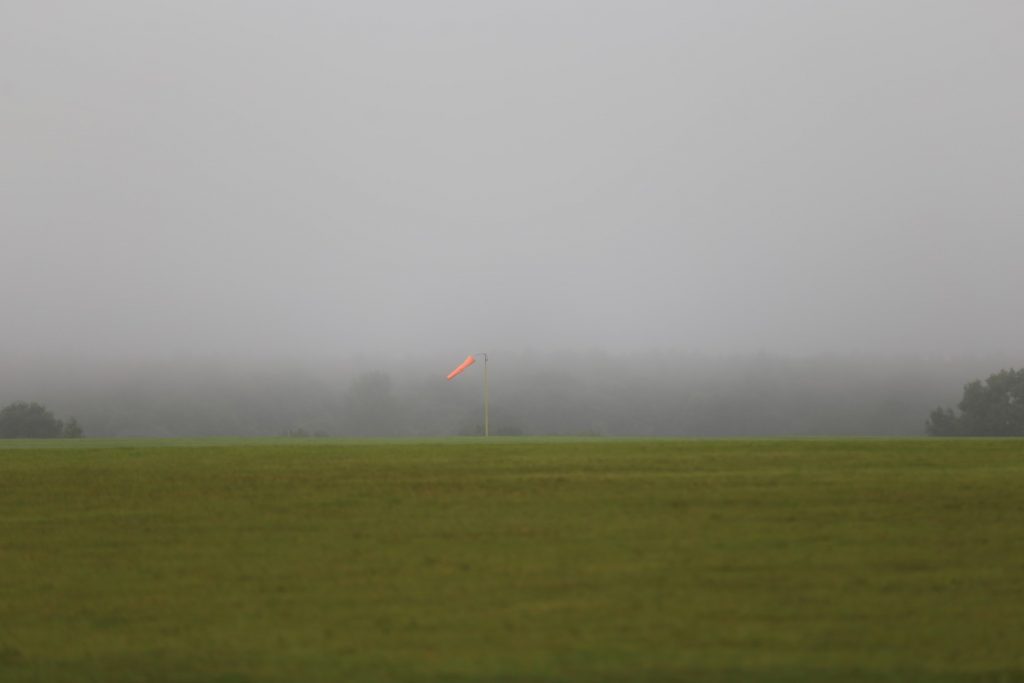 Morning-weather as shared by the organizers.
AND then ……they set a 3 hour AAT for all 3 classes, with B and C tasks if necessary, from 2 .5 and 2 hours. At 13.15 ,still no flying but TC's at the grid.
Improvement of the weather as seen and shared by Team Germany.
AND Team Belgium.
Still a low cloud base!
AND
CD Andy with the latest at the grid! A task for 15 m.  B task for open and 18 m.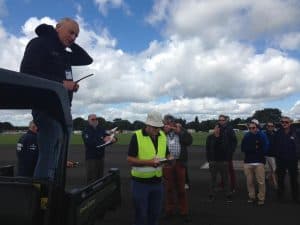 First launch 15 m. 13.30 ….First launch 18 m. and Open 13.50
As shared by the organizers.
15 m.; 3 hour AAT… They started ,but nearly all had to re-start after finding NO LIFT AT ALL , to go up and a tough wind. In the end the day for this class was cancelled, so still only 3 days of flying in this class.
Adam;"Day cancelled due to sporting & fairness reasons for the 15m class."
18 m.; 2.5 hour AAT…changed in a 2 hour AAT…task D….. and many "came back under steam", just a short run as some nearly could see the finish ring. Their day 5 was a difficult one. 6 Pilots came in with around 200 km and without engine- use. Christophe from France, Jurg and Marcel from Switzerland and Wolfgang from Austria.Later also the Belgian brothers Bert jr. and Tijl finished.
The rest had the kilometers but did not finish so not too much points lost. Finishers between 629 and 740 points , non-finishers but close by between 500 and 600.
Tijl mentioned; "Crazy day at Lasham. Didn't get up, started as latest in 750m ground, which was the highest altitude I saw for the first 3/4 of the track. Then at didcot power plant I found a thermal with Michael Sommer around the chimney. And in the end I found as the only one a wave, which brought me home for the last 40km. A rest day would be welcome."
Mike and Arne  just missed out [614 and 589 points ] and were the first non-finishers. Arne  mentioned;
"A good day turned difficult for all. Was heading out with those who actually completed the task (kudos!) but didn't get the final climb when they did. Not that it was easy for them either. Saw the same airspace, villages, pubs, churches and the odd flock of sheep 4 times before I together with the open class gambled the sorry remains of stratus up wind – only 250m short of final glide to the finish circle." 
open; 2.5 hour AAT…Also here a lot flew back with the engine and some where really close by. TWO finishers ONLY….Michael and Ronald…good on them !!!77 and 75 km./h.[753 and 749]  Pierre and Arnaud were " out "but on spot 3, [696 points] most flew between 140 and 200 km. Only 50 points between " in and out".
It turned out a marginal day. Specially the WSW wind was a "killer" in the end for any lift to come home.
" Today was a tricky day to forecast, with the air being slower to dry out than hoped for. The Open and 18 Metre classes were launched on task, we are expecting finishers soon. Some gliders are close to the airfield, but some seem to be struggling in very weak lift to get back on glide."
Lined up …gliders and tugs..Day 5.
As shared by the organizers.
Looking back on the day with team Belgium with 2 finishers;
Team Belgium; "Quick debrief of yesterday: the day started with the usual ballasting of the gliders below the low, fast moving stratus clouds and the odd bits of rain. The meteoman announced soarable weather for all classes, with strong winds of 35kph. The waiting game on the grid could begin. After towing and cancelling 15m class, 18m and open got D – tasks with starting points more to the north, away from the seabreaze. Getting away from tow was difficult and conditions on track proved to be likewise. The real battle though, took place in the last 15km and was a fight, together with about 30 gliders, between 150 and 650 metres, against the incoming stratus clouds. 1 glider only took the easy road and thought it would be clever to climb into wave and enjoyed a relaxing way home, watching the battle below him. Well done, Tijl! 
👍
😁
In the end, for open class only 2 gliders and for 18m class, just 6 gliders completed the task.
Today, the competition director decided to cancel the day for all classes, due to even stronger winds (50kph) and potential showers.
LONDON CALLING 
😁 "
so…
August 18...is a rest day!
"Today is a REST DAY. There will be no competition flying. After a few long and tricky days the pilots will have a chance to rest and relax with a traditional "pub games" night in the clubhouse this evening."
And with day without tracking and F5 the organizers suggest as follows;
" Please enjoy this selection of photos taken over the last few days by Tony Cole to see more of his work visit his page here – Tony Cole Photography & Digital Art
Here is one of them, Marco "with his ears up!!" Indeed excellent pictures  have a look!!!
Courtesy Tony Cole
Looking to the overall scores,  after one week ;
15 m with 3 valid tasks; 1. Uli Schwenk in VV the VENTUS 2A with 2.311 points, 2. Freddy Hein in FH the Ventus 2ax with 2.286 points and on 3 for the time being Tim Scott  in ZR an ASG 29 with 2.151 and not far behind Lucasz Grabowski in RP the Diana 2 with 2.131 points on 4.
18 m. with 5 valid days: 1. Wolfgang in WO the VENTUS 3 with 3.315 points,2. Christophe in FC the JS 1 with 3.293 and on spot 3 for the time being Jeroen in 630 the ASG 29E [as far as I understand a great glider from Roy Pentecost] with 3.195. Bert jr in the brand new Ventus 3 is on spot 4 with 3.183 and all also very close number 5 , 6 and 7  Peter  3.181, Roman 3.177 and Jurg with 3.123 points. So close a lot can happen in week 2.
open with 5 valid days; 1.Michael Sommer with 3.652 points in EB 29R, 2. Lucasz Wojcik with 3.467 and close behind on 3 Ronald with 3.456 points. On 4 and 5 Russell and Holger 3.421 and 3.390.
Saturday…August 19…day 6…task 4/6.Human batteries are charged again, so another day in Lasham. AND…. 10 tuggies available!!!
"Today, we've received AAT tasks for all classes again, although outside it still looks a bit cloudy and rainy, but the meteoman seems to think that it's soarable, but 'complicated'. Let's cross fingers for a lovely flying day. 
Tonight is also the international evening, so busy day for the ground crew as well, as we still have some waffles to bake. 
😋"
MUST be Team Belgium and of course it is.
Though there was still rain,…the sniffer went up to "investigate". First launch not before 12.45.
15 m.; 2 hour AAT….task 4, so a valid competition in ALL classes.
Another difficult but flyable day at Lasham and UK pilot Tim Scott ,used the UK-weather for the distance and time best in his 2 hour AAT;189 km. in time 2.02.
With such short distances it is always difficult to find the best start time. For sure it should be on the best part of the day but sometimes is difficult. They all started however within 8 minutes.
12 From 16 finished so a good day and runner up was Freddy Hein, whilst his mate Uli was " only on shared spot 6 loosing around 78 points.
18m.; 1.30 hour AAT…The even shorter AAT from 1.30 was also a prey for a UK pilot this time Mike Young; 153 km. in time 125.26. He started STRAIGH AWAY whilst some waited for half an hour.
The Belgian brothers Bert and Tijl , used to Belgium and Swiss weather dealt with the circumstances AS good, starting 13 minutes behind Mike and were on spot 2 and 3. Peter Millenaar used to Dutch conditions was on spot 4.
20 from 25 finished and it was a tough day for German pilot Michael Streit who only got 33 points!! Wolfgang was on spot 12 with 121 km. so not his best day.
open; 2 hour AAT…Very  short for an open class , but on a competition you have to fly the set task; 2 hours. Best and also used to real European weather Lucasz Wojcik from Poland;221 km. in time 2.02.55.
Not a good day for team Germany. Michael Sommer was only 10th due to among other things, a too low finish and lost around 100 points to the daily winner who "got" 619 points. No worries for his overall scores…still leading the pact.
August 20…day 8…task 5/7.  For all about the same set distance in a racing task and the 2d time they used the interval-startline. Real racing looks different, but a lot finished. " "The window with flyable weather will not be long due to an approaching bad-weather- front."
15 m. ..201 km.   Good to see a daily win for Henrik Breidahl, I" know " him already for so long . He flew the task with a speed of 86 km./h. Tim Scott and Gary Stingmore had a good day as runner up and number 3. Most were happy to be in, before the first raindrops!!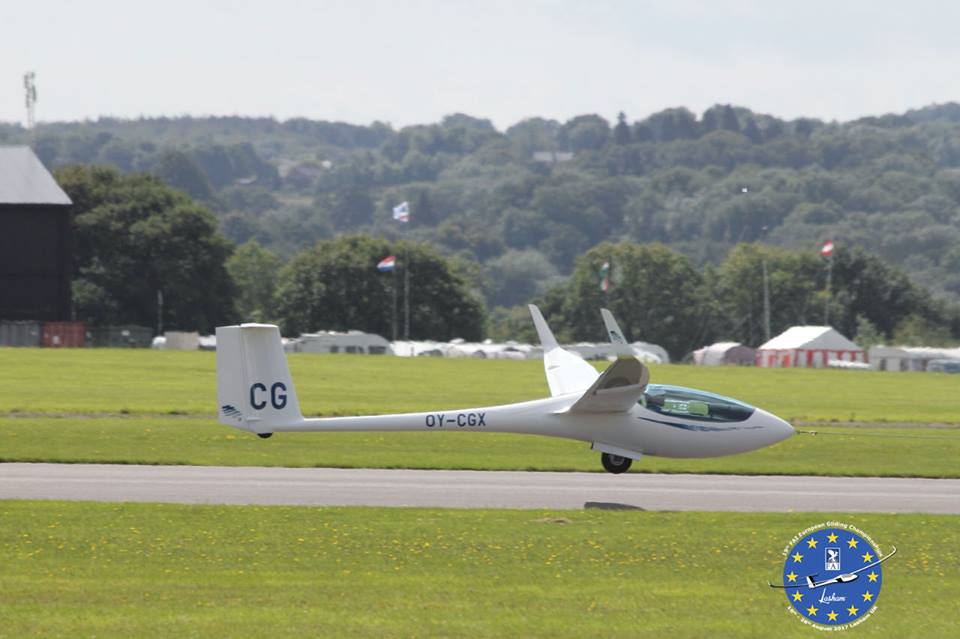 Henrik as daily winner. Picture shared by the organizers."Thanks to Benedict for the extra pictures from the tower."
18 m. ..207 km. Also in 18 m. a nice win for a Danish pilot Arne! Good on him; the only one who flew just over 100 km./h.
The Belgium team did well;
"In 18m class, Bert and Tijl had a fun grand-prix-style race, against all other pilots of their class, as everybody started exactly at the same time, the earliest possible time slot. In 15m class, Daan took a later start slot and had a really fast race. Unfortunately, his last climb underneath the high cloud cover, didn't bring him home and he outlanded close to the airfield. "
Open…212 km. and Pete Harvey raced in some kind of super-flight, to his daily win with 117 km./h ,followed…but  10 km./h.. slower by the THE Broquevilles. Pete in the JS 1C started at the same time as Pierre and Arnaud in the EB 29DR. Interesting to find out WHY??!!
Team Belgium mentioned; " Yesterday's flying day was a partially good day for the Belgians. Before the entering frontal clouds and rain, Pierre and Arnaud choose an early start slot (designated start times) and did very well, resulting in a fantastic second place of the day."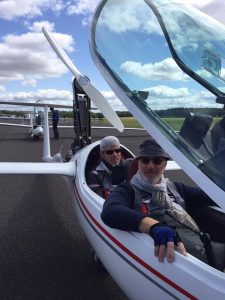 Pierre and Arnaud, the famous THE BROQUEVILLES.
As shared by team Belgium
All scores from today are preliminary.
Today the tuggies "green team" were feeling good," they launched the whole grid in 34 minutes, they are trying for 30"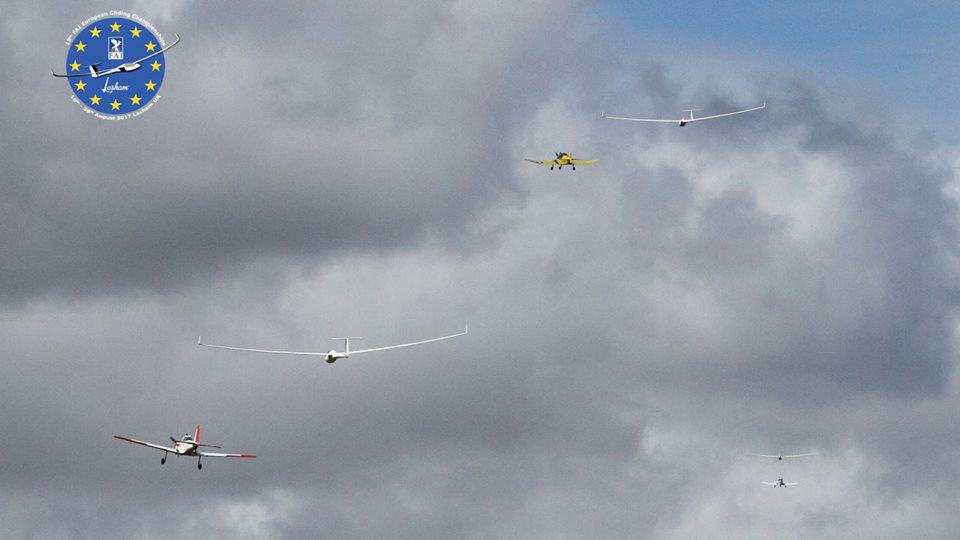 "Thanks to Benedict for the extra pictures from the tower."
————
More latest news from Schempp-Hirth.
"An era comes to an end:
Just before closing down for our summer holidays, we test-flew the final second-generation Ventus. Ventus-2cT serial number 246 was the last of 664 produced Ventus-2.
The Ventus-2 was originally designed by Klaus Holighaus und has been produced & continuously improved since 1994.
It has recently been succeeded by the third generation Ventus which made its maiden flight in January 2016.
We wish the new owner many memorable flights and happy landings!
Thanks to Dennis Konieczny for test flying and organizing pictures!"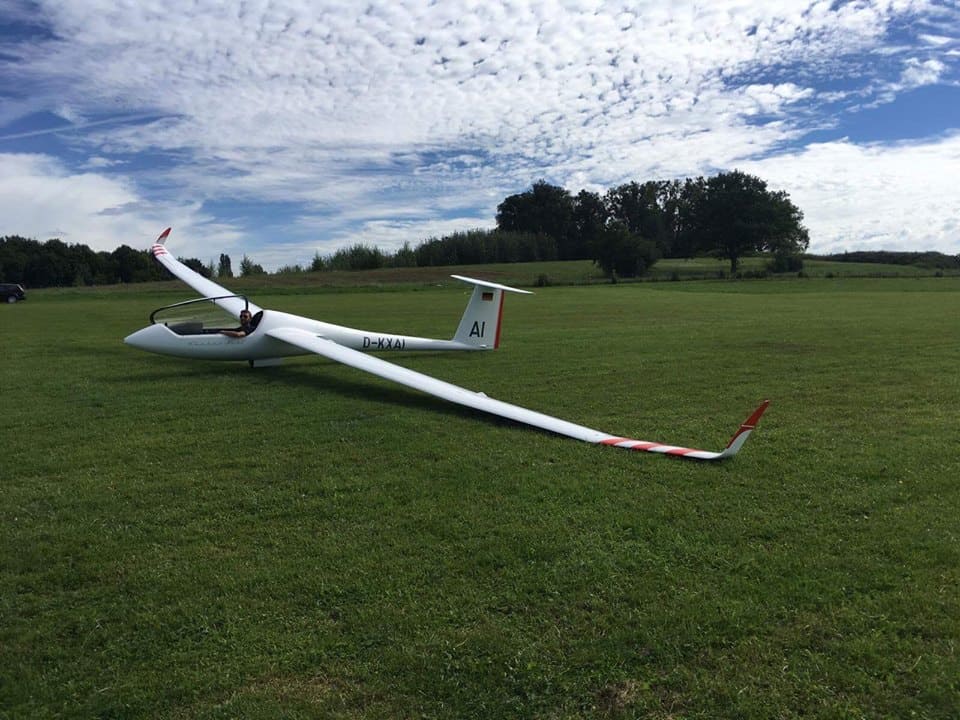 Indeed an end of an era. "We"  always flew Schempp-Hirth gliders ,now a Discus is a new edition in the family again.
———–
The FAI SGP in Slovenia in CELJE
August 19-26.
This event in 18 m. counts 12 pilots from 4 different countries and started today . The regatta start was at 3 and  the distance 164.44 km. but not all are yet scored . It seems Bostjan Pristavec has "the best papers"  to win day 1.
Their latest news;
"Most pilots are back in Celje, the others are on the way back from the field. Today's fastest pilot was Bostjan Pristavec."
In the end only 2 pilots finished Bostjan and Luka both from Slovenia.
More in my next blog.
———–
KEIHEUVEL
I was at the Keiheuvel weekend yesterday. My friend Ans and I visited this year just for one day, but had enough time to talk to most friends. We fell with our nose in "the pies"  as there were about 5 big ones on the table for the birthday of the 2 children from Jef and Gitte and the party was at the field .
We could congratulate Tim Kuijpers with his EGC win and Jeroen Jennen with his bronze and share our sympathy with the unexpected death of Jef 's dad and Pieter's granddad. We had a good Belgium beer in the KEI and great food as always.
Unfortunately there was no flying. On Saturday the weather started to be better after 4 when they had to cancel and today looked better , they tried and started, but in the end it was not meant to be.CANCELLED.
A pity next time we go for the full 3 days again.
cheers Ritz