EXTRA BLOG ON SUNDAY !!!! ENJOY !!!!!
JWGC in POCUINAI finishes with hail and a thunderstorm AND….. a DUTCH and GERMAN CHAMPION!
Wednesday..August…9…task 6/7. Pretty good weather certainly looking back at the days till now. Only 4 days to go. Farewell party already on August 12 at 7 PM.
With a change to the local rules about the minimum height for crossing the finish ring , the boy's and girls started for task 6 and 7. Expectations for another challenging blue day , this time with more wind, so less high speed!!!!
club; day 6 with 266.61 km.
It turned out not so good and as difficult as the other day's. ONLY 3 finished in both classes, so a great job from those 3 in club after nearly 4 hours of fighting against the wind;a Polish [Wojciech Wojtaczka]  , Austrian [ Paul Altrichter ]and French pilot [Thibault Alasnier] . Chapeau!!!!! Paul got 993 points and though they flew the same distance the French and Polish pilot got penalty points for a too low finish;989 and 964 points.
standard;
day 7 with 305.19 km.
As said no finisher. Best distance 260 km. flown by 2 pilots, Lithuanian Joris and Czech David,  who both got 1000 points.
The 2 Top pilots overall ,from Sweden had a tough day, as they already out landed after 80 km.; 107 and 103 points for them. A pity they dropped from 1/2 to 7/8 overall!!!
Ready and waiting at the grid for a flight on August 10,…but it was not meant to be. The day is cancelled and they had to rush the gliders in the trailers for another thunderstorm. Poor "kid's"!!!! CANCELLED.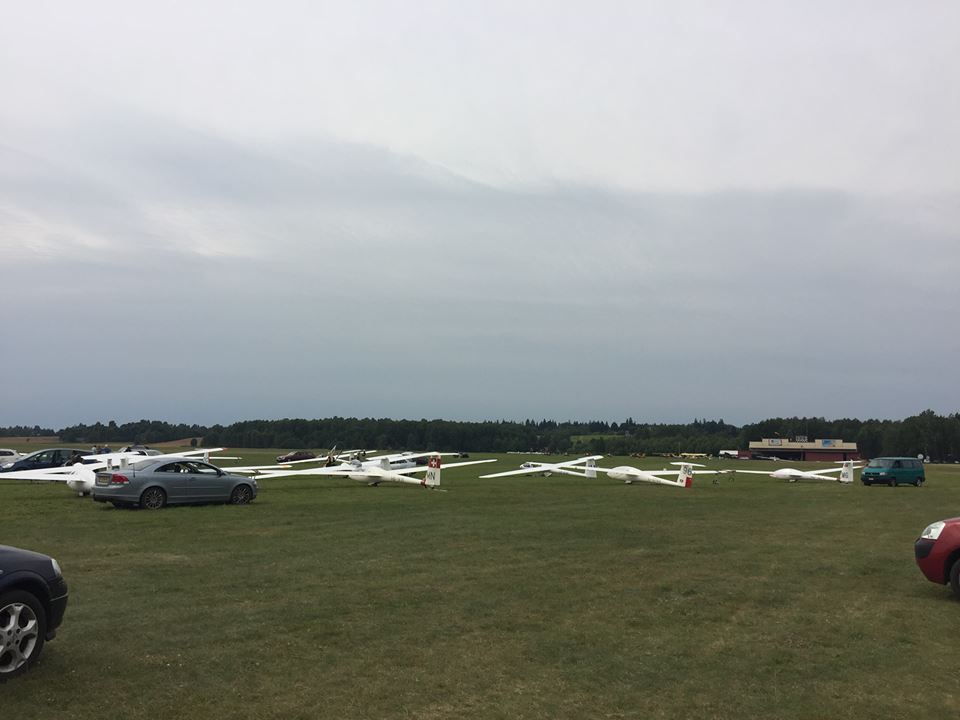 As shared by the Dutch Team.
Friday…August 11…task ???? The weather is cloudy with 23 dgr. C. One but last day; foggy morning and hope for a window to fly in. 2 Hour AAT's in both classes.
They moved the launches from 12 to 12.30 and so on till 3PM. Then the day was cancelled.
As Tony mentioned;"Rig, grid, cancel, de-rig. At least they gave us enough time to get them in the box and stay dry this time."
LAST day from this by the weather troubled competition in an area where the circumstances are normally good to booming, this time of the year, but still 6/7 days , better than nothing;
Saturday…August 12…Task 6/7 out of 14;
2 hour AAT's  on a day with strong wind , blue conditions and 34 dgr. C. with on the end of the day possible thunderstorms. Hopefully NOT a lottery-day!!!
Who are the first  in both classes and can they hold their positions!!??
Club;
1. Austrian Paul [ LS 4] with 5.294 points,
2. German Julian [ St .Libelle] with 5.143,
3. German Stefan  [St .Libelle] with 4.925
4. Dutch Nick [St. Cirrus]  with 4.911
5. UK Jake [ DG 101 G elan] with 4.884
5. UK Thomas  [ St. Cirrus ] with 4.729.Tom is the current JWGC champion.
On such a small -task- day not a lot of points are to gain so let's wait and see.
Standard;
1. Dutch Sjoerd [LS 8]  with 5.724  points
2. Lithuanian Ignas [Discus 2 A] with 5.637
3. Lithuanian Joris  [LS 8] with 5.635
4. German Enrique [Discus 2 A] with 5.445
5. German Kilian AND Polish Jakub both with 5.275 [ LS 8 NEO and LS 8]
First launch postponed to 12.30!! Then…13.00 !!Also 13.30 and a bit later they see some improvement in the skies….is it going to happen??
They tried HARD!!!! 1.30 AAT's now!!! First launch at 14.00 !!!!!….14.30   the sniffer tries again…….The sniffer CLIMBS and even goes through the inversion ………TOUGH wind though up to 45 km./h.!!!!!!! AND….thunderstorms were forecasted for later in the day ……Whilst waiting some played cricket in the grid……… sniffer at 1200 m……."good " 1.7 climbs…..What will the organizers do???
They decide to fly!!! 2.30 first start!!!!! Hopefully the "window"  is BIG enough, so they don't have to finish in a thunderstorm!!!!!
Ready to go for the last day.
As shared by Team USA.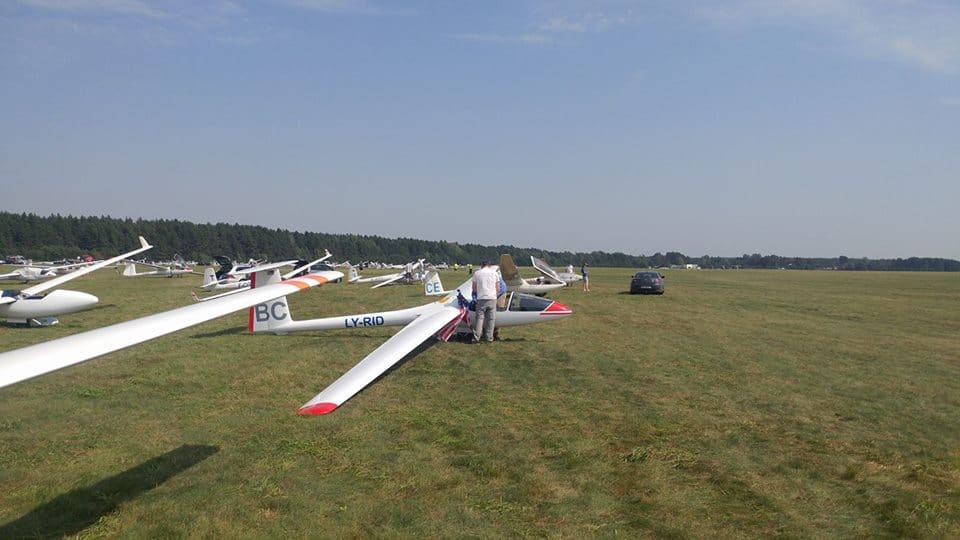 Club; 1.30 AAT…
For some it was NO fun!!!! They outlanded straight away as French pilot Thibault after 34 km. and a young Danish pilot after 17 km.. But there were finishers as well Julian Klemm from Germany the overall number 2 . He had to fly through hail, but made it home.Will this mean he wins the title??? He even wins the day!! Congratulations!!!
Number 1 Paul from Austria  outlanded, just  in front of the finish ring. He will not be happy with loosing at least 200 points AND his first spot. Luckily points are not expensive but still too many points lost.
The 3 USA -boy's finished!!!! So did the 2 NZ boy's Nick and Alex. Well done!
Dutch pilot Jelmer had a 4 m. thermal, I read and is runner up for the day !!!!!30 From 37 finished. In the end it turned out that the  soaring conditions were good .
SO the JWGC champion from 2017 is AGAIN from Germany; Julian Klemm in the St.Libelle.5.545 points.
2. Paul Altrichter from Austria with 5.448 points.
3. Stefan Langer from Germany with 5.256 points.
CONGRATULATIONS. Also to Dutch pilot Nick who is 4th.
Standard; 1.30 AAT…Sjoerd van Empelen from Holland nearly gave me a heart attack!!! He was "only" on spot 21 with 263 points but the 2 Lithunian pilots were on spot 14 and 15 and lost some points as well. Daily winner from Poland JAKUB.
29 from 30 finished so a good decision to fly in a small window on the last day. Quite a responsability!
Sjoerd relaxed and HAPPY with his fabulous achievement……….. And …..this is how extreme happiness looks like.AND… no winner without a good crew!!!
As shared by the Dutch team.
So the final scores are pretty close:
1 . JWGC CHAMPION;  Sjoerd from Holland, with 5.976 points. AGAIN a Dutch JWGC winner after Tim [2011] and Peter [2013] and a runner-up -spot for Robin in Narromine in 2015. AND we had a European champion this "summer"as well , yes the same Tim who won the JWGC in 2011.
2. Ignas from Lithuania with 5.938 points.
3. Joris from Lithuania with 5.933 points. Only 5 points difference. That happens when you start, fly and finish together and you are good in it.
After "the window" ,….it rained and hailed and in a short time 2 cm water in the tent-camp from the young ones….no electricity either!!!! They might not bother after a few drinks.
As one of the UK bloggers mentioned;"We've just had the most monumental storm which has taken power/wifi down"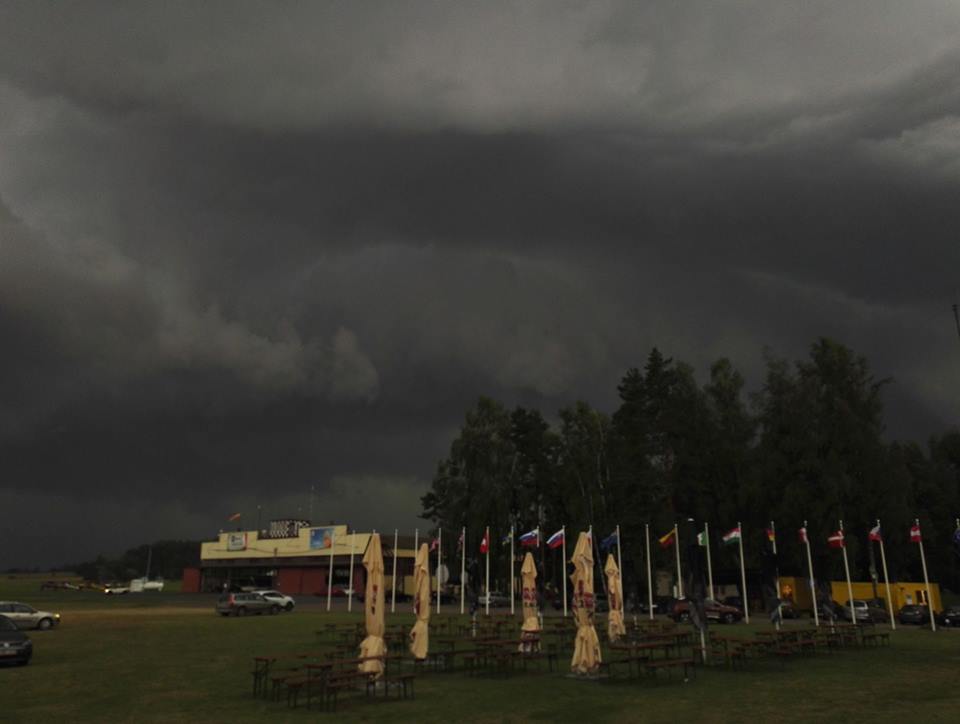 No words needed.
As shared by Juha.
Well that was the 10th JWGC !!!!Chapeau for all those kid's ….flying with 40 to 45 kts is not really fun and hail on a glider is not good either and waiting rigging and de-rigging on many day's neither, but time enough to see the surrounding and socialize though that's NOT the MAIN goal of the JWGC!!!
You may say this competition with this weather is character building , but I still feel sorry for all the young ones from the world that they had to fly under these difficult circumstances with many out-landings, driving over unknown roads with a trailer and long days.
I know they still had fun , made new friends , suffered together,  but laughed together too.A lot is new and for that reason exciting.
That's what it is all about, as the weather is in nobodies hands…it is as it is.
Unfortunately it was one of the worst summer-months of July and August [till now] in parts of Europe, whilst June was like summer has to be.
USA soaring teams said:
"Labas Rytas! Today is the final day of the competition. Forecast is hot and humid, with an approaching front that will kick off convergence and then storms. The task…looks familiar. 2 hr AAT.
One objective of the World Championships is to Foster friendship, cooperation, and exchange of information among soaring countries.
We have had an incredible amount of help from the other teams here in Pociunai and really need to thank them. Vladas Motuza helped arrange our cars and gliders and has provided invaluable on site support with spare parts, tools, and local soaring advice.
The Australian team are our house neighbors and tie downs. They've been great when we needed a tool or two, help rigging, advice, or a valve stem extension.
Even the Danish have been helpful when I needed a particular sized wrench to make some adjustments on a trailer, and of course we've had a great time with our new friends from Denmark.
So on to the final day. Hopefully we can get some soaring and let the pilots decide the champion in the air!"
TEAM CUP:
1. Germany
2. Poland
3. UK
The next JWGC is in 2 years in Hungary. New place, new chances for them who are not over 25. Looking forward to it!!!!Last but not least the HAPPY DUTCH TEAM.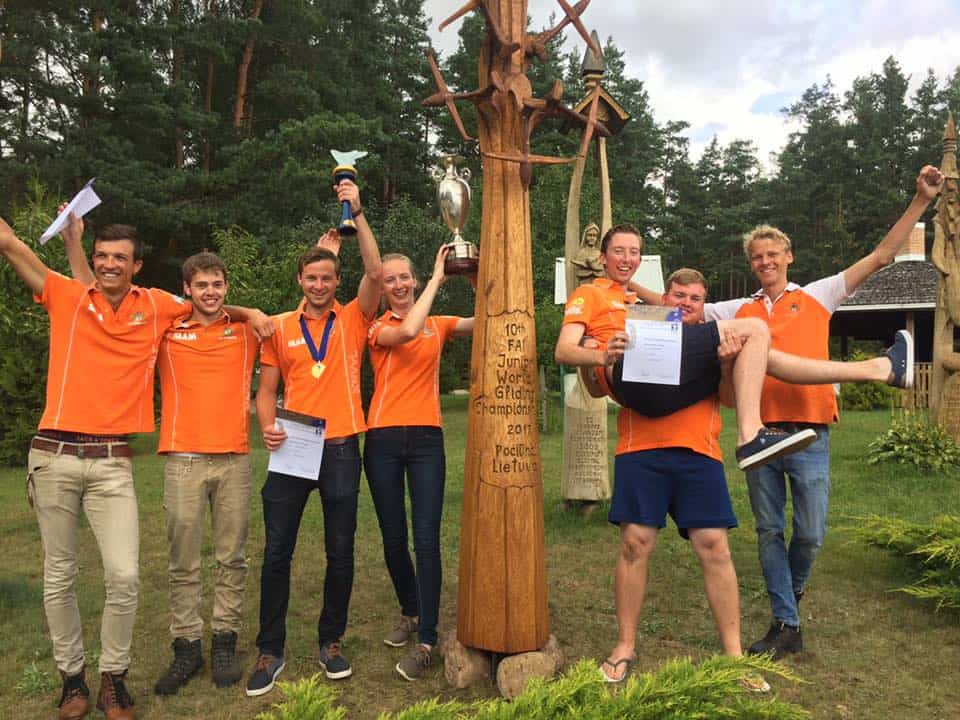 Around the specially for this JWGC carved totem -pole,  commemorating the championships. A great Lithuanian tradition!
To the left the Standard boys , Lars [18] , Sjors [1] and Sjoerd [9] , with TC Annemiek called "Annie" during these comps, to the right the club boys, Nick [4] , Robin [26] and Jelmer [36].
As shared by the Dutch team.
————–
EGC in LASHAM for flapped gliders.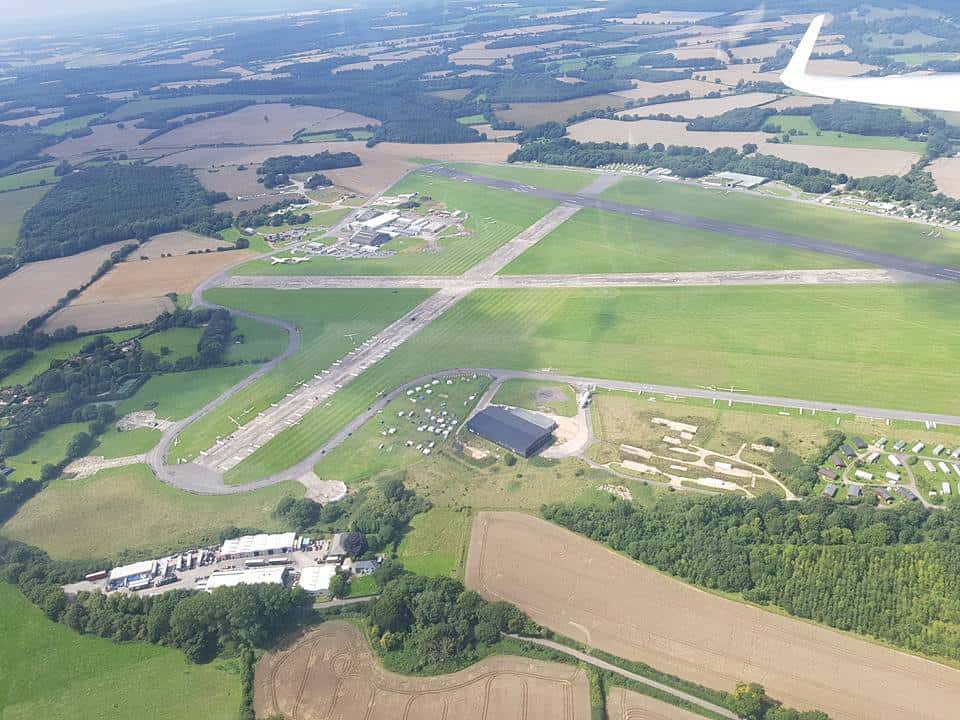 As seen and shared by Jeroen Verkuijl Dutch pilot in 18 m. class.
65 Competitors in 3 classes [ 15 m…18m….open]are ready for the first flying day on Sunday August 13[till Friday August 25]  after some practice days, who unfortunately were all non flying days due to steady rain. Yes also in Lasham poor weather like in many parts of Europe.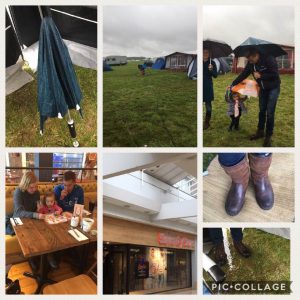 No words needed…as shared by my Dutch friends the  Termaat family.
The Schmelzer family, friends from Belgium, are in Lasham too. Both Bert jr and Tijl will fly.
Tijl in the ASG 29 from Bert jr., whilst Bert jr. will fly the VENTUS 3 .
This brand new glider, the first in the BENELUX, is delivered to them just a few day's before the Kippeneck comps. Due to bad weather Tijl, who flew it there,could not show the excellence of this glider.
They love to fly on this high -situated airfield [ the highest in Germany] and call it one of the most beautiful airfields they know and I can tell you they have seen MANY.
I heard that Schempp-Hirth has a waiting time now from 3 years for their beautiful bird!!! So business is GOOD for them!!!
Below 2 pictures as shared by Bert sr.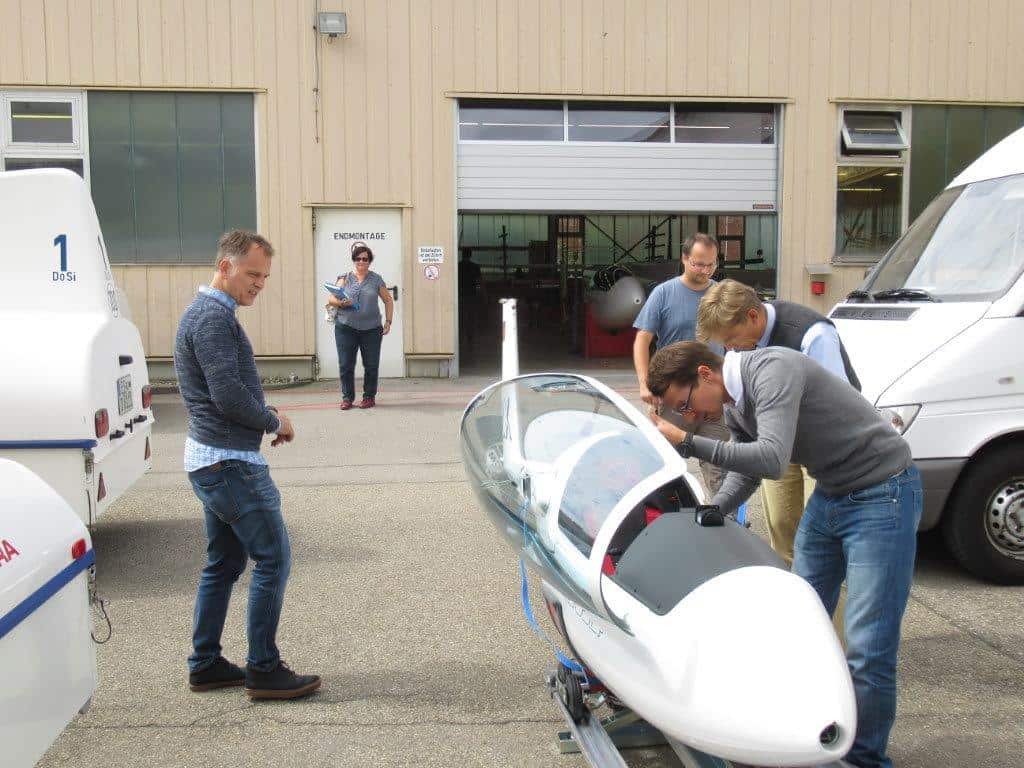 the delivery from 2 X , the first BENELUX Ventus 3, from Schempp-Hirth to the Schmelzer family with in the back "Madre familias " Hilde and Bert jr. ,Tilo and Tijl.
As shared by Bert sr.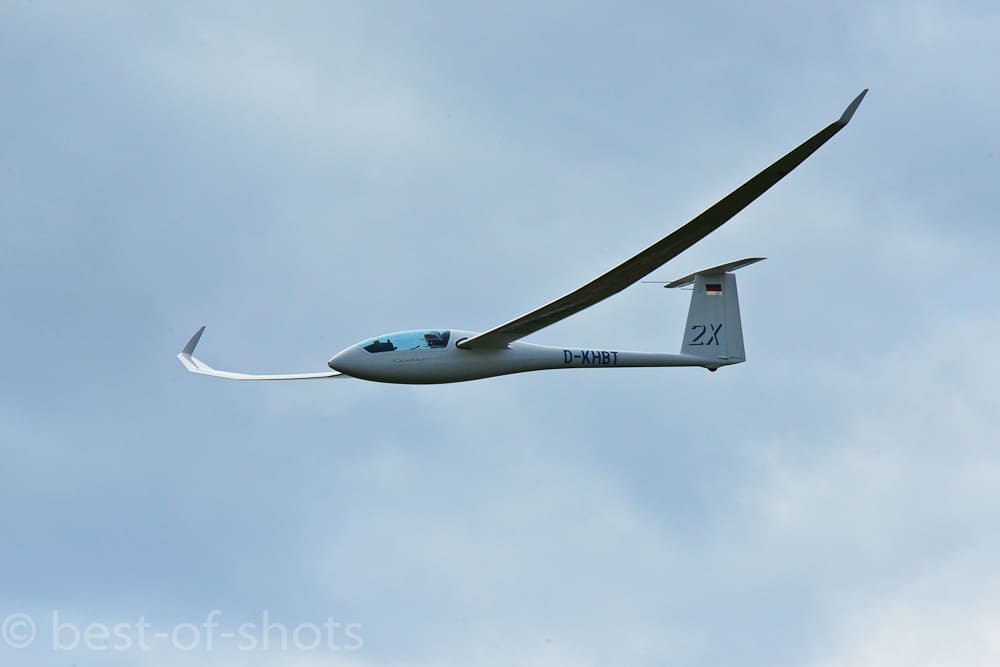 The Ventus 3 with Tijl on the slopes of of Klippeneck.
Picture courtesy Elke Zumbrink.
For the 10th of August hope was HIGH to fly and that was the first official practice day .
And the weather was pretty good, certainly for the UK.
15 m. got 308 km. and quite a few flew with as winner Lucasz Grabowski from Poland. 20 Pilots in this class.
18 m. got 336 km. and Roman Mracek was the winner from this official practice day, with 26 participants.
open 346 km. and 19 pilots in this class. Russel Cheetham had a good day. 6x JS 1C in the top 6.
August 11; 2 hour AAT'S for ALL pilots.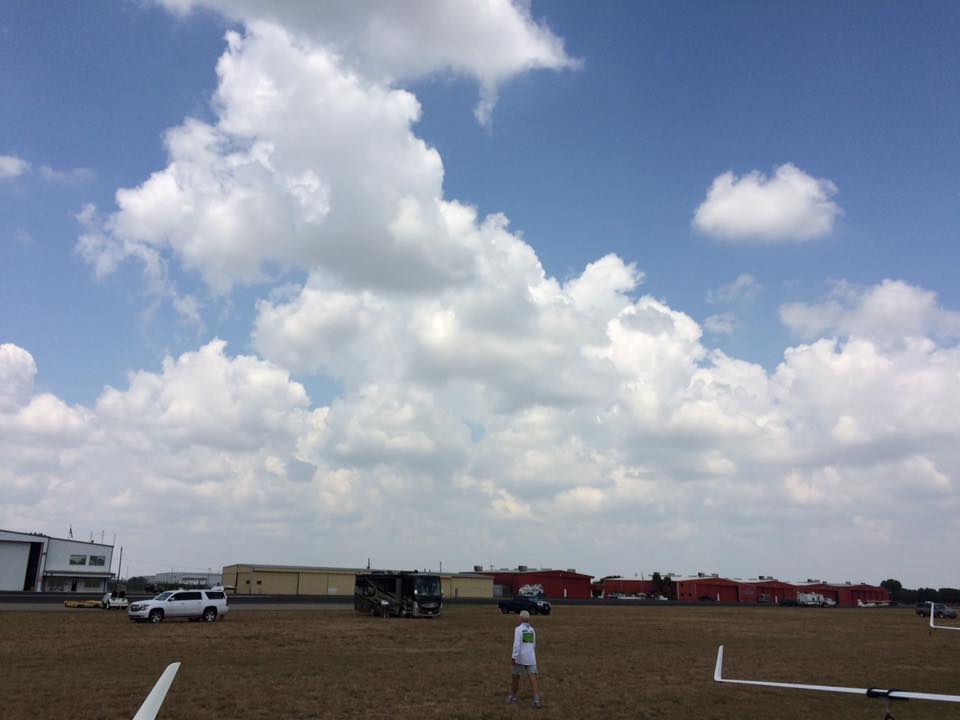 Not too bad looking for a small task
picture shared by Caroline Termaat.
The 2 hour AAT's were flown by half of the competitors  and in 15 m. French pilot Didier [Hauss] flew 173 km. in time 2.08 and with a speed of 81 km./h he was the best on practice day 2.
In 18 m. Danish pilot Morten Hugo Benninck [nice name] flew 175 km and was the best for the day. In this class 4 x a VENTUS 3T flown by Bert Schmelzer jr. from Belgium Andy Lutz and Wolfgang Janowitsch from Austria and Mike Young from the UK.
Open class  pilot Holger Karow managed to fly 196 km. in time 2.03 in the EB 29 DE.
Last practice day; Practice is necessary, as they work here with a new start line system with 10 minute window's; DIS …meaning designate interval start.
Pilots have to align their time when they cross the startline with the start of the 10 minute windows or interval's.
Very interested to see how this works in real.
Message from the organizers with as CD Andy Davis;
"Today all gliders must land before 17:30 local time please
Air display starts at 18:20
Opening ceremony 19:00"
Tasks; 2 hour AAT's...very popular task with this challenging weird weather.
Not a lot of pilots flew. In club only one finisher from Spain Francisco Ortega Casariego.
In 18 m. 6 finishers and in open 8 with the first flight in Lasham from Michael Sommer and he straight away topped the last daily practice.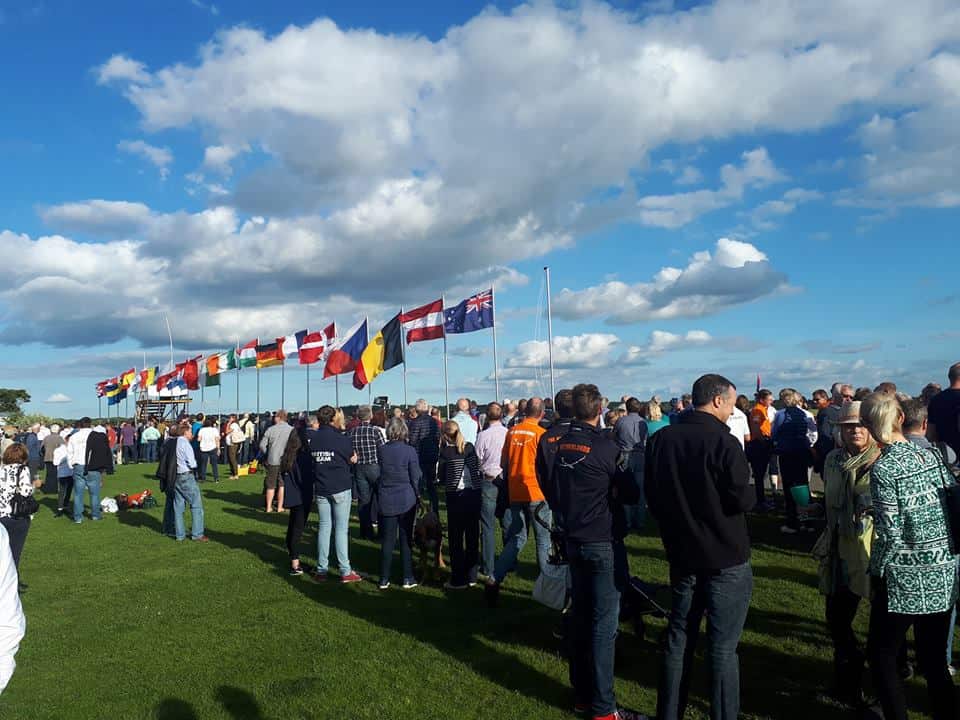 opening of the 19th EGC in Lasham.
Picture courtesy Adam.
Today day 1 and the weather looks GOOD!!!!Grid order; open..15 m..18 m. that looks promising for big tasks.
15 m; 508 km.
18 m; 4 hour AAT
open; 625 km.
WOW………and this in the UK!!!!!! So glad for them!!!! Sick of all this "s..t "weather this summer!!!
———–
This year's CIM is over again…..with 8 good days out of 10??????
After the mandatory rest day on August 8 after 7 days of flying,Clara's news on Wednesday August 9 with task 8 was;
"12 am. Today we have wind from South/West. Only in South East of the task's area there will be good thermal activity with cumulus above 4.000 m. Good SW winds North of the task's area; weak winds from SW with Adriatic sea breezes in the SE area. Probably wave of SW wind. Thermal activity will probably decrease at 5 pm LT in the center area, at 6 pm LT over the North area. Forecast Error Factor: today fire smoke could decrease solar radiation on some areas: meteo model can not forecast this scenario. QNH is 1014 with 35 degrees and 30% of humidity."
Due to tough tailwind gliders had to be in the back of the field and close to each other.
Then they could fly;Task 8 had a task of 413 km in 18 m. class. The UK boy's did well and Jon and Leigh flew the task with a speed of 159 km./h. One out-lander and Dane and Giorgio were on spot 3 and 4 for the day.
Open had 424 km. and again an easy-winning- flight for Peter; speed 146 km./h. All 9 finished. Slowest speed; 125 km./h.
Mixed ; the 3 hour AAT was for the DUO DISCUS XLT and it's pilots; 130 km./h. Austrian team Pirker and Wolff unfortunately out landed so they dropped in the overall scores from 1 to 2 with Vitorio Pinni now on spot 1 overall.
NO flying on August 10 due to heavy crosswind. They only use one runway in Rieti.
Clara mentioned:"At 2,20 pm, after launching 4 gliders, the contest director, the line manager and the chief tow pilot jointly decided to stop the take offs and to cancel today's task due to excessive and gusty cross wind: 10/18 Kts from west. "
August 11,last day!!!
The meteo for the last day,….so another great Rieti-weather-day!!!
18 m; 460 km. And on the last day Dane was the winner which brought him not enough points to be the number 1 overall. Leigh was 3d for the day and only lost 91 points. Not enough for Dane.
SO… 1. Leigh Wells; he is the deserved winner in 18 m. class!!! [8.406 points]
2. Dane is a great runner up with 8.311 and
3. Giorgio is his own Italy flew to a total of 7.937 points.
Open;460 km.And frequent -local- flyer from Austria Peter Hartmann won the day and the comps.147 km./h. [8.654] Alberto was runner up and stays on 2 overall [8.098] and Alvaro was 5th for the day and stayed on spot 3.[7.826]
Mixed;  385 km. Pirker/Wolff from Austria won the day with a speed of 149 km./h in the ARCUS M and after one off-day during the comps they finished on spot 2. [7.521] 1. Vitorio Pinni and his mate[Duo Discus XLT]  were 4th for the day but no worries they were the best .[7.921] On spot 3.  team Team Ferrero/Sarti in the Arcus T .[7.064]
GREAT comps fabulous edition of this CIM with as CD Aldo Cernezzi.
Last words from Clara, THANKS Clara: "This evening the prize-giving ceremony will take place during the closing dinner. We are expecting about 100 people."
It will be early in the morning for some.
The 18 m. winners with Leigh proudly in the Middle surrounded by Dane and Giorgio. And the open class winners on spot 1 Peter surrounded by Alberto and Alvaro.
Picture shared by Marina and the organizers.
———–
UVALDE TEXAS ;18 m. NATIONALS with an AUSSIE as HC champion.
August 9…task 7. First of course Bruce as he is there:
Morning news….."During the launch the sky already looks a little wet. We have a 4 hour MAT, which is very like the old POST task. After the first two points we basically chose our own direction. By tonight we will all know what the weather has in store for us this afternoon."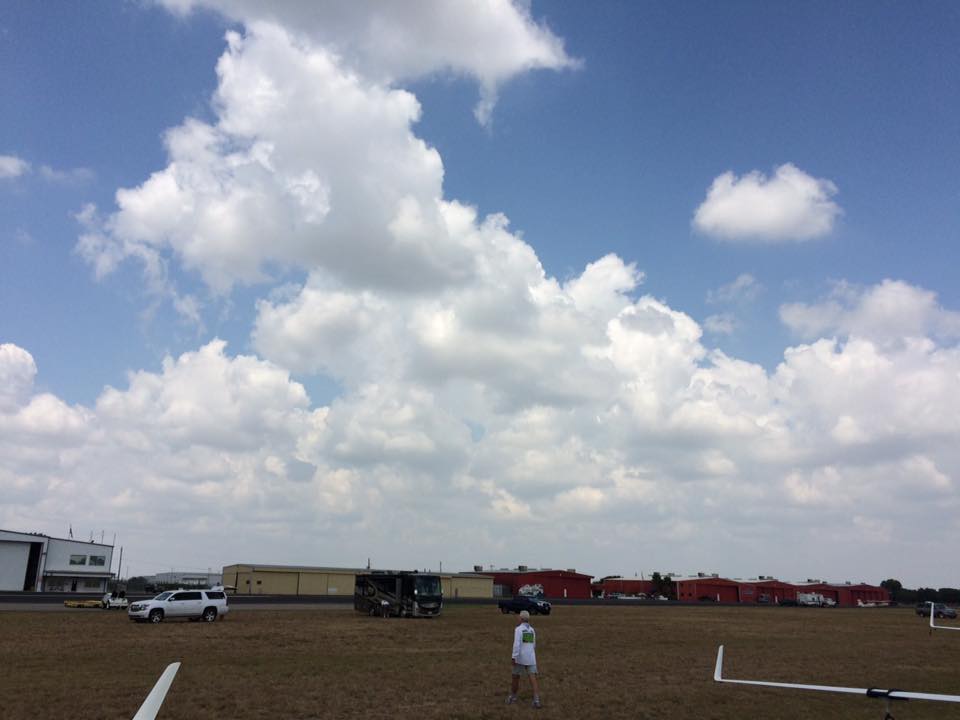 As shared by Bruce.
BRUCE WON THE DAY ,whilst  Jerzy was 7th for the day and Dave Mockler runner up. Of course Bruce still on top with Jerzy as runner up and Gary Ittner on 3.
One day to go, also weird weather in Uvalde!!
Evening news from Bruce;
""I felt lucky a few times today. Everything I tried just seemed to work out OK for me. Early on in the flight there were some rain showers around, and having decided to go south after the first mandatory turn, I felt like I was constantly flying myself into a corner. The sky was changing rapidly and required a number of plan alterations to stay ahead of it. I was concerned that I might quickly use up too many turnpoints, as the MAT task only allows a maximum of eleven. While I was considering my options my whole instrument panel blacked out, and it took a moment to get some power back in the system. Once I had gone as far south as I dared, I turned north determined to fly as far as I could without changing direction. This was mostly to avoid using too many turns, but also to help get into some sort of rhythm. My track took me pretty much along the Mexican border. I had to run through a heavy line of rain showers, but could see plenty of sun on the other side, then further north I had a fantastic line of lift around the west side of the last rain area. Faced with a large area of dead air, I judged that I had enough height to safely make some fat, healthy-looking clouds up in the hills. I arrived there to find a huge climb from quite low down, and this whole area was really pumping along nicely. After a quick lap up north, the sky over Uvalde had opened up again (I did say I felt a bit lucky today)and offered an easy ride back south to pick up the last mandatory turn and home for 85mph."
August 10…task 8 last day!!! So 8 out of 10 day's.
Canadian pilot Dave Springford won the last day. Bruce was "only " 7th and Jerzy 9th.
He had to land in a paddock;"The pooh has hit the fan just a little! Our souther turnpoints were swamped by the sea breeze, and a very big percentage of the field are spread all over the countryside 
 I wonder if Mark will survive this. Not much idea how I went today. Nice ranch, big airstrip and Hangar, fancy house, long wait. 
" 
as shared by Bruce.
BUT,…no worries,..Bruce won the 18 m. Nationals [6.842] with Jerzy [ 6.608] and Dave [Springford] as runner up and number 3[6607] ONLY ONE point difference between the 2 Canadian mates.
Here is Bruce!!
'We are done! I was slightly worried that the craziness of today would throw up the wrong result, but the fact that a very high percentage of the field did not complete the task devalued the day enough to keep me in front. Today's task was very difficult to complete, and I take my hat off to those who made it around. Our southern turns were swamped by a huge and fast-travelling sea-breeze front. We all knew it was a possibility, but still could not get down there fast enough to beat it. I ended up getting into both southern turns, but too low to continue towards home with safety. I landed on a huge private airfield, and super crew Jim got on the road quickly to come and get me. We arrived in the presentation ceremony at about 9:30pm, to much applause and many whistles.
A huge thank you to all the readers for your support and interest. It has been a really challenging and interesting competition, and I am leaving with an extremely satisfying result. The organisers have done a super job, especially given the uncharacteristically difficult weather. Many thanks to Mark Huffstutler as CD, and Kerry Huffstutler-King for running the show. And I'd like to thank my super crew Jim. It has been a pleasure having you around to help.
See you all next time!'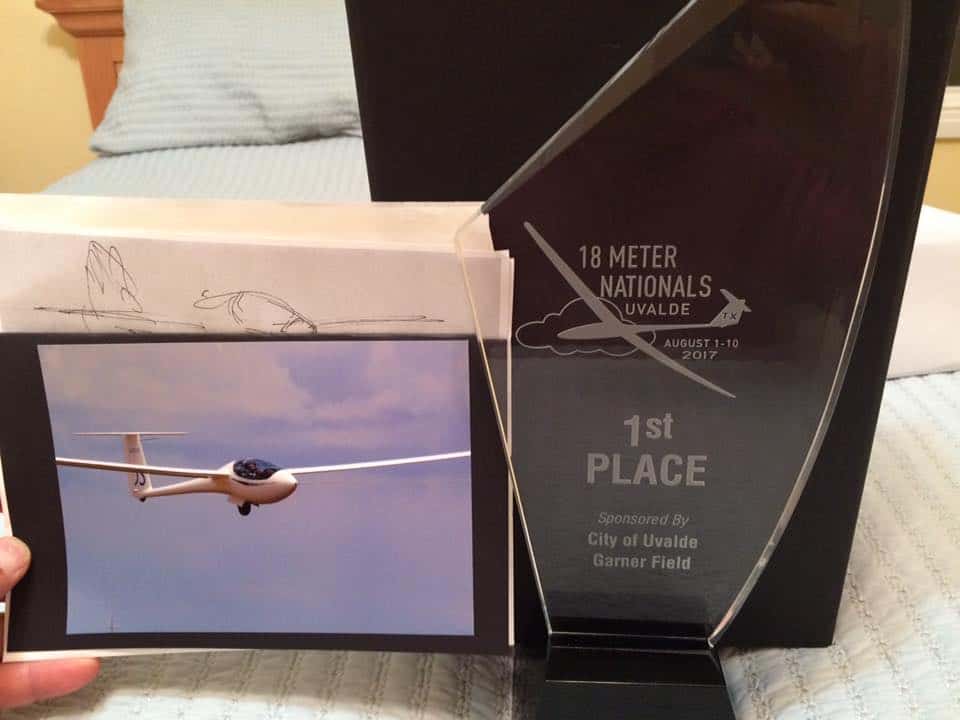 as shared by Bruce …..THANK YOU and congratulations!!!!
————–
Looking back at BAILLEAU.
In between busy comps,  68 participants flew in France ,from the well known field at Bailleau in 3 classes. Lot's of guests as every year from Holland and Belgium. 7 out of 11 day's which is good for this weird European summer.
In the "speed race" with mixed gliders and 37 participants, Dutch pilot Steven Huiskens  [ASG 29/18 m.] won with 4.798 points followed by good old Sigi Baumgartl [ 4.565] in ARCUS T [750 kilo] and on 3 Stevens dad Harry [ 4.457] in a Ventus 2cxt/18 m.
In the "long flights" also mixed gliders with 24 pilots and another Dutch winner Mark Leeuwenburgh in an ASG 29/18 m.[5.185] on spot 2 Belgium pilot Yves Jeanmotte [ 4.872] and his mate in an ASG 32 [850 kilo] and on 3 French pilot Eric Garnier [ 4.848] in ASG 29/18m.
A total of 11 Dutch pilots in this class.
In the "amical" 5 pilots in KA 6e, LS 8 /15 m. Janus  and Discus. They only flew for 4 days and winner was French pilot Francois-Louis Henry with 3.252 points . He flew the KA 6E.
———–
CU next Wednesday
Cheers Ritz