Moravská Třebová, Czech Republic
23 July 2017 – 4 August 2017
It's such a pity for pilots, but also for the organisation, that the weather gods REFUSE to co-operate.
Wednesday was cancelled too, but you can only wait for the better weather to come. Many parts of Europe suffer from miserable weather ,but there is always hope!!!
Pocuinai, was "optimistic" for their first training day on Thursday.
Thursday in Moravska, was scrubbed too and a kart race for all who wanted was on the menu.
I have done that once too with all pilots and I can tell you some pilots/crew , really "turned into madmen".But it was great FUN!!!! I was the slowest but had the fastest start.
They moved the INTERNATIONAL EVENING to this rainy week,..good thinking,…. and as you can see the pilots still had good fun, though some are "BORED", we all understand.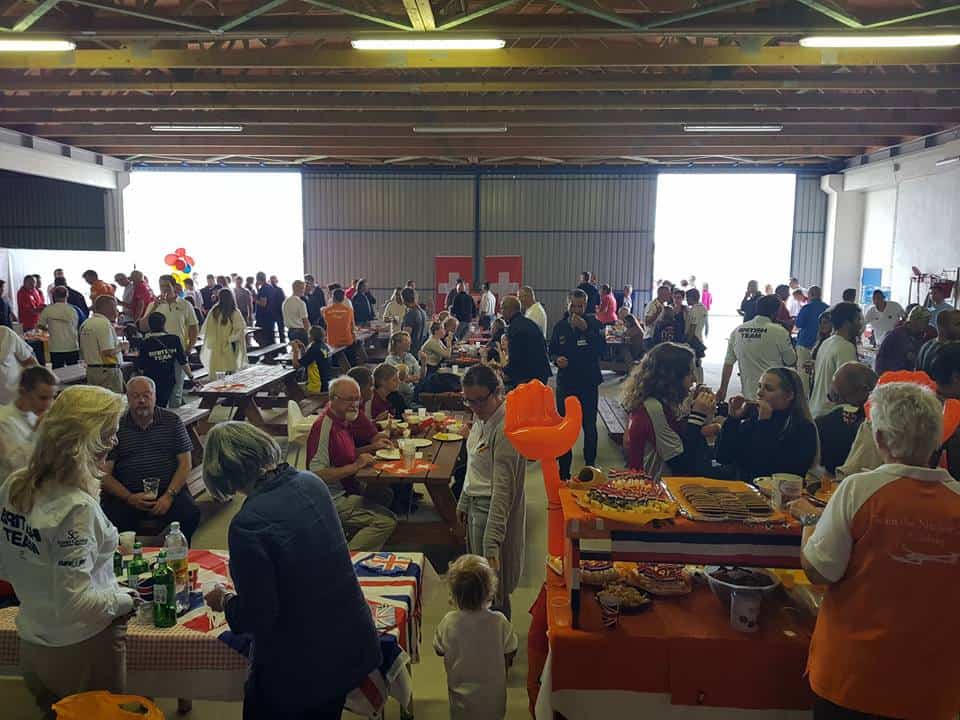 All teams did a good job !!!
Picture shared by the Dutch team.
Friday…July 28…day 6 …flying day 1 ???;the first news for the day was "CZECH EVENING, 19:00″.
BUT they had a briefing at 10 and gridding after the briefing.Team UK mentioned in the early morning;"we are sitting in the rain currently but we are hoping for a gap."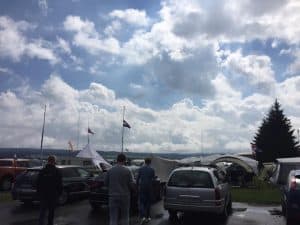 Hope grows on Friday, as shared by the Belgian team.
The organisation mentioned;"Please remove the gliders from the grid ASAP. More water is coming."
Scrubbed again BUT,……..you can't try harder than they do!!!!!AND,….
From Saturday on,  it looks very promising for a full week so,…NO WORRIES.
Saturday…July 28…day 7 …Task 1;
The weather on Saturday morning. As shared by the Belgian and the Dutch team.
The message was  "Dnes poletíme!" " We will fly today"!
A few words only but they express SO much happiness. It's HAPPENING…finally!!!!!! Organizers and pilots…… Everybody is ready and HAPPY.
Club; 327.91 racing task.
A good day and 1000 points for daily winner Thomas Suchanek in the St. Cirrus. Runner up , same glider but a Dutch pilot Tim with 931 points. Only one out landing and he still flew 311 km. in his ASW 24.
standard; 358.14 km. racing task.
Miloslav Cink won the 1000 points. He flew together with his Czech mate Pave ,also in LS 8 and he "got" 984 points. They had a very early start at 13.36. Danish pilot Mogens had a very late start [14.23], for what reason I don't know, but he just could not make it back in his Discus 2A; 284 km.
20 m.; 356.61 km. racing task.
The combination Kawa/Matkowski in an ASG 32MI looks like a winner !!!!They won the first 1000 points.[ 110.82 km./h.]  UK team Jones/Coppin [106 km./h.]was runner p with Belgian team Akkermans/Vandebeeck[ 104 km./h.] as number 3 just ahead of French team Walbrou/Corbille.[102 km./h.] All in ARCUS T or M.
3 Out-landers.
SUNDAY…July 29…day 8…task 2 ; A blue day ,…quite challenging….and it turned out to be challenging for some. 30 dgr. C.
As shared by the Dutch team.
club class ; 3 hour AAT.
The best time combined with kilometers was for Russian pilot Sergey Serov. He flew in his St. Cirrus, 221 km. in time 3.04 and received 858 points. Only 17 from 37 finished and for some this first day after waiting so long with still some hope, was a big deception.
Standard; 2.45 AAT.
The Belgian pilots did a great job. Dennis and his cousin Jeroen, flew together in the LS 8 and reached 253 km. in time 2.52 for 950 and 946 points. They started straight away at 14.05,far ahead of the rest who were still  playing the departure game. The last pilots on track, left at 14.48 but still finished on spot 6 and 11. Only 2 from 27 did not finish.
20 m.; 2.30 AAT.
Czech pilots Rendla/ Rendla flew 235 km. in time 2. 29 in the ARCUS M!Experience enough there.800 points for them and ALL pilots in this class returned home.
MONDAY…July 30…day 9…task 3; with a base of 2000 m.!!!But also thunderstorms expected to be " staying" in the N.
Ready to go .
As shared by the organizers.
club; racing task 236 km.
With no out-landers a good day. Specially for Thomas Suchanek as he will be given the daily prize in the morning. Good on him. Those former hang-glider pilots "feel"  the air.  Good day for Rasmus Orskov from Denmark with a 5th place. Less good day for the Dutch and German pilots. But "only " around 200 points less for the slower pilots, who followed another route than others.
Standard; racing task 259 km.
Winners for the day were from Germany Marko Zettier and Holland Sjaak Selen, with a nice speed of 116 and 111 km./h. and 688 and 628 points. No one "aux-vaches".
20 m.; racing task 251 km.
Another team- Kawa- from- Poland- daily- win. But good runners up from Finland Visa Matti and Harry. GOOD!!!600 for 549 points. All pilots were "in"  and team Rendla now was last.
TUESDAY…August 1…day 10… task 4; base between 1700 and 1900 up to 2000 m,…crosswind and tough/strong-ground- wind.
club; 2 hour AAT.
A great day for the Dutch, with Tim as daily winner [643 points for 212 km. in time 2.06] and Frank as number 3 with between them Danish pilot Rasmus. One non-finisher  and UK pilot Ayala as number 4 …good on her!!
Only 3 days to go and overall Tim is now number ONE!!!
standard; 2 hour AAT.
2 Finn's [Aku and Juha with 618 and 617 points] , 2 Germans  [Marko and Andreas with 646 and 643 points]and 4 Discus 2A/b in the top and 2 non-finishers
20 m.; 2 hour AAT.
Team Steve Jones/Garry Coppin had the best combination km's and time;251.39 in 1.58 for 588 points. Just ONE point less for Swiss team Cronjaeger/Heidemeyer. 5 x ARCUS T /M in the top.
More news next week, or maybe Sunday evening.
————–
Pociūnai, Lithuania
30 July 2017 – 12 August 2017
They were a bit more lucky with the weather. After arrival , it was not really flyable but no worries,  the pilots could organize their "infrastructure" for this JWGC period, do their shopping and relax from the long trips for most.
"Infrastructure" looks different for all.
Team USA with their beautiful base. HEINEKEN GROUND,.. can only be DUTCH. Team France setting up the "radio-tower".
As shared by the teams.
The 3 official practice day's showed set tasks and 2 hour AAT's in which practice was really possible,as well as out landings.Only 6 from 22 in standard ,finished on day 1 a day with a set task from 273 km.In club 14 from the 23, who were flying.Distance ;249 km.
Practice day 2 had 2 hour AAT's. The weather looked good but was not as good as it looked. Some flew the task others choose the "fly around"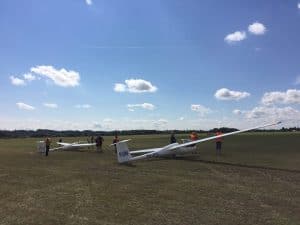 As shared by the Dutch juniors.
Practice day 3 had set tasks; 170 km. in club and there were 3 winners all 512 points Dutch pilot Nick and UK pilots Thomas and Jake with Robin from Holland just a tad later 512 points.
So enough good training,…. the REAL thing happens NOW. First the opening in a big sports-and entertainment-arena, in the local town of Prienai.
Here all team captains. Dutch Annemiek proudly in the middle.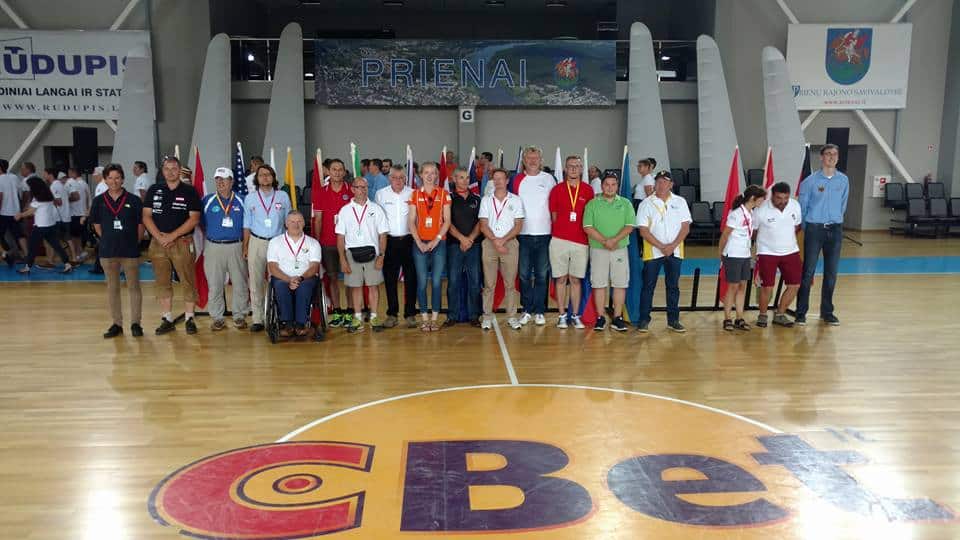 With to her right the CD of the comps Vytautas Sabeckis  and top TC Benjamin from France.
As shared by team USA via Tony.
as shared by the teams UK, USA New Zealand.
Team Germany, as shared by them.
President of the jury Juha Silvennoinen, who was CD at the JWGC in Rayskala [2005]and the EGC .As shared by Juha.
Team Holland as shared by them.
SUNDAY…July 30…day 1…task 1;
Club; 281 km.
A great beginning of the comps for the German team with Stefan and Julian on spot 1 and 2 in their Libelle's. 1000 and 997 points. Great spot 3 for Nick from NZ. He flew together with Alex but Alex missed a "connection" and landed just 20 k. short. 29 from 38 finished this first day. So a few disillusions for some but it was only day 1 a LOT can happen.
Standard; 336 km.
The Polish pilots Thomasz and Jakub, in this class had a great start as well. Flying together to spot 1 and 2 in the LS 8 for 1000 and 921 points.
MONDAY…July 31..day 2…no task ; No, they gridded, had tasks,… but decided NOT to fly!!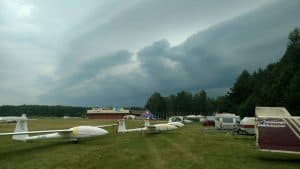 Thunderstorm close by .
as shared by Tony.
TUESDAY…August 1…day 3 … no task.Partly sunny with thunderstorms …..AGAIN. Seeing the pictures,…good ones too.
————-
18 m. CHAMPIONSHIPS in UVALDE TEXAS.
As said before Bruce and Brad , my Aussie mates, are flying this competition and as you know too, Bruce always reflects on his flights in his  Taylor's Gliding Page
"Arrival in Texas has been greeted by heat, dust, storms and the usual fantastic cu's and streets. Can't wait to get airborne."
That's exactly, how I remember my 2 trips to Uvalde in 1991 and 2012 as well.
As shared by Bruce.
"An average day in Uvalde is better than a good day in most other places 
😊Today started a little bit blue, but some clouds started to appear not long before launch. Brad and I flew for about 3 1/2 hrs, and did a run to the south, (where it looked the worst but was actually the best) then north-west and north-east (where it looked great, but was a bit of a fiddle to find the best climbs)
The photo is to the south of Uvalde, and Brad is just above my winglet. 
Good start, we are rigged and set up, and the flight discovered no real problems. Tonight we are eating in, so we can all get a decent sleep. Yesterday was a big day of driving, and we got to bed rather late."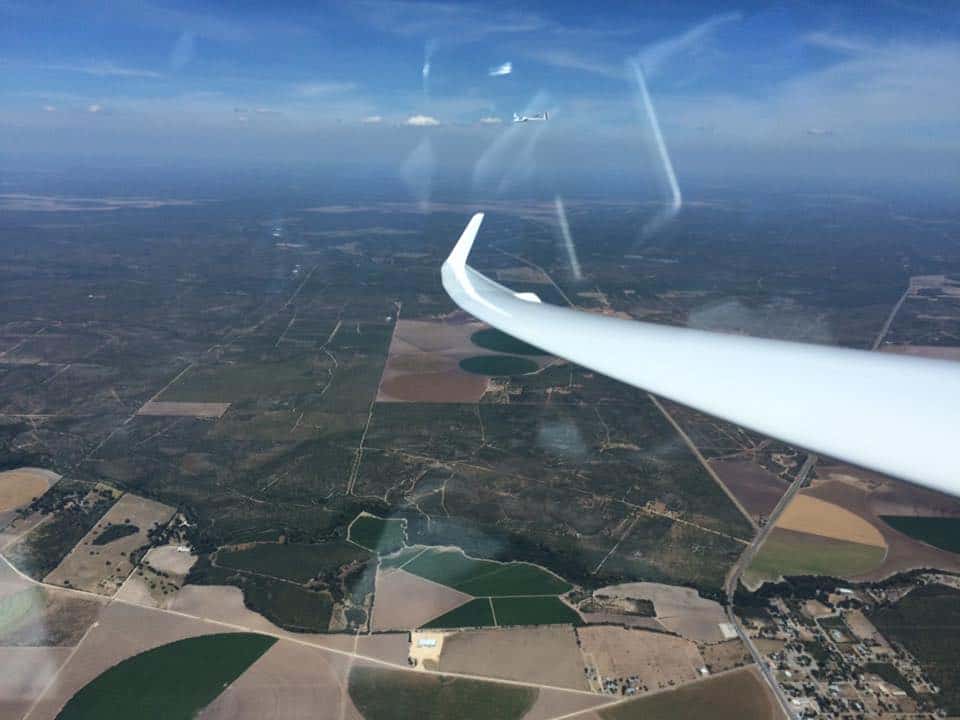 As shared by Bruce.
Yesterday was the first day and with an assigned  task of 285.29 miles the 33 pilots made the best out of the day. Bruce WON !!! Good on him, speed 88.13 miles /ph. Jerzy was runner up  but as Bruce flies HC, Jerzy won the day.All AG 29 in the top 6.
Brad was on spot 18.
"A big part of today was smokin', and the other part was a bit rubbish. The trip was pretty fast until we went down to the south east, where the cirrus was a bit thicker, and the air was not as happy to go up. We had to slow up for about 40-50 miles, then it came good on the way home. Today was fun; there were a couple of fast guys just ahead of me, and I almost caught them at the edge of the difficult bit, but then I went slightly the wrong way and they stretched ahead again." By Bruce
————
HpH Sailplanes UK
NEWS
AND THEN THERE WERE THREE… Evening of 25th July with a very strong wind blowing, Jaroslav Potmesil, owner of HPH sailplanes took the TwinShark on a short maiden flight. A huge thanks to the team who beat the odds to make this happen. The Twinshark is now the third and latest 20m flapped sailplane to market.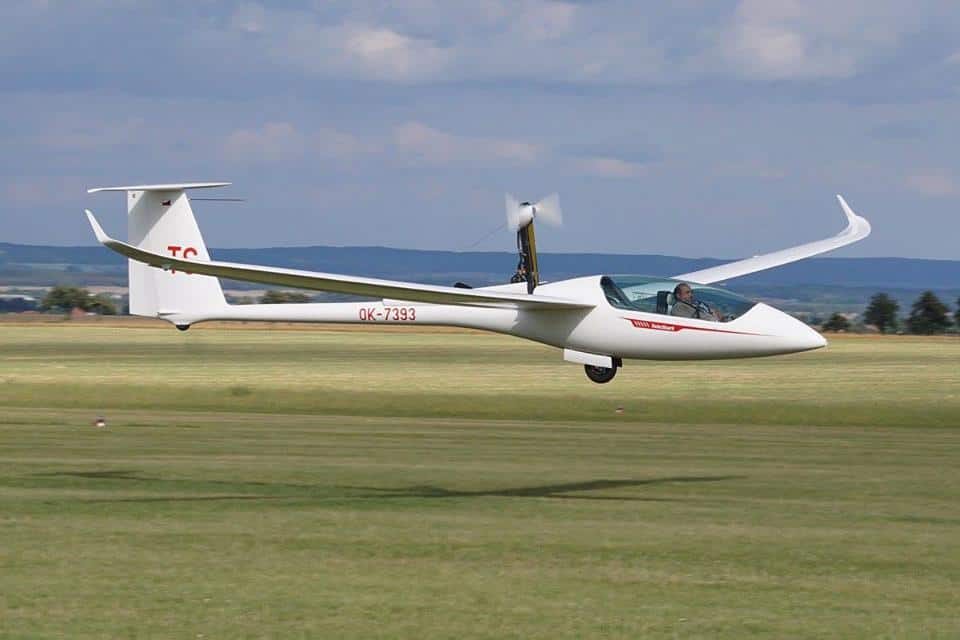 As shared by HpH Sailplanes Uk.
————
49th KLIPPENECK competion in GERMANY
Between July 29 and August 5 , 83 participants are flying in 5 classes for the highest honors  .
On day 1 the pilots got IN THE AIR the B task so change of instruments and mindset.
So also there not the best conditions and a struggle for tasksetters to "work around the thunderstorms".
2 Days of reasonable short tasks  around 200 km. and 1.30 AAT' s and 2 days of no- flying in 4 classes,
Only Standard flew yesterday ,  so "only" 17 pilots in the air and nobody finished.
The set task was 171 km. and the best pilot flew 119 km. Tough day in the office!!!!
———–
C [oppa] I[nternational] del Mediterranio]  in Rieti in Italy
August 1-12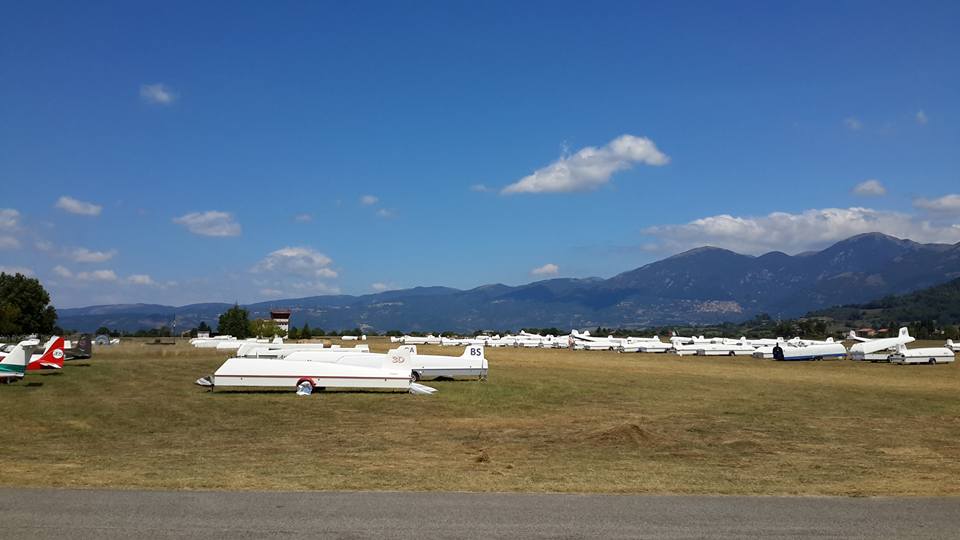 Aero club di Rieti " Alberto Bianchetti".
As shared by the organizers.
Aldo , my Gliding International colleague, from Italy is the CD from the CIM in Rieti; His message ;
"I'm directing the CIM in Rieti. Astonishing weather! 167.3 km/h in the Open Class…I envy them!" 
They started yesterday,….38 competitors in 3 classes. I visited the CIM several times, great fun, STRONG competition!!!!
Day 1 in 18 m. was a prey for Leigh Wells from the UK and Dane Dickinson from NZ. Both 1000 points for 154.94 km./h and 154.97.
In open Alvaro was the best in his ASH 31 MI; 167.28 km./h. WOW!!!!903 points. He was followed by pilots who fly there every year, as Alberto [Sironi 163 km./h] Peter Hartmann [ 161 km./h.] , Bruno Gantenbrink [159 km./h.]
In the mixed class the best speed was 157 km./h. in an ARCUS.
You can visit the next site to follow this competition. Scores on www.soaringspot.com   AND
https://www.facebook.com/search/top/?q=aero%20club%20di%20rieti%20alberto%20bianchetti
———–
To finish some sad news.
One of our longtime friends and guests at Sportavia and a special friend to me, Maria Boettcher from Muenich,  has died of cancer on July 26 at age 81. She was one of those people who impressed others by how she looked, reacted and with her wisdom and interest, specially in soaring.
Her husband Dieter, who lives since nearly 2 years, in a house for people with dementia, survives her.
The manana tree at SPORTAVIA, was already sad , now it will NOT be used anymore.
My good friend Margie from Tocumwal, who was one of the Sportavia owners before us and who knew her well too mentioned ;
"I will remember Maria as a happy, friendly person who was still knitting woolen socks when it was 37 deg."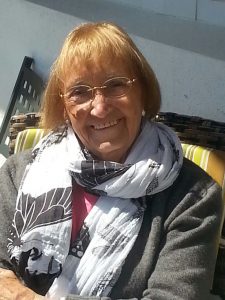 A pretty recent picture which Maria send to me a few weeks ago.
RIP Maria.
Ritz