Moravská Třebová, Czech Republic.
The small ships ,- non flap ships-, were ready on July 19 for a few practice days and a great European soaring-get -together between July 23 and August 4 , if necessary August 5.
All 79 pilots flying in 3 classes were ready as well. I followed them on their trip by car to this place with the difficult name, travelling from all countries in Europe to this by the FAI selected place I never heard from . NOW I know…we all do!!!
The Chief steward is from Belgium, Patrick Pauwels and the president of the jury from Germany; Peter Ryder.
Practice-day ….as shared by my Belgium friends.
The  practice day was a good one, not only because the 2 Dutch pilots Tim[former JWGC champion] and Frank [they followed a great "street"] won the day with speed of 124 km. and 118 km./h. over 314 and 307 km. in club class.
A 2.30 AAT was set and the 2 Italian pilots Ricardo and Davide followed with a speed of 115 km./h.
S a nice speed for the 4 St. Cirrus gliders.
Standard had the same task and,…ALSO THERE a Dutch winner Sjaak. He flew 356 km. with a huge speed of 141.75 km./h. in his Discus 2A.
Great start for the Dutch pilots.
The happy Dutch team and the 4 pilots in the car; upfront Tim and Sjaak, on the back seat Robbie and Frank.as shared by them.
The 2-Seaters had the same task and team Cronjaeger [ Switzerland] was the best on this very first official practice day; 361 km. with a speed of 139.39 km./h.
The 2d practice day was cancelled but free flights were possible as long as everybody took care of the thunderstorms.
The opening of the 19th EGC by Peter Ryder, was in a " chateau/castle from Moravska Trebova."
Opening in front of the castle with several teams and as the pictures were shared by the French ….Eric Napoleon with his team.
Team Belgium……Norway and ……….Sweden.
As shared by team Belgium and from Sweden Per Carlin.
Team Germany and Team UK.
Hope thunderstorms like this one on July 20 and  shared by team UK will not return. Pretty spectacular though and a great picture!!!!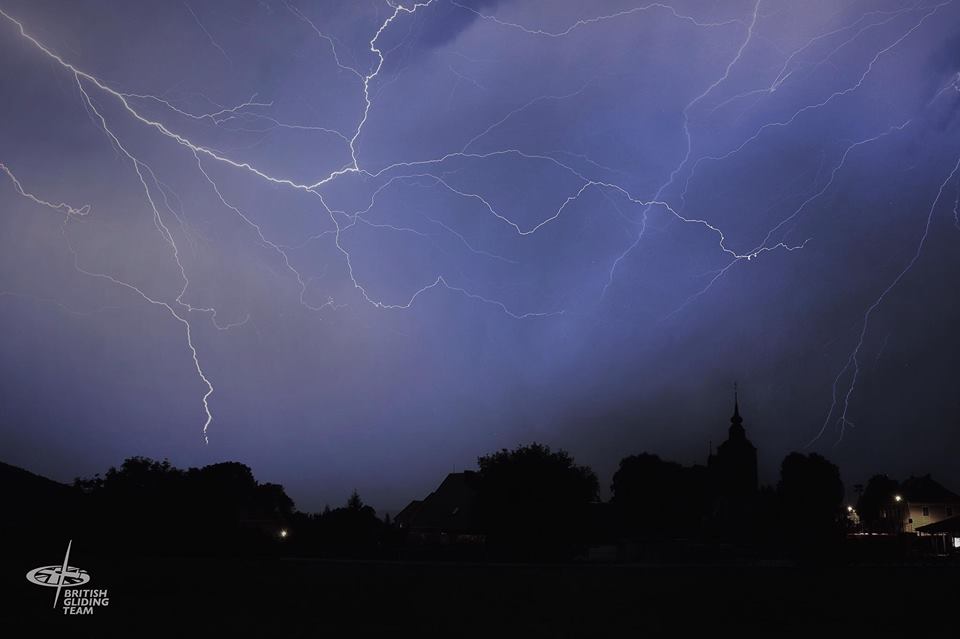 "Those of us propping up the Aeroklub's bar this evening were treated to a pretty exceptional light show. Certainly beats a bit of British drizzle."
SUNDAY…July 23…day 1…no task;
Any hope for NO thunderstorms was in vain!!! They passed by, left right and center as forecasted , so it was mainly "waiting"  on day 1, IF there would be a window to fly in each class. A 2 hour AAT was set as A task , but the 1.30 AAT as B task was the one to fly after delaying and delaying [between 13.00 and 14.30] .
" We are observing development of thunderstorm in vicinity. Be prepared for glider removal from the grid."
I know that in the Eastern countries they ONLY cancel a day when NOTHING is possible. That happened on day 1 ,so the day was cancelled after a long wait.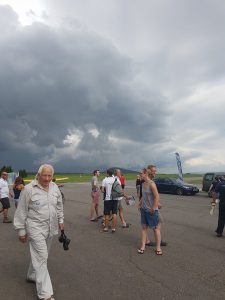 Day- 1- weather.As shared by the French.
MONDAY…July 24,…day 2…no task" cancelled due to the weather conditions". AND,……"For tomorrow there is a small  window for  flying ……..maybe"
TUESDAY…July 25,.…day 3..TASK 1; 1.30 AAT's in all classes. CANCELLED!!!
Tuesday' s Weather in the morning as shared by team Belgium and the water-filling-system at the site of the field shared by Team UK.
After a "huge"  amount of rain, they started with an early [ 9.30] and a later briefing [12.00] in the hope for a window to fly in .
ONE REALLY GOOD MESSAGE from the meteo,…there will be no more rain!!!
Gliders were on the grid and full of water , now IN the wings, not ON.
They postponed till 15.00, the sniffer reached 750 m. and that was that…..no flying.
WEDNESDAY …July 26…day 4…task 1;
"Latest news: Good morning, Do not make grid yet. Briefing at 10:00LT in hangar I."
Today….. let's hope they can fly…. More next week.
——
The first days I wrote down in my last blog. The Aussies did well in 15 m. class.
Did Dylan win 2 days,  Adam and Butch won task 4 , a set 535 km. … and both got the 1000 points. Poor Dylan missed out, though the Aussies started together, Dylan somewhere lost the "connection" and landed after 255 km.; 346 points!!!
Task 5 on July 19 ; a small  1.30 AAT showed 3 Aussies in the top; Adam. Butch and Dylan… The Ventus 2A borrowed from Thomas Gostner seems a real good one for Adam.
4 From the 7 in this class finished.
In club…..another Aussie-daily-win, well known Alan Barnes, who flew during the 1.30 AAT a distance of 123.91 km. in time 1.42 in an LS 1f.
17 from 26 finished.
NO FLYING on July 20 and 21.
AND….
The last possible flying day on July 22 looks like this in the early morning. FOG……As shared by Adam.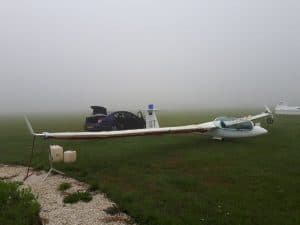 Adam is ready to go, so is Dylan, the weather still hesitated.
No flying anymore…..; So in open class;
1. Adam Woolley [Australia] with 3.577 points in Ventus 2A. His first European WIN !!!! Well done!
2. Piotr Jarysz [Poland] with 3.461 points in LS 6.
3. John Buchanan [Australia] with 3.446 points in Ventus 2CXT
4. Daryl Lampard [Australia] with 2.909 points in Discus 2A. He flew HC and only a few days on his way to the JWGC.
In club;
1. Piotr Jarysz [Poland]with 3.613 points in Libelle.
2. Jedrzej Skłodowski [Poland]with 3.513 points in St. Jantar.
3. Marek Sawczuk [Poland] with 3.357 points in St. Jantar.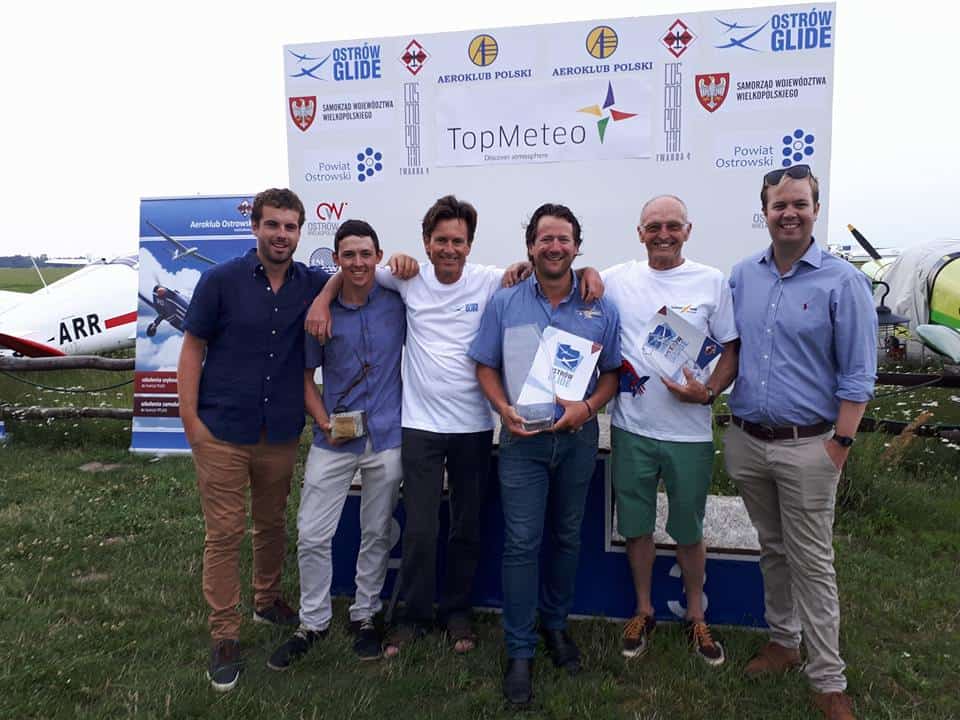 Kiwi's and Aussies in Poland with winner Adam in the middle surrounded by Allan and Daryl[l] and Butch [r]
Nick [Oakley] and Alex [Mc Caw] from NZ on the l and r.
They are both on their way to Pocuinai for the JWGC.
————-
Ostrów Wielkopolski Michałków, Poland,
13 July 2017 – 23 July 2017
This competition ran parallel with  the Ostrow Glide 2017.As always a very strong competition in this Polish open class.
19 Pilots were competing to be the open class winner 2017.Not one REAL open class glider as EB , Nimbus or ASH 25.
They flew 5 out of 9 days , as the last 2 days had to be cancelled.
So winners/champions  in open class;
1. Karol Staryszak [ASG 29 E/18m.] with 3.940 points only 33 points more than
2. Zdzisław Bednarczuk [ASG 29 E/18m.] with 3.907
3. Lucasz Wojcik [JS-1CTJ 21m ] with 3.766 points.
———-
DG GROUP-NEWS.
LS1-f neo Winglets and Fuselage-Wing Transition Certification Completed!!!
July 18 2017-NEWS:
"Our brand new LS1-f neo Winglets and the new fuselage-wing transition are officially certified now! This week we received approval for TN63. We'd like to say "thank you very much!" to all our customers who supported this project by placing an option! All pilots are very happy with their winglets and we are sure that we will hear a lot about the LS1-f neo during the next club class competitions."
Very interesting concept!!!! Great news! https://www.dg-flugzeugbau.de/…/dg-…/ls1-winglets-tm63/14675
————-
FUENTEMILANOS
the SPANISH SOARING MECCA.
I knew that August  is a great month for soaring in Fuente but this year July is very good as well with several 1000 km-flights, one even on July 20 from 1.210 km. by Guy Bechtold from Luxembourg.
This was a 1000 FAI triangle as well,  flown in his Quintus M.
Nearly all guests are from Germany, but a few also from Switzerland , Holland , Belgium or France and of course some Spanish pilots.
————
SUMMERCOMPS AT MALDEN[Holland]
16 July 2017 – 22 July 2017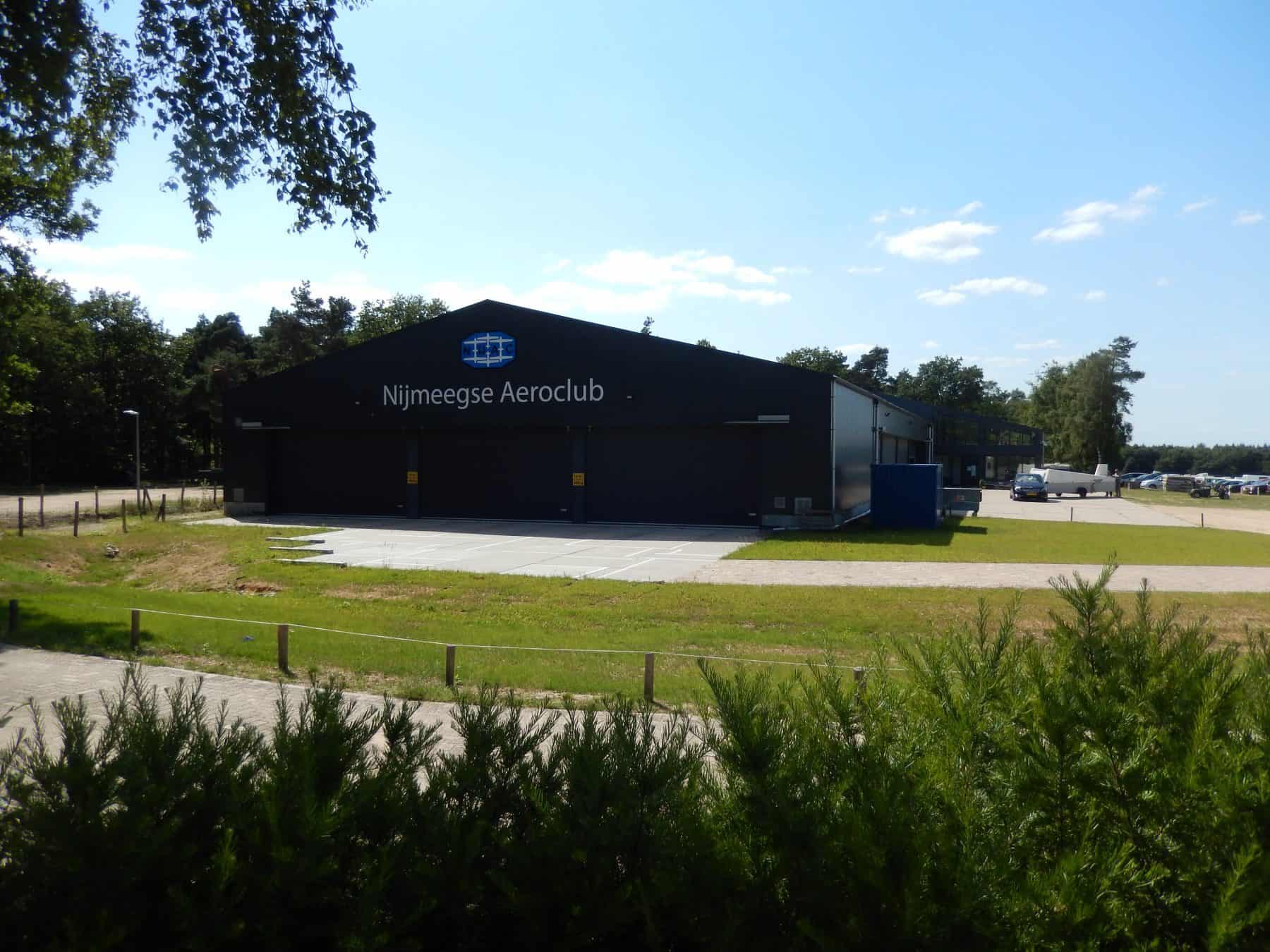 The fabulous 2-stor[e]y-new hangar at Malden and the great skies behind it, still at 6 PM.
Visited Malden last Friday. Summercomps were in progress over there. Not too many days due to rain , but when I visited the weather was gorgeous, clouds everywhere and 401 km. for mixed open class and 348 for club.
As it was the last day of the NIJMEEGSE VIERDAAGSE ,a walking tour from 4 days with 43.000 participants from all over the world, it was difficult to reach the field, but we managed.
Though some pilots had difficulties to stay up , others left on track at 1500 m. on this 2d flying day.
All 16 pilots finished in open class and the president of the Malden Aeroclub, who just bought Peter Batenburg's Nimbus 4T ,won the day and the 1000 points.He was 53 minutes faster than the runner up.
Mind you there is quite a difference between an Nimbus 4T and an LS 3 a. Handicaps are not always "fair" .[118/98]
In club 9 from 10 finished and the 1000 points were for one of the son's from longtime soaring mates,  Martijn Alders in his beautiful polished St Cirrus with winglets.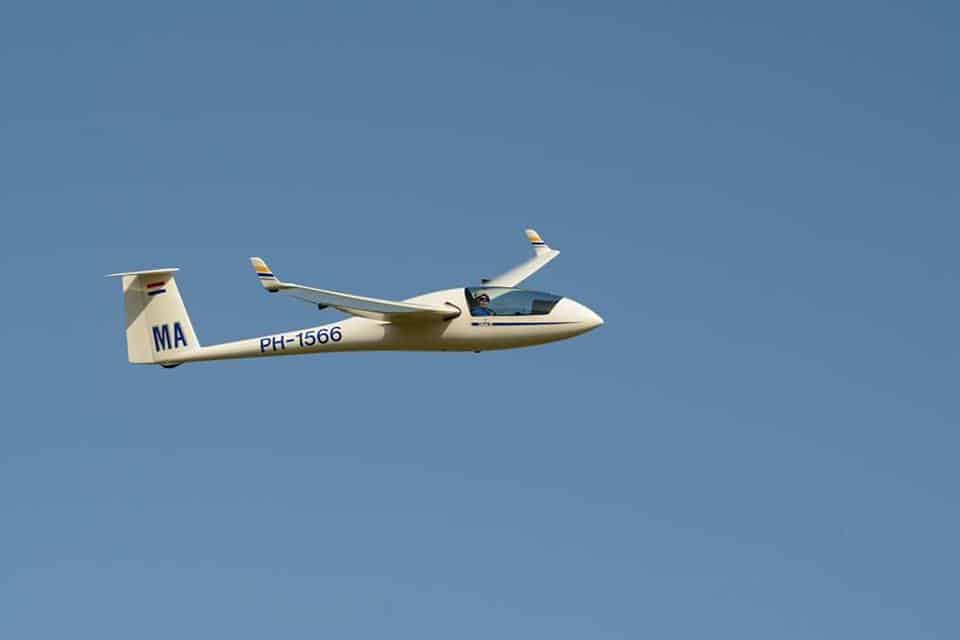 Martijn in his nice glider, winning day 2. He shared the picture from Jeroen Verhulst.
The balcony on the 2d floor of the hangar,…part of the camping area in the woods and ……the beautiful winch from the NIJAC.
DAY 3.
There was hope for a day 3 to make it a valid competition and,…..indeed,……hey found a small window to fly in. Early local thunderstorms were predicted, but a 135 km. task for the mixed open and 102 for club seemed possible.
Not all finished but there were winners and a score to make it a valid competition.
In club, 9 started on the last day and 7 finished.
Overall winner; Martijn Alders [1.720] and runner up Anne Hoekstra [Ls 4] who moved from 4 to 2 overall.
In the mixed open a clear winner, as he won the day again in his Nimbus 4T; Johan Hamelink [2.092 points] In this class 9 from 15 finished.
THANK YOU to Joris ,member from the club ,who so kind to check my laptop!!!!
After the flight, totally blue; cleaning and talking ABOUT the flight.
————-
First before I finish , another great flight from Gilles Navas yesterday, he IS in the mood!!!!He flew from Vinon in 14 hours and 23 minutes over the mountains in wave over 5000 m. sometimes nearly 6000 m.[5950 MSL/4424 AGL]  a distance of 1.526 km. with a speed of 105 km./h. in an 18 m. ASG 29E. WOW ….WOW.
And from Fayence Baptiste Innocent flew in the ARCUS M. 1.362 km.
CU next week with…..
The EGC continues and the JWGC, with 39 participants in club and 33 in St class,  is about to begin on July 27  [tomorrow  with official practice days, first flights on July 30-August 12] ,so enough to keep an eye on and for you to read.
On August 1 the US OPEN NATIONALS start in Uvalde Texas with 37 pilots , 2 from Australia,  Brad Edwards, who won  the 1991 version there and Bruce Taylor and 2 from Canada Jerzy Szemplinski and Dave Springford.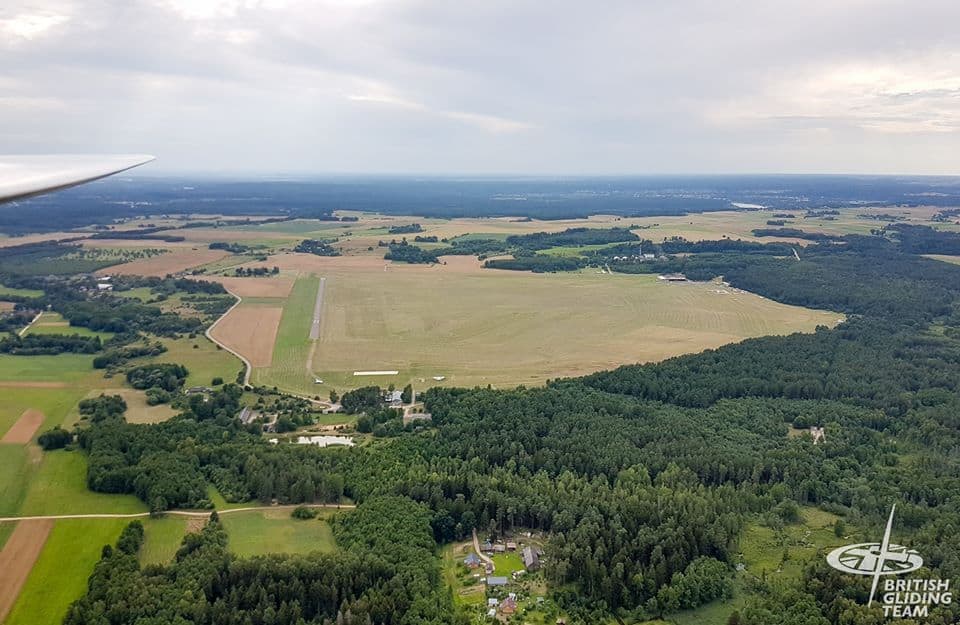 The Pocuinai airfield where it will all happen for our juniors from the world.
Picture shared by team UK.
Cheers Ritz