Today I start with the link to the 23 GREAT pictures of the 7000 m.- plus- height- flight from the Schmelzers.I told you all about it recently. Dad Bert 's final diamond!!!!
20.11.2016 /2Y above the Alps at photos.google.com
———–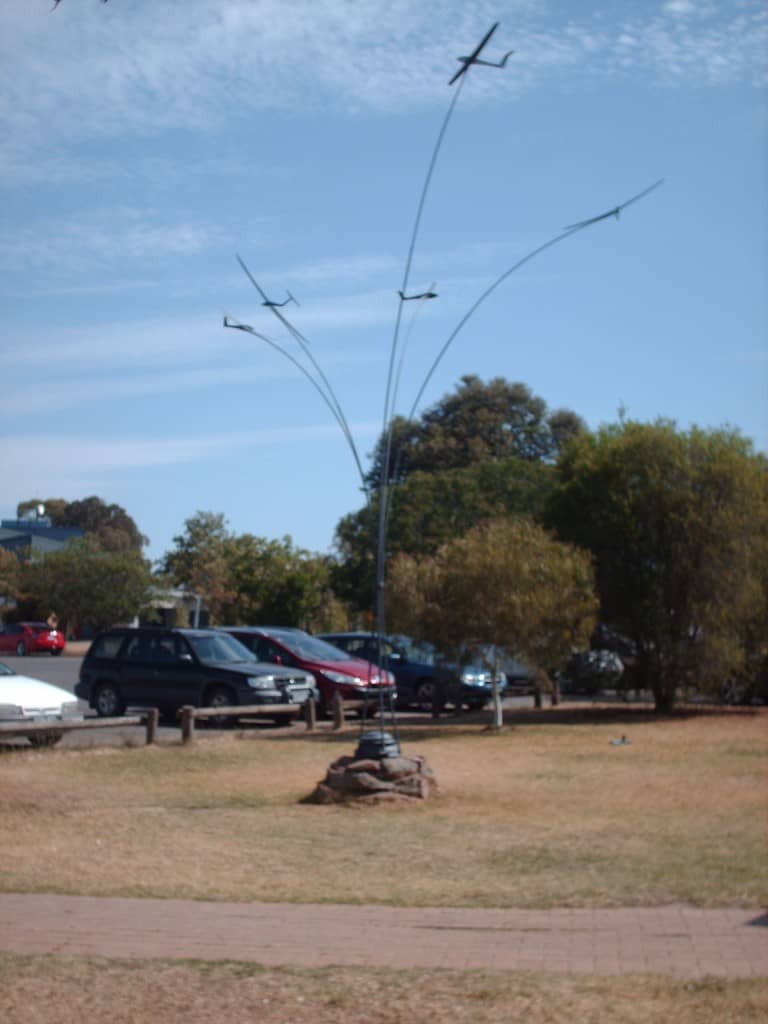 Benalla welcomes the WORLD.
Picture in front of the club house. To the left, the big building,…that's the huge briefing-room/arena.Like in Uvalde in 1991.
http://www.wgc2017.com/news_add_here/list-of-news/what-glider-is-that.aspx
Several pilots have arrived already in Australia, as have the containers.
The time difference , flying on the other site of the world, another metric system and sometimes very blue but very strong conditions are things you have to get used to.
On the last day of this year the pilot/team registration starts as well as the technical inspection.
The official practice period is  between January 5-7 and the big game starts on January 9-21, with the opening ceremony on the 8th.at 5!!
The closing ceremony and prize giving is on the 22d at 11 AM and the evening before is the farewell party.
Bill Gawthrop from the USA choose Tocumwal for his practice period. Only 75 km. from Benalla so close enough to get used to the circumstances and as the N. will be a popular direction because of the higher temperatures,he is at the right spot.
On his first flight, he lost the navigation on his LX 9000, [better now than during the comps] so extra good practice, as he had to work out how to find the field .But,… The airfield is easy to find as the WW 2 hangars mark the field and the runways cross.Only with a low sun I always heard,… it is difficult.
As the US soaring team mentioned" US Team Open Class pilot Bill Gawthrop is currently in Tocumwal where he's spending the week flying with 4 time world champion Ingo Renner. He is impressed with the conditions in Tocumwal."
After he travelled to Benalla in the beginning of December,  he mentioned :"Nice to be back in Benalla where struggling is normal."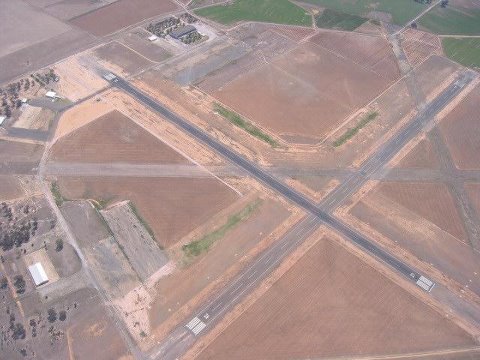 This is an older picture by Belgium pilot, Ronald Hermans who flew for  and worked with us in the past.
Pretty big field!!! Not easy to miss.
A few more pilots showed up in Toc. as Peter and Mandy Temple, John Buchanan, Tom Claffey and Mac.The Australian World team is training with as coach….Ingo. Ingo is BUSY but he loves that!!!
Corowa is a bit more to the E. from Tocumwal and another great practice venue.As the  containers have arrived there with several WGC gliders, WGC-pilots will practice there as well.
———-
The 1.300 km. is the new 1000!!
With the much better gliders and instruments the 1000 k. still is a dream- goal, but for those who have it already the 1.300 km. is the new challenge and wow, it was flown by many last week in Namibia and from all the well known fields as Bitterwasser, Kiripotib and Pokweni. Even 1.421 with a speed of 159.82 km./h in the EB 28 by 2 pilots flying from Bitterwasser. One of the LONGEST flights ever from Bitterwasser on the OLC.
These EB-pilots,Tim Altmann and Frerk Frommholz,  flew during this flight, the always more difficult  FAI triangle as well and stayed high and flew fast;1.254.5 km. with a speed of 141.1 km./h.
Same day,[November 30]  same place; 1.384 in a Ventus 2CM /18m by Robin Foerster is GOOD!!!!!
The last day of the 2016 metereological autumn was a great one in Namibia.
So was yesterday with several 1000 km. flights during the 1000 km-camp ; 1.253 km….1.186 km….
One day earlier and now from Omarama in N.Z.,  by now wellknown USA – hot-shot-pilot Keith Essex, flew 1.316 km. with 158.9 km./h.
He says he still has a " love-hate relationship with wave continues" , but he is doing well.[ASG 29]
And to top all of it when I was gone, Klaus Ohlmann flew on November 26, 2.068.69 km. from Zapala Neuquen in Argentina in his Stemme, on as he mentioned the first wave-day for the season.Speed;149 km./h.
A few days later on December 1 he added a 1.637 km. flight . "Slow" speed, "only" 113 km./h.
Klaus mentioned on the OLC the next about this flight:
"Great day with difficult start. Wind only 15 km/h, but wave. In the South Wind up to 130 km/h."
On December 5 another 2000 km. plus flight with a speed of 142 km./h.
Also in Argentina , on December 1,  from a place with the beautiful name Jose de Sant Mart,Jean Marc Perrin, one of the other wave-kilometer-eaters, flew 1.437 km in a DG 808 /15 m.!!!!
———-
NSW State Comps from Narromine.
26-11-2016/3-12-2016.
In 3 classes they "fought"  for the title of NSW champion; club, open/18m and Standard/15 m.
The most intertesting day's were the last 2 days ; task 6 and 7.
Task 6 with a 2.30 AAT in open class was more or less defining the scores in the end. Toppers as Peter Temple, Paul Mander, Tom Claffey and Brian Durieu outlanded and those who finished raised in the overall scores. So after 6 days in this class Graham Parker topped the list, not a miracle as he did so in the past as well.
Interesting was the daily win from new Sportavia-hangar-owner Mark "Lumpy" Paterson, who bought the WW2 hangar for a rumoured ONE dollar from the last SOLE owner ,[ as we had to call him], R. Cawsey.
As far as I know he is relatively new in the soaring-competition-scene; in the HpH 304 "SHARK" he flew 232 km. in 2.26!!!
Tom and Peter "only" dropped to 3 and 4 as there were not a lot of points to hand out.
5 From 11 starting pilots finished.
In club Mark Barnfield had a top-day winning and finishing as the only competitor [from 8] in this class . A 2 hour AAT was set and he flew 159 km. in the SZD 55 in 2.32. Mark nearly topped every day of the total scores , though Jenny is always close!! In the end not enough pilots flew the distance-to make-the-day!So invalid!
St. /15 m. had a 2.30 AAT and 4 from 9 finished. 3 LS 6 gliders on the top-3-daily-list. Best was Justin Smith with just over 3 hours for 238.66 km.
The last day was a "hot" one ,…hot as in great distance and everything can happen.The day went up  to 10.000 ft. but it was windy [again].Some said , it looked better than it was.
In open /18 m. the pilots got another 3.30 AAT so off they went knowing that Graham was the man to beat.
BUT,…..neither Peter Temple nor Graham or Paul Mander flew on the last day.For some this is"only"  practice for a better goal…the WGC.
Andrew [Georgeson ] in his JS1 was the only one flying over 500 km. in 3.50. He had a late start at 14.10.
Lumpy started earlier at 13.42 and finished after 448 km. in 3.25.
Tom started for what ever reason very late at 14.49 and flew 247 km. before he had to start his engine.
So it was pretty clear in the end of the day that Andrew was the new State Champion, in this class[6268]  followed on spot 2 by Lumpy, [5.927] good on him!!! and still on spot 3, as he was more than 150 points ahead, Graham.
In club it was Mark Barnfield who was the runner up on this last day and even with loosing the task-6-points , he won the title easy; 5670. Jenny [Ganderton flying the Mosquito] was runner up with 5390 points.
In St/15 m.Ben Coleman [Hunter Valley]won the day after been in the top -3 -daily -best-pilots several times; 375 km. in 3.07.  Finally a win on the last day for him in his LS 6. BUT,….Not enough for the title he was 4th.
Lake Keepit pilot Jacques Graells [LS 6] won the title with 5943 points.Just more than 300 points over his club mate Justin Smith as well in an LS 6. The LS 6-CLUB, did well.
All pilots started within 16 minutes and Ben was the first to go on track.
———–
63th Nationals in Argentina.
28 -11-2016/9-12-2016.
55 Pilots gathered at the San Francisco Airport to find out , over 14 days, who in 2 classes would be the National Champion.
Standard class has an international version as well but with only 1 French pilot ; Baptiste Innocent.
The weather went better and better,..so they started in St Class with a 2.30 AAT , then a 399 km set task and a 4 hour AAT. In those 4 hours a St Jantar pilot flew nearly 400 km.
In the combined class 4.30 km. was set and Damian Goldenzweig [won the day with 469 km in an ASW 20!!.He won the day before as well and on day 1 with a 3 hour AAT for this class he was 6th. So a great run over the first 3 days for Damian .
He won task 4 as well and…. on December 2 there was no flying.
In Standard Gonzal0 Riera [LS 4] was at spot 1 overal already for 3 days and he won task 4. Damian's brother Lucas had a bit of an off-day being 15 on day 4,but remained on spot 3 overall. Looking at the international version of this class Lucas is behind French pilot Baptiste.
On Saturday December 3 they started for the 2d week of this competition!!
4 Hour and 3.30 AAT's were set that day and the next . Then another scrubbed day.
More next week.
———-
R.I.P.
Matt Wright!!!!!
"It's not the years of your life that count, it's the life in your years"……is one of his last statements.
Search "Balleka" on  you tube and you see what LEGEND he is/was.[more than 14.000 followers!]
The unexpected death after a crash, on Sunday afternoon,  has shocked ALL of us!!!!
SAD!!!!!! Very sad!!!!!
More sad news,…on the SAME day another pilot died in the UK, in the Cornwall area.
CORRECTION;
Got news from one of my UK friends about the 2d fatal accident [THANKS] and sorry for the wrong name….papers are not always correct it seems:
" The second accident in the UK on Sunday 4th was not in Cornwall but in Leicestershire, near to The Gliding Centre at Husbands Bosworth.  It is reported to have been following a mid-air collision with a light aircraft (the pilot of the light aircraft was able to land safely)."
———-
Our autumn period was one from EXTREMES!!!!
Colder than in the last nearly 20 years -minus 8/12 in the one but last night of  November and hotter at some places than ever before in history in the beginning.
The difference in temperatures was 40 dgr.!!!!!
You can call that a DIFFERENCE!!!!
Another phenomena here in Holland yesterday; "mother-of-pearl-skies."
Cheers Ritz