On September 20 2016, the new world wide OLC list 2017 started with 80 added flights and a top spot that day, for Bahia Gliding with a 776 km. flight in an ARCUS . 2 Toppers in it,Claudio Eduardo Schmidt and Jao Widmer. And straight away it was a nice flight as the comment was;"FAI 750km Record 149km/h."
Good on them.One day later they flew 639 km. Topper on that day was the DG 1001 M flown by Dennis Tito;1.040 km. So the first 1000 km flight in the 2017 season was a fact as well.
Looking at 2016 worldwide ,..the CHAMPION is not Dennis, he was 3d on the list,  but who else than his mate  Jim Payne.Both belong to the Perlan Project as you know!!
In between on 2, was Keith Essex USA National Champion and pre-eminently- long- distance- pilot , not even that long busy with this kind of soaring.
But,…… Keith was the best in the other OLC discipline ; best 2016 flight 2.674 km. flown from Minden in the JS 1 C.
The stats looking at ALL OLC flights, show Keith on top as well;56.662,04 km. during 99 flights .
The busiest 2016 airfield was Puimoisson in France and very clearly; 838.619,57 km. was flown during 2130 flights by 316 pilots.
Runner up with 573.934,86 km. was Bitterwasser where during 765 flights , 127 pilots were active.
The Dutch OLC champion is Mark Leeuwenburg with 4067,13 points and good runner up junior pilot Robin Smit.[3426,52.]
All Europe; Guy Bechtold from Luxembourg; 7192,24 points. Germany;Matthias Schunk [6460,84] France;Robert Prat [6188.05]
South Africa had a Polish pilot as champion; Adam Czeladski with 7691,45 points.
Namibia; German pilot Wilfried Grosskinsky with 7527,35 points.
All North America; Jim Payne .USA; Jim Payne 9879,56 points.  Canada; Trevor Florence 4118.05 points.
All South America; Jean Marc Perrin with 7862,32 points. Argentina; Jean Marc Perrin. Brazil;Branko Stojkovic with 5120,28 points.
All Australia; Pepe Gresa from Spain 5957,52 points. Queensland;Geoff Pratt 4325,80 points. Victoria; Max Dolfin from Holland.
All Asia;Rafi Luski from Israel [3117.90] Japan; Shigeru Ishiama[ 2423,51]
For all the different countries and or states you can go to ;http://www.onlinecontest.org/
———-
Records and friends in Holland!
Records….. no not about gliding but about the weather. Last Sunday September 26, we had up to 26 dgr. C  in the southern part of Holland. Anyhow in Holland the hottest 25th EVER.
VERY unusual!!!
Of course another record!!
Great weather to catch up with my Aussie friends Chrissie [Tuck-Riley] and Stuart. They had a fabulous trip via Greece, France and Holland and we caught up for a drink,….bubbles OF COURSE!!!….in Amsterdam, our VERY INTERNATIONAL capital. They even were impressed with the many, many different languages and how busy it was!!!
They left yesterday but will be back.
Dundee leaves today first to Brisbane, to celebrate 3 birthdays [together 180 years and the 80 years are from Dundee himself ]  then Toc for his  "hibernation".
Still not fit, but happy with my very-long-time-mates!
———
Interesting OLC flights!
And,…believe it or not , the Deesite Gliding Club in Scotland, you remember from the Mountain Wave Comps a few weeks ago,  was the place to be last Sunday. German guests were on the right spot on the right time and enjoyed great wave-rides .You have to look to the traces on the OLC that day. The comment from Christof and Thomas:
"Very cool flight. Skye is not the limit. Thanks to Deeside Gliding for the early tow and the fireworks for the landing! Wind was 200°, 60 to 80 km/h. Again spectacular cloud optics, as it seems to be common in Scotland. Unfortunately difficult to read, as rotor clouds were disturbed by towering cumulus and high lenticulars were absent. Lift was at best 4 m/s in the beginning, weakening to 2.5 m/s at maximum in the afternoon, with increasing shower activitiy. Daring the jump to the Hebrides needed some mental and physical effort, but once one has set off, second thoughts aren't really helpful. I wonder how a retrieve from Stornoway would be like."
I wonder too. But luckily it was not necessary a total of 719  km. in the ARCUS T from Aboyne. Well done guy's!!!
Another great flight same field ,same wave , different  track,  was flown in the Duo Discus also by 2 pilots from Germany on the same camp in Scotland;735 km.
Their comment ; Scotland is amazing !!!
And OLC topper number 1 that day  was from Aboyne as well , a flight in an ARCUS T with 794 km.by Timo and Bjoern-Christian.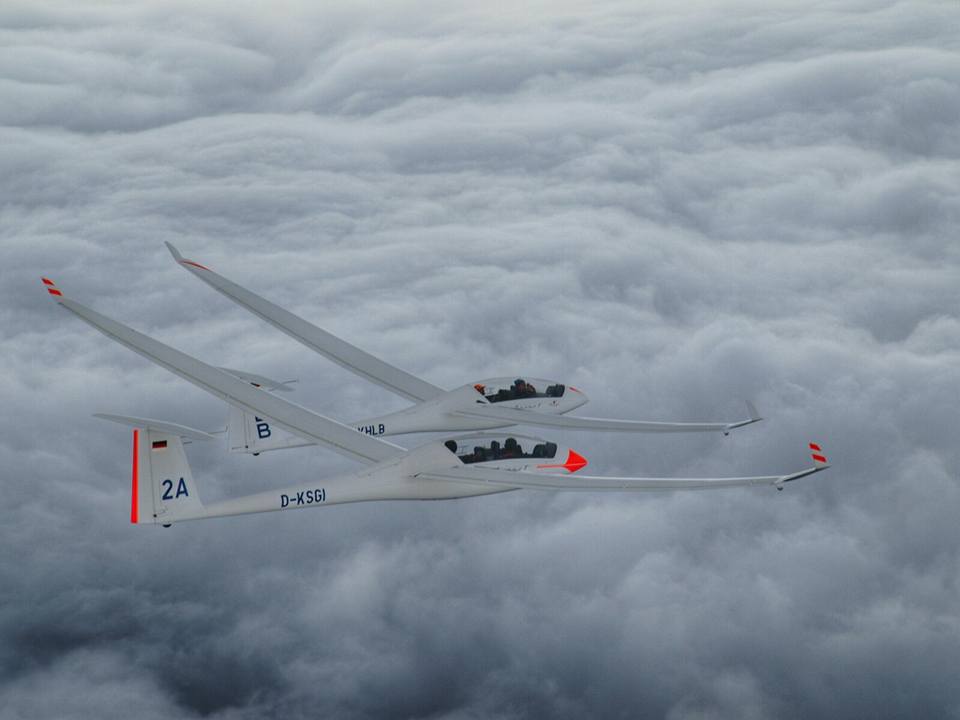 Fabulous picture from the ARCUS T in the wave  from the Scottish Highlands .
As shared on FB by one of the pilots Soufian El Allouki flying in the Duo Discus T.
One day later Sebastian Kawa took an ARCUS M and flew from Kislovods in Russia [North Kaukasus]  over the  Kaukasus Area; 800 km. Height up to 7309 m MSL.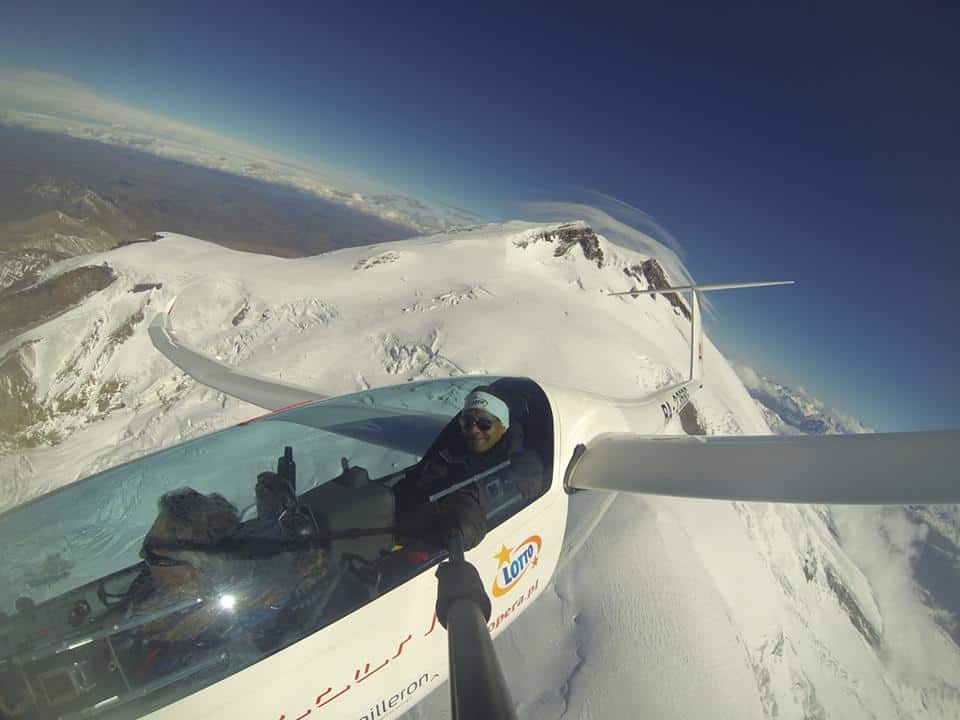 Another great picture this time shared by Sebastian.
That same day Tim Kuijpers , former junior world champion took an LS 4 out of the hangar for a nice , very -late -in -the- season-autumn flight from Malden in Holland ;366 km. [300 FAI triangle]
———
AND……don't let them get away with it!!!
Schempp Hirth shared a message which I share as well;
" Your help is needed:
Swedish registered Mini-Nimbus serial no. 121, registration SE-TVA, was stolen from its hangar at Älvsbyn airfield in Northern Sweden between September 5th and 18th with its Langenfeld trailer, registration CRM815.
The owner welcomes any clues. Please inform us via Facebook message – we will forward.
And to finish some pictures from "above" , shared by Swiss Chris, from my beloved Tocumwal, where after lot's of rain the Murray has reached 6.8 m. and the flooding on the low-lands, is pretty bad but believe me in another 1 or 2 months, [depending on the weather]  it will be all dry again and there will be huge dry paddocks to land in,….. if necessary.
Look as well at this panoramic picture from Tocumwal's Sportaviation. Eddie put a lot of effort in making the camping area green. With "help from above"  ,a  good drop of rain, it looks fabulous.

Recreational Area and Amenities.
As shared by Eddie Madden from Sportaviation.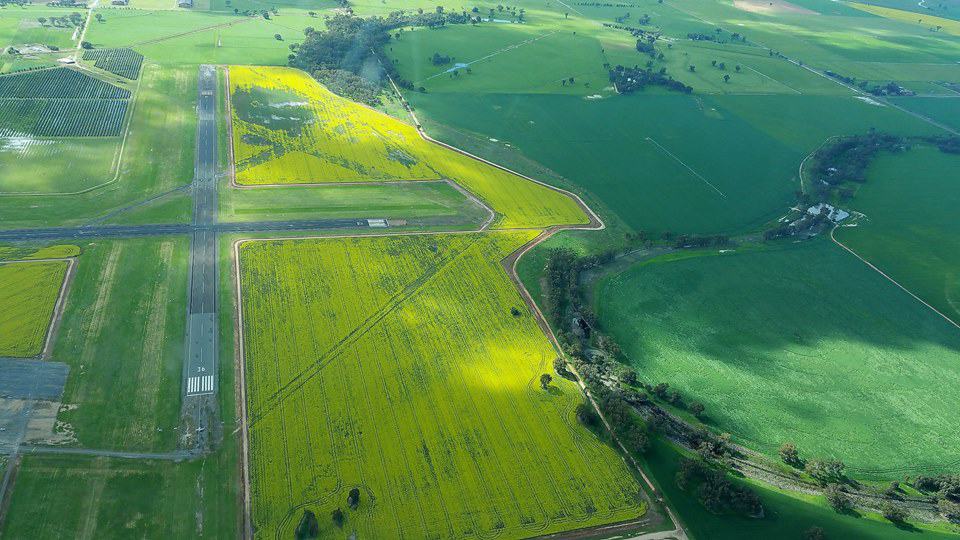 Tocumwal Airport surrounded by acres full of  "canola" .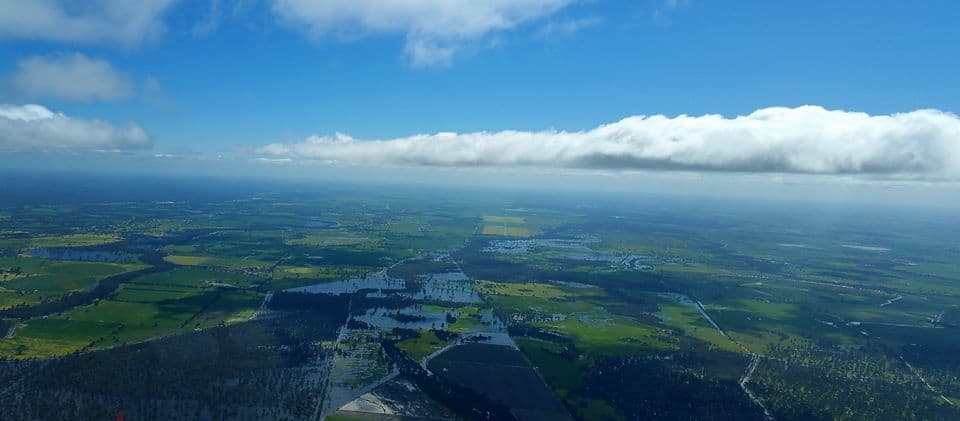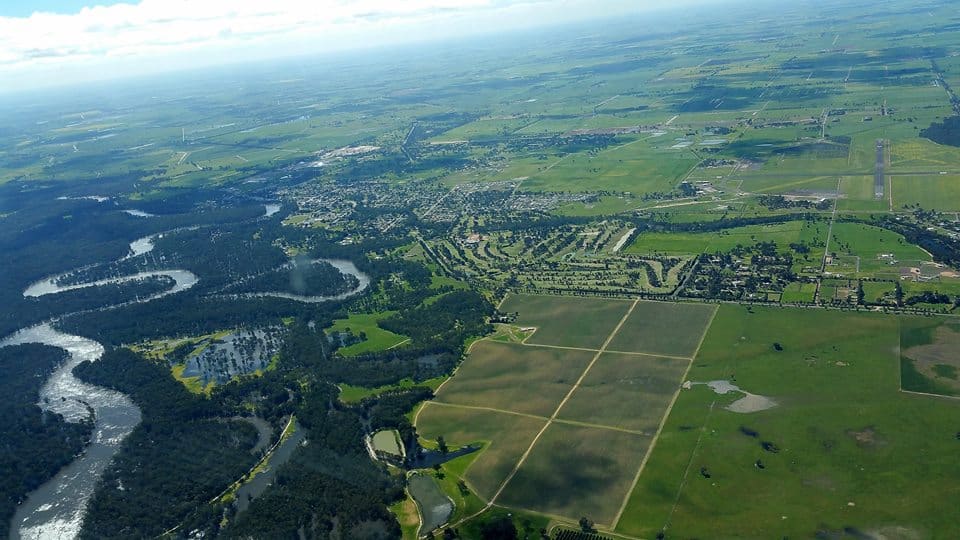 The MIGHTY MURRAY RIVER!
cheers Ritz