What summer we have ???? Rain , thunderstorms, flooding…etc even here in Holland!!! Hail stones like tennis balls in the South of Holland  and trees broken like matches…unbelievable!!! Most glass houses ruined.
OVER 100 million is the expected bill for ONLY the hail damage !!!! In our region about 20 million for the rain damage, including the crops on the acres.
The huge hail balls are to be seen at Severe Weather Europe.
BUT ….one of our meteo guys forecasts a hot summer with heat waves!!!!! Let's wait and see, there might be hope!!!
THIS,….is Holland as well this week a very nice weather phenomena. A storm-front ahead of a huge shower at the IJsselmeer, as seen and shared by Maurits Dortu, who travels end of this year to Australia for the WGC in Benalla as member of the Dutch team.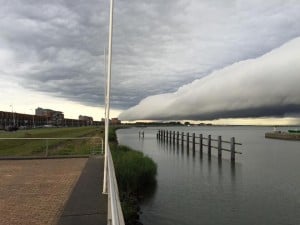 A roller cloud in Holland!!!?? Like Morning Glory in the N of Australia but now at home!!!!
In between,…. Euroglide fights the weather elements as well.
Before they started  the organizers already deleted Dahlemer Benz from the TP list due to a long rain forecast.
On Thursday some had reached Roitschjora close to Leipzig and some landed at Leszno.
Pilots arriving at the airport of  Mielec, had a warm welcome with a "sleep -over" in the hangar.
On the 24th a total of  7 had landed in Leszno in Poland on the way to TP Plock and some were on their way again from Plock up to the next TP Krosno .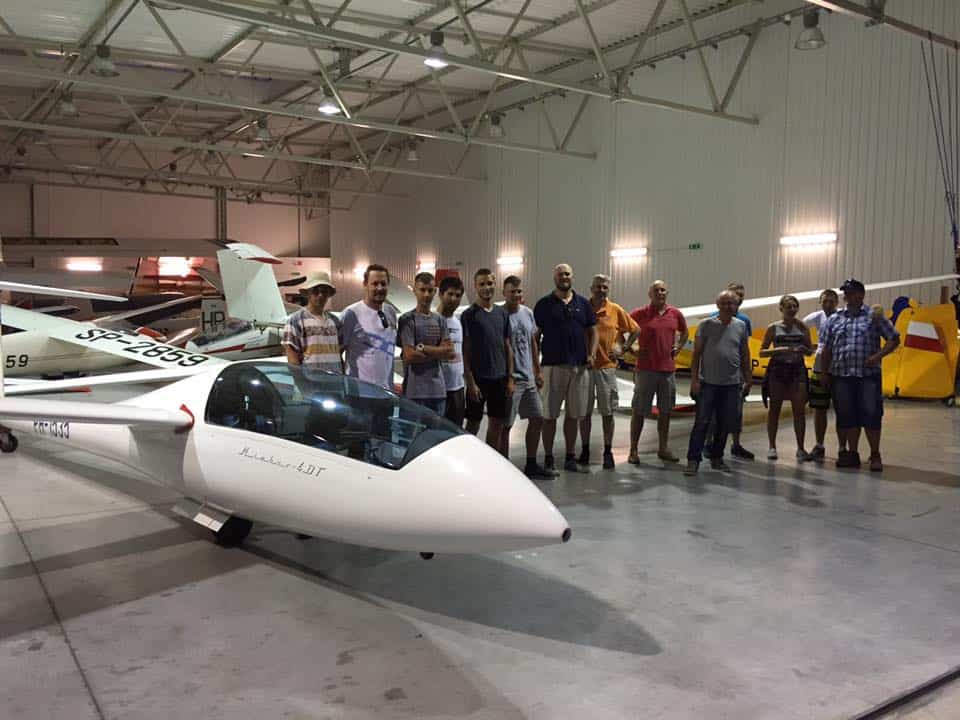 Sleep over in the club house , BBQ and glider in the hangar, what do you want more?
Picture shared by Robin van Maarschalkerweerd.
Here is the map again so you can click on it and follow where they are . On the site you can follow the tracking of course as well.
www.euroglide.nl

Yesterday the first finishers arrived back at Venlo from the turbo class. Great effort from the boys in the ARCUS T with call sign EX and DX. Congratulations!!!!
Some teams however are "stuck" in Poland due to the bad weather. No worries, it's a holiday anyhow, though all want to be back in a good time.
But also for them good news as you can see on the pictures shared by Frouwke. No rain but CU' S.
Holiday soaring atmosphere!!! On the "GO" again.
Pictures shared by Frouwke.
———–
USA Nationals in standard, 15 m. and open class.
News for day 2 by Bruce;
"Here is the sky on the direction we are going today, on a 3 hour AAT. It stays mainly west, as the weather to the east where we went yesterday is forecast to be overdeveloping, possible small storms. I think there might be some grid-sitting today while we wait for things to heat up."
2 Hours later;" The day has been called off. Still some high cloud cover, and the temperature has dropped about 5 degrees. Back to the house."
During briefing he was allowed to give a safety briefing about what happened to him, as " I think there is something to be gained from telling the story" .
He got huge support from ALL.
Here is Bruce;" I delivered the safety briefing this morning, and told my tale. I was concerned that I would struggle to keep it together, but I mostly managed to keep talking. The gliding world is full of fantastic people, and they have shown me huge support, along with all my family and friends. So many thanks to each and every one of you.
Now, today is another day."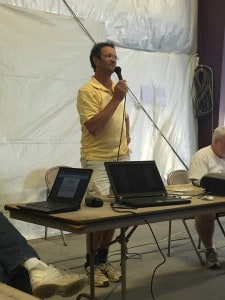 Bruce with an after-safety- briefing of his difficult flight.
Shared by the organizers.
Off they went indeed for another day [2] on the 23d. A good day for Uys who won again in open.
Bif Huss is doing a great job in standard class and in 15 m. it is Peter Deane who flies really well till now.
In open it's all about Uys , Keith and Dick ,being 1-2-3 for the day and overall. Of course being from South Africa Uys flies HC.
Bruce did a good job being 6th for the day.
–" Today the weather looks to be excellent, maybe the best day of the competition. We have been given a 4 hour MAT task, which means we have a sequence of assigned turn points to visit, with the aim of arriving back at home at least after the 4 hours has elapsed. If you don't visit them all, that is fine, and if you are fast enough that you need some more distance, then you can choose your own from the turn point list, so long as you don't fly back and forth between the same two points; you must visit another one in between. Is that clear? Really it is like a set racing task with a time component. Having never flown one of these tasks, I am very interested to see how it goes. It may be a good solution back at home for the pilots who don't like assigned area tasks. The day is firing up as forecast at present."
But,……
—" Today looked like it was going to be a good one, and the 4 hours assigned for out MAT sounded like a load of fun. However, we are having some trouble getting the entire fleet in the air fast enough. It is still taking two hours to launch 65 gliders, and the Open Class is always at the rear, so we struggle to get a reasonable flight completed. Today we basically all started the moment the gate opened, which was 3:30 pm local time. It was obviously not going to work having us come home at 7:30pm, so the task was shortened half an hour. That would have been OK, but some small storms/overdevelopment happened as we turned for home from the south, and it was difficult to make the last few turns. Shame, as the weather was boiling pretty nicely up until then, with some good strong climbs going well above the 17.5k limit. After my experience on Tuesday, I enjoyed staying high and surveying the Utah high desert from afar! It also meant that when the stuff hit the fan I cruised quietly home, when I probably should have had a go at one more turn. I finished 20 minutes early, which costs a heap of points too. The idea of struggling low and creeping back home on a really marginal glide didn't excite me too much. It was a fun day.
The photos are late in the afternoon, one towards the turn that some guys managed to make, and the other, with the better-looking cu in the distance, is the view home. By the time I got back, those clouds had collapsed also. Well done to the winners – looking through those names there are no surprises. They are all the good guys.—"
On June 24 flying- day 3!!! Here is Bruce after he WON the day!!!
—"I think today was the best day yet. It was still strong and high, but there were no storms or showers to get in the way. There was a bit of wind, often around 20 knots, but that actually lined the lift up nicely, and I found it easier to get some nice long glides. As happened yesterday we began with a 4 hour task, and it was cut back to 3 while we waited for the launch to progress. We were just running out of time. In the end the day lasted long enough that we could have managed another half an hour, but after the last few days you wouldn't have known that it was going to be possible.
The task went south then east to get home, and my track took me over the scene of my horror on Tuesday, but at the significantly more comfortable height of 16,000 feet. One of the photos shows the area where I was low. Pretty ugly isn't it? The other shot is during my best climb of the day, with a peak over the panel of a delicious Utah sky. I managed to stay nice and high all day, got some good runs like I said earlier, and finished 322 miles at 106 mph for a day win. Very satisfying!"— Bruce.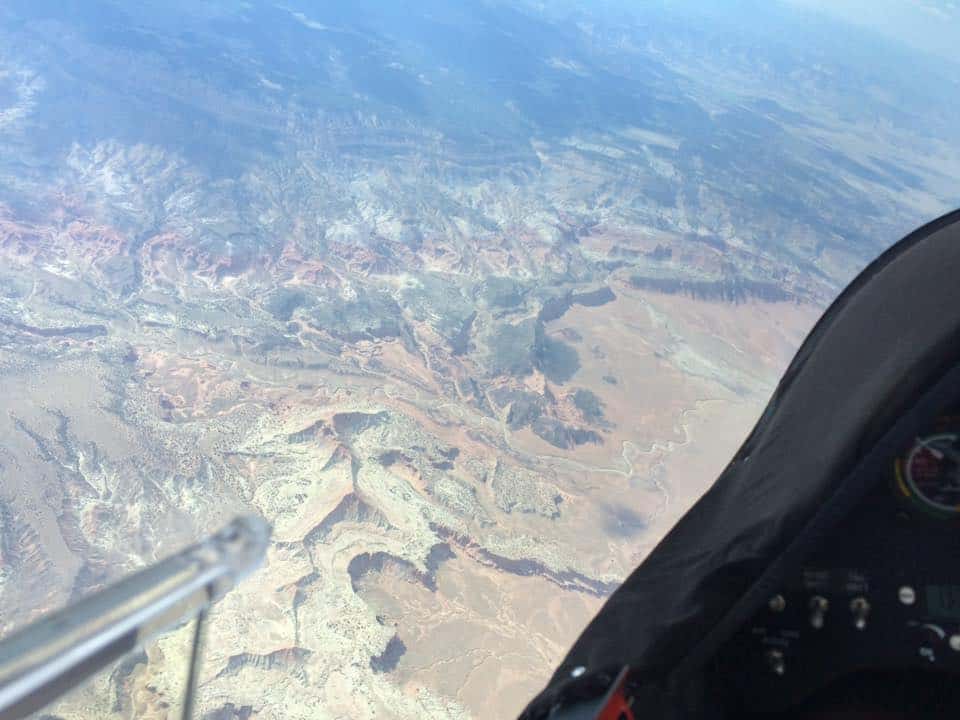 What happened more on flying day 3?
In standard class it's more or less  a "fight" between Bif [Huff] and Danny [Sorenson]. They circle around each other for spot 1 or 2. Today Danny won and Bif was 3d. The totals after 3 days are close; Bif with 2797 and Danny 2735. Walt Rogers " hangs in " with 2722 [4th today] The rest ,9 pilots, are at this stage 300 points behind.
In 15 m. 28 Pilots and also in this class 2 pilots who "fight"  each day for the honors.David[ Leonard] leads after 3 days with Peter [Deane] just behind him; 2754 for 2717.
In open Uys still leads HC with 2914 points.[JS1 c-21 ] He was 2d for the day behind Bruce. Keith Essex [JS 1 C-21 ] who was 8th for the day still leads , the championship, with 2770 but his marge is not big as David [JS 1 C-21] and Dick [CONCORDIA] follow closely; 2738 for 2736.
Still 6 days to go!!!!!
June 25;
Day cancelled due to weather at the morning pilot's briefing. A cold front has brought north winds to the valley and cooler temperatures. While the temperatures are pleasant for ground crew, today's forecast does not include soarable weather. Conditions should be improving tomorrow.
Still 5 days to go!!!!AND,…….as they expect good days:
"next  few days should be strong hard racing with no letting up. Fingers crossed" as shared by Bruno pilot from B 4.
He also mentioned :" Uys Jonker and the Jonker crew gave a fine demonstration and presentation tonight during dinner.  They flew the new jet around the airport with beautiful Mount Nebo in the background.  Be sure to look for pics and video of this demo on our facebook page. Uys then shared with a full house the background development of their JS1 and working to make improvements to performance in the future. The pilots really enjoyed the evening.  Catering was Mexican from our favorite caterers!!"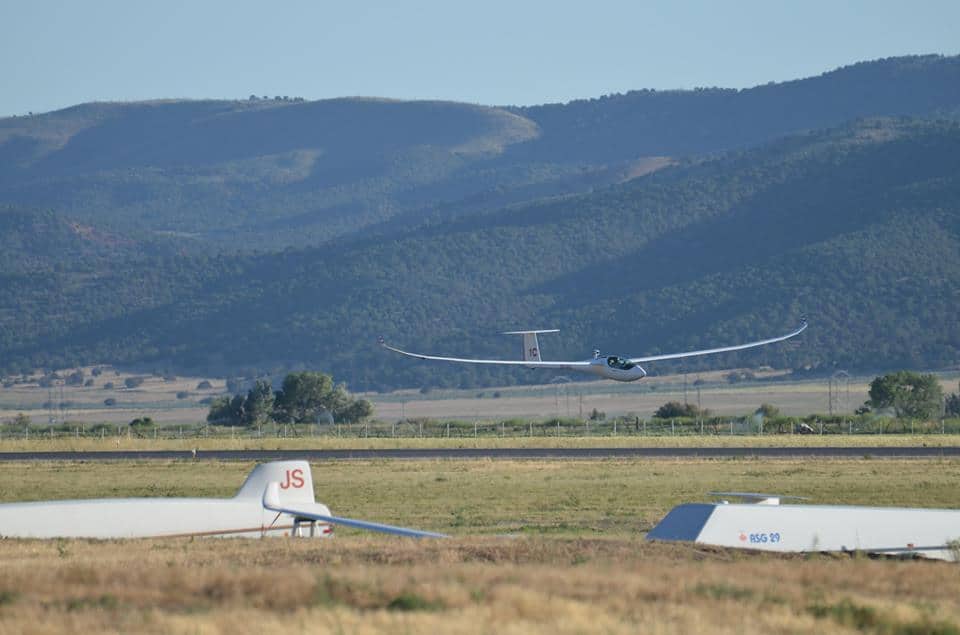 JS 1 flight  by Uys with jet-demonstration and ENOUGH interest in this glider.
June 26; was hot and VERY blue with late launches and for all classes racing tasks!!
As said , Walt Rogers is hanging in, and so good that with his 3d place for the day he moved to spot 1 overall in standard class!!!
Danny is 2d and Bif 3d.
In 15 m. it was not such a good day for the 2 "toppers". Peter was 10th and David 16th. They still lead but Rick Indrebo is on their tail with only 80 points behind David.
In open it was Uys again. He shares his glider now with South African toppilot AP Kotze.
The top 4 is all JS 1 and then the CONCORDIA.
Bruce had another good day and was 3d. He is 8 overall.
Here is his daily story;
"A slightly frustrating day all around today. The weather was slow to start, and we had two pilots meetings at the front of the grid, which resulted in two changes of task, from "A" to "C" to "D". Once again we were running out of time, and our gate did not open until 4:25pm. The final iteration was just 195 miles, east one valley, then a run down that valley to the south, over a range to the west and home again. There were just a couple of cu when we first went east, but the rest was blue. Heights were OK; it was possible to get over 17,000 feet, but once we were racing there was no point in going higher than 15-16,000, as the lift strength was dropping off. Short tasks are always difficult, as one small slip usually costs you a big percentage of time, whereas on a longer flight the mistakes even out for everybody. My flight was frustrating too, as I had my slow spot after the final turn. There was nothing going up and a group of us got low there, before we found a climb that was less than average. I finished in third place, but felt that I could have done that part of the flight better."
June 27; Day 5…….A fabulous good strong day in Nephi, except for 1 pilot in standard class. Walt out-landed and dropped from his nice 3d place to spot 10, by gaining "only" 558 points for the day.
As they mentioned in the daily story; "A great fun day of racing around the Great Basin.  Looks like we have one landout, it will shake up the Standard Class standings, and some great speeds."
Bruno Vessel flying the ASW 27 had the fastest long flight in his life; 125.07 km./h. over 646 km.
Open Class – Top 5 were over 100 MPH and more than 425 miles
Standard Class – top three over 90 MPH raw before the handicap.
15 Meter – Top 15 for the day were greater than 90 MPH and more than 425 miles
Lot's of smiling faces and tired pilots.  Need to go remind them to hydrate and eat well so they can do it all over again on Tuesday.
Just over 1:30 to launch 61 gliders!  The ground crew is rocking!
June 28; forecast for today and the next 2 days; over development! The news on their site:
" 15 Meter stated at 13:05 local time for 3 hours 
Standard and Open task B for 2.5 hours.
All classes returning between 1600 and 1620 local time.  Sky is filling with cumulus, over development, high run off from far away cells and the first sounds of thunder.
Hoping for safe task and landings."
In Standard class Bif was 1 for the day and AGAIN overall. Walt was runner up for the day and climbed again to 4 overall [great effort] and Danny was 5th and 2 overall now  only 17 points behind Bif. Exciting last days!!!!
In 15 m. same story . The 2 "toppers" Peter and David are still  "fighting"  for the honors. Peter was 4th for the day, David 7th. Result overall; 5374 and 5369.!!! Gary Ittner won the day and is 3 overall now!
Open class saw Keith as daily winner and he is the number 1 overall as well. Uys/AP are still HC in the lead. 5352 for 5309. Dick with the CONCORDIA is now on spot 2 overall. Good old Doug Jacobs had a less good day being 11th but still is after so many years , at this stage, in the top 5. Bruce is 6th with a daily 3d place.
All scores unofficial.
———–
QSGP in Austria.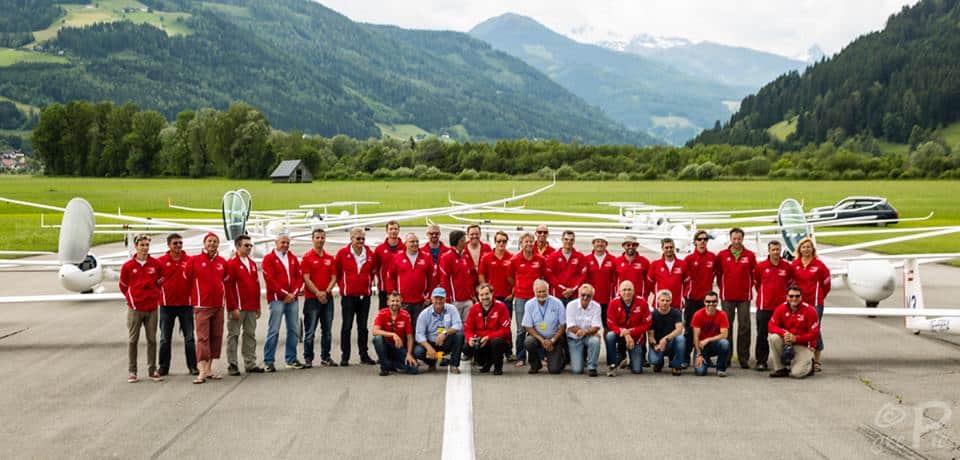 The pilots , the gliders, the tuggies , part of the LOGO team, the organizers from the QSGP .
Picture courtesy Christoph Graif via FB.
Finally the good weather reached Niederöblarn in Austria and after 3 days without a task, they started with a 234 km. flight on their day 2 on June 22. Wolfgang was the best in his Ventus flying the distance with a speed of 126.44 km./h. and "collecting"  the 10 points for the day.
11 From 19 finished. Bostjan was runner up [8 p]  and Didier 3d. [7 p.]
Day 3 was straight on the next day, bigger task, better weather; 360 km. This time German pilot Simon Schroeder won the 10 points by flying around with a speed of 132.53 km./h. Number 2 and 3 were from Germany as well; Jan Frederic Mueller [8] and Mario with 7 points.He was as fast as Simon, but did not round a TP well.
Except for one they ALL finished and the non-finisher was only 13 km.out.
Day 4 had an even longer task and after the 3 non-flying , lazy days the " boys" had to work; 403 km.
Excitement enough as Wolfgang has 17 points and Bostjan and Jan Frederic 14.A total of 13 for Mario and 11/10 for the Schroeders, Robert and Simon.
A big "cloud" of gliders arrived at the finish line after the 403 km. 8 within 4 minutes,  some a tad later.
Best speed and winner of the 10 points. Werner Amann.[127.75 km./h.]  runner up Bostjan with 127. 33 and on 3 Robert with 127.16 km./h. They all had a chance to win the day , flew alternately on different positions , but in the end Werner separated from the rest and went home with extra speed.
So how does it look before they start on the last day?
22 points for Bostjan and 19 for both Mario and Wolfgang, 18 for Robert and 15 for Simon. They are all still in the race!!!!!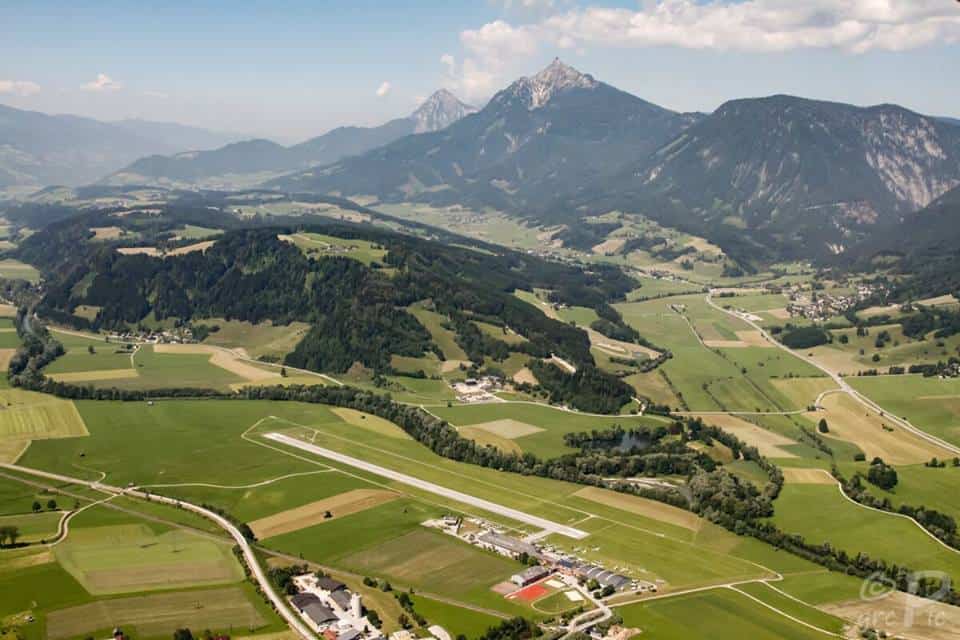 The airfield as shared by the organizers.
Day 5 last day!!!!!Task; 131.88 km.
Werner won the day and with the 11 points from the last day and the 10 he scored earlier by winning a day he had a total of 21 points. NOT enough to win. Bostjan , 5th for the day, earned 5 more and wins with a total of 27, the QSGP from Austria.
Wolfgang only "got"  2 points to add to his total and that was not enough to be runner up. [21 p. as Werner]
2 Pilots share the runner up spot. Simon and Mario both from Germany and both with 22 points.
5 Days out of 8 with this terrible weather is pretty good. Nice long distances as well on 2 days 360 and 403 km.
Another "LIKE"- QSGP.
The next one is in the UK in 18 m. configuration . Between July 9 and 17. 20 Pilots have been selected, another 7 are on the reserve list. Among the UK pilots ;Andy Davis and Russell Cheetham and 3 pilots from Germany. The race will be flown from Bicester Gliding Centre.
———-
UK Nationals standard and 2-seaters.
On their 2d flying day from 7 finally a task again for all those waiting and patient pilots; 220 km. for standard, 216 for the 2 seaters and the "regionals" got 154 km.
SO sad, ….but they had to cancel the task.
The last day was a very marginal day again and it just made 2 days for St Class with a 153 km. task, but nobody finished. The best pilot reached 144.75 km which seems already a miracle but George  Metcalfe did it followed by Jez Hood with 143 km. and Howard Jones with 140.  The rest did not reach 100 km.
In the end George won with a total of 634 points what says it all.He "climbed" from 3 to 1 on this last day adding 108 points to his total.Howard moved from 5 to 2 [559] .
In the 2 seater class the day was cancelled so were the regionals. So only ONE day for them, but they all will have had good fun together, as the weather is the weather. You have to do/deal with it.
Andy won flying day 1 in the 2 seater- class and "got" 440 points for the day,  that was also the final result.
———-
Interesting OLC flights!
German pilot Thorsten Streppel flying an LS 6 WL in the USA, mentioned in his comment on June 23;
"Finally the first 1000km day at Parowan this year. Very nice convergence lines, easy to use despite some local over-development and thunderstorms."
He flew the next day another 1000. Not bad in an LS 6 with winglets.
1.097,17 with a speed of 137.41 km./h. and [with an outlanding not far off] 1.057,16 km. with 142,13 km./h.
Mathias Schunk flew his 9th 1000 km. flight for the season on June 24, this time from Koenigsdorf  in the Quintus M. It looks he wants to win the Alpen Liga.
June 26 showed 2 1000 km-flights from Parowan on another amazing Parowan day.[ DG 800S/18m. and ASW 27]
Parowan was "glowing " again on June 27. Ramy Yanetz flew in his ASW 27 1.207 km with a speed of 133 km./h. He commented on the OLC:"Super epic day. The hardest part was to stay below 18K with thermals averaging 10-15 knots and cloud bases well above 20K."
And
" Averaged at least 150kmh most of the flight but traded speed for distance the last couple of hours to stretch the flight to 1200km"   9 Over 1000 km. flights in the ELY / Parowan area. Same great weather in Parowan [more to the NW]  as in Nephi  .
———-
It's still far away but here is the latest from Tom Claffey about the comps at NARROMINE:
Hi all,
After much consulting with all concerned we finally have firm dates, just adding one more day to finish on the Sunday 19th of Feb.
Starting practice day Sunday 12th Feb, first comp day Monday 13 Feb.
This allows anyone flying Horsham week to drive up on the Sunday and still compete Monday while getting in the full days for the comp.
Comp is open to all two seaters, with the 20M two seaters up for National Championships and international team selection.
Happy Flying,
Tom
———–
After nearly 70 years and 5 months of examinations,  they diagnosed me with asthma. NEVER EVER had a problem with my lungs!!!!
Bad allergies as well, so more medicines to recover, but nobody can heal asthma unfortunately.
No worries I am going to live with it!
Cheers Ritz