We are not done YET with the VERY bad weather in parts of Europe. The LOW is SLOW!!!!
Specially Germany, France , Belgium and Holland are hit by lot's of rain, HIGH water, and for that reason earth- slides and flooding.Not for 100 years the water was so high, so EARLY in the season.
10 People  in Germany only, are killed by the flooding.
In Paris even the Louvre closed it's doors,  as a precaution for the high water. So they could save the art on the lower stock close to the Seine,  and bring it up higher ,to safe places.They don't really worry too much,as they have very high-standard- precautions for the museum.
France is worried about the bill and expect it to be over a milliard.
The weekend was just HOT, with up to 28 dgr. C. We even had the "hottest"  night ever , 17.1 dgr.C on the 4th.
But also , on Saturday, after FOG, …..some nice clouds and for parts of Holland great distances again up to 708 km.whilst the South . [Noord Brabant and Limburg ] still suffer under " code orange " with rain and heavy thunderstorms.So flights from Terlet and Soesterberg were up North and East; several over 500 km. flights as well.
Very bad and wet also in parts of Australia. Sydney was hit so was the road to the airport of Camden [NSW] ; only just just visible!!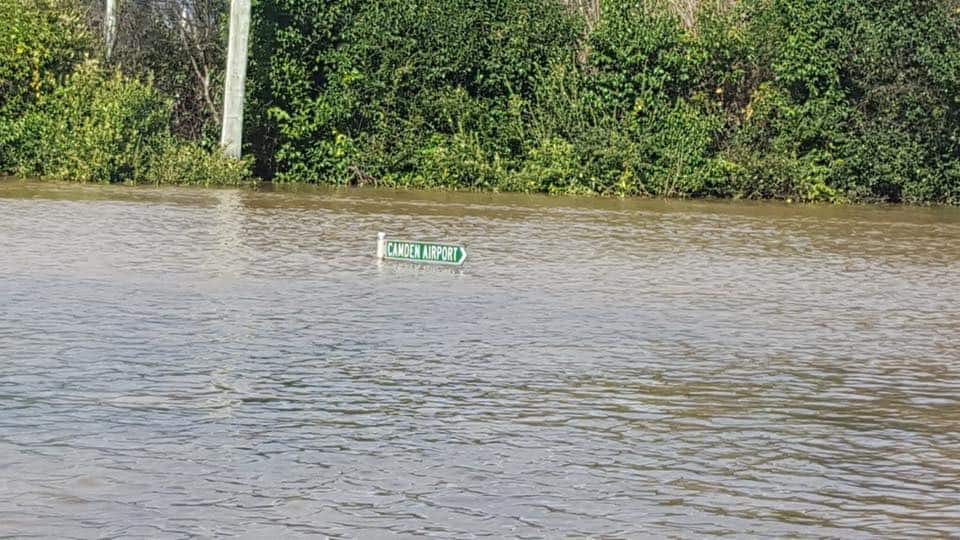 As shared by the Narromine friends. [picture courtesy Winter Calm] .They had enough water as well, " it was wet over the weekend"…but not as bad.
———-
The Polish 15 m. Championships.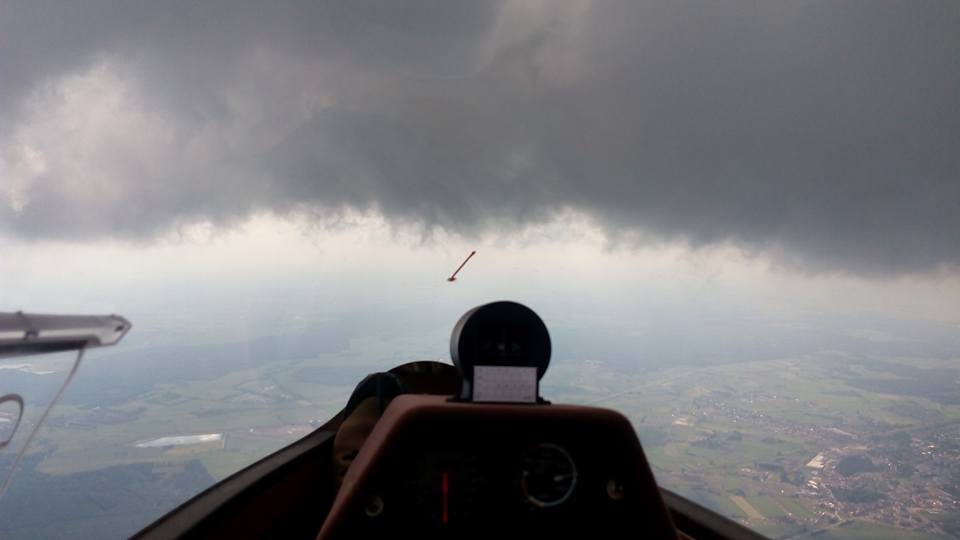 Not the best weather either , as you can see on the picture shared by Sebastian Kawa.
No luck , with the weather  either in Poland. With 3 out of 5 days,  they continued on June 1, with a 1.30 AAT.
Points were provided to 29 pilots from 12 [lowest] to 441 points.
206 km. was the best distance but too much time was needed by Tomas Rubaj ; 2 .01 .49. The winner had 167.86 km. in 1.036.09.
Sebastian , flying the DIANA 2, was with 173.55 km. on spot 3.
On June 2 another "try" with a bit more time; 2 hours!!! A good day for the pilots  called ….LUCASZ. They finished on spot 1-2 and 4 with Sebastian on spot 3.
Mac was on spot 4. Most pilots started around 13.26.
Janusz Centka….who was on spot 1 overall after the 3 flown days , did not start anymore .
He was involved in a mid air; no injuries to pilots but lot's of damage as I heard to the ARCUS and open jantar.
THEN ….the weather really improved on June 3!!! Elsewhere they could fly 1000 km in Poland in Leszno a set task from 365 was handed out to the pilots and off they went for a 1000 points-day and speed mainly above 100 km. h. Mac was runner up with a relative late start.
On June 4 the weather even more improved and 475 km. was set for the last day. The pilots with as first name Lucasz did well again; 1-2-and 10 nice speed with 123 km./h.
The results after ,in the end, still  6 out of 9 days were;
1. Lucasz Blaszczyk in the DIANA 2 with 3.710 points.
2. Lucasz Grabowski in the ASG 29  with 3.644 points.
3. Lucasz Wojcik in Ventus 2ax with 3.333 points .
Mac was 10th with 2.782 points.
———-
The Qualifying SGP in France. [June 4-11]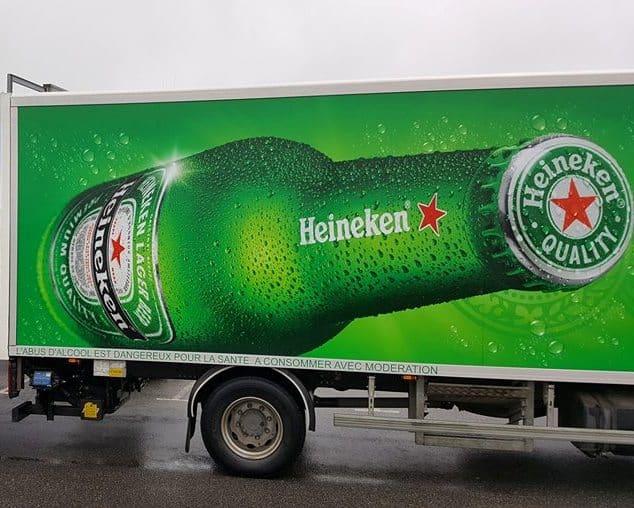 As they mentioned; " The orange juice is in"
Good old cold , clear, delicious Dutch Heineken beer. " Heerlijk Helder Heineken". Shared by organizers.
One of the first of the 19 pilots arriving at Rennes ,Saint Sulpice, was  Mogens Hoelgaard from Denmark, with his crew. Also Iain Baker is "in"  as FAI referee.
More European pilots in France , as good old Patrick Stouffs competes,  as do 2 UK pilots , Gary Stingmore and Jon Gatfield, as well as Erazem Polutnik from Slovenia.
I remember Alain Mazalerat from comps in Angers and he was a bit older than I am, so he must be pretty old now, but as it looks still going strong and VERY experienced.
It's a 15 m. conversion QSGP and they started with pretty marginal weather as well.
Day 1; June 4. Race 1; 115 km. with a "bad sky"  , several starts , returning pilots ….waiting…relaunching….low cloud base but,  also at some places some convergences. In fact no hope for a day BUT, a miracle happened and they flew! Only 4 finishers and most points [5] were for Jean Denis Barrois in the ASW 27b. Louis Bourderlique got 3 points and Alain and Patrick 2 and 1 !!!!A real challenge and a question of luck as well is what the winner said after the flight.
Day 2; June 5. Race 2; 151 km. and a tad better weather. Still only 5 finishers lot's of penalty points and the 6 points for the day were for Louis. Christophe was runner up in about the same time ,  but he got 56 penalty sec.so 4 points for him. Most pilots, 10,  were on the wrong side of the start line 1 min before start , so if you were there for 2 sec you got 4 penalty points, if you were there for 60 sec your punishment was 120 sec and in case of Christophe it was 28, so 56 in total!!!
The weather was not so good at the field but much better to the West. Coming back was difficult again but also nice for the admirers/spectators  at the ground, as all gliders passed the field to the last TP to come back home and not that high. Some even had to use their engines.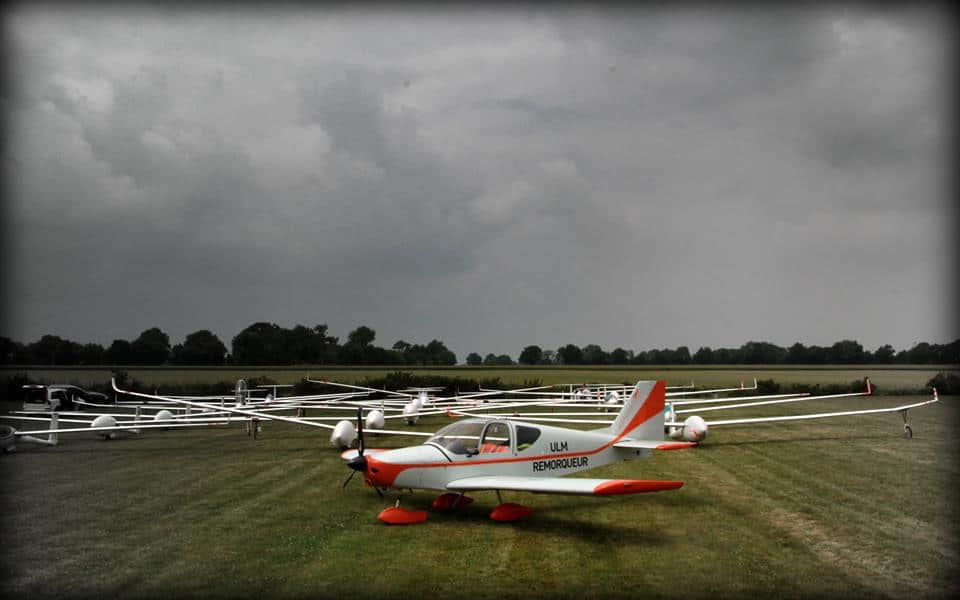 Day 3; June 6. Race 3;Ready to go see picture above shared by the organizers.
116 km. was set and finally it turned out to be a 10-points-day. And….the 10 points were for…..Louis again. He has a total of 19 points now. 11 From 18 pilots have points now!
Day 4; June 7; Race 4 with 189 km. and the French pilots  doing a great job. New names on the first spots as Frederic Hoyeau and Freddy Barthlemy who was 3d yesterday as well.
10 Pilots finished among them Mogens Hoelgaard.
After 4 races Louis still leads the pact with 23 points.There are 19 points for Christophe Ruch and 15 for Freddy, whilst Jean Denis has 14.
When I am gone you can find it all day by day  at; http://www.sgp.aero/france2016/results-sgp/results.aspx?contestID=15485
Just before I published I got some news about yesterday and today from Iain.
Here you are;
—"We're posting videos and photos on sgp.aero to capture what is happening, and there's live tracking with text commentary (and the tracking can be replayed later for those who cannot watch it live or who want a fast replay). The weather has not been classic, low cloudbases but every day has been racing. 
Yesterday was really exciting, with Frédéric Hoyeau taking a lead half way around the task, flying all alone, and only Freddy Barthelemy breaking away from the main gaggle to try and stay in touch with Fred.  The rest of the pilots were 20 km behind, all challenging for third place.  With different tactical decisions on the last main leg of the task, Freddy took the lead with a 3 km advantage but less altitude – only for Fred to pass him within sight of the finish line.  Moustique (Christophe Ruch) and Christophe Abadie finished three minutes later, side-by-side and impossible to separate after 2½ hours flying. 
Today we are expecting good weather and better cloudbases, hopefully another classic exciting race.  And the ambience at Planeurs Ille et Vilaine is great, well-organised and friendly, there's lots of support from sponsors and the local community and good coverage from regional media (a TF3 television crew were here yesterday to for a broadcast on the evening news).—"
Thanks Iain

———
OLC flights.
The beginning of June was n't too good,  but pilots in Scandinavia had some great flights in the first week of June, whilst we could only "swim " here.
Up to 777 km flights in a Nimbus 4 DM from Elverum in Norway,  to 563 km. in ASW 27 from Rayskala in Finland.
On June 3 Poland had the better weather with a just over 1000 km-flight in an ASG 29 from a field I never heard of; Olsztyn Dajtki.
On June 4 Riku Rissanen took his dad Markku, for a flight in the ASH 25E/26 m. and some quality time, as he said.
It turned out to be his " first 1000 km / declared 3 turn points and the last  310 km was very nice"; 1.037 km.
They flew from Rayskala in Finland.
On June  6 still great weather in Rayskala and flights from 500 and 600 km. I remember those fantastic early June days, they are really GOOD!!!!
And look at skies above ARBOGA in Sweden shared by Jens Trabolt. As Per Carlin mentioned;" Yesterdays weather was the typical Swedish non-competition weather."  It looks great.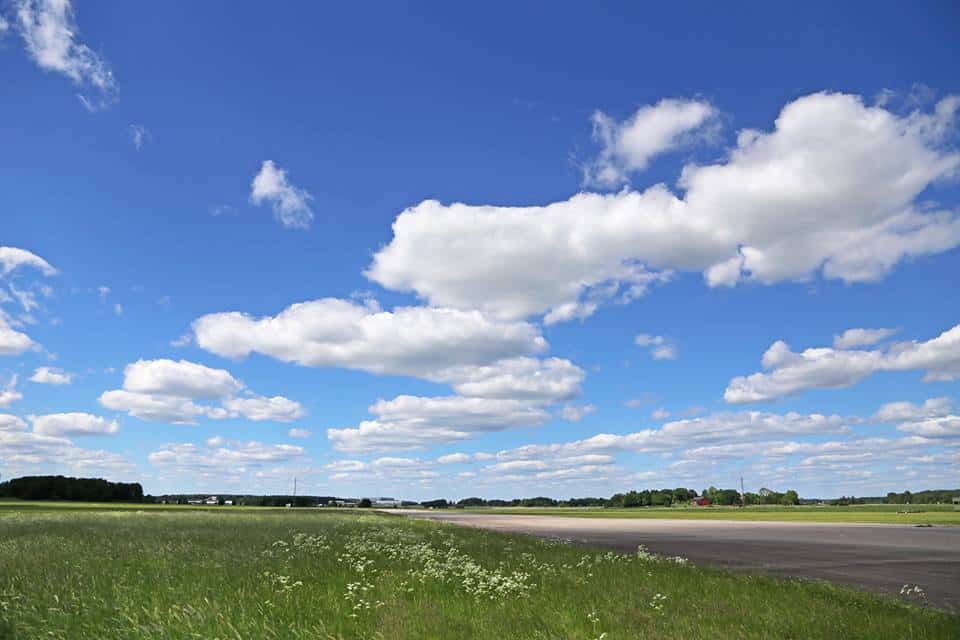 ———
OMK in Malden [Holland]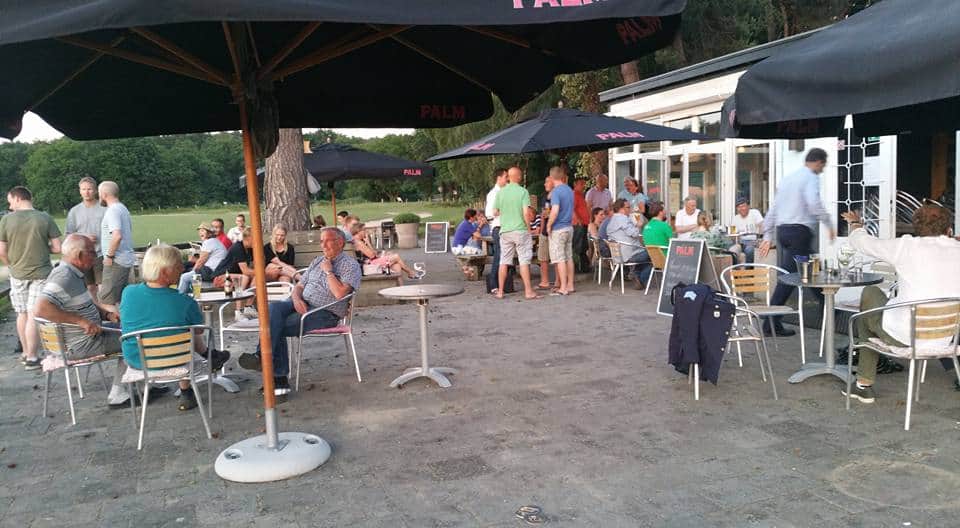 Picture from the terrace at Malden shared by Ben Hiemstra who flies there as well.
The open Military Championships are very popular. Malden with it's brand new hangar and club house is even more welcoming than it already was in the past.
On June 6 the 43 pilots  started their 5 days of flying with a set racing task of 246 km. in club class.
231 Was set for open and combi got 200 km.
They tried hard, postponed the launches as they needed only a few  degrees more, they delivered B tasks but,…. In the end it was all a day of hope and no glory as they could not fly. The day was cancelled for all 3 classes.
On June 7 they tried again; Task 1;but,..it was not meant to be !!!
Today June 8 they try again to have their first day. NO task yet.
In Amsterdam we had great weather yesterday, but the code orange was still in place for Limburg and yellow for Brabant and the Southern part of Gelderland, where Malden is.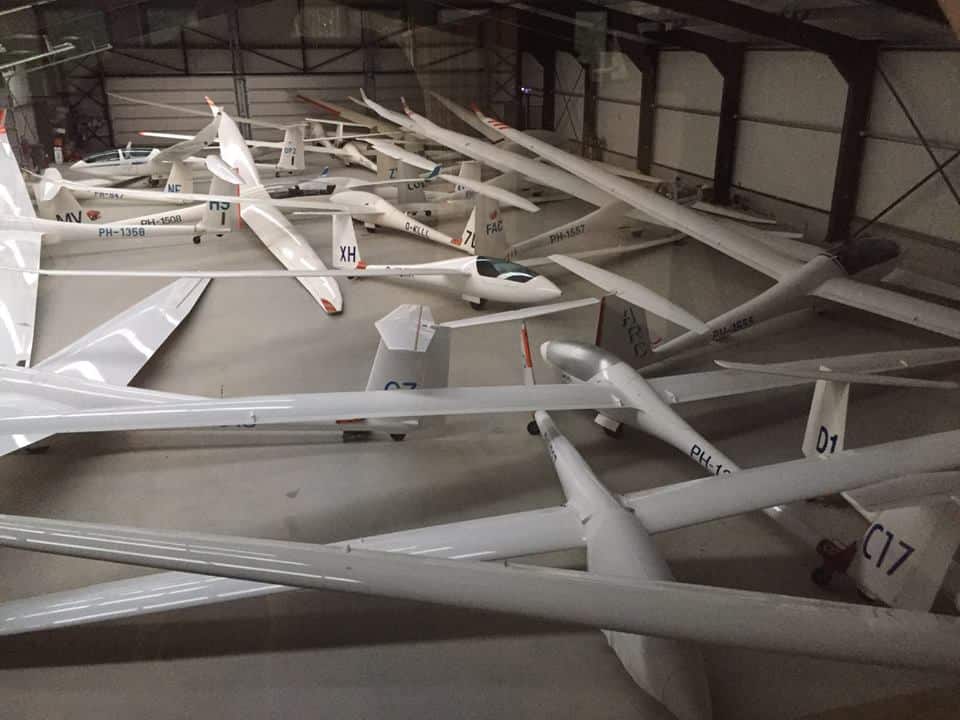 Their fabulous new hangar was unpacked in the morning as the sun carefully  showed it's face….but unfortunately…..no flying day.
Picture shared by the organizers.
———-
Lasham Regionals.
Aussie mate Adam Woolley traveled from Australia, or maybe Japan where he nowadays works as an airline pilot,  to the UK for a week of flying in the next [19th] 2017-EGC- area.
—-" Well, nothing changed from Day one – Sunday to Sunday were all cancelled day due to weather. Naturally the locals all said this is very out of the ordinary, many never seen it like this before.
Sunday saw the best opportunity to fly since the previous Sunday with climbs expected to 3000′, then quickly turning to showers. B task of 117km fixed was declared at 14:30 & at 15:00, the day was cancelled – the sniffer never getting above 2000′ in the blue conditions. Apparently we needed just one more degree..
Had a great time in reality, was like a holiday. Saw many of my mates from 2005 JWGC, most travelling in to say hello especially – so that was nice.—"
He was runner up as on ONE day they flew; 1.  Oliver Barter with 487 points and Adam had 481.
His next competition will be in Finland again; the Finnish Masters in an LS 6. They start on June 11.Hope for him the weather holds !!!
He flew there several times in the past also as a JUNIOR.
On his way from the UK  to Finland with the remark:" Standard driving weather..!"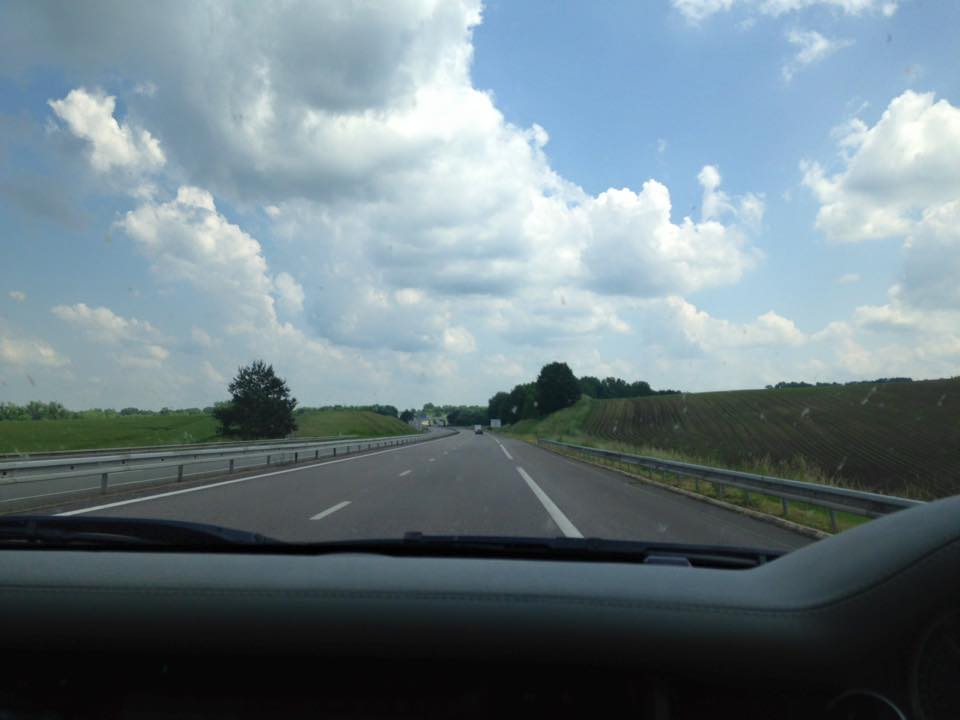 ———
Italian Nationals.
51 Pilots gathered for the Italian Nationals at Ferrara flown in one class with handicaps.But, it's getting boring , the weather did not co operate. They mainly fly in the weekends and in the weekend of the 2d, 3d 4th and 5th [too many gliders to start from the runway behind each other,]  the field was too wet. only ONE day was flown.
On June 4 a 1.45 AAT was set and flown by 42 of the 51 pilots who had entered.
From the 42 a group of 29 finished. Ricardo Brigliadori did best under the circumstances and flew 139 km in the St Cirrus in 1.50.
Runner up was Thomas Gostner in the Ventus 2a with 160 km in 1.59.
The second part starts again on Friday the 10th.[news and scores on www.soaringspot.com]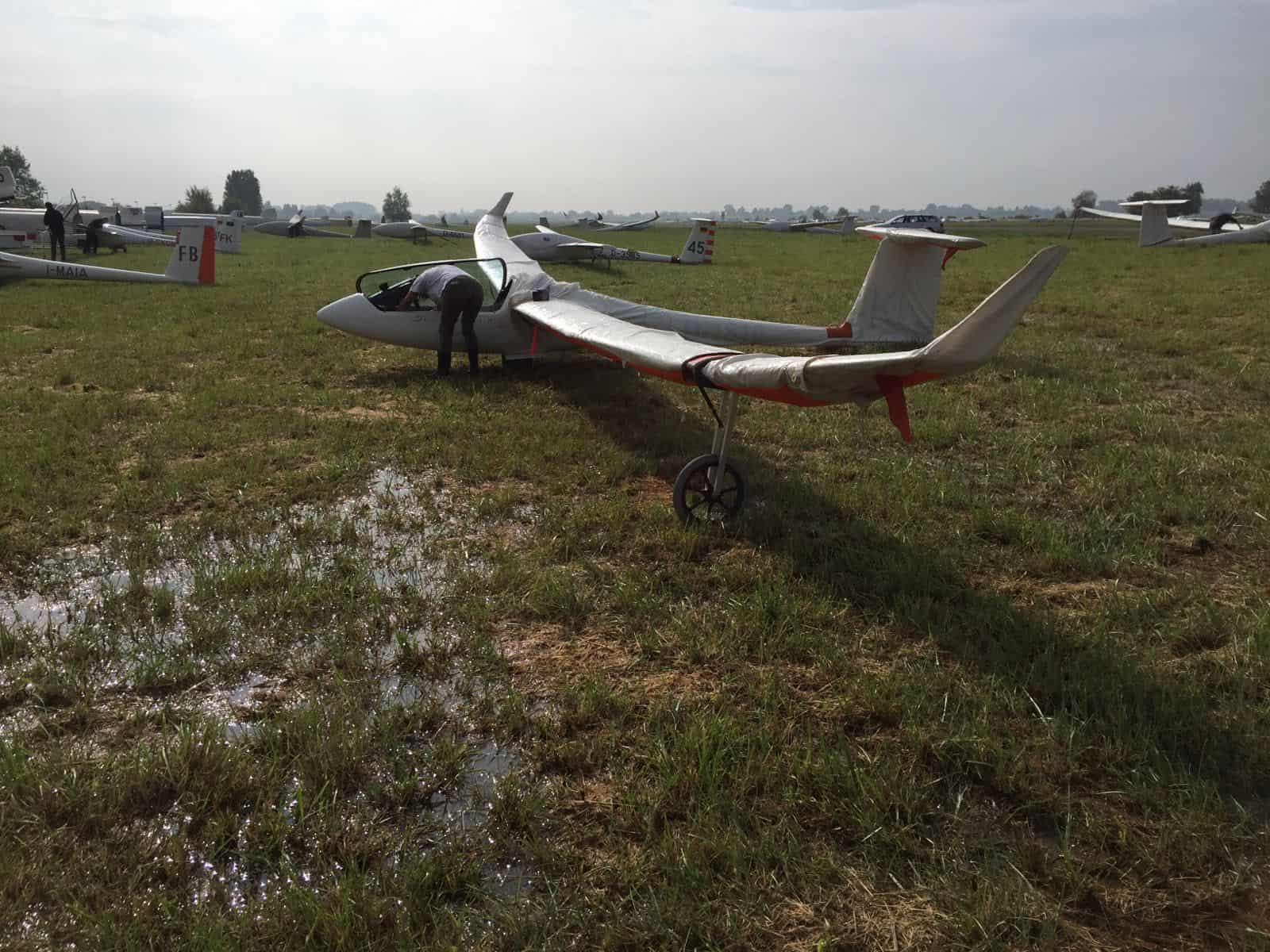 Too much water on the grid . Shared by the organizers.
———-
No blog next week, it's that time of the year again that I have a week-out  with my high-school friends. Cu on the 22d of June.
My health is better,… not good enough yet …..so more investigations.
By the way I knew the JSF was going to show itself to the Dutch people yesterday. It did!!! I had no clue they would fly over Amsterdam AND…. I saw them twice.
Wow what a great way of pair-flying for those 2 pilots at about 400 m. high  over Amsterdam and what a NOISE and they seem so big!!!! Loved it.
Cheers Ritz