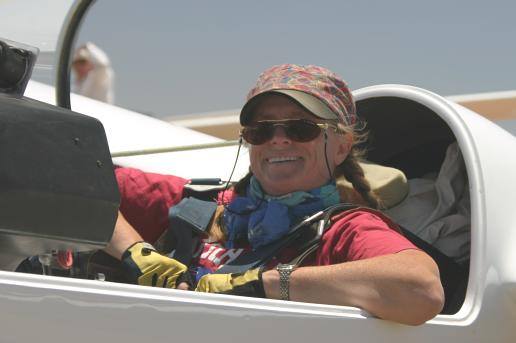 With the words " The essence of happiness, my fave photograph of you " Vivienne Drew from Benalla supported Swaantje in her battle against cancer.
Many, many support her on FB and I guess she got strength out of that, so we keep going on with SUPPORT.
I caught up with Swaantje last in Australia. First in Narromine. When I saw her ,I was to be honest ,shocked. She was very fragile and had lost a lot of weight and spoke with a very  soft voice. Her face had some kind of "aura" , it was sweet like an angel , her blue eyes, shining as never before and then for the first time I thought this might be her  last visit to Australia. I keep hope like so many other friends.
I wondered how she coped with the 24 hours between Germany and Australia, she only smiled.
She told me she was going to participate in the Benalla pre- worlds. I was more than pleased  that she could fly with somebody in a 2-seater and told her so. NO she said I am flying the ASW20. I doubted if she was able to do that.
AND……. SHE DID. This " fragile little bird"  flew under hot circumstances the comps. NEVER seen such a fighter. For me that was a miracle and I hope the miracle will continue in a longer life , more visits to Australia. When Kathrin another top female pilot from Germany and good friend, shared the news on FB after visiting her in hospital, that things were not good,her body did not accept the chemo anymore, I was truly sad.
This is the last picture I took from her during the closing-dinner at Benalla .Only 3 months ago.
Only 3 months ago, after she flew the Pre Worlds !!!
With her crew to the r. Swaantje even organized a flight for her crew.
BUT THEN…..Last weekend her friends took her out from hospital straight to an airfield for a flight in a 2-seater;TEARS. It must have done her so good. She was worn out though but must have felt the power of friendship.
Latest news;   she started chemo again and fights on. Catherine Conway [to the left on the first picture] arrived from Australia and so did Kerrie Claffey, yes down-under-friends caught up with her as well.
——–
More sad news as our former Sportavia secretary, tuggy and glider pilot , Michelle Lappin , mother of 3 and wife from Gerard died of lymphoma after a battle of 18 months.  When I met her first, she was one of those young "dogs", a real cool chick,  running through life with pleasure. She was already with Sportavia ,when we arrived there for the first time in the eighties. Our son Dennis joined her as a tuggy for a season "to make hours "  in 1987/1988 [ he died on January 3 1988].
She combined a job as secretary,[she knew all the guests every year again, as did Maureen our other secretary, who died already a couple of years ago] and tow pilot and when necessary she hopped in the back of a Scout to retrieve a glider  from a paddock.The pilot then took over the back seat in the Scout and she brought the glider home.
When we were involved she stayed for a short time and did all jobs she used to do.
She left Tocumwal somewhere in 2002 and her husband Gerard and she started their own business Aereal Extras,  somewhere at Latrobe Valley. Flying was in her blood. She was still young , only 49 and her youngest son [I met him only once] is 12 years old. Daughter Chloe and son Ben are in their twenties.I know them as little children ,nicely strapped in, flying in the backseat of their power plane with mum. Even their doggy flew sometimes with her. I wish the family well!!!!!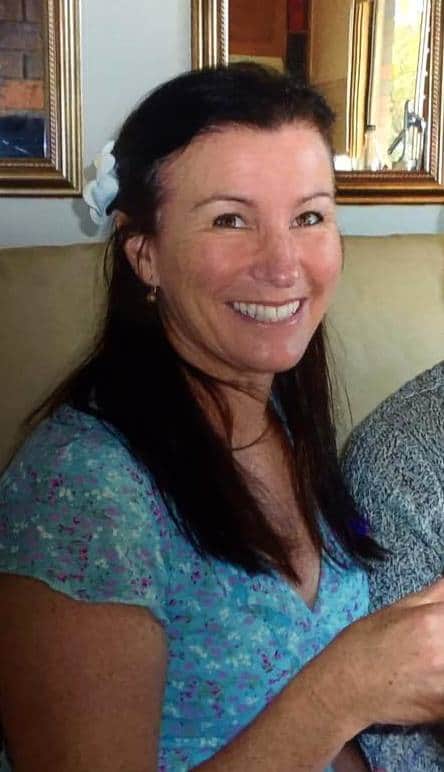 Michelle Lappin ….RIP.
———
PRIEVIDZA !
When I "left"  you the pilots started on flying day 3 and that turned out to be a good one. A 1000 points -day and more finishers than out-landers on this day with a 3 hour AAT in each class.
Day 3 in club;
Fabian Peitz from Germany won the very first 1000 points in this class. 272 km. in 3 hours a the dot in his St Libelle!!
He is not only busy with great pictures for the blog Segelflug Hoch Zwei but flies well too as we knew already from his early junior time. Also his mate Dennis shares in good flying, news and pictures.
49 From 57 finished. 2 German pilots [Fabian and Dennis] in St Libelle in the top on spot 1 and 3. In between Boris [Zors] in the St Cirrus.
Day 3 in 15 m;
1000 points for Lithuanian pilot Arturas flying an LS 6!!He flew 323 km. in 2.57. He was "followed" by 3 Czech pilots , Pavel, Miloslav and Jana. For them 999 points and 960.37 From 42 finished!!
Day 3 in the combi class;
368 km. in 3.59 was good for 1000 points in this class and the one winning them was Karol Staryszak from Poland followed by Sebastian 993 points. Sebastian "lost"  on handicap, the JS1 [ 121.1] against the ASG 29 /18 m.[120.9]
All 28 starters FINISHED, 2 did not fly!!!!
Pilots were happy with the day though for some specially the last part was difficult "it was not easy and specially on the last part of the track it was difficult to find  lift." 
They expected a front to pass by so no flying on April 14.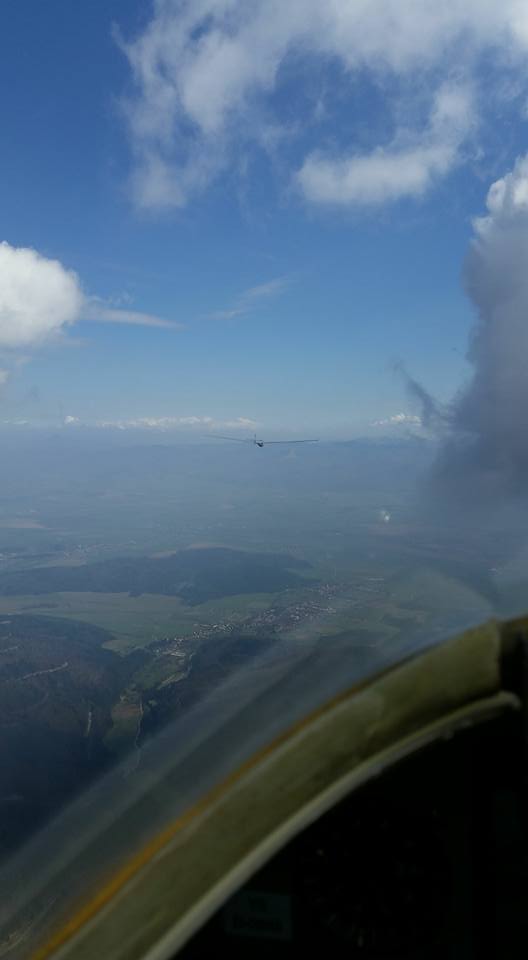 Some of the pictures shared by Segelflug Hoch Zwei [Fabian and Dennis] on April 13.
Flying day 4; a non-ballast-day.
With another 3 hour AAT for CLUB  and 208 km. in 3.15 for the Ukraine winner Darius;756 points for him.
From 57 a group of 21 managed to finish.
Fabian, with call sign FH just made it. Still 629 points for him.
So off they went and some came back. Already before the start they knew from the meteo and saw from the field a thick shield of clouds approaching from the SW. A good beginning of the day, less good end for a lot.
Pictures shared by the organizers on www.fccgliding.sk
In 15 m. class a 3 hour AAT was set as well and won by Maros Divok who flew 237 km. in in 2.57. ONLY 8 from 42 finished.
In the combi class Pavol Cerny [18 m. Ventus 2CX] won and Sebastian [JS 1 b/18 m.] was runner up. Both pilots were the only ones flying over 100 km./h. flying just under and over 230 km. 21 From 28 returned home.
Flying day 5;with  ….3 hour AAT's and ……..water allowed again and 2 fabulous pictures shared by  Sebastian from his mates Karol and Adam close to Priviedza.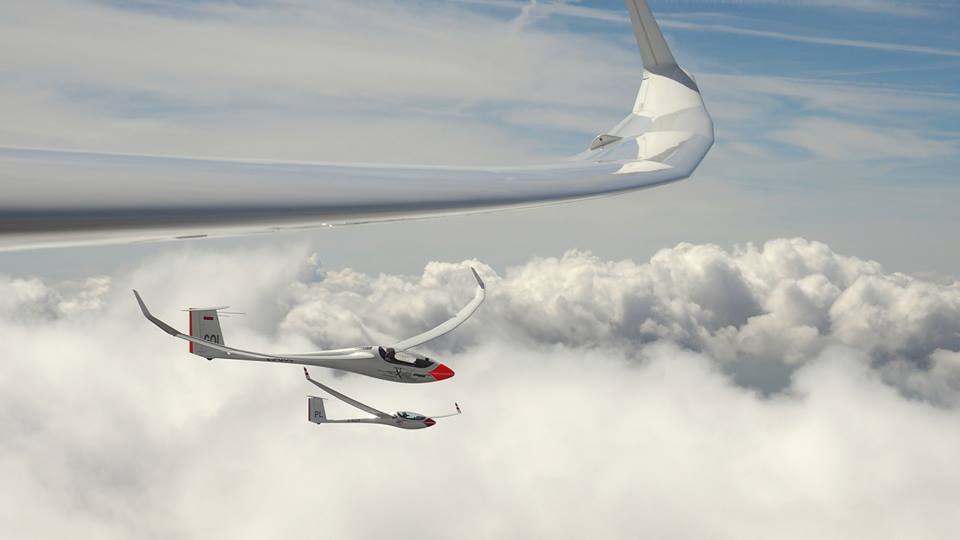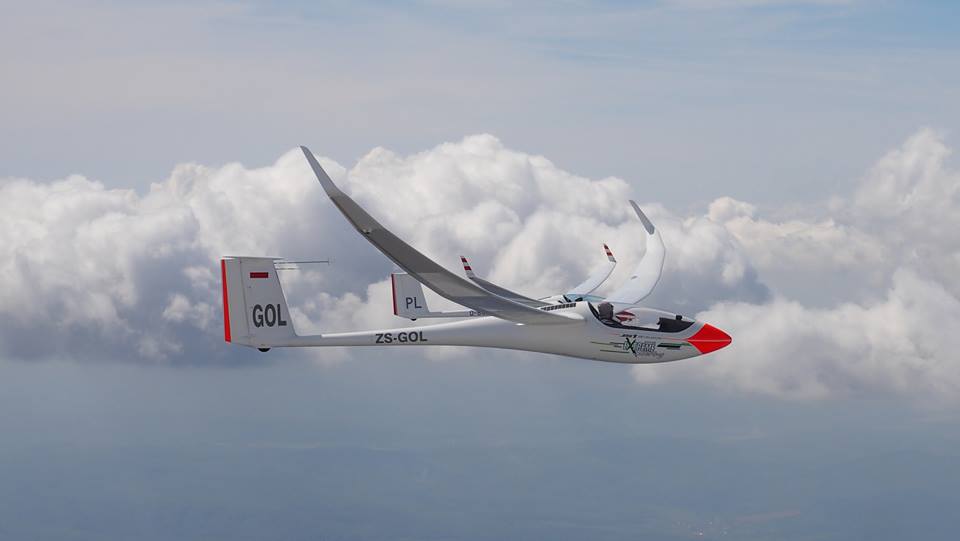 Pictures[ by Sebastian] with the WOW factor.
Back to flying day 5 , sorry, my attention was diverted by the awesome pictures.
Club had a 3 hour AAT as the other 2 classes and with 39 from 54 finishing it was a better though still a tough day. In the morning they heard :
"There are several nice cumulus clouds over Bojnice already, but they are not very high. Exactly as was predicted by our meteorologist Mr. András Gyöngyösi. He is not expecting very high cloud bases today. Only around 1700m MSL on north and 1500m MSL south of Slovakia. So it seems that there will be another hard task for our competitors. Good luck and good lifts to everyone!"
2 St Jantar's in the top with a Polish and a Lithuanian pilot.
In 15 m. the LS 6 was the best with Polish pilot Piotr Jarysz. 1000 points for a nice distance of 316 km. in 3.04. The runner up "only" had 304 km. in 3.02.[LS 8A] 38 from 42 finished!!
In the combi class only one out landing and 1000 points for Sebastian, what a pity about the invalid start on day 2!
Flying day 6;
Club was cancelled due to too strong wind.
211 km. for 15 m.was set and good to see,….the Duodiscus won the day with one of the pilots Radek Krejcirik from the Czech Rep. Not JUST a pilot,…… a good one!
549 points for a day better finishing than starting,….with good clouds.
In the combi class Sebastain AGAIN was the best.He flew together with Polish mate Marcin, starting together and nearly finishing together; 392 for 387 points.Only one pilot did not make it home.
After 6 days the overall scores are as follows;
club ;Tim from the UK, with 3.148, Petr from Czech Rep. with 3.101 and Kestutis from Ukraine with 3.046, they are the only ones in the 3000 marge.
15 m; Pawel, Pavel and Pjotr are over the 4000 marge with 4.091, 4.030 and 4.018. Excitement enough. 2 Polish and one Czech pilot.
combi; Polish pilot Karol[ASG 29 /18m]  is the only one in the 4000 marge with 4.140 points, Polish pilot Adam [JS 1C /21 m.] has 3.737 points and Romanian pilots Kessler and Jurca in the ARCUS T have 3.711.
After a zero points day Sebastian "fought"  himself to spot 4 Good on him; 3.671 followed by another Polish mate Marcin with 3.662 points.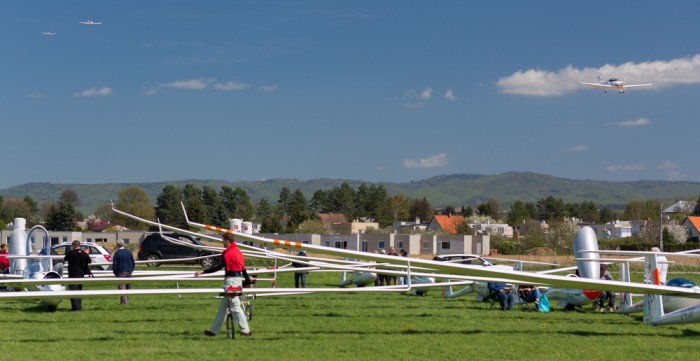 As shared by the organizers.
Flying day 7; with set tasks up to 248 km. in 15 m. and the rest had a bit shorter.On a day in the morning NOBODY believed it could be a flying day, surprise, surprise. In the end the tasks were changed in each class to a 2 hour AAT AND they flew.
" Now we can see that Andráš really has the weather under control! Exactly as he told, the frontal clouds are disappearing, here comes the sun and the competition starts exactly at 13:00."
Till now Sebastian was 4 times 1 and 2 times on spot 2.ONE unlucky day with zero points , but nobody doubts he is the best pilot . After 7 days he moved OVERALL from spot 20 on that "rotten" day to 3 now!!! AMAZING.
30 From 55  finished in Club and best was Boris in the St. Cirrus with 155 km. in 1.59.
In 15 m. some flew over 200 km. A bad day for Miloslav Cink  as he was the first out-lander from 3. One of them virtually out-landed by flying in a restricted area.
In the combi class Sebastian added his 4th win to his impressive list.4 Polish pilots in the overall top 4. They are so good those Polish pilots!!!!
Flying day 8 yesterday and now they got the weather we got here before; tasks OVER 500 km. in each class.
—"Today's route is among other things also interesting by the fact, that it runs through three states. The first turn point is the town of Glisy in Poland. The second is Lysa Hora in the Czech Republic and then pilots returned back to Slovakia." —
Another preliminary 1000 points for Sebastian flying the set 526 km. in this class with 123 km./h. nearly 8 km. faster than the Romanian pilots in the ARCUS.[116 km./h]who were runner up.
Czech pilot Pavel in his LS 8 won in 15 m.
In club 2 Czech pilots ,Jan and Marek and Tim from the UK, all 3 flying St Cirrus in the top.
All scores from this day preliminary and not all are scored
www.soaringspot.com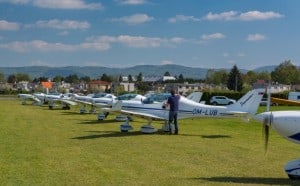 Pictures from flying day 8 as shared by the organizers on www.fccgliding.sk
TODAY FLYING DAY 9 ; 500 km. for club, 553 for 15 m. and 631 for combi !!!!! They are first at the grid. First start expected at 10. Briefing was at 9 AM.
Closing ceremony and last flying day tomorrow!!!
———-
LA CERDANYA.
www.sgp.aerospain2016 for info
http://www.sgp.aero/spain2016/results-sgp/results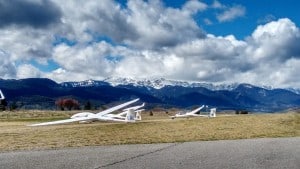 One by one the guests arrived and the early birds straight away started with their practice under good circumstances.Here is the news from last Thursday.
—-"Good morning from La Cerdanya valley!
We wellcome Silverio della Rosa and Jean-François Billy, who have just arrived and are ready to take off!
Expected conditions for today are:
– cloud base 2.700 msl, dry thermals to the east and scatttered cumulus to the west. There are also some cirrus, but moving away
– Westerly Wind 15 knots at 1000 msl and 25-30 knots at 2.600msl, so west wave is possible
– No rain expected.-–"
Sunday April 17th was the first race day of the second Sailplane Grand Prix 2016 in the beautiful valley of Cerdanya, nestled in the eastern Pyrenees. After a quiet sunny morning ,…..but " by the time launching started we had a westerly wind of more than 20 knots (37kph) and broken cumulus on the mountains. The forecast was for 30kts (54kph) of wind at flying heights, cumulus clouds at around 3000 m. and possibility of over development and showers on the massif. "
French Louis Bouderlique coped best with the circumstances to win the 10 points with behind him his mate Christophe Ruche, who gained 8 points . UK pilot Mike Young got the 7 points.
Day 2  showed that "pushers"  are not always winners. From the beginning Mike pushed as he did in the QSGP in France at some days as well. This time it was not good; no lift when necessary. A group went via the W , in the end the best one , another one via the E.
French pilot Philippe de Pechy was the best and "got"  the 10 points followed with-in 8 seconds by Louis.[8 points]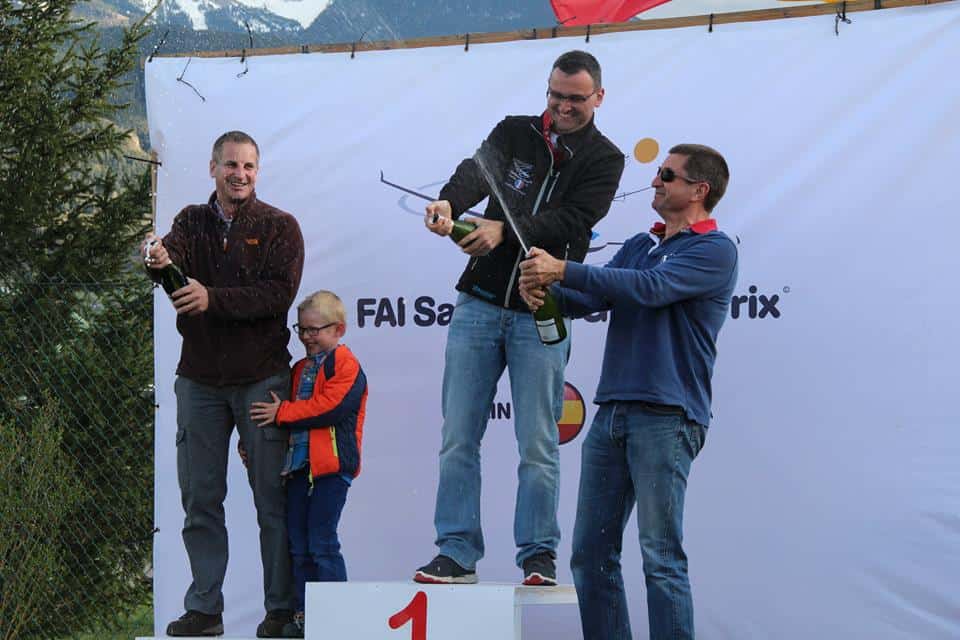 Winners of day 2 as shared by the organizers.
1. Philippe. 2. Louis and 3. Jon Gatfield from the UK.
Day 3 was yesterday was a prey again for Louis [7 points] followed by Swiss pilot Fridolin Hauser [5 ]  and Mike from the UK[4] .
Louis is clearly at the top with 25 points.Philippe and Christophe have both 16 points. So 3 French pilots. Mike and Jon from the UK have 15 and 13.
———–
OLC NEWS.
THE BETTER, OR LONGER OR MORE INTERESTING FLIGHTS from last week.
—-Dennis Tito with Morgan Sandercock in the DG 1000 from Inyokern;1.343 km.SUPER wave up to over 7718 MSL [ 6932 AGL].
—-a declared 500 km. triangle from Locarno [Zwitserland] by Davide Chiovanelli, a member of the Swiss junior team. Total distance 750 in a St . Cirrus.
—-870 km last Sunday [April 17] from Holland [Soesterberg]by Mark Leeuwenburgh on an extremely good but cold spring day. He flew together with his mate Alfred Paul [862 km.] both in ASG 29 E/18 m. " dealing with " rain, hail and snow,  but also a terrible good view. They topped the world-wide-OLC -list with their flights.
Our young ones did well too; Runner up in Narromine Robin flew 536 in the S. Cirrus from Deelen and junior Jelmer Vis [St. Cirrus] flew from Deelen as well he flew 559 km. More top junior achievements that day ; Rick Boerma from Hoogeveen ;559 in LS 4 and Narromine pilot Nick Hanenburg 532 km. also in a St. Cirrus. He called it a day to never forget flying mainly over Holland along the IJselmeer up to the N.to Friesland . They followed an "epic convergence-line" up NE first and later direction Wadden Isles. Pretty special indeed, a flight with everything as rain, hail and snow and incredible visibility.
2 St Cirrus-gliders belong to the junior foundation; AG and AU.
Daan Spruyt from Belgium flew 589 km. in an ASW 27.
In the UK great weather too; Dave Masson flew 653 km. in the 18 m. LS 6.
—-Monday was another great day but not everybody had the day off. Jean Luc Colson from Belgium had….. and from St Hubert he flew 689 km. in the ASG 29E/18 m.
And from Malden Frouwkes son Caspar flew in an LS 4 a distance of 502 km.
Yesterday Caspars brother, former Junior World Champion Tim Kuijpers added another 548 km in the ASW 20.A few REALLY good days in Holland.
Holland , Terlet to be correct, as seen last Sunday by Frank Hiemstra and a "superstreet" shared by Robert Jungblut who just turned to be a granddad for the 2d time.
———–
AZ CUP 2016 !
With in the end 131 pilots participating in Prievidza you would think that nearly all competition pilots in Eastern Europe are busy. Not true!
Another 77 flew in 2 classes the AZ CUP 2016 from Zbraslavice in the Czech Republic.Among them Tomas Rendla and Tomas Suchanek.
The first days no tasks could be set. They flew only day till now.A 2 hour AAT. They must be weather-wise just on the wrong spot.
They continue till April 23.
———–
Till the end of this month entrees are accepted for the very first Rayskala Masters 2016 at one of my favorite airfields.
"Räyskälä Masters will be arranged from 11th to 18th of June 2016 in 15 meter Racing class and Open class, Finnish gliding nationals will be arranged at the same time in 15 meter racing class. Finnish national rules, which are very similar to FAI Annex A section 3, will be used. Handicaps will be used in both classes."
www.rayskala.fi
Cheers Ritz,
not to forget that our deceased friend and former WORLD CHAMPION in Hobbs [New Mexico] Kees Musters, would have turned 70 last week. [1946-1987]