The overseas-"Corowa"  gliders are back in Holland and as always the organizers Grietje and Francesco had the lead in how to do things. They are GOOD in that and very experienced. The Dutch Juniors , flying last December in  Narromine, were eager to get their gliders out to fly in the Dutch and European skies, as all other pilots. Several not from Holland as gliders from Finland , Sweden Germany and Italy were in the containers as well. Some participated in the Benalla Pre Worlds.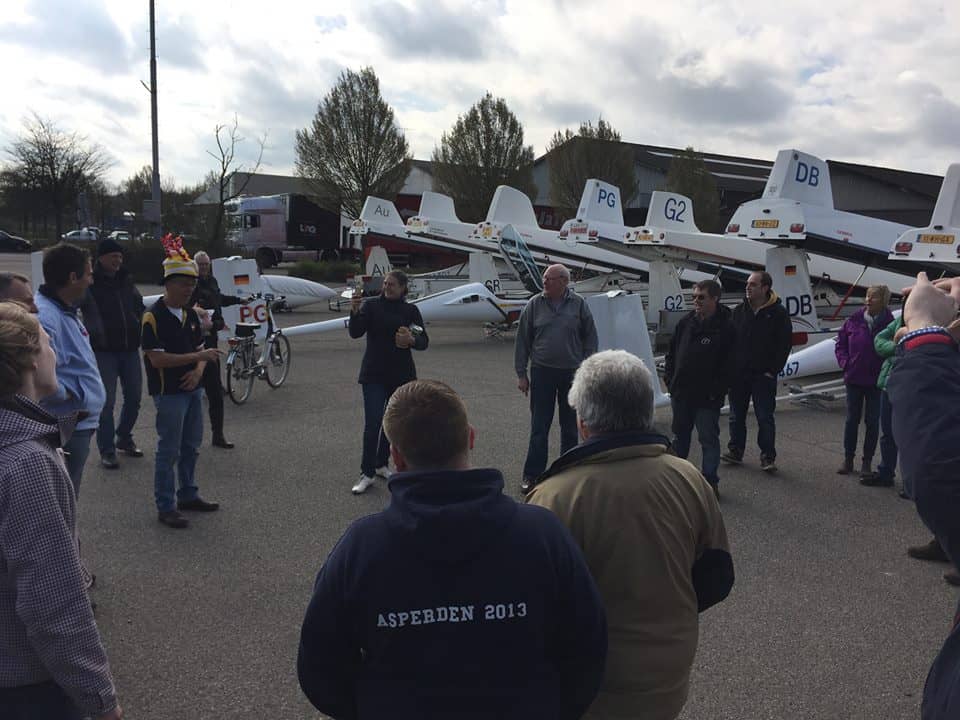 Grietje and Francesco surrounded by eager pilots to get their gliders back again before the good weather really starts. Many, many gliders……. big job.
All pictures courtesy Dutch Junior Gliding Club.
As you can see on the picture below ,lot's of gliders back "home". Upfront ,AG and AU, belong to the Dutch Junior foundation .
2 Juniors Annemiek and Ronald helping out .
Closing a dream-year for the young ones!!!
As they say; " The end of an epic adventure"!!!
———–
PRIEVIDZA FCC Gliding 2016 !
131 Pilots gathered for the next East European contest. This time in Prievidza to "fight" for  the 9th  Flight Challenge Cup.They fly in 3 classes between April 10 and 21.
59 In club class, very popular class and many from Poland, 42 in 15 m. and  30 in a combi [mixed] -class. Not only East European pilots also from Germany [Fabian Peitz] , the UK  [ Tim Milner ] Austria and France.
Another well oiled competition with experienced organizers as the flight- school Košice and the Aeroklub Prievidza .
As the competition director  Ing. Jozef Horňák said;
" As the founders of one of the biggest competitions we are glad that we managed to organize races, which all participants enjoy and come back to us again.
I am delighted that even young pilots have an opportunity to compare their flying skills with experienced gliders."
On the site http://www.segelflug-hoch-zwei.de/ you can find the news from Fabian Peitz, a young German pilot who participates in this competition. He flies the St. Libelle /WL with call sign FH.
No practice-flying on Saturday . RAIN there as well.
My goodness gracious ….rain ,rain and more rain here in Holland and in between a tiny little bit of sun…..between 10 and 12 dgr. C. Not bad though for my newly planted bay- bushes.
So they started last Sunday and  the weather improved on this part of  Europe . But unfortunately not in the East so the official opening was held, the meteo was done, but the message was short …..RAIN and no flying.
Pretty clear; TOO wet!!!
Pictures shared by the organizers in their gallery
www.fccgliding.sk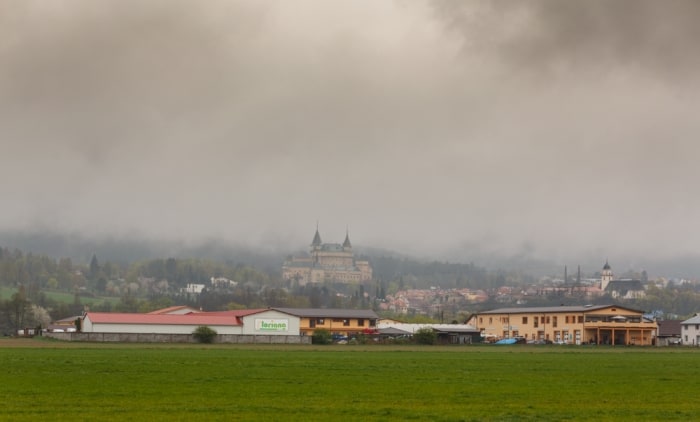 On Monday was the first day and though the meteo was still not flash, tasks were set and pilots left , some to finish later in the day, some to find a hopefully not TOO wet field somewhere else.
Start for club class was at 12:42, for the 15 m class at 13:30 and for combined class at 14:13
Flying day 1;
Club class had a 2.30 AAT and best-of-the-day was UK pilot Tim Milner, "our"  former tuggie at Sportavia. [St Cirrus] Good on him!!!
He flew 161 km. in 2.32. From 59 pilots in this class 9 finished. Some flew around after the start and landed again.
For a hard-day-work Tim got 175 points.
In 15 m. the pilots had to fly a 2 hour AAT and Gintas [Ventus 2ax] from Lithuania was the best. He flew 167 km. in 2.02.
18 From 41 finished.
In the combi class not" what else" [George Clooney] but WHO else than Sebastian Kawa won the 2 hour-AAT-day with 190 km. in 2.07 flying a JS 1B/18m.
3 Polish toppers in the top!!!
Flying day 2 :
At 12.30 the sign was there; GO.
For CLUB they had set a 2 hour AAT and 192 km. in a St. Jantar 2 in 2.15 gave the Polish winner, Mikolaj Zdun  615 points. Tim was on spot 8. Polish female pilot Joanna Biedermann flying an LS 4 was on spot 13 and Czech female pilot Hana Treslova was the first on the list of out-landers; spot 37 was hers. 36 From 57 managed to finish.
15 m. had a 2 hour AAT as well; 229 km. was the best result in this class in 2.14. From 42 , 28 pilots finished. Gintas was 4th this time.Young Miroslav Cink, great pilot, shared spot 1 with 695 points.[LS 8A]
In the mixed or combi class a "black"  day for Sebastian as he missed the start; it was not valid. Not like Sebastian! He flies the JS1 with call sign GPS. As he mentioned on FB it was in the morning all to fast and too much so not every instrument was set correct.
The ARCUS M was the winner with 217.87 km. in 2.02 so a nice speed of 106 km./h. A tad faster was the ASG 29E from Polish top pilot  Karol Staryszak with a speed of 109.65. On handicap was he runner up. Roman Mracek was on spot 6.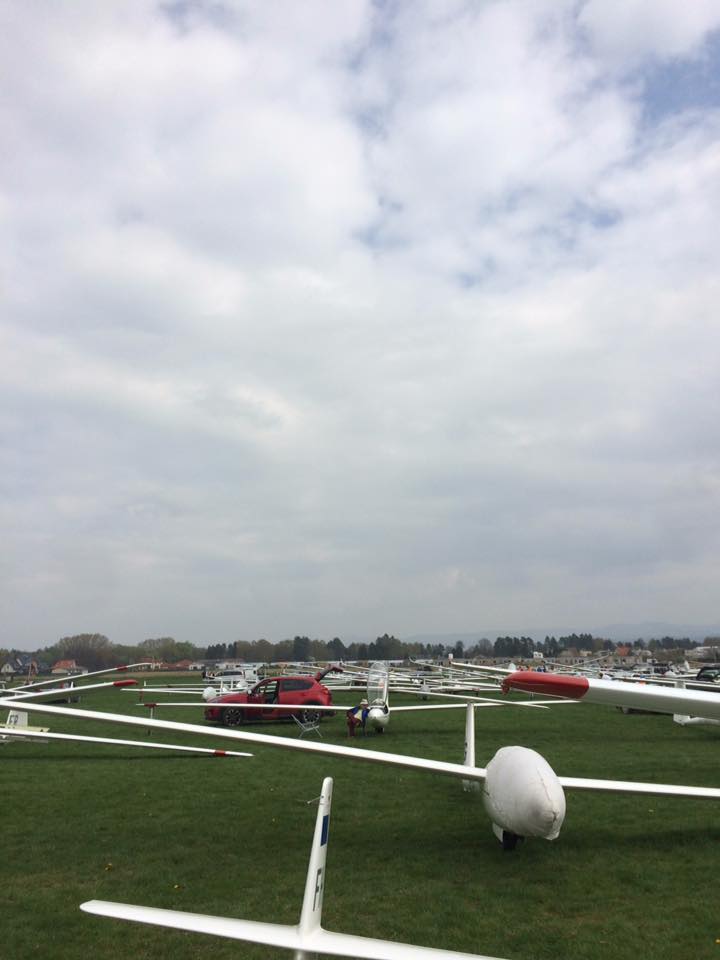 Yesterday,….shared by Segelflug-Hoch-Zwei. Fabian [St Libelle] was one of the out-landers and on spot 41.
Day 3 today ; 3 hour AAT's in all classes so better weather there now as well.
———–
Looking at some flights on the OLC!
Australia still has nice soaring weather. Kilometer eater Terry Bellair flew in his 17 m. DG 400 a 300 triangle and a total of 493 km. last Saturday.
That's from Raywood, his home field ,  in the SW of Australia close to Bendigo.
But the East [Kingaroy] was good as well with flights in an ASW 20 from 485 km.
Europe' soaring get's more awake every day and though most longer flights are over  the mountain areas , places as Burg Feuerstein had flights up to 728 km. in an 18 m.  Ventus 2 CM last Friday.
The weekend was just GOOD; 1281 flights on Saturday and 1217 on Sunday.Several nice some [first] flights on Saturday; From St Hubert 582 km.  in the 18 m. ASG 29E and 591 km.  by Jean- Luc Colson]
From Dahlemer Binz 722 in DG 800/18 m.and 935 km. in Nimbus 4 M.
From Useldange in Luxembourg a 729 by kilometer eater Guy Bechthold [Quintus M] and so slowly on all pilots we know fly again.
Also on Saturday ; great flights in Holland….567 km.  in ASG 29 /18m …..596 km. in ASW 22 BLE….496 km. in DG 500.
Sunday was even better!!!!
Sunday was a fabulous day for Klaus [Ohlmann] in the Stemme, flying from La Cerdany in wave to the West to see the Mediterranean Sea and back, passing St Gaudens where Carl Audissou started for his flight in the 18 m. DG 800, to fly to the West as well but not as far as the sea but still  close by;1263 km.
Monday was an Austria-day with  several flights up to 808 km.
Yesterday the weather in Austria was still  GOOD and hopefully that weather moves to Prievidza NOW.
1.065 km. for kilometer-eater Alexander Mueller, flying from Lienz Nicolsdorf flying in the EB 29. Great flights as well by gliders with less wingspan, as the ASH 26E flew 821 km. and the 18 m. DG 800 also over 800 km. Great racing over the ALPS.
"Best" flight , 1.133 km. however yesterday on the OLC was by Klaus Ohlmann and then you know already the Stemme did well again as well as he. From Morgal in Spain he explored this time the Cantabric Pyrenees with Stemme and Mountain-Wave-Project e.V. He flew to Cerdanya and used the engine to cross some stratos field. The full story is on the OLC comment and I copied it for you.
"A fantastic plane, great weather and some long-term dreams…A good mixture..
After a really good day in the French Pyrenees, the rest-day was welcome, but as well used to fly with Motor to Morgal, a nice airfield just south of the Airport Asturias.On the way first notices of wave-activities were made.And today was absolutely fantastic. We could even have an earlier start and fly much more to the west, but once again we had to make a "deicing" in the morning. But the…nice Rotors, beautiful mountains and very cooperating Controllers…thanks a lot to Asturias, Santander,Bilbao und Madrid..and finally Montpellier. Just a pity that there was a huge Stratos field with very low cloud base. I preferred to use the Motor to cross it.Thanks as well to my Russian friend Alexander who shared this new adventure. "
———–
QSGP in LA CERDANYA.
Talking about Cerdanya ….they have superb weather at the moment. Hopefully it continues , as in the weekend the Qualifying Sailplane Grand Prix in Spain starts and that goes on till the 23d of April. They fly in 15 m. class and among the pilots Christophe Ruche, Louis Bouderlique, Mike Young, Fridolin Hauser and Philippe de Pechy.
At this stage 15 approved pilots flying ASG 29 [4x] in different variations, de Ventus [4x] also in different variations, ASW 27 [3x] in variations, ASW 20 and ASW 20 C with winglets , Discus CS and a LAK 17 b.
With 4 days to go and already 2 pilots there to practice the "bubbling"  starts.
———-
The season in Europe has not yet really started, but "things"  are not good. Another incident, this time in the area of Braunschweig-Wolfsburg in Germany !!!
A  25 year old pilot was badly injured after he  crashed on a playing ground for children,……. but nobody was hurt , as there was luckily nobody there at the moment.
PLEASE BE CAREFUL WHEN YOU START YOUR SEASON and remain safe DURING the season.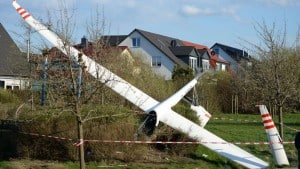 picture courtesy DPA.[ www.bild.de ]
Cheers Ritz and I wish ALL strength to our soaring mate Swaantje, who really suffers with her health NOW.