A blog as normal, just the last blog of 2014, on the last day of 2014, but with a bit of  thinking in the end; about SAFETY…supermen or maniacs ???!!!!
By the way this is blog 784. Up to 800!!!
Not a white Christmas this year here, but  only one day later half of Holland was covered by a nice white blanket. After 2 years some better snow again, that is ….for some!
Not here ,…we had wet snow disappearing quickly by rain. A pity.Nice cold night too with minus 8.[The coldest in 2014 which was an extremely " warm " year.]
Europe specially the lower winter sport places were praying for snow and they finally got it.BUT,…many on their way for a skiing holiday, got stuck on the road to France and in Germany. A lot even had to sleep in their cars.[15.000  ONLY in France]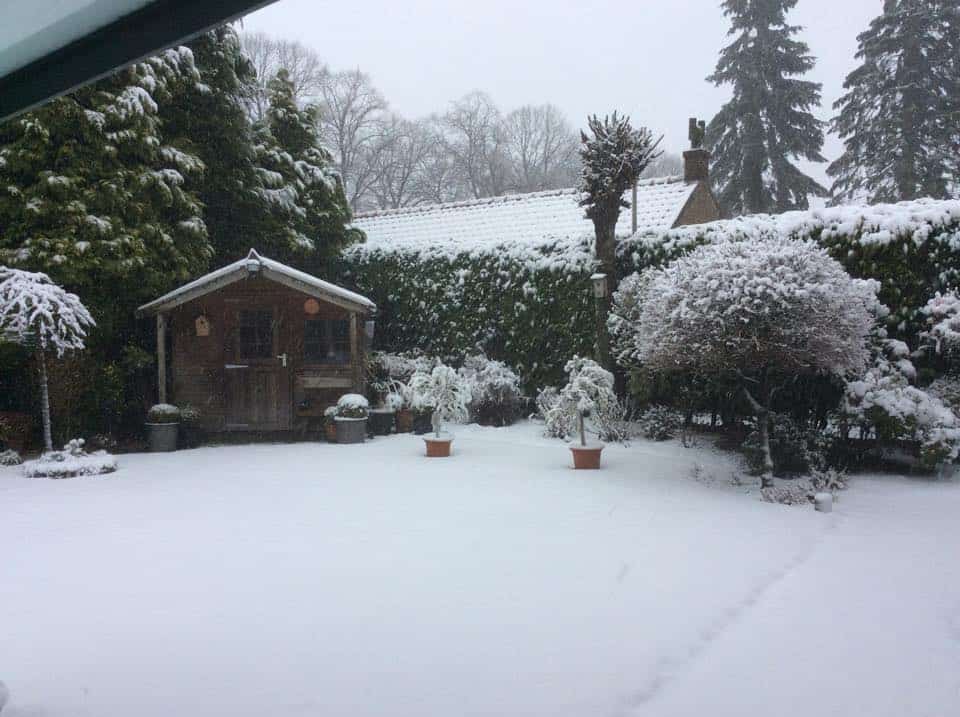 Snow close to Nijmegen here in Holland as shared by Henriette.
—–
You have to travel far, but then you have " something ".
For some a first 1000 in Namibia, a palm, or a first 1.300,… for others the " first " 2 diamonds as for young Rasmus , who flew the ARCUS M this time alone  from Tocumwal:
" 500 km. declared FAI triangle.This gave me my first 2 diamonds!!"
As his friend Joergen and owner of the ARCUS mentioned;
"We managed to make 3 new Danish records, and I trained him for self launch, so he could also fly solo with the Arcus, and fly a declared 500 km FAI triangle. This gave him 2 diamonds, as he has never claimed them, as competition flying hardly gives this opportunity. 
He is a very talented pilot, and will for sure win a lot of comps in the future."
I agree with that as I kept an eye on him flying as a junior. By the way he is back in Denmark by now.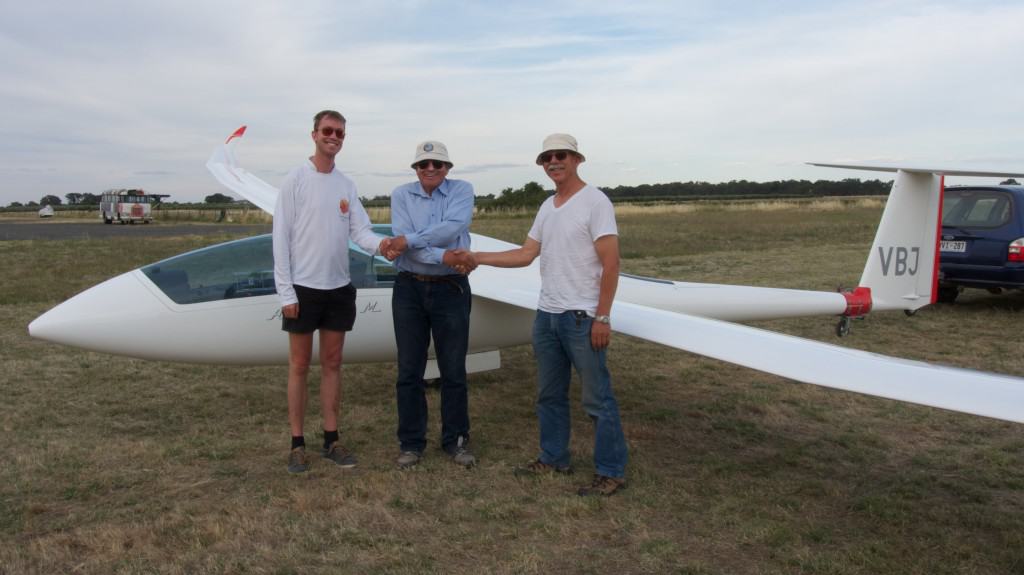 Rasmus, Ingo and Joergen.
Picture courtesy Joergen.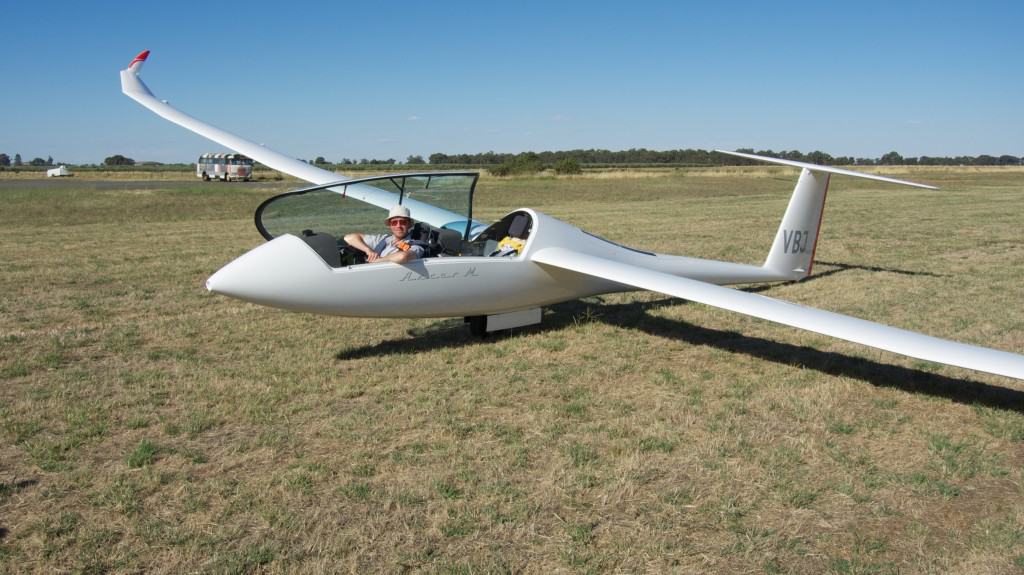 Rasmus in the ARCUS, with the famous TOC. bus in the back.
With a few clouds to the East of Tocumwal, but blue thermals on the rest of his task, he had a happy flight.
Picture courtesy Joergen.
More good news from Toc.!
In Toc. most of the GEELONG SOARING " GANG "  arrived for their annual camp. Included their tug , but no tuggy. No worries as good-old -Tocumwal- Bill flew for them and good- old-Tocumwal- Bruce, flew the tug from the SRGC.
Bill and Don[ald]  and Bill in the guest-tug the Geelong Pawnee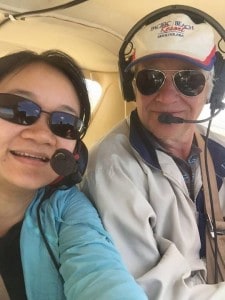 And Bruce with guest Lucy.
On Boxingday Ingo was as always on duty as chief pilot doing the briefing with weather and task-setting for those who want this.Not only the ASW 15 went for a flight but also the Calif Caproni and Judies vintage Kookaburra.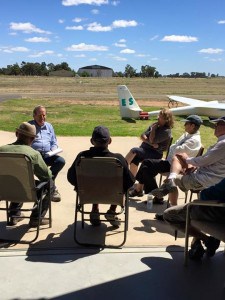 Ingo on duty with in the back Dundees ASW 15 ES, in use by club members.
More to the East is Corowa and they had a much better day last Saturday, than expected too. Dutch pilot Bart arrived fresh from Holland , flew straight away in his ARCUS he shares and flew 966 km. with mate Max, who spends his so-maniest-year in Corowa.
Saturday the weather was already brewing in Australia and no flights in the OLC top 19 that day from Africa. Sunday was a magic day in the Benalla- Corowa–Tocumwal -triangle. The Geelong guests at Toc, were ready for a big day with a cloud base of 10.000 ft.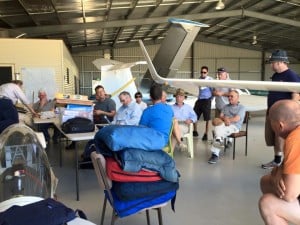 As shared on the SRGC site.
One of the " Geelongers" flew 821 km. [645 FAI triangle] in his 18m. LS 8 and Japanese guest Shota flew his first declared 500 km..
448 in a KA 6 was not bad either[300 FAI triangle] . What about 780 [650 FAI triangle ] by Geelong guest Rolf in the 19 m. Jantar??
AND,…more good news from Toc.,….MAC puts Tocumwal as great soaring place on the map again with a 1000 km. flight in his LS 8. In the end it was not the declared one but still a 1000.
YES I know a 1000 is just a 1000 now, but still not many have been flown till now this year in Australia.
For Namibia, with it's fabulous weather  the norm for the better pilots is more a 1.300 km. to be a " big boy/girl" .
I knew Mac was in Toc. and of course he knows the area as the best, flying from there many years.You still have to do it, though!!Good on him!
He set a 1000 km. Out and Return .He was glad that he still remembered how to sneak away from Tocumwal in the morning.
" Cu started a bit past Berrigan about 11:10? It moved to NE all the time with movement of trough but there was cumulus also from the Rock to Benalla. So I flew under cu most of the day. My mistake was I did not trust this forecast about cu in S so much,  so I went for OLC speed NW of Griffith , when I learned forecast was not right and my declared 1000 k OR was not on. So I lost many kilometers on 5 point rule.It is more than 1100 km on 6 points."
And he added ;" I checked and with extra tp near the rock counted ,it was 1120km. Nice trip." 
From Benalla the LS 4 with Tobias flew 776 km.[ 697 FAI triangle] and Bob [ Nicholls from the UK a longtime guest at Benalla] flew 897 in the Ventus 2ct. Good old Graham [Garlick] flew in the ASW 20 656 km [500 Fai triangle].
From Corowa the flights were added a bit later…..reason also long flights,, as 988 [800 FIA triangle] by …again…Bart and Max… they love their ARCUS!!!! I wish them a nice 1000 as well.
All HAPPY pilots in that TRIANGLE!!!!
—–
Boxing day had , as we look at the OLC, 88 flights and 1 x a 1000, Christmas day had 76 flights and 9 x a 1000 all in the mecca of soaring Namibia, where many new palms have been planted.In the end of this season we look back at that.
In Africa's Kuruman Pi had a great Monday of soaring.My friends flying there had great flights ; 2 x 1000 and an 800 km. flight.Also Douglas Backhouse shared in the 1000 km. happiness.
—–
2014 was a bad and sad year for Malaysian Aviation. Last Sunday they missed an Airbus A 320, with 162 people including the crew, between Surabaya and Singapore in very poor weather.A bit later it could not be anything else than another disaster.By now they found parts of the plane in the JAVA SEA and several bodies have been retrieved from the sea.
Whilst the searched for the victims,… another incident as an AirAsia plane overshoot the runway at Kalibo Airport [Philippines]  , after an emergency landing in bad weather.All went well with the passengers, quickly leaving the plane via the slides.
It was a not too bad year for aviation world wide, but still every fatal accident is one too much. According to a connoisseur [Benno Baksteen in AD] 2014 was relatively safe.The average seems to be 32 accidents this year it was 21.
Unfortunately the amount of victims was higher 986 instead of 676. Most accidents were with smaller airplanes and the MH 17 was not a safety- accident, but a deed of terror.
It might have been safer , it does n't feel like safer.
——
To finish this year, also a bit of a concern for flying long distances during your holiday. Is it great fun or when you fly for weeks/months total stupidity and waiting for an accident to happen. I leave the choice to you!!!!
The OLC has created a great platform to see where everybody flies and what results they book.When you have a 1 or 2 week holiday in Namibia you can fly nearly each day as the weather is excellent.No worries!
How smart is it to fly 150 hours in a month? About 10 hours a day or more , with HOT conditions at the ground and sometimes tough conditions in the air [avoiding thunderstorms]?
An airline pilot has his restrictions of under 100 hours and he/she  is a professional. Why should a glider pilot in his holidays fly 150 hours?????
Could this create a danger for these pilots? Is the eagerness to fly more km.'s than the other on the OLC list  a potential danger???
I leave it up to you, but to be honest I am concerned.
Of course it is their own responsibility and I count on the fact that they know what they are doing, but still it is a lot of time in the air .
One of my close friend made some comments lately of what he calls "the OLC Madness" Here is what he said:

OLC was a great thing to give the soaring pilots of the world the possibility to compare their performances and see what the day could have brought had you done everything right. Someone else did….. as you can now see on the OLC. Unfortunately over the years the "game" of lodging OLC flights online has become a "war" where people seem to be quite happy to fly themselves into oblivion, only to get some more points, and maybe become the "OLC CHAMPION". The signs are there….. look at the hours they fly in their manic pursuit of more OLC points! I just picked a few from the last month or so: Pilot 1 – 164 flying hours in 29 days, Pilot 2 – 109 hrs in 20 days, Pilot 3 – 143 hrs in 20 days and then Pilot 4 – 152 hrs in 20 days.
Now the EU thinks that it is unsafe to fly more than 100 in any period of 28 days. That is the absolute maximum airline pilots are allowed to fly during that period, and they have air conditioned cabins, autopilots and regular supply of served food and drinks.
These OLC maniacs do 50 – 100% more than is considered safe by the EU, and they are hand flying the plane themselves all the time, have no air conditioning and must feed themselves with snacks and power drinks out of a tube usually attached to the boom mike.
Heroes or supermen obviously, or maybe not. Given the harsh conditions under which they operate surely the 100 hours would be a wise guideline to keep in sight! However nice persons these so called kilometer eaters may be, clearly some of them are insane….. Unfortunately it may lead to accidents if some cooler thinking does not come in soon.

Pretty hard / harsh words and I would love to hear from others what their opinion is on fatigue management by limiting the maximum flying hours one can do. Or maybe there is a task here for the OLC management to handicap the scores of the kilometer eaters if their flying hours exceed certain values.
A bit to think about after your " bubbles to enter 2015″ .
Happy new year!We meet again in 2015.
Cheers Ritz