MERRY CHRISTMAS TO YOU ALL !!!!!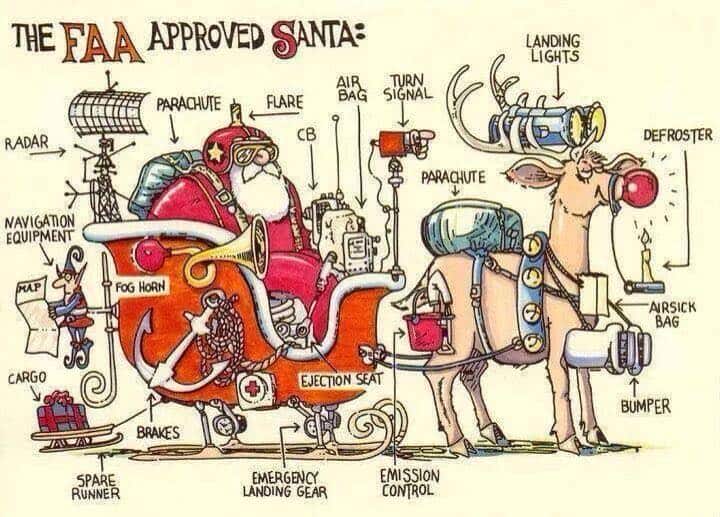 Love this one!! Merry Christmas to you ALL.
As shared by Aicraft Maintenance Engineers.
Also over the Christmas period, soaring continues as in some parts of the world it is HIGH season. Remarkable weather in Europe as well. We here in Holland had temperatures up to 13 dgr. absolutely TOO high for the time of the year, but to be honest I like it better than the frost.
Europe had since ages [1500] the warmest year, so had Holland. [11.5 dgr. instead of 10.1 !!!]
It looks like those who always warned us for the global warming are right.
We had the shortest day as well, so …..on our way to summer again with every day a bit more light.
Welkom had finally the " real "  soaring- weather and most pilots flew on soaring-day 2 the set 300 km. in each class.
Club had as best result 309 km. in 3.16 by AP Kotze in the St Cirrus.
Wayne Schmidt flew 358.5 km. in 2.59.39 in his ASW 27 a.
AND,… Oscar [Goudriaan] won the 1000 points with a flight of 420 km. in 3.06, [135.6 km./h.]in his JS 1 c/18 m. evo.But he only won…just as John [Coutts] had a speed of 135 km./h. and Oscar's brother Laurens flew around with 134.2 km., whilst Arne had 134.1 km./h.
The first 8 pilots in this class, all got between 910  and 1000 points.
Day 3 had BIG tasks and MANY out-landings. In club class , 3 from 7 finished among them AP.
In 15 m.NOBODY flew the set task of 417.3km. all went " au vaches". Best distance was 267.6 km. by Wayne Schmidt.
In 18m/open only ONE pilot finished. Good old John Coutts. Good on him. He finished , after flying the 506 km. at Welkom .
A lot of the pilots aborted the task, some went along.
Sven [Olivier] landed about 160 km. from Welkom , no doubt a GREAT field! He flew 304 km. in total and " got " 582 points.
Jeroen ended on the last spot with 91 km. and 165  points.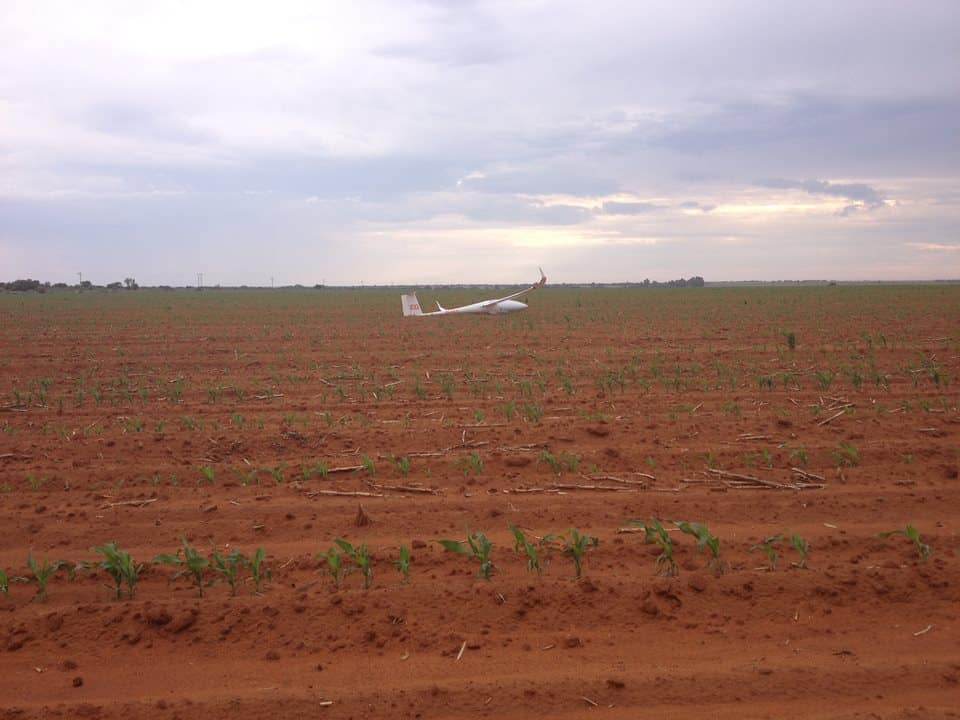 Nice field choosen by Sven
345 for st./15m.Picture shared on FB.
A lot to talk about after the flight .
Day 4 had in the end in each class a 3 hour AAT.
Jaco Burger in LS 1f won the 100 points in club class with 323 km. He needed 38 minutes more to achieve that.
In 15 m. Wayne Schmidt in the ASW 27 a won the 1000 points flying 338 km. in 2.52.30.
In open /18 m. it was John Coutts flying his ASG 29 over 475 km. with a speed of  155.5 km./h.
A less good day for Sven as he out-landed after 294 km.
Day 5 had a 350 set task in club class and 445.7 km in 15 m. and the bigger planes had to go for 554.2 km.
A great result in this class for Dutch pilot Ronald Termaat who won the day with a speed of 144 km./h.
Day 6 had B tasks with 3 hour AAT's  and 2.45 for club and 2  sand storms, but only one out landing for safety reasons.Some opted to not fly that day.
Great speed in 18m./open class by Laurens Goudriaan who flew around with 170 km./h. [over 521.4 km.] and in 15 m. great speed as well with 126.9 km. the best in this class during this competition.113.6 km./h in an ASW 20 a was not bad either.
All in all the fastest day of this National SA Championship.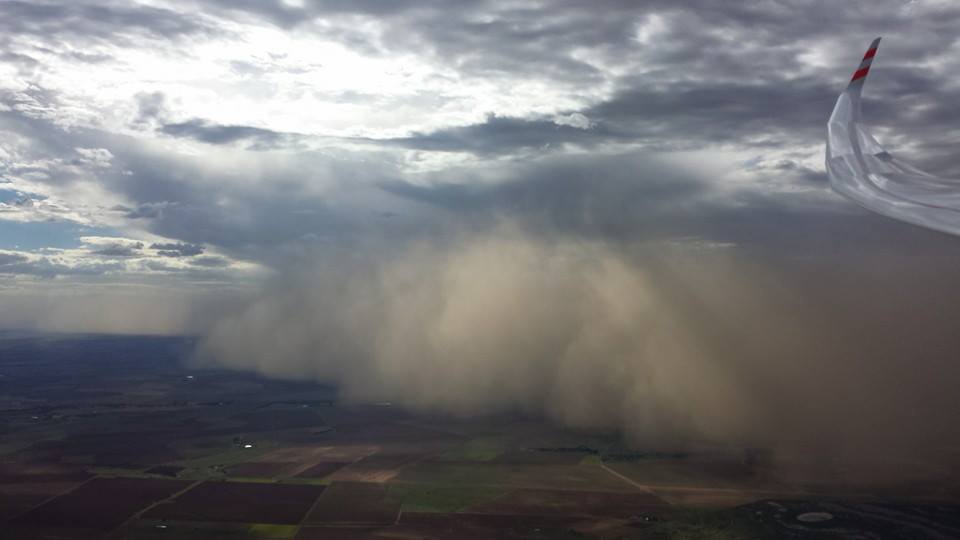 As seen and shared by Jeroen, who flew that day a PR on a 500k task: 167,3 kph! A very interesting final glide…he mentioned.
Day 7 was the last day. What could we expect/hope for?
In Club class AP was 900 points ahead, so the expectation was that he was going to be the new champion.Spots 3-4 and 5 were close and there could be changes.
In 15 m. Wayne Schmidt [ ASW 27 a] was more than 340 points ahead of Rene Coetzee. Nico Leroux won day 6 and if in the same flow he could go up to be runner up. We had to wait!
In 18 m./open John [Coutts] was clearly the best …400 points ahead of Oscar . Spots 3-4-5 and 6 could still change.
Day 7 was described on their site as :
" The final contest day for Nationals 2014. Blue skies and a stiff northerly wind. Last evening three sand storms came through the airfield with one having some rain so that cars are now covered with dust as well as everything else."
Later the added :
" There is a band running NW/SE bringing in moisture and there is more moisture to the N of Welkom. Winds are more NW up to 20 kph. Boundary level at 3700 m with lift up to 4 m/sec. Conditions will be better to the W and S. Cloud will increase during the afternoon, dew pt. 6 – 8 deg, with temperature 32.3 deg and trigger temperature 30.1 deg. Spread-out at altitude is possible."
What happened???!!!!
Tasks were set.
Club; 249.7 km.
15 m.;362.9 km.
18m.;425 km.
First of all,…they flew,…..BUT with stormy circumstances, some opted to abandon their flight!
In club class a new name on the daily highest spot; Jean du Plessis in the LS 1d , he won the max score of  836 points. AP had 810 points so he was the clear new National Champion.The rest remained the same.
In 15 m. stress!!!!! Only 2 from 6 finished on this last day.AND,…indeed Nico Le Roux won the day again in his LS 8. Wayne was 2 d so no doubt he was the new champion. But with 2 wins in a row and an out landing from Renee , Nico was the runner up and Rene dropped one place to 3.
In 18 m. Uys and Attie were the best on this day 7 with a speed of 145 km./h. over 425 km.Not enough to be the National Champion as John Coutts won with quite some marge.So ,…as we know John lives in South Africa but is from New Sealand, so I do not know the rules from this National Competition, but it could be that John will be declared the WINNER whilst Oscar is the new National Champion.Attie and Uys are the runners up.
For all scores daily and total you can go to www.soaringspot.com
An exciting competition mostly because of the weather.Great speed on good days, out-landings on bad/marginal/stormy  days.
—–
He won day 1 and day 4 , young Nathan from Temora , flying from Temora at the NSW State Comps.
346.2 km. was his result over a 3.30 AAT.; 97.1 km. in a St Cirrus and 1000 points.
In 15 m. the "fight"  was on between Matt Cage, Tom Claffey and Mac Ichikawa. On this day 4 it was Tom, Mac and Matt.
A 4 hour AAT was set for them and they flew 555 km. with 130.3 km./h. [Tom]  and a bit less and slower for  Mac [516.9 km. in LS 8/15m] and Matt 524.3 km. in LS 8] [  ; both 128.8  km./h.
In open /18 m.the 3.30 AAT showed 484.5 km. for David Peitsch [ who missed the first 2 days]in the JS 1.
Day 5 [1 hour AAT ] and day 6 , the final day with a 3 hour AAT,were both for Nathan as well.He added another 2000 points to his total . In the end this total was 5560, about 800 points head of runner up Les Kinsley from Canberra in his St.Libelle.
Day 5 and 6 in 15 m. class had a set 364 km. and a 3.45 AAT. In the end it was ALL about Matt and Mac. Matt won day 5 and Mac day 6. A total of 5 LS 8 gliders on the first 5 places and the comps was won by Matthew [5890] with Mac as runner up [5415] .Lisa was 3d [4953] and Tom did not fly the last day.
Day 5 [420 km.] and 6 [ 3.30 AAT]  in open/18 m.Paul [Mander] in the ASH 25 won 3 of the 6 days and was on one day the runner up.Day 5 was won by Bill Hatfield from Kingaroy flying an 18 m.  LAK 17 .He flew that day with a speed of 106.3 km. /h. over the 420 km. whilst the ASH 25 flew with a speed of 99.1 km./h.
Paul won the comps and was followed by 3 JS 1's.
A good State competition!
—–
The Tocumwal–Benalla–Corowa–Temora area had a great day last Thursday with flights up to 760 Terry Ryan [Tocumwal in ASH 26] , sevearal 700 km. flights from Corowa and 500 km. flights from Benalla and Temora.
On Sunday Matthew Scutter flew a 1000 from Pipers Field in his Discus 2a.
" Good to get back into the distance flying. First real XC from Bathurst. Had a 1000 declared but was rubbish down south and west, so abandoned and just went for a fly." But still 1000 km.
Tocumwal had that Sunday, 918 in an ASW 27 and 963 in the ARCUS and Corowa 933 in a Ventus 2 CM./15 m. and Temora 920 in a Discus.Benalla 772 km. in an LS 4!!!
Toc from above as shared by the SRGC.
Great to see young Rasmus Orskow from Denmark, flying in Toc now with Joergen  from Denmark in the ARCUS.
"We had declared a 1000 k FAI triangle but were too slow on the first leg. So we changed plans and did an out and return of 800 k and a 920 k over 3 turn points. This finally gave us 3 Danish records with this single flight.
We have been celebrating with champagne at Tocumwal Airport this evening."
Yesterday they added another 900 km. direction West.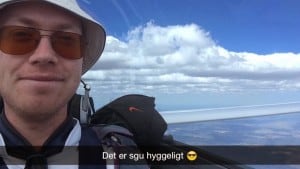 Young Rasmus as shared by Joergen.
Namibia still has 1.300 km. plus-weather, even FAI 1000 km. triangles.Fabulous weather there now!
Great to see that TOPPERS like  Wilfried Grosskinsky take young TOPPERS  like  Alexander Spaeth; 1.300 km [1.076 km FAI triangle ,speed 145.80 km./h in ASH 25EB 28
Argentina topped every list again on Saturday with flights by Klaus Ohlmann and Jim and Dennis.
Both flew Schempp-Hirth gliders. Klaus a QUINTUS M from Chapelco; 1.824.04 with a speed of 144 km./h.
Jim and Dennis the ARCUS M from Nahuel Huapi; 1.645,30 km.
You can read the news from Jim/Jackie and Dennis at  http://soaringblog.tumblr.com/
—–
CU on the last day of this year 2014
Next Wednesday.
Cheers Ritz